Alaskan Dream Cruises have 50 years' experience exploring Alaska's pristine southeastern waters. Their itineraries offer unforgettable opportunities to go ashore into ancient forests, remote towns and indigenous communities. Activities on all their small ships ensure an authentic, sustainable experience of this wild state, with every passenger given the chance to see Alaska through the eyes of a local resident.
Culture and Wildlife
Enjoy award-winning cultural experiences, and be welcomed into traditional villages as friends, with the chance to witness dances, carving or even a ceremonial feast. Access some of Alaska's most beautiful natural sites and premier wildlife areas, as naturalist and cultural heritage guides share intriguing legends and lore.
Family Departures
Some departures are specially geared to instil a sense of adventure in children and adults alike, strengthening family bonds through shared discovery. A specialist Youth Expedition Leader leads activities designed for multi-generational groups on these voyages, suitable for kids aged 7+.
Click here to download the Alaskan Dream Cruises section of our Canada and Alaska brochure, or contact us for information on the entire range on Alaskan Dream Cruises Adventures.
Our
Brochure Pages
The Alaskan Dream Cruises fleet comprises of comfortable vessels that are deliberately small in size, permitting exploration of slim waterways and quiet coves lying "off-the-beaten track". Life on board is relaxed, with a friendly team on hand to help with anything, from service of breakfast pastries to the fitting of outdoor adventure gear. All ships carry inflatable skiffs and kayaks for hands-on exploration.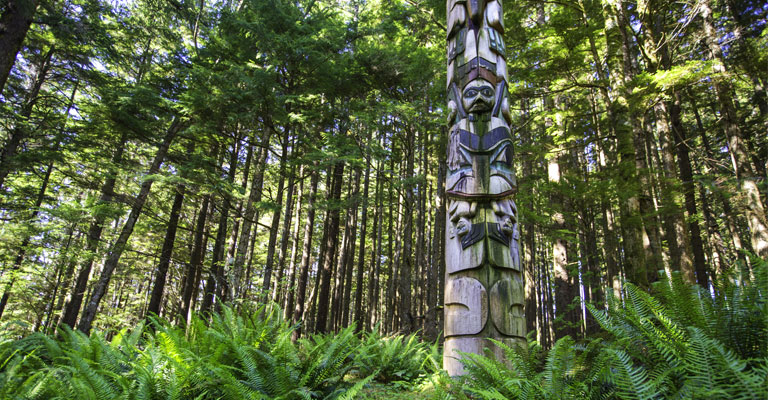 Alaska's Southeast Explorer
This all-encompassing cruise takes in three compelling ports: the former gold rush town of Skagway, the adventure capital of Haines and the Nordic-style community of Petersburg. Explore the dramatic landscapes by kayak, skiff or on foot. Other highlights include Glacier Bay National Park, Tracy Arm and Misty Fjords National Monument.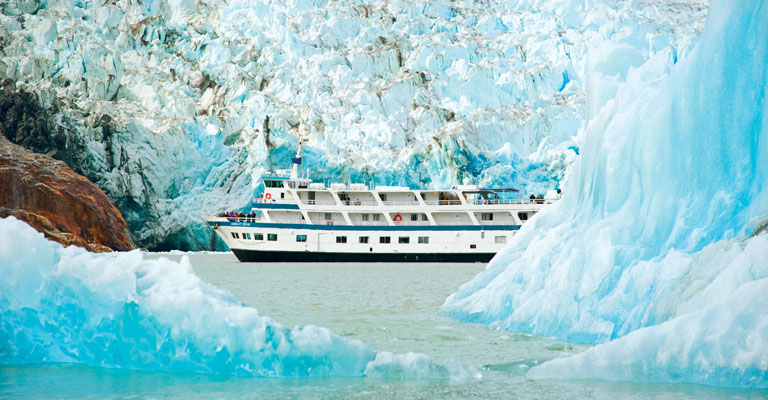 Alaska's Inside Passage Sojourn
Take in gorgeous southeast Alaska from top to bottom, scouring its most abundant wildlife areas, soaking up three traditional native cultures and seeing its most captivating glacial fjords. Kayak, skiff and hiking excursions allow up close-up inspection and and personal exploration of the region's rugged beauty, taking in  glistening waterfalls and enormous glaciers.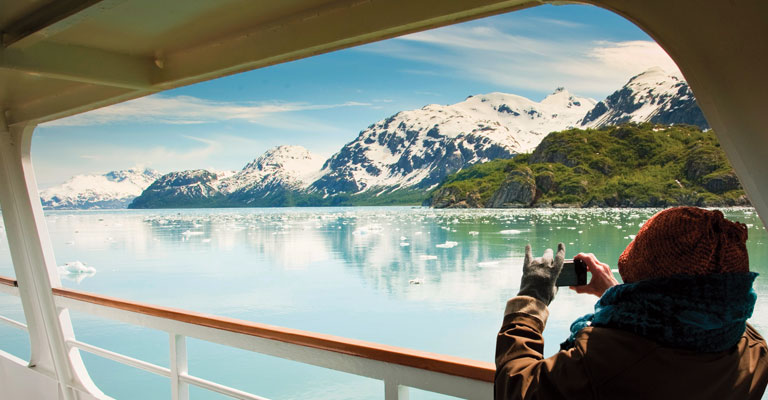 Alaska's Glacier Bay & Island Adventure
Immerse yourself in the ancient traditions and age-old cultures of Alaska visiting a Tlingit village. You'll also spend a full day touring the impressive Glacier National Park and cruising pure waters teeming with cobalt-blue icebergs, seals and whales. Children age 15 and under receive 15% off some special family friendly departures.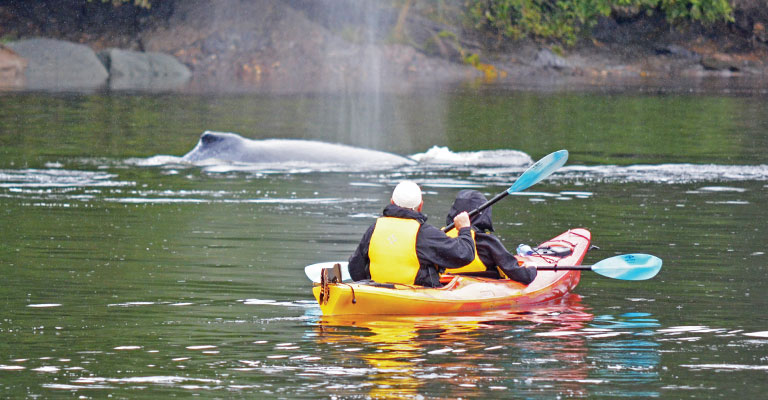 Alaska's Islands, Whales & Glaciers
Enjoy an intimate exploration of Alaska's Inside Passage from the inspiring Tracy Arm to serene Hoonah Sound and humpback-rich Icy Strait. This voyage will reveal southern Alaska's greatest highlights and much more. As the maximum group size is 10, the itinerary can be tailored to suit guests' specific interests.
Alaska Overview
Why Alaska: Mountains, glaciers, wildlife – everything is bigger in Alaska. A cruise of the stunning Inside Passage is on nearly everyone's bucket list; consider a small ship for the most intimate experience. There are plenty of opportunities for wildlife encounters, in particular whale watching and bear viewing. In Denali NP, look for the "Denali Slam": moose, caribou, wolf, Dall sheep and brown bear.
When to Go: The warmer months (mid May to mid September) are the best time to visit, as they offer long hours of daylight. Spring is when the wilderness becomes a hive of activity, with whales arriving and bears coming out of hibernation to feed on sedge and berries. July to September is when the salmon run occurs and a good time to see bears fishing.
Combine With: Canada. The country's west (Pacific) coast is home to the picturesque Rocky Mountains, and can be easily explored by rail. You can also visit the beautiful alpine towns of Banff and Jasper, or encounter wild grizzly bears at Knight Inlet. On the east (Atlantic) coast, explore charming French-speaking Montreal or Quebec City, or take a tour of the historic Atlantic Maritimes.
Getting There: Fly to Anchorage or Juneau in Alaska. Inside Passage cruises depart from Sitka, Ketchikan, Juneau or Seattle (in Washington State).