Denali National Park & Talkeetna
Denali is a huge and scenic national park, encompassing 24,281 square kilometres. Its untouched wilderness harbours a vast array of wildlife, including grizzly bears, caribou, moose, Dall sheep, wolves and many species of raptor. It is also home to Mt Denali (formerly Mt McKinley), the highest peak in North America.
There is only one public road leading into Denali and access is regulated by the National Park Service. Only a few lodges are located within the park; the majority of accommodation is at the park gate. With private vehicles not allowed, visitors must take either the park shuttle or one of the tour buses that travel along the single road stopping en route for photographs and wildlife, before returning to the park entrance before the gates close on the same day.
If you would like a longer and more intimate wilderness experience away from the crowds, then we recommend incorporating a stay at one of the backcountry lodges within Denali into your Alaskan itinerary. Backcountry lodges offer comfortable, cosy accommodation in a picture-postcard setting. North Face Lodge and Camp Denali for instance, boast unparalleled views of Alaska's highest mountain, Mt Denali, while Denali Backcountry Lodge and Kantishna Roadhouse offer unrivalled seclusion deep within the national park. Your days at these rustic properties can be spent embarking on naturalist-guided activities that may include hiking through fields of colourful wildflowers, canoeing, mountain biking or fishing.
If you are approaching Denali from the south, Talkeetna is the best gateway into the preserve. An easy train journey from Anchorage deposits you in this quaint town, considered the centre of flightseeing tours over Mount Denali. Optional excursions out of Talkeetna include jetboating, nature trails and rafting, while accommodation can be enjoyed at the rustic Talkeetna Alaskan Lodge, constructed out of wood and stone, with guest rooms facing majestic mountains and ancient forests.
Please note: Denali is closed from mid-Sep to mid-May due to adverse weather conditions.
How to get to Denali National Park and Talkeeta
Both Denali National Park and Talkeetna are easily accessible by rail from Anchorage.
Activities at Denali & Talkeetna
Wildlife viewing
Hiking
Canoeing / rafting
Fishing
Flightseeing (from Talkeetna)
*Some activities are available at extra cost.
Denali National Park and Talkeetna Highlights
Denali, Alaska's largest wilderness reserve
Teeming with wildlife, birdlife and wildflowers
Home to the "Denali Slam": grizzly bear, wolf, moose, caribou and Dall sheep
Talkeetna, centre of flightseeing over Mt Denali
Perfectly situated for fishing, jetboating and hiking
Featured
Accommodation
Below are some of our recommended lodge accommodation options in the Denali National Park region and in Talkeetna. They have been carefully selected for their superior location, incredible wilderness experiences as well as consistently high levels of service and comfort.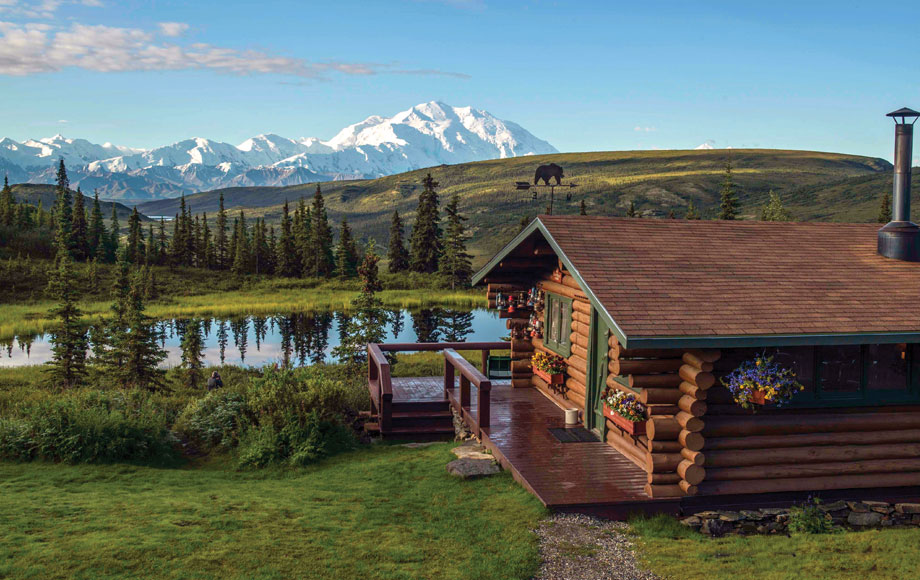 Camp Denali
Situated at the centre of the park, Camp Denali offers sweeping views of Mt Denali. Accommodation is in 19 cosy log cabins, each with an immaculate outhouse, woodstove for heat, and propane lighting. Hot showers are available in a separate building close to the main area. Activities at this beautifully sited property include guided hikes, canoeing, fishing and biking.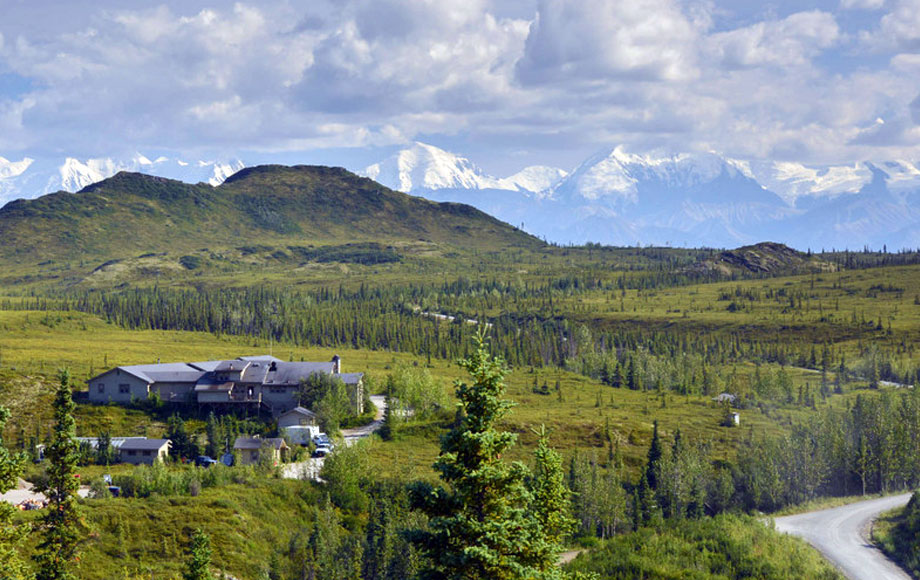 North Face Lodge
North Face Lodge is the only other lodge at the centre of the park with an outlook over Mt Denali. Expect 15 well-appointed guest rooms with ensuite bathrooms. Accommodation is linked by a shared walkway to a central sitting room, dining area and library, warmed by a crackling fire. A spacious outdoor patio faces out to the spectacular Alaska Range.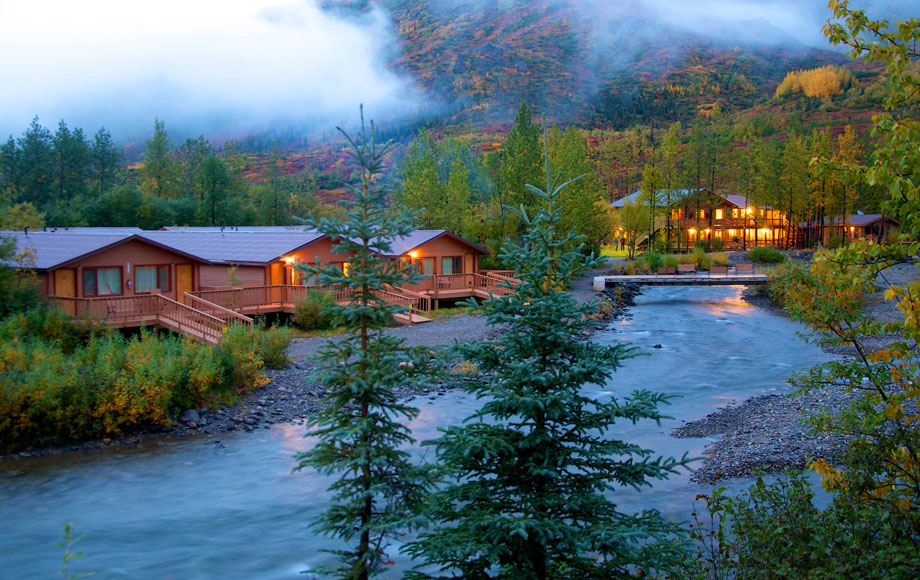 Denali Backcountry Lodge
Set in a picturesque, rugged valley deep within Denali National Park, Denali Backcountry Lodge has 42 comfortable, heated cedar cabins with private bathrooms, whilst common areas are found in a spacious two-storey building. A wide range of activities are offered from this unique, secluded property include naturalist-guided hiking, mountain biking and gold panning.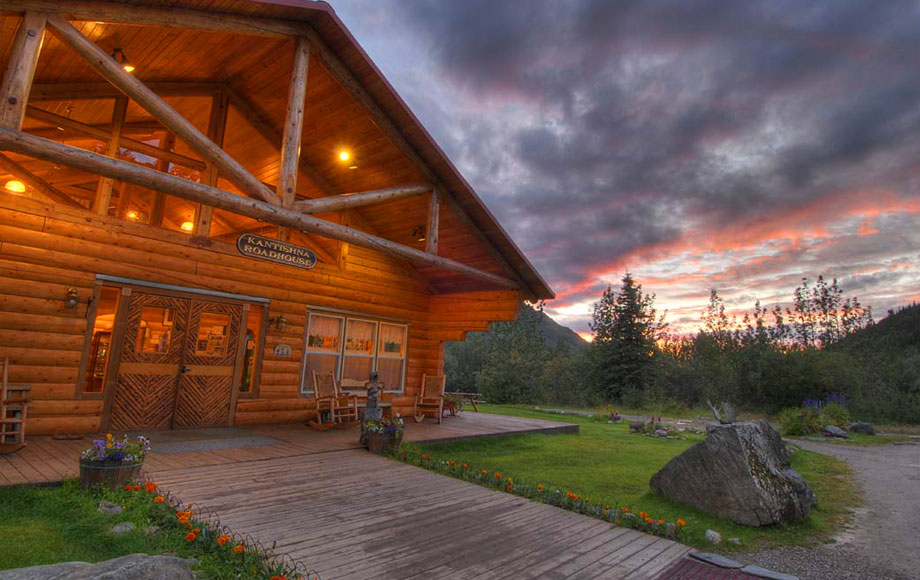 Kantishna Roadhouse
Kantishna Roadhouse offers authentic Alaskan hospitality in a basic but perfectly comfortable setting. There are 32 warm, inviting guest cabins with private facilities, a large dining area and a resource library. Enjoy guided hiking, mountain biking and fishing excursions during your stay.
Talkeetna Alaskan Lodge
The 4-star Talkeetna Alaskan Lodge offers panoramic views of Mt Denali and the majestic Alaska Range. Built out of wood and stone, the lodge has 212 deluxe rooms with mountain or forest views, a stunning three storey high river rock fireplace in the lobby, a restaurant and lounge.
Our
Brochure Pages
Select the 'Download Brochure Pages' tabs to view and download product pages from our Canada & Alaska brochure.
Alaska Overview
Why visit Alaska? Mountains, glaciers, wildlife – everything is bigger in Alaska. A cruise of the stunning Inside Passage is on nearly everyone's bucket list; consider a small ship for the most intimate experience. There are plenty of opportunities for wildlife encounters, in particular whale watching and bear viewing. In Denali NP, look for the "Denali Slam": moose, caribou, wolf, Dall sheep and brown bear.
When is the best time to go to Alaska? The warmer months (mid May to mid September) are the best time to visit, as they offer long hours of daylight. Spring is when the wilderness becomes a hive of activity, with whales arriving and bears coming out of hibernation to feed on sedge and berries. July to September is when the salmon run occurs and a good time to see bears fishing.
What can I combine Alaska with? Canada. The country's west (Pacific) coast is home to the picturesque Rocky Mountains, and can be easily explored by rail. You can also visit the beautiful alpine towns of Banff and Jasper, or encounter wild grizzly bears at Knight Inlet. On the east (Atlantic) coast, explore charming French-speaking Montreal or Quebec City, or take a tour of the historic Atlantic Maritimes.
How do you get to Alaska: Fly to Anchorage or Juneau in Alaska. Inside Passage cruises depart from Sitka, Ketchikan, Juneau or Seattle (in Washington State).