UnCruise Adventures are all about small ships and big experiences.
All their programs offer an unbeatable combination of activity, discovery, great service, expertise and awe-inspiring encounters. Accommodating just 22-86 guests aboard their fleet, UnCruise have the flexibility to adapt daily programs to make the most of prevailing conditions and highlights, plus every departure is accompanied by a passionate crew who are dedicated to bringing your journey to life.
Expect rainforests, glaciers and in-depth explorations of impressive Glacier Bay National Park. Brown bears, black bears, and "polar bear plunges." Humpback whales, orcas and bald eagles. Hiking, kayaking, hot tubbing under the stars, even playing in the mud. Whether liquid sunshine or cloud failure, your expert expedition team will ensure you have an unforgettable journey.
Furthermore, all UnCruise vessels are designed to be nimble enough to navigate narrow waterways inaccessible to big cruise ships. Their shallow drafts and size gives them the advantage of access to seldom visited areas.
Click here to download the UnCruise section of our Canada and Alaska brochure, or contact us for information on the entire range on UnCruise Adventures small ship cruises.
Cruising
UnCruise Adventure
Nobody does Alaska better, offers more variety, or provides more adventure than UnCruise whose small ships foster uncommon encounters and unexpected experiences. Choose from a wide array of activities from paddleboarding to kayaking. Restricted group sizes mean first-name service and no waiting in line for anything.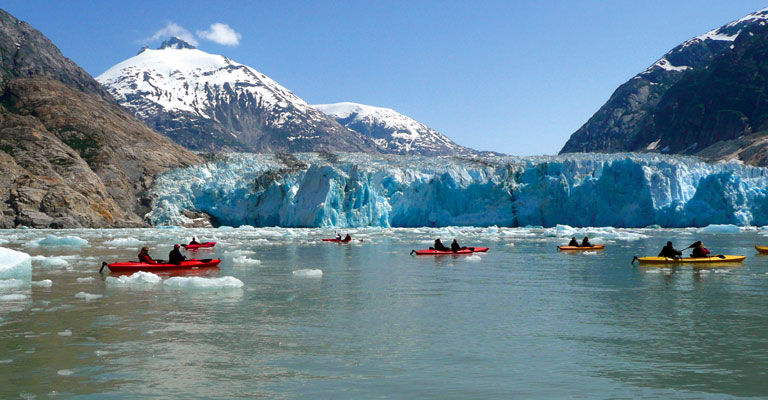 Whales, Wildlife & Glaciers
Enjoy a full day in the UNESCO World Heritage-listed Glacier Bay National Park, with plenty of time to comb quiet coves and the majestic Tongass National Forest for iconic Alaskan wildlife from whales, sea lions and black bears to puffins. The voyage concludes in Haines, the unofficial adventure capital of Alaska.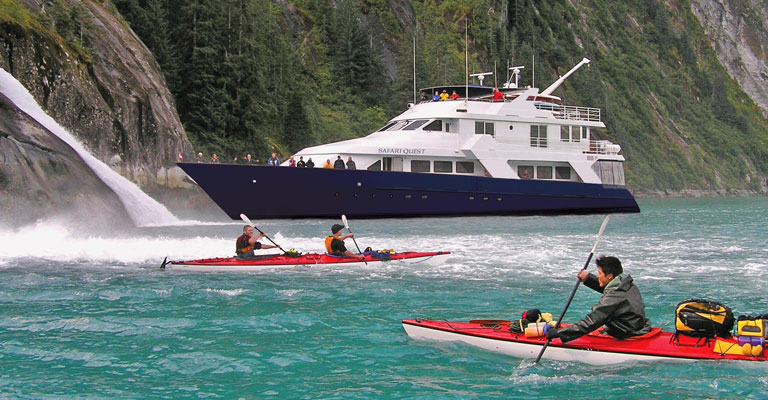 Alaska Fjords & Glaciers
Experience some truly remote sections of Alaska's Inside Passage on these active adventures with UnCruise. Spy harbor seals, porpoises and humpback whales as you glide along pristine waterways lined with waterfalls. You'll also gain an insight into Tlingit culture with a visit to a totem park.
Alaska Overview
Why visit Alaska? Mountains, glaciers, wildlife – everything is bigger in Alaska. A cruise of the stunning Inside Passage is on nearly everyone's bucket list; consider a small ship for the most intimate experience. There are plenty of opportunities for wildlife encounters, in particular whale watching and bear viewing. In Denali NP, look for the "Denali Slam": moose, caribou, wolf, Dall sheep and brown bear.
When is the best time to go to Alaska? The warmer months (mid May to mid September) are the best time to visit, as they offer long hours of daylight. Spring is when the wilderness becomes a hive of activity, with whales arriving and bears coming out of hibernation to feed on sedge and berries. July to September is when the salmon run occurs and a good time to see bears fishing.
What can I combine Alaska with? Canada. The country's west (Pacific) coast is home to the picturesque Rocky Mountains, and can be easily explored by rail. You can also visit the beautiful alpine towns of Banff and Jasper, or encounter wild grizzly bears at Knight Inlet. On the east (Atlantic) coast, explore charming French-speaking Montreal or Quebec City, or take a tour of the historic Atlantic Maritimes.
How do you get to Alaska: Fly to Anchorage or Juneau in Alaska. Inside Passage cruises depart from Sitka, Ketchikan, Juneau or Seattle (in Washington State).