Polar Bears and Arctic Wildlife
Canada's remote province of Manitoba offers some of the planet's best opportunities to view polar bears and other Arctic wildlife in their natural habitat.
The remote Canadian province of Manitoba offers some of the finest polar bear viewing opportunities on the planet. These magnificent animals regularly reach 500 kilograms and stand up to 3 metres tall. In the warmer months, the unspoilt wilderness of this region offers encounters with polar bears from a very different perspective – on foot – whilst being accompanied by experienced guides and rangers.
During this time, Manitoba's tundra is likely to be carpeted in brilliant wildflowers while the waters of Hudson Bay are filled with thousands of curious beluga whales, which you can swim with and photograph close up. If you're very lucky and travelling later in the year, you may even have the chance to witness the magical night-time phenomenon known as Aurora Borealis or the Northern Lights.
Through our longtime partners Churchill Wild, we offer outstanding experiences in Manitoba in summer and autumn. Our programs are designed to get you up close to polar bears as well as the province's wide range of unique Arctic wildlife, whilst being based at comfortable lodges set amid pristine landscapes.
Outstanding polar bear and Arctic wildlife viewing opportunities
Close encounters with rare animals on foot and by vehicle
Ability to observe and even swim with thousands of beluga whales
Admire summer wildflowers and the vast tundra
Explore unspoilt wilderness while based at a secluded, comfortable lodge
Polar bear and Arctic wildlife viewing on foot or by vehicle
Guided nature walks or treks
Coastal all-terrain vehicle (ATV) tour (Nanuk Polar Bear Lodge)
Marine excursions (Seal River Heritage Lodge)
Dogsledding and flightseeing (out of Churchill)
*Some activities are available at extra cost.
Flights are available from Winnipeg, the capital of Manitoba, into Churchill. From Churchill, charter flights can be arranged to your Manitoba wilderness lodge.
Be Inspired
Featured
Accommodation in Churchill
Below are three fantastic wilderness lodges featured in our programs. They have been specially handpicked for their spectacular and remote locations, delicious meals, comfortable accommodation and wide array of wildlife-based activities.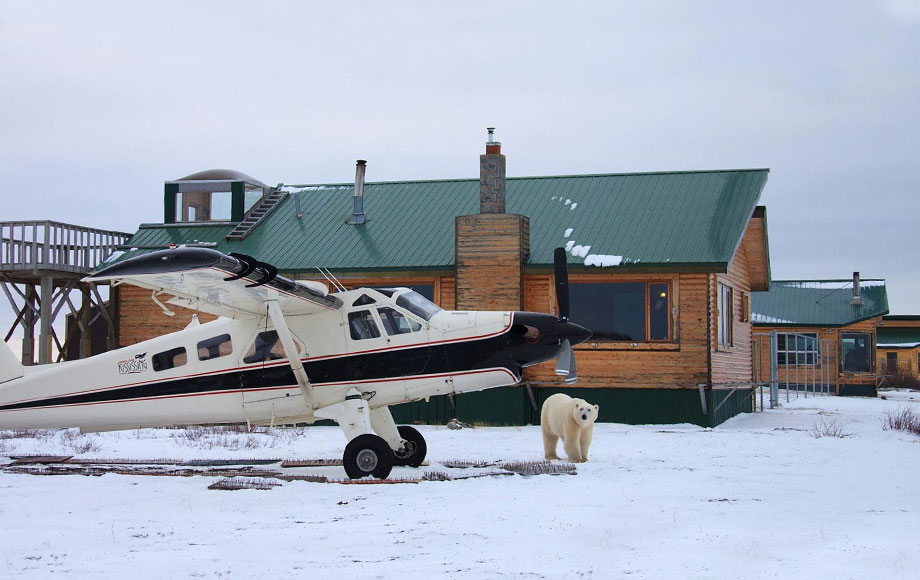 Dymond Lake Ecolodge
A short flight north of Churchill, this authentic eco-lodge takes a maximum of 16 guests at any one time to ensure an intimate stay. Its viewing tower provides sweeping views of the tundra and its wild inhabitants.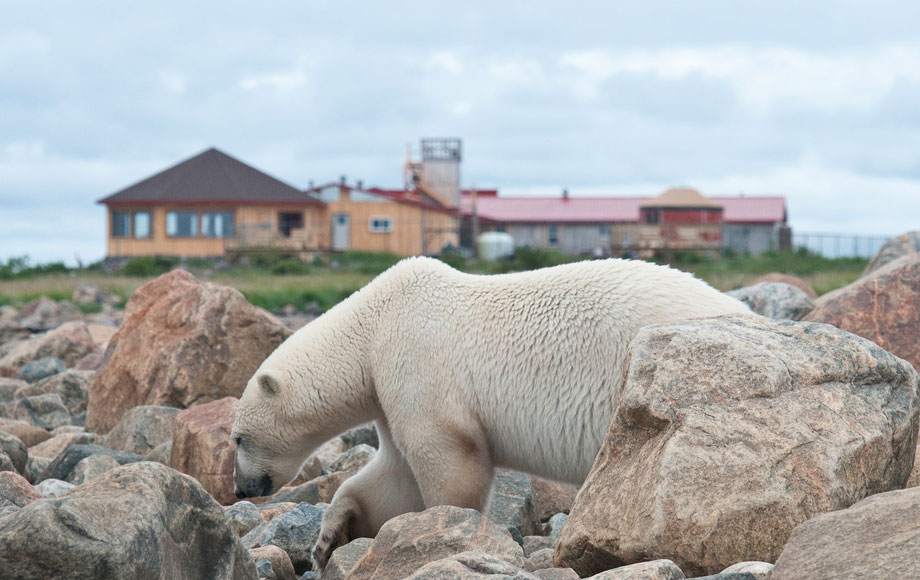 Nanuk Polar Bear Lodge
One of the National Geographic Unique Lodges of the World, welcoming Nanuk Polar Bear Lodge is 250km southeast of Churchill and provides access to some of the phenomenal wildlife areas of Manitoba.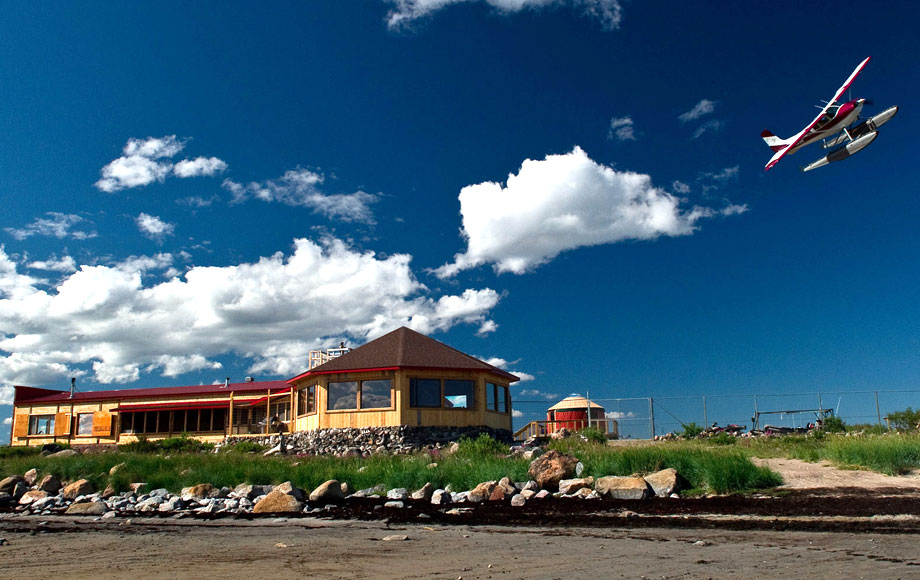 Seal River Heritage Lodge
Another National Geographic Unique Lodges of the World, rustic Seal River is 30 minutes north of Churchill by air. Guests here are regularly treated to some of the best polar bear encounters Manitoba has to offer.
Our
Brochure Pages
Select the 'Download Brochure Pages' tabs to view and download product pages from our Canada & Alaska brochure.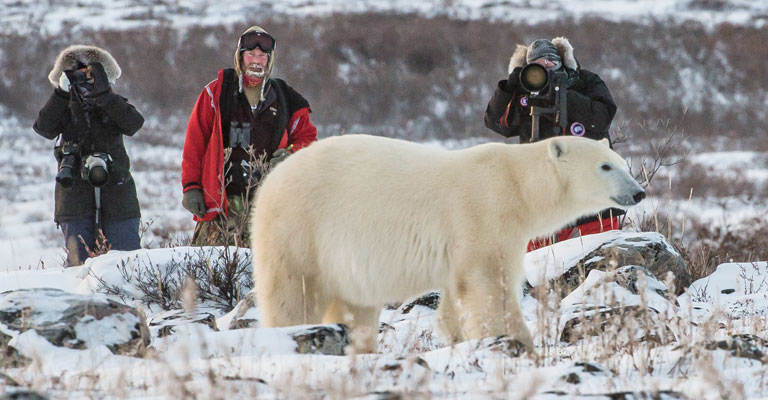 Great Ice Bear Adventure
This is surely one of the world's most diverse and holistic wildlife-viewing adventures, taking place just as the polar bears are gathering on the shores of Hudson Bay for their annual seal hunt. Your base on this 6-night program is Dymond Lake Ecolodge, set on a sliver of land between Dymond Lake and Hudson Bay.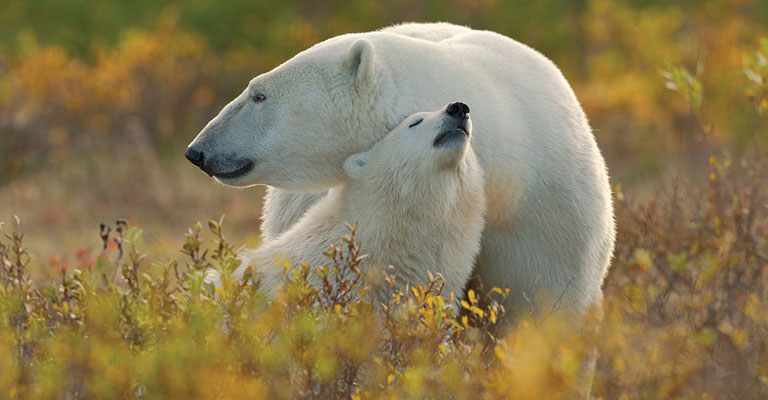 Hudson Bay Odyssey
Take interpretive walks and tour the scenic coastline of Hudson Bay from the isolated Nanuk Polar Bear Lodge, which is strategically located in very close proximity to an area known for polar bear denning activities. You spend 4 nights out of a total of 6 at the lodge, maximising your chances of polar-bear viewing.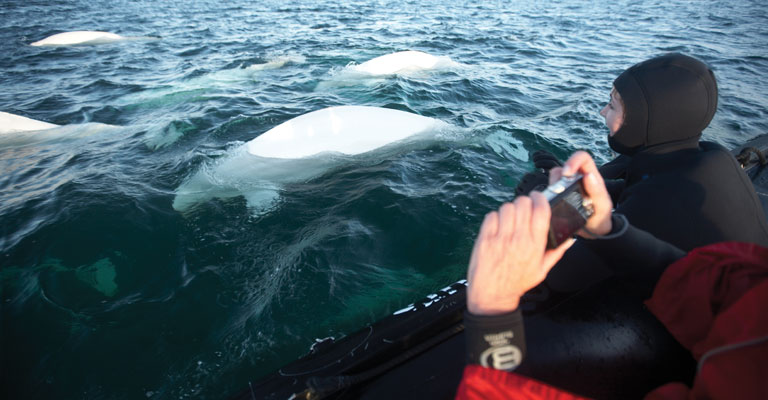 Birds, Bears and Belugas
This unique 7-night safari departs on dates in July and August. It combines the thrill of swimming and cruising with beluga whales with polar bear viewing on foot and by vehicle. You spend 5 nights at the wonderfully remote yet very comfortable Seal River Heritage Lodge set on the edge of Hudson Bay.
Why visit Canada?
Spanning the top of north America from the Pacific to the Atlantic, this huge country offers majestic scenery, unspoiled wilderness and incredible wildlife and adventure opportunities. At the same time Canada is a modern country with sophisticated cities, world class accommodation and excellent rail, road and air network.
When is the best time to visit Canada?
From May to September is the best time for cruising and touring in Canada when the weather is at its finest. Temperatures and daylight hours vary depending on latitude, and the coast is more moderate than inland regions which have long hot summers and very cold winters.
Grizzly bear viewing is generally good from June until October and Polar Bear viewing around Churchill is possible from July to November. November to April is the time for winter wonderland experiences, skiing, dog sledding and the Northern Lights.
What can I combine Canada with?
Alaskan holidays like Inside Passage cruising and wildlife viewing. Canada can also be combined with Arctic cruising and ice based adventures.
How do you get to Canada?
Fly to Vancouver in British Columbia for west coast touring and cruising, or to Toronto, Ottawa, Montreal or Quebec City for eastern Canada.