20, 22 or 23 days
Ex Ushuaia
Departs
Dates vary from 20-26 November 2021
Contact Us
Prices From
Contact us for details
Solar Eclipse 2021
Antarctica remains one of the last frontiers for many intrepid travellers and adventure-goers.
The breathtaking islands scattered throughout the region are home to a diverse range of unique wildlife that cannot be found anywhere else on Earth. If this isn't enough to whet the appetite, in December 2021 Antarctic will play host to a rare cosmic wonder – A Total Solar Eclipse.
About Total Solar Eclipses:
This rare phenomenon occurs when the moon is positioned between the Earth and Sun – completely covering the sun from Earth's view. Moreover, it can only take place when the Moon is near perigee, the point at which the Moon's orbit is closest to Earth.
Importantly, you can only see a total solar eclipse where the Moon casts its darkest shadow, known as the umbra. Thanks to scientific experts, we know that this particular eclipse will occur on December 4, 2021 and the best place to witness this cosmic event is in the Weddell Sea pack-ice, between South Georgia and the Antarctic Peninsula.
Departure dates vary from 20-26 November 2021. Please contact us for exact dates, rates and ship details.
Contact us for details. Conditions apply. Single prices on request.
Once-in-a-lifetime opportunity to witness a Total Solar Eclipse in Antarctica
Visit the historic Falkland Islands a haven for seabirds
Experience the beauty of South Georgia and it's incredible wildlife
Enjoy zodiac expeditions and walk amongst penguin rookeries
Learn about the history of renowned Polar explores and listen to insightful lectures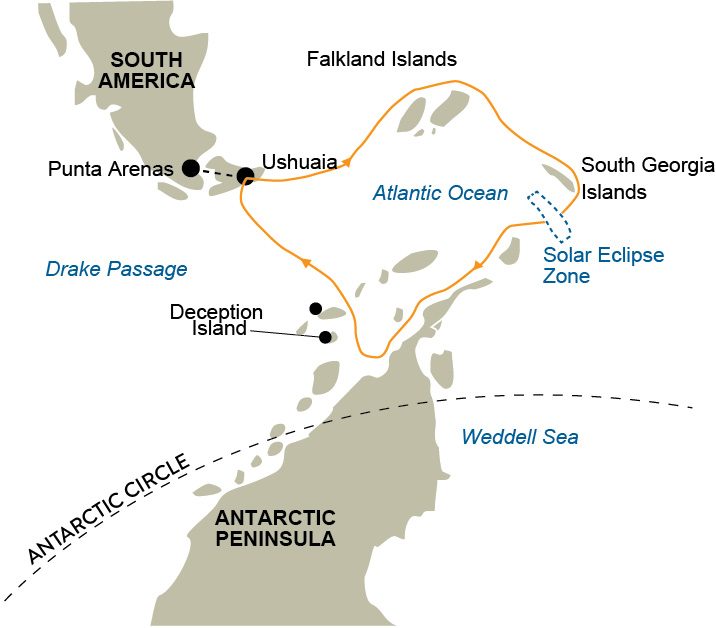 All meals aboard ship including snacks, coffee and tea
Shore excursions and activities by zodiac
Program of lectures by noted naturalists and expedition staff
Free use of rubber boots
Luggage transfer from pick-up point to the vessel on the day of embarkation, in Ushuaia
Group transfer from the vessel to the airport in Ushuaia directly after disembarkation.
Service taxes and port charges
Comprehensive pre-departure material
Aifaires, passport or visa expenses
Pre and post land arrangements
Government arrival/departure taxes
Baggage, cancellation and personal insurance/emergency evacuation (mandatory)
Excess baggage charges and all items of a personal nature such as laundry, bar, beverage and telecommunication charges.
Customary staff gratuity (guidelines will be provided)
Optional excursions (such as Kayaking)
Exact inclusions and exclusions will vary depending on departure date and vessel. Contact us for details.
Destinations
Falkland Islands
A destination in itself, the islands are rich in both history and wildlife. Visit the charming capital of Stanley, where most of the islands 2500 inhabitants live, and walk along its waterfront promenade filled with gift shops, pubs, museum's and other interesting buildings. Other spots on the archipelago you may visit include Carcass Island, home to Magellanic and Gentoo penguins; and Saunders Island, where Black-browed Albatross and Rockhopper penguins live side-by-side.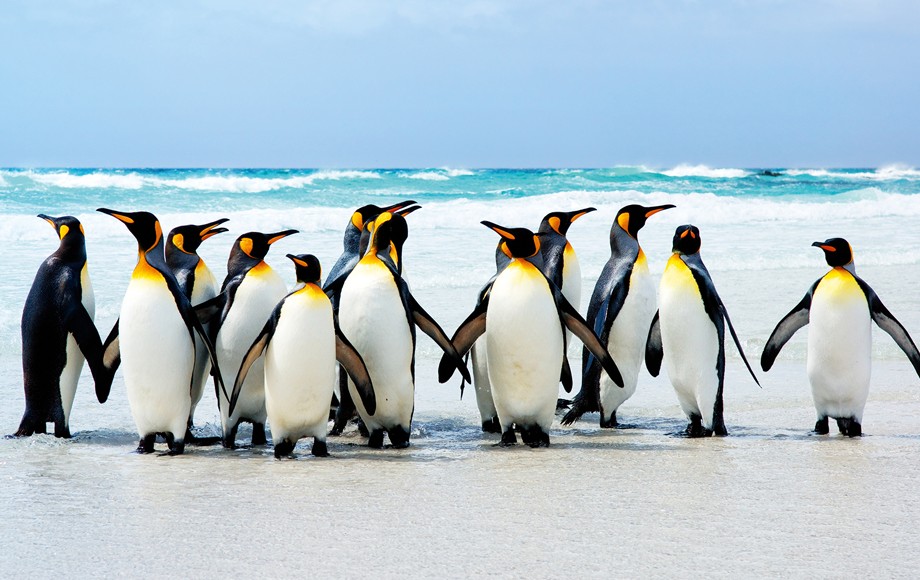 South Georgia
Remarkable South Georgia is without a doubt one of the most unique and breathtaking landscapes on Earth. Iconic beaches including Salisbury Plain and St. Andres Bay are home to huge colonies of King Penguins and Elephant seals. The islands are also one of the best places to see fur seals, as they jostle for space onshore. Countless seabirds can be seen throughout the archipelago including multiple species of albatross. Within the rich waters surrounding the islands are numerous whale species, whilst the historical whaling station of Grytviken has been transformed into a fascinating museum.
Antarctic Peninsula
Marvel at the breathtaking vistas of the Antarctic Peninsula that act as the backdrop to iconic penguin rookeries. Towering mountains and vast glaciers surround protected bays and rocky clifftops that numerous species of nesting penguins call home. The narrow channels and inlets are filled with immense icebergs that only add to the incredible beauty, creating a picture perfect landscape.
This stunning peninsula has plenty of awe-inspiring zodiac landing sites with incredible scenery, abundant wildlife and historical importance including Deception Island and Paradise Bay. There are a number of Antarctic research stations where you may be able to land, providing an interesting insight into what life ashore is like. Spend your days enjoying fascinating excursions, incredible scenery and countless wildlife experiences that you will remember for a lifetime.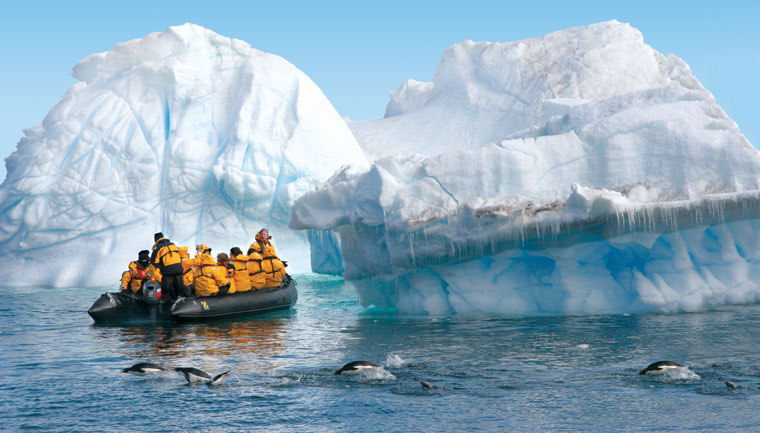 Featured
Itinerary
Day 1
Embarkation
Transfer to your vessel and embark on the adventure of a lifetime.
Day 2
At Sea
A host of seabirds follow you on your journey to the Falkland Islands. Keep an eye out for albatross, storm petrels and shearwaters.
Days 3/4
Falkland Islands
Explore the historic Falklands, a British outpost. Renowned for its abundant birdlife, you may also have the chance to see rare Peale's and Commerson's dolphins. On day 4, dock at Port Stanley and experience all this town has to offer.
Days 5/6
At Sea
Make your way to South Georgia, insightful lectures are presented onboard the ship.
Days 7-10
South Georgia
Over the next few days marvel at the breathtaking scenery and incredible wildlife of this unique island paradise. Some of the sites that may be visited include Salisbury Plain, St. Andrew Bay and Gold Harbour. These sites are home to the largest colonies of King Penguins found in South Georgia, and are a heaven for breeding elephant seals.
Day 11
South Orkney Islands
Head south-west toward the South Orkney Islands in preparation for the Total Solar Eclipse.
Day 12
Total Solar Eclipse
Feel the excitement in the air this morning as everyone gears up for the awe-inspiring Solar Eclipse, which is sure to be the highlight of the trip.
Days 13/14
At Sea
Continue on to the Antarctic Peninsula. There is an excellent chance to see fin whales and Antarctic petrels.
Days 15-17
Antarctic Peninsula
Marvel at your first sightings of the great white continent. Activities and wildlife sightings over the next few days will be incredible. Keep an eye out for whales and seals as you traverse through narrow straits, explore penguin colonies and potentially visit old whaling stations and research centres.
Days 18/19
Drake Passage
Travel the renowned Drake Passage back to Ushuaia. This is a great time to reflect over the last 3 weeks and enjoy a last minute lecture or two.
Day 20
Disembark
A trip of-a-lifetime has come to an end as you disembark the vessel and transfer to either the airport or downtown hotel.
---
Please note: This itinerary is provided as a guide only and is subject to change due to ice and weather conditions.