Discover the wonders of Mexico's Gulf of California and the Sea of Cortez, often referred to as the "world's aquarium"
Discover Mexico's UNESCO World Heritage listed Sea of Cortez aboard the Safari Voyager in 2023 or 2024 and save AUD $770 per couple* when booked by 28 February 2023.
Prices for this extraordinary 8 day/7 night cruise start from AUD $9,103 per person twin share*.
Departing from San Jose del Cabo, at the very tip of the Baja California Peninsula, discover the wonders of the Sea of Cortez, which was once described by legendary French oceanographer and filmmaker Jaques Cousteau as the "world's aquarium". 
Explore this UNESCO World Heritage area accompanied by expert guides and enjoy daily excursions including nature hikes, kayaking, paddle-boarding, snorkelling and stand-up paddle boarding. The region is rich in marine wildlife and depending on the time of year, sightings may include fin, blue and sperm whales, huge pods of dolphins, whale sharks, seals, rays and a plethora of colourful spices of fish. 
---
*Valid for select travel dates in 2023-2024. Price shown is based on Safari Voyager (Navigator cabin) departing in 2023 (inclusive of saving). Minimum two people travelling together. Single travellers on request. Strictly subject to availability. Conditions apply.
Baja California's Whales & Sealife
Departure dates
Ex San Jose del Cabo, Mexico
2023
21 & 28 Jan
04, 11, 18 & 25 Feb
04, 11, 18 & 25 Mar
01, 08, 15, 22 & 29 Apr
06 May
2024
20 & 27 Jan
03, 10, 17 & 24 Feb
02, 09, 16, 23 & 30 Mar
06, 13, 20 & 27 Apr
Sea of Cortes – a UNESCO World Heritage Site
Snorkel with colour reef fish and sea lion pups
Mule ride into the arroyos with local rancheros
Search for gray whales, whale sharks, mobile rays and dolphins (depending on time of year)
Variety of birdlife including hummingbirds, cormorants, Great Blue Herons, Blue-footed boobies and Magnificent Frigatebirds
Hike among beautiful desert shrub and cacti spotted landscapes
Explore rugged shores by skiff
Swim, Kayak and paddleboard in pristine waters
Transfers to/from vessel on embarkation and disembarkation day
7 nights onboard the Safari Voyager in a Navigator Cabin (twin share)
Sightseeing and shore excursions as per the itinerary
All meals while onboard including premium wine (except super-premium wine), beer, spirits and non-alcoholic beverages
All activities and equipment (except snorkelling) including yoga
Services of onboard professional naturalist or escort
Taxes and port charges
Airfares
Gratuities
Pre/post land arrangements
Travel & cancellation insurance
Personal expenses
San Jose del Cabo is located at the very tip of Mexico's Baja California Sur Peninsula, with Los Cabos International Airport the major arrival point. The airport is serviced by major North American Airlines including United, American, Air Canada, Alaskan Airlines and Delta Airlines, from cities including Dallas, New York, San Francisco, Vancouver and Seattle. Aeromexico also operate domestic services from several cities, including Mexico City.
Please note: If you need assistance booking airfares, please contact us and we are happy to help
Baja California's Whales & Sealife
8 days/7 nights
---
Day 1
San Jose del Cabo / La Paz
Bienvenidos! Welcome! Today you will be met at the Los Cabos International Airport in San José del Cabo and transferred to the hospitality area, where you will meet your expedition team. Transfer by road to La Paz and witness the dramatic Baja landscape, preparing you for the week that lies ahead. The captain and crew welcome you aboard. Settle in and enjoy a cocktail and dinner with your fellow travellers.D
Day 2
Isla San Francisco
Wake up to the beauty of Isla San Francisco, a playground of adventure, with steep red bluffs and sweeping desert beach. The choice of activity is upon to you; don some flippers for a snorkel among colourful sea life, explore on foot along the ridge, kayak or paddle board the crystal clear waters, or simply relax on the beach with the sand between your toes. B L D
Day 3
Bahía Agua Verde
Today explore Bahía Agua Verde, where clear waters are bordered by sparse craggy mountains hemmed in green. Traverse the coast by skiff looking for birds, seals, dolphins, and whales of all kinds. You will also get to visit a local ranchero and his family, taking to the canyons and mountains on a mule ride experiencing the "real Baja." Scenic vistas, outstanding exploration, excellent birding, and unmatched camaraderie – this is a day to remember. B L D
Day 4
Isla Coronado / Loreto Town
Enjoy the beautiful beaches of Isla Coronado this morning. Snorkel, kayak, or take a skiff tour in the crystal clear waters, keeping an eye out for frigate birds and blue footed boobies in the air and dolphins and sea lions in the water. After lunch visit Loreto town. Founded in the 17th century by Jesuit missionaries, the downtown area features no fewer than seven historical monuments, including the Mission of our Lady or Loreto, the starting point of the Camino Real. Finish a day with a nightcap under the stars. B L D
Day 5
Marine Life Search
Today is set aside for searching for marine life, so make sure you have your binoculars in hand. The Sea of Cortés is home to some of the largest baleen whales in the world, including fin, blue and sperm whales, as well as dolphin pods that number in the hundreds. What you will see depends on what time of year you visit. 
If the gray whales have arrived on Baja's west coast (mid-January – early-March)—migrating more than 12,000 miles to calve in Bahía Magdalena—you'll drive across the peninsula for a panga (motorised dinghy) ride to observe these mammals and their babies in the lagoon.
Mid-March through April are your best chance to see whale sharks near La Paz and in other parts of the Sea of Cortes.
There's also a chance to head into the Sierra La Giganta Mountains for a tour of the crown jewel of Baja's historic missions, San Javier. There might also be time for a brief exploration in magical Loreto or more water activities or hikes. B L D
Day 6
Lost Islotes / Isla Partida
At Los Islotes – a steep craggy seamount leaping straight from the sea – slip into a wet suit for a snorkel with curious young sea lion pups. At Isla Partida, get set for kayaking, snorkeling, or stand up paddle boarding. Island hikes along desert beaches or into rocky arroyos are also on the cards. Or, if you any some relaxation, kick back with a beach party—complete with a cool drink and sun-soaked lounge. B L D
Day 7
Isla San Jose, Evaristo or Nopolo
Tuck into a secluded cove surrounded by long fingers of red rock and a golden beach. Spend your last full day enjoying the feel of warm sand under your feet on a beach walk, or investigating little nooks and crannies in the rocks by kayak. Alternatively explore a little further afield on a guided hike. Tonight, celebrate your week at special Farewell Dinner with an entertaining slideshow by your expedition team. B L D
Day 8
San Jose del Cabo, tour ends
After breakfast, it's "adios" La Paz, as you transfer back to San José del Cabo for your departure flight or post-cruise hotel night. B
---
Please note: Children 8+ welcome on all departures
B = Breakfast  |  L = Lunch  |  D = Dinner
Accommodating jut 66 guests in 34 comfortable cabins, the Safari Voyager is the perfect vessel for adventure cruising, exploring the warm waters of Central America. Boasting spacious decks and big, 270-degree view windows in the lounge that help to easily spot marine life that thrive in this part of the world. Colourful and handcrafted artwork throughout the vessel and in guest cabin pays homage to the cultures of Latin America, and helps to create a casual atmosphere. The observation deck also offers guests a place to sit outside and spot wildlife, while the vessel also has some fitness equipment on deck.
Other facilities onboard the Safari Voyager include: kayak's and launch platform, paddleboards, inflatable skiffs, hiking poles, snorkel gear, yoga mats and a small library.
66 guests
34 cabins
Beam: 54 feet

 

Length: 174 feet
Cruising speed: 9 knots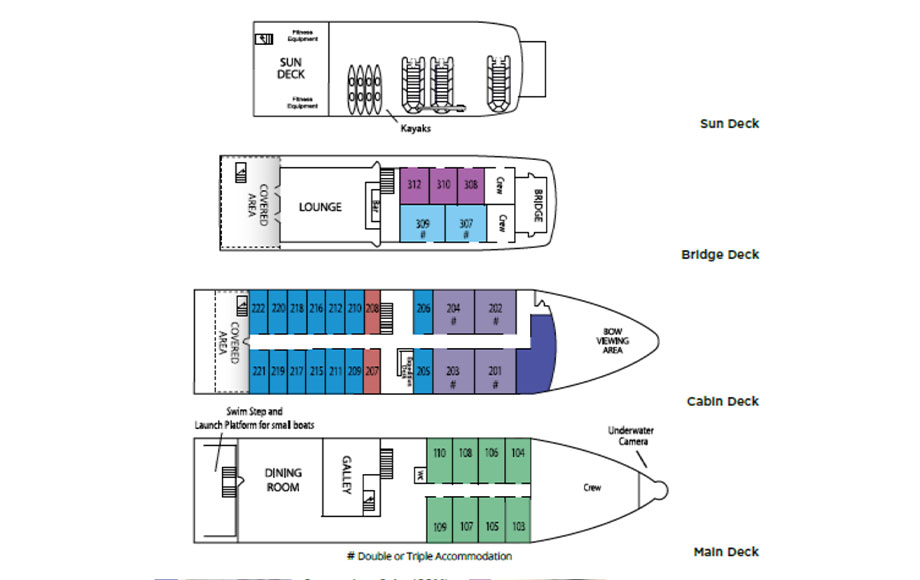 Subscribe below
Sign up to receive updates about exciting journeys, special offers and more.