Re-discover the beauty of Europe
Discover the picturesque beauty of the French countryside in serenity and style aboard a luxurious barge.
Over the last year Natural Focus has been working hard behind the scenes to source some fabulous and exciting NEW product from around the world, including several week-long itineraries floating down the rivers and canals of France by luxury barge.
These exclusive vessels accommodate between just 4 and 12 passengers and are ideal for small groups or families that would love to relax, escape the crowds and enjoy a relaxing European getaway. Travellers can expect absolutely everything to be taken care of, from all-inclusive drinks and fine cuisine to tailored daily excursions and expert service. This really is the ultimate way to experience a country in all its wonder.
These vessels are only available to be booked on a private basis, EXCEPT the Napoleon, which can be booked per cabin. 
We are thrilled to offer a 10-day package combining 3 nights in romantic Paris with a 6-night cruise through Southern France aboard the 12-passenger Napoleon barge from Avignon to Tain L'Hermitage (or reverse).
Prices for this exclusive journey start from $11,009 AUD per person twin share*.
---
*Valid for travel between 02 April – 15 October 2023. Price shown based on departures during August. Strictly subject to availability. Single travellers on request. Conditions apply.
Tour details
Wander the streets of Paris and visit iconic sights
Take a tour of Arles, famous for its Roman ruins
Visit world-famous vineyards and enjoy a wine tasting
Explore Avignon including the Palace of the Popes
Discover the fascinating medieval town of Viviers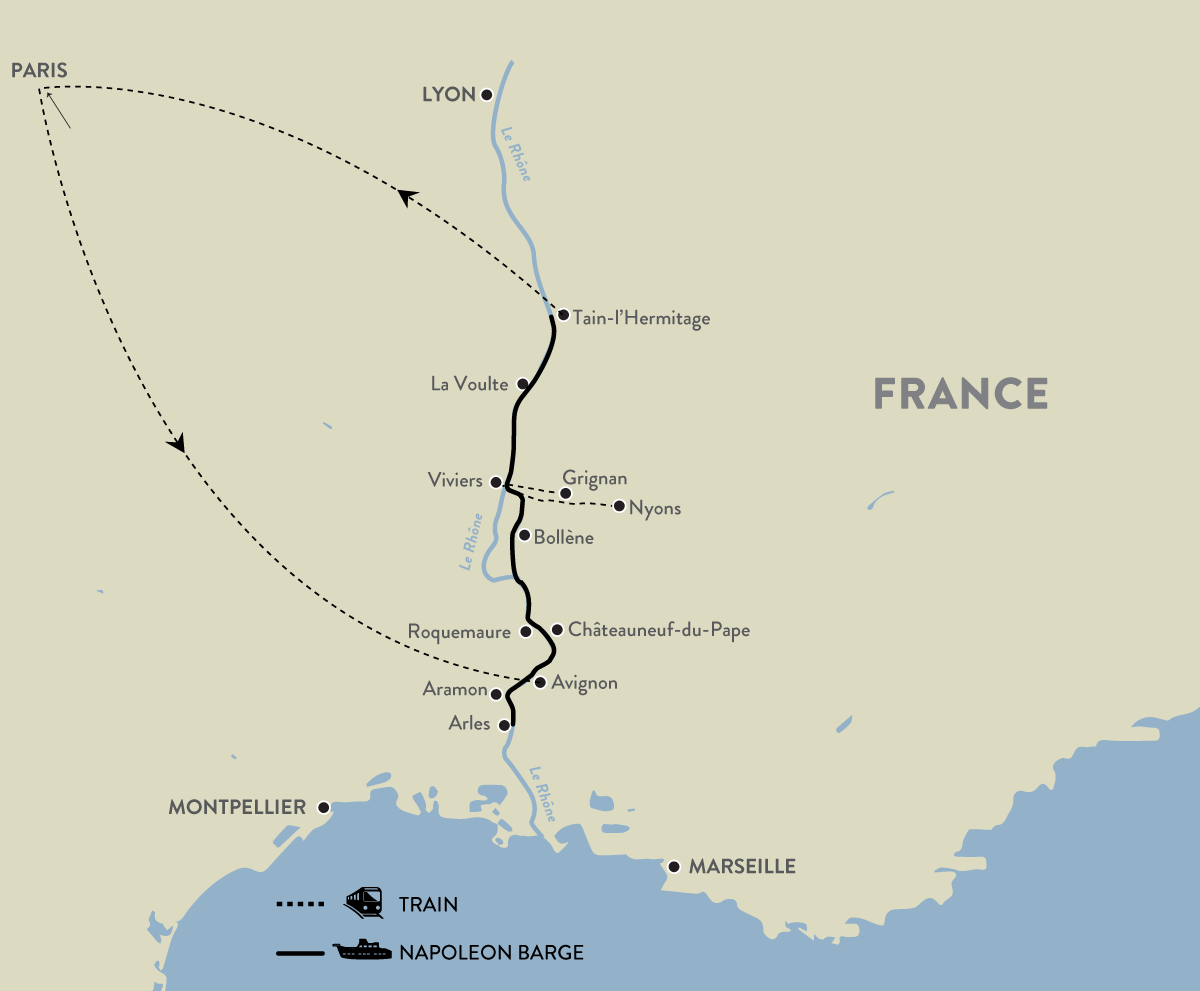 3 nights at La Maison Favart
6 nights onboard the Napoleon barge
Meals and beverages onboard
Excursions as per itinerary
Private guide on barge
Return transfers ex Paris
Flights
Travel insurance
Personal expenses
France is the most visited country in Europe, and Paris is the country's main gateway. There are countless airlines that fly into the cities major airports – Charles De Galle and Orly. Charles De Galle is the home base for carrier Air France and is also connected to the city via train, making it a quick and easy commute.
Avignon to Tain L'Hermitage
10 days/9 nights
France is home to so many beautiful regions that really need to be experienced in detail over several days. This itinerary explores the beauty of Southern France and the Provence-Alpes-Côte d'Azur, cruising through the regions heart along the River Rhône. Discover picturesque river towns, romantic châteaux, and sample fine wine at world class vineyards.
---
Days 1-3
Paris
On arrival in Paris, you will be met and transferred to La Maison Favart, a lovely, centrally located hotel in Paris. Enjoy 3 nights in the world's most romantic city, exploring the wonderful sights at your leisure. The city is so full of history, art, culture, museums and incredible historic buildings it's hard to know where to begin. Visit the Eiffel Tower or Notre Dame, or alternatively spend an afternoon at the famous Louvre or explore the legendary Catacombs – a network of ossuaries that were built in the ancient network of tunnels below Paris. Wander the Champs Élysées from the Arc de Triomphe to the Tuileries gardens, or take an afternoon cruise along the Seine. B (days 2 & 3 only)
Day 4
Aramon
Today you will be met and transferred to the train station to board the train to Avignon. On arrival in Avignon you will be met by a representative who will escort you to your luxurious barge. Enjoy a champagne reception on arrival as you meet your fellow travellers and friendly, experienced staff.
Relax onboard this afternoon as the barge slowly sails along the river Rhône to ​tonight's mooring location in rural Aramon. This evening your onboard chef serves you an exquisite dinner of classic French cuisine. B D
Day 5
Arles
Breakfast is followed by a tour of Arles this morning, famous for its Roman ruins. Legendary painter Vincent Van Gough also stayed here from 1888 to 1889. You will also have some time to explore Arles at your own pace.
On your return to the barge, set sail for Avignon as you enjoy a sumptuous lunch. Relax onboard and watch the scenery pass by – including the famous Pont Saint-Bénezet. On arrival in Avignon, the vessel will moor opposite the city gates, and you will visit the spectacular Roman Pont du Gard aqueduct.
Return to the barge and enjoy drinks onboard before another splendid dinner. B L D
Day 6
Avignon
Today is dedicated to exploring the walled city of Avignon – home to the Popes of Avignon from 1309-1377. Enjoy a guided walk around the city and the Palace of the Popes. You will also have some time to visit the shops or relax at a French café, exploring at your leisure before returning to the barge for lunch.
In the afternoon visit the world famous Châteauneuf-du-Pape vineyard and enjoy a wine tasting before once more returning to the vessel and continuing to Roquemaure. B L D
Day 7
Nyons
Awaken this morning to breakfast and stunning views of Southern France as the barge winds its way towards Viviers. A highlight this morning is passing through the Bollène lock, with its dramatic 23-metre drop. Following lunch, on arrival in Viviers take a leisurely, guided walk around this fascinating medieval town.
This afternoon step ashore at Nyons, a typical Provençal village. You will also get to visit a lavender distillery. Return to the barge for dinner. B L D
Day 8
Grignan
After breakfast, discover the picturesque village of Grignan, famed for its wild roses and medieval Château. Following your visit, continue to a truffle farm to learn about – and taste – this world-renowned delicacy. Enjoy lunch at a local restaurant before returning to the barge. Relax onboard as the vessel makes its way to La Voulte, before enjoying a beautiful dinner prepared by your onboard chefs. B L D
Day 9
La Voulte
Today, explore a colourful market in La Voulte with your chef. Discover a bit more about the regions specialties and pick out your own ingredients for lunch which will be prepared for you back onboard.
Sit back and relax onboard as the barge continues along the river cruising past the vineyards of the Côtes du Rhône to Tain or Tournon. Visit the winery at Chez Ferraton and enjoy a private tour and wine tasting.
Back on the barge, mingle with your fellow travellers over a farewell feast toasting your final night onboard. B L D
Day 10
Tain L'Hermitage, Tour ends
After breakfast the crew bid you a fond farewell as you disembark the barge. Transfer back to Paris for your onward travel arrangements. Tour ends. B
---
B = Breakfast  |  L = Lunch  |  D = Dinner
Please note: This is a sample itinerary of what you may do. The route is subject to change without prior warning as a result of unforseen circumstances.