Remote and starkly beautiful, this precious archipelago of volcanic islands lies along the Equator 1,000 kilometres west of Ecuador.
Filled with many strange and unique species, the Galapagos Islands are one of the most fascinating places on earth and a protected UNESCO World Heritage Site. Charles Darwin visited here in 1835 and his observations on the evolutionary changes that have taken place amongst the wildlife, in particular the 14 species of finch's, helped him to formulate his ground-breaking theory on the origin of earth's species. The Galapagos Archipelago is made up of 13 main islands and hundreds of small rocks and islets.
There is no better way to discover these magical islands than on an intimate, luxury cruise ship or yacht. All shore visits and marine excursions are accompanied by experienced guides. When walking on the island's you will always have to watch your step in case you stand on a sunbaking land or marine iguana. Keep an eye out for bird species such as blue footed, red footed and Nazca boobies, frigate birds, flamingos, finches and Galapagos penguins. Spend your days on guided walking excursions, swimming or snorkelling the crystal-clear waters or exploring the coastline by kayak or motorised-dinghy.
Please note: To reduce the impact of tourism, the national park authorities control the itineraries for all Galapagos cruise operators.
2022 Departure Dates
ex San Christóbal (Galapagos Islands)

28 August
04, 11 & 18 September
23 & 30 October (photography focus)
Book by 30 July & save 15%*
Save 5%* on the following dates:
2022
06 & 27 November
04 December
2023
15, 22 & 29 January
05, 12 & 26 February
27 August
03, 10, 17 & 24 September
01, 08, 15, 22 & 29 October
05, 12 & 26 November
03 December
*Valid on new bookings only when booked by 30 July 2022 aboard the Origin or Theory. Price advertised inclusive of saving. Single travellers on request. Subject to availability. Conditions apply.
Tour details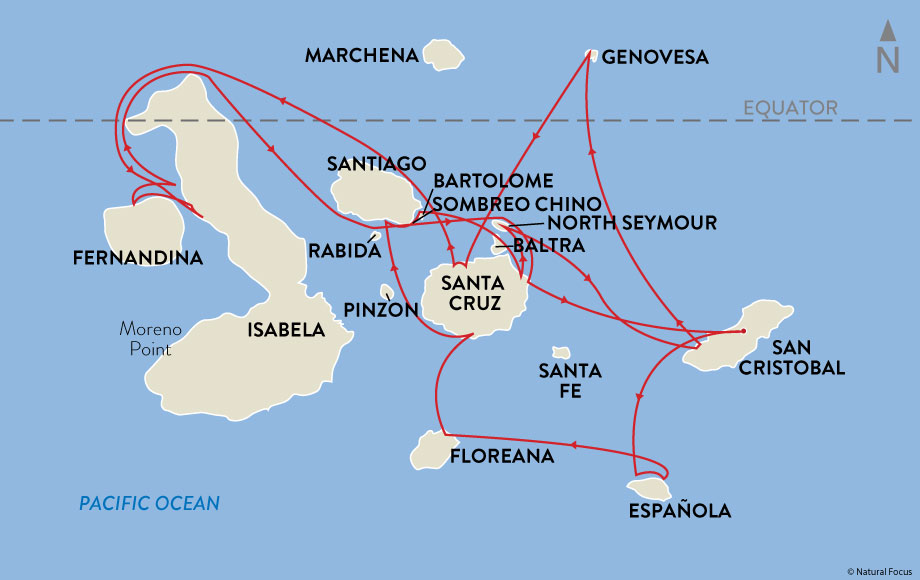 Set foot on the island's made famous by Charles Darwin
Visit the Charles Darwin Research Station
Discover diverse birdlife including blue-footed booby's, frigate birds and shearwaters
Swim and snorkel with sea lions and other marine species
Be careful not to step on sunbaking iguanas or sea lions
Stop at Prince Philip's Steps on Genovesa Island – home to a wealth of birdlife
Explore Punta Espinoza on Fernandina Island and get close to marine iguanas
Transfers between airport and boat
All meals onboard
Open bar policy – except premium alcoholic beverages
Wi-Fi access
Excursions to islands conducted by naturalist guides
Use of snorkelling equipment, sea kayaks and wet suits
Galapagos Park Fee
Immigration control card
All flights
Gratuities
Personal expenses
There are daily flights (2 hours) from Ecuador's capital Quito and the country's largest city Guayaquil to Puerto Baquerizo Moreno on San Cristóbal Island. Both Quito and Guayaquil are serviced by several airlines directly including KLM Royal Dutch Airlines, American Airlines, Air France and United. Latam Airlines, the major airline in South America, offers direct flights between Sydney and Santiago, Chile.
Volcanic Wonders
8 Days / 7 nights
Please note: This itinerary is an example of what you may do and see. Changes to the itinerary may occur without prior notice due to readjustment of National Park policies, weather conditions, seasonal changes or safety reasons. These decisions are oriented in terms of passenger safety and in the interest of the islands' conservation and protection.
Your Vessel – Origin & Theory
These two sister yachts are the first to join the esteemed Relais & Châteaux collection. Both yachts are identical in their design and range of amenities. Each vessel offers 10 superbly appointed ensuite staterooms, furnished with premium bedding and luxury amenities such as in-room espresso machines.These fabulous vessels also feature an elegant dining room, two bars – an indoor and outdoor, spacious sundeck, hammocks, day beds and a Jacuzzi. There is also a supremely comfortable lounge, where guests will enjoy daily briefings and insightful lectures about the islands. With 14 crew onboard in eluding 2 expert naturalists, these yachts have some of the lowest guest-to-guide ratios in the Galapagos.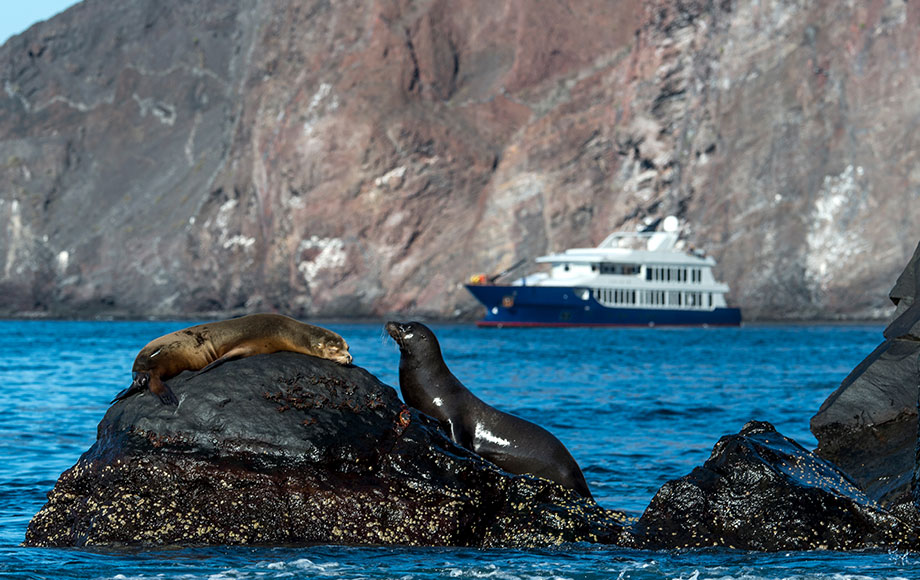 More Galapagos Itineraries
This 15 day/14 night itinerary combines the very best of the southern, north and central islands exploring Floreana, Espanola, San Cristobal, Santa Cruz, South Plaza and North Seymour islands.
This 7-night itinerary combines the very best of the southern and central islands exploring Floreana, Espanola, San Cristobal, Santa Cruz, South Plaza and North Seymour islands.
This 7-night itinerary combines the best of the northern and central islands including Genovesa, Santa Cruz, Isabela, Rabida and Fernandina islands.
Talk to one of our South America Experts