Embark on an unforgettable journey between Darwin and Broome
Limited time Special Offer
Book a 10 or 12 night 2023 Kimberley Cruise by 30 June 2023 and receive the following:
Save $500 per person*
Complimentary Wi Fi onboard
Complimentary Deposit Protection
The best way to experience the splendours of the Kimberley is on a small ship (fewer than 120 guests) purpose built for the Kimberley environment which can get you up-close to the shore and allow plenty of excursions by boat, zodiac, kayak or on foot. Departing from Kimberley or Broome these expedition style cruises are accompanied by a highly trained crew and expert guides with unsurpassed local knowledge.
---
*This offer applies to new bookings only, is valid for bookings made between 10 Feb to 30 June 2023 with travel on any 10 or 12-night voyage in the Kimberley 2023 season. Offer is non combinable with any other offers or programs. Not transferrable or redeemable for cash. Complimentary WiFi is to the amount of 4GB.
Choose from these 'Original Kimberley Cruises' in 2023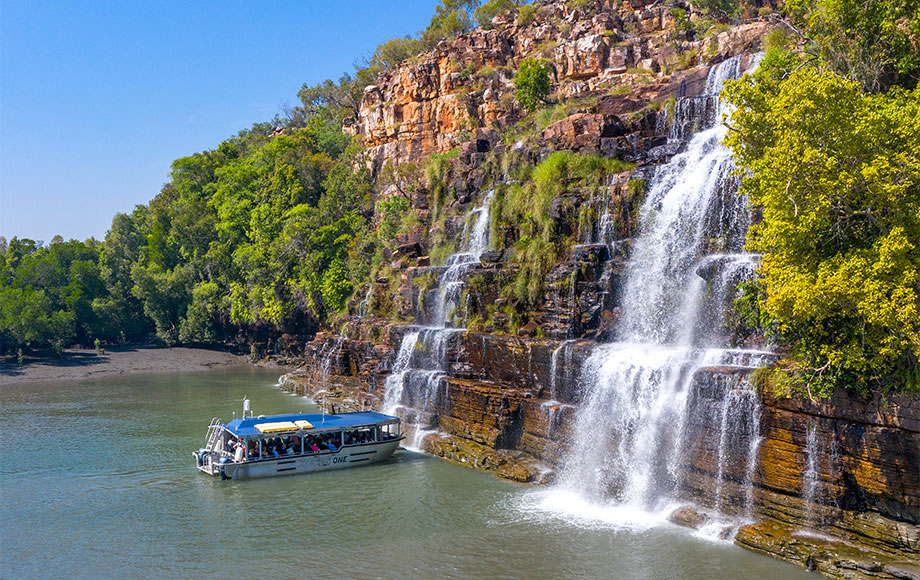 The Kimberley Cruise
10-night – (Apr to Sep) 
From $10,920 AUD per person twin share*
This 10-night Kimberley cruise takes you on an unforgettable journey between Darwin and Broome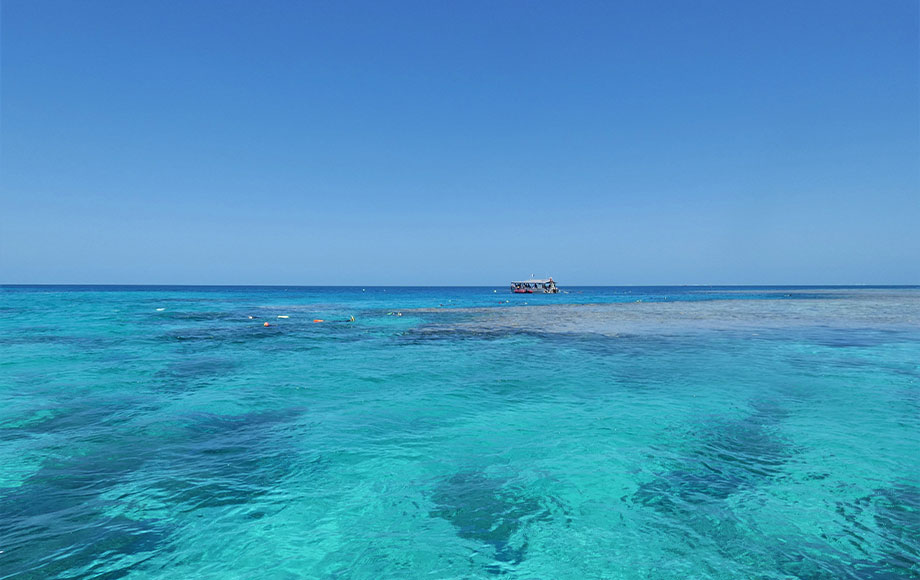 Kimberley Icons, Ashmore & The Rowley Shoals
12-Night – (Sep)
From $10,340 AUD per person twin share*
This itinerary combines our classic 10-day Kimberley itinerary with a visit to the spectacular Rowley Shoals Marine Park and Ashmore Reef.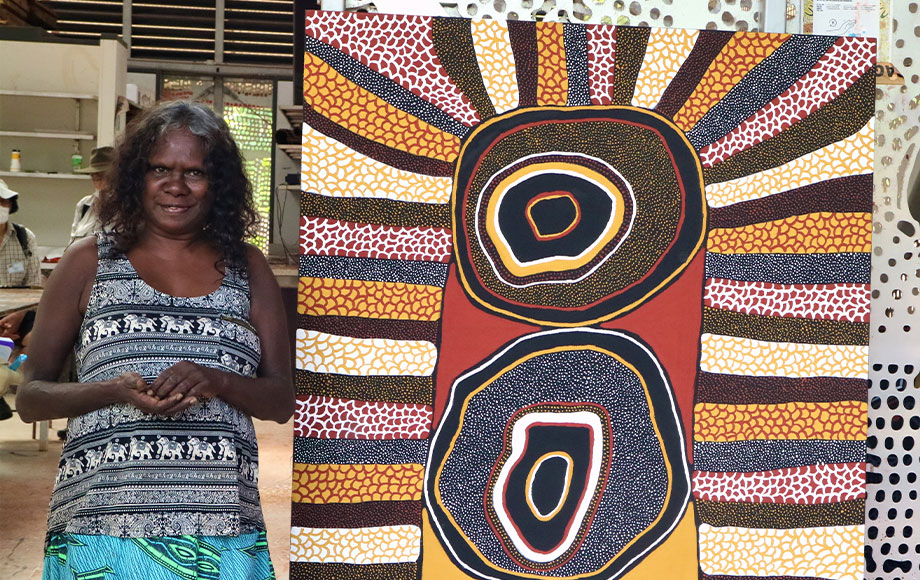 Art and Culture of The Kimberley and Tiwi Islands Cruise
10-night – (Aug-Sep) 
From $12,540 AUD per person twin share*
This trip takes in the best of our classic 10-day Kimberley itinerary with a visit to the vibrant culture of the Tiwi Islands.
Tour details
Experience the thrill of riding the Horizontal Falls in inflatable Zodiac tender vessels
Get up close to Montgomery Reef and discover the tidal reef's diverse marine life
Witness King George River and 80m tall twin King George waterfalls
Cruise the Prince Regent River to the 'hanging garden' King Cascade waterfall
Encounter Indigenous rock art galleries and learn about ancient Wandjina and Gwion Gwion art
Spot native wildlife and birdlife in their natural habitat
View the Kimberley landscape by air on a scenic helicopter flight to Mitchell Falls (additional cost)
Enjoy sunset canapés and drinks on the beach as dusk settles over the Kimberley
All excursions with our Expedition Team
Use of Xplorer and Zodiacs
Daily lectures and briefings with Guest Lecturers
All meals, chef-prepared on board
Captain's welcome and farewell events, and open bridge access
Selected wines, selected beers and house spirits, juices, and soft drinks served with lunch and dinner
24-hour barista-style coffee and tea station
All entrance fees to National Parks, ports, traditional owner fees and charges imposed by governing authorities
Tips and gratuities
Use of all onboard facilities, incl. a reference library
Your expedition photos captured during the voyage
Post-cruise transfers (in most destinations)
Pre-cruise transfers
Pre and post cruise flights/charter flights
Pre and post cruise accommodation
Travel Insurance
Entry visas & travel permits for the country you are traveling to/from
Alcoholic drinks (including beer and wine) outside of lunch and dinner service
Internet services (available at a cost)
Laundry service (available at a cost)
Items of a personal nature such souvenir purchases
Optional Extras (in some destinations)
Helicopter flights over Mitchell Falls are at a cost of $695 per person, subject to a minimum of 12 passengers to participate, otherwise a POA rate applies. A 24 hour cancellation policy applies.
This itinerary departs from Darwin in the Northern Territory. The city is serviced by many domestic and regional airlines, with direct flights from Sydney, Melbourne, Brisbane, Adelaide, Perth and Cairns. Charter flights depart from the airport's general aviation area to various lodges in the Mary River wetlands, Katherine and remote lodges in Western Australia's beautiful Kimberley region – including Faraway Bay Lodge.
The Original Kimberley Cruise
April to Sep
11 days/10 nights
Day 1
Darwin
Board your vessel. Spend a luxuriant sea day at leisure as you cruise across Joseph Bonaparte Gulf and sail into Western Australian waters.
Day 2
King George Falls (Oomari Falls)
Visit King George Falls, the Kimberley's most impressive water falls and the highest in Western Australia. Cruise through the steep gorge carved out by the river over 400 million years ago. Early in the waterfall season, you may cruise around the base of King George Falls while in later months you have the opportunity to view the honeycomb erosion patterns of sandstone cliffs up close.
Day 3
Vansittart Bay (Banjal)
Vansittart Bay is home to many cultural and historically significant sites like the remarkable Gwion Gwion (Bradshaw) Aboriginal rock art galleries estimated to be up to 20,000 years old. Jar Island is so-named after the pot shards found here, brought to the island by Macassan fisherman harvesting sea cucumbers (also known as trepang).
Day 4
Mitchell Falls
The Mitchell River National Park is inhabited by significant numbers of animals lured by the year round water source. The tumbling Mitchell Falls and ancient rock art are a photographer's heaven. Explore the plateau on foot or take a scenic helicopter flight (additional cost) to explore the region.
Day 5
Prince Frederick Harbour
Prince Frederick Harbour is one of the Kimberley's most spectacular locations at the southern end of York Sound. The harbour is dotted with islands lined with mangroves and monsoon rainforests, set against a backdrop of ochre-hued escarpment. Explore the marine and birlife here as well as some striking rock formations.
Day 6
Prince Regent River
Cruise down the Prince Regent River to the King Cascade, a classically beautiful terraced waterfall and one of the most photographed waterfalls in the Kimberley.
Day 7
Montgomery Reef
Montgomery Reef is a biologically diverse area covering over 300 sq km. Twice daily, as the sea recedes in mammoth 11m tides, Montgomery Reef rises from the Indian Ocean in a cascade of rushing water revealing a flat-topped reef pockmarked with rock pools and rivulets. As the reef emerges, get up close to witness the spectacle.
Day 8
Doubtful Bay & Raft Point
Raft Point guards the entrance to Doubtful Bay, a vast body of sheltered water which harbours significant sites such as the ancient Wandjina rock art galleries located a short walk from the beach. Considered some of the finest in the Kimberley, you will visit the rock art galleries when Traditional Owners are available to guide us. Doubtful Bay is the traditional country of the Worrora people who follow the god Wandjina. Images of Wandjina are found throughout the Kimberley, recording their stories, knowledge and culture in stone.
Day 9
Horizontal Falls
The Horizontal Falls are one of the Kimberley's biggest attractions and are a result of the mammoth 11m tides the Kimberley is renowned for. Water builds up on one side and is forcibly pushed through the bottleneck, creating a rushing horizontal waterfall of swiftly flowing seawater. Riding the rapids on inflatable Zodiacs is one of the trip's many highlights.
Day 10
Lacepede Islands
The Lacepede Islands are a protected class-A nature reserve and are significant as a seabird nesting rookery for brown boobies and roseate terns. Other species often sighted at the Lacepedes include Australian Pelicans, frigate birds, egrets and gulls. If weather and tide conditions are suitable, explore the lagoons by Xplorer and Zodiac tender vessels.
Day 11
Tour Ends, Broome
Transfer to Broome CBD or Airport. Tour ends
---
This itinerary is an indication of the destinations visited and activities on offer. Throughout the expedition changes may be made to the itinerary as necessary to maximise your expeditionary experience. Allowances may be made for seasonal variations, weather, tidal conditions, and any other event that may affect the operation of the vessel. 
Coral Geographer
Launched in March 2021, Coral Geographer is the newest addition to the fleet, purpose-designed to access remote wilderness shores around the world that are often inaccessible to large cruise vessels. Sister ship to Coral Adventurer, she has over 1000 square metres of open deck space, multiple bars, balcony staterooms and suites, and public areas featuring a collection of Australian Indigenous art. 
Coral Adventurer
Launched in April 2019 and purpose-built to take you closer to unspoilt vistas in comfort, style and safety, Coral Adventurer accommodates 120 guests in 60 spacious staterooms and has a cruising speed of 11.5 knots.  The ship has over 1000sq m of open deck space including a wrap-around promenade deck with panoramic views, multiple indoor and outdoor bars, a well-equipped gym, and a passenger elevator.
Coral Discoverer
Launched in 2005 and purpose-built for cruising in the tropical regions of the southern oceans, Coral Discoverer accommodates just 72 guests in 36 spacious staterooms and has a cruising speed of 14 knots. Coral Discoverer's shallow draught allows it to access even the most isolated and remote locations we cruise, beyond the reach of other ships.