Embark on an incredible exploration of historic Canadian sites, encounter abundant wildlife and experience traditional Inuit culture.
Our Canadian Arctic small ship cruises explore the starkly beautiful Arctic archipelago made up of over 35,000 islands encompassing Nunavut and the Northwest Territories. They provide excellent opportunities to observe iconic polar wildlife, view breathtaking coastal scenery and visit remote communities.
Here, the icy seas and desolate tundra are home to surprisingly diverse plant and animal life. Unlike Antarctica, which has no land animals, you'll find an array of terrestrial species such as Arctic hare, ptarmigan and muskox happily feeding on the abundant berries, heather and moss. If you are lucky, you might even see polar bears, Arctic fox and caribou, so important to the Inuit. The seas abound with amazing marine life – beluga whale, bowhead whale, walrus, the rare narwhal whale, bearded and ringed seals.
This frozen land is also the historical home of around 200,000 Inuit, whose rich, ancient cultures and traditions still survive in settlements scattered across the north. Summer is the only time to visit, with long daylight hours providing plenty of time to explore.
Brochure Pages
We have a unique selection of Canadian Arctic cruise options carefully chosen for their itineraries, as well as the vessels used. Our selection of ice-strengthened ships are all small to medium in size, with a maximum of 50-199 passengers, ensuring an authentic, up-close encounter with the untrammeled wilderness. All of our cruises and tours are completely tailor made to suit our clients interests, budget, and timeframe. To find out more about the type of Canadian Arctic cruise program we can put together for you, please download pages below.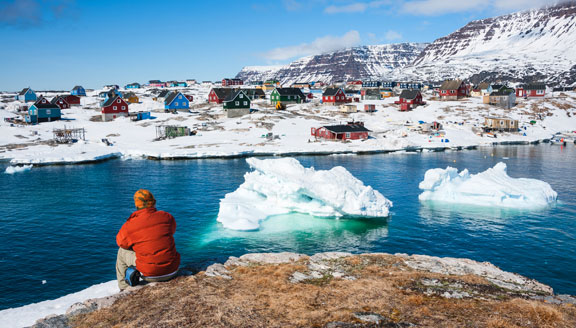 Best of the Western Arctic
Take in impressive towering mountains, deep fjords and traditional Inuit villages while circumnavigating Baffin Bay's remote coastlines. Zodiac cruises provide close encounters with whales, walrus and seals, as well as in-depth explorations of World Heritage Sites such as the Ilulissat Icefjord.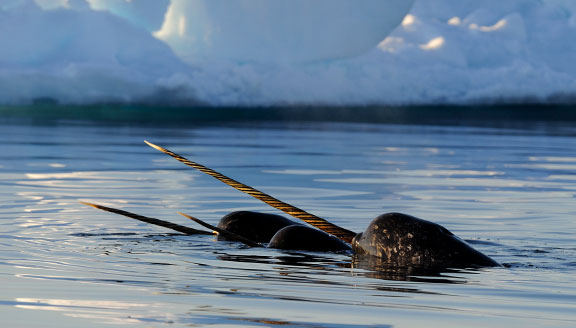 Narwhal and Polar Bear Safari
Embark on a land and ice-based adventure with Arctic Kingdom and discover the true nature of the Arctic. These highly personalised explorations will get you close to icebergs, glaciers, pods of whales, walrus, polar bears, and the rich culture of the Inuit.