Travel to Botswana for a Luxury Safari with African Wildlife Safaris
Travel to Botswana and discover a world of diverse and stunning landscapes, from the sandy vastness of the Kalahari Desert to the watery paradise of the Okavango Delta. We are experts in tailor made travel with unrivalled knowledge and experience.
Botswana is an incredible place for a Safari, featuring some of the most wondrous wilderness locations, with the wetlands of the Delta sustaining a huge variety of flora and fauna, and excellent gameviewing throughout the year. Further north, the Chobe and Linyanti reserves are renowned for their predators and large concentrations of game.
The Okavango Delta is a maze of lagoons and waterways covers 15,000 sq kms and is a haven for birds and animals like hippo, crocodiles, elephant, leopard and rare antelope like lechwe and the shy sitatunga. It is also one of the best places to see African Wild Dog.
Continue your Botswana safari north of the Delta into Chobe National Park where lions prowl the Savuti grasslands and some of the largest herds of elephants in Africa can be seen along the Chobe River.
Botswana is also renowned for its sophisticated and exclusive eco-lodges and camps, providing comfort and service in the heart of true wilderness. These intimate camps accommodate between 12 and 20 guests, making a Botswana safari an authentic and personalised experience. Many of these luxury camps feature private plunge pools, a spa and even a gym! Many camps also feature family friendly accommodation and engaging kids clubs making Botswana one of the best countries to visit as a family.
Our Recommended
Botswana Sample Itineraries
Explore some of the amazing holidays and experiences that we can custom design for you. All of our safaris and tours are tailor-made to suit your interests, budget and timeframe.
Discover epic wildlife in the Okavango Delta, Moremi Game Reserve and Savute with Desert & Delta Safaris, one of Botswana's most respected operators.
Take in the best of Botswana on this 12 day exclusive safari, travelling from the Makgadikgadi Pans through the Linyanti into the Okavango Delta.
Experience the beauty and diversity of Botswana's Okavango Delta whilst staying in some of the area's most spectacular luxury tented camps.
Our Preferred
Luxury Accommodation in Botswana
Botswana is also renowned for its sophisticated and exclusive eco-lodges and camps, providing comfort and service in the heart of true wilderness. These intimate camps usually accommodate between just 12 and 20 guests, making a Botswana safari an authentic and personalised experience. Many of these luxury camps feature private plunge pools, massage parlours and even small gyms. Many camps also feature family friendly accommodation and engaging kids' clubs making Botswana one of the best countries to visit as a family.
Selinda Camp is located in the breathtakingly unspoilt Selinda Reserve, home to some of Africa's largest herds of elephant and buffalo, as well as rare African wild dog.
Set alongside the ephemeral Savute Channel, Savuti Camp is located in a privileged wildlife area, best known for its plentiful predators including lion and African wild dog.
The ultra-luxurious Vumbura Plains Camp sits elevated upon a stunning floodplain in the north of the Okavango Delta where guests can enjoy both water and land-based activities.
Duba Plains Camp is an extravagant luxury safari camp set in a private concession in the Okavango Delta dubbed "Botswana's Masai Mara" for sheer density of wildlife.
On Chief's Island in the world-renowned Moremi Game Reserve, superb Mombo Camp is right in the heart of big cat country.
Secluded Duba Explorers Camp is set amid a classic Okavango Delta landscape in a vast private concession, assuring guests of very exclusive wildlife encounters.
Award-winning Jack's Camp sits in the shade of palms amid a giant salt lake which dried up millennia ago, beside Botswana's otherworldly Makgadikgadi Pans National Park.
Little Mombo Camp is linked to Mombo Camp by a walkway. With just 3 guest suites, it's a most intimate safari camp to watch nature's dramas play out on the surrounding floodplains.
Named after Scandinavian royalty, Kings Pool Camp sits by a lagoon in the elephant-rich Linyanti Wildlife Reserve, which borders Chobe National Park.
On an island in the Okavango Delta's unspoilt southeast, Chitabe Camp is well-known for its resident African wild dogs and leopards.
Best Places to go in Botswana
Our pick of some of the best places to visit and things to do during your Botswana safari, and favourite places to stay.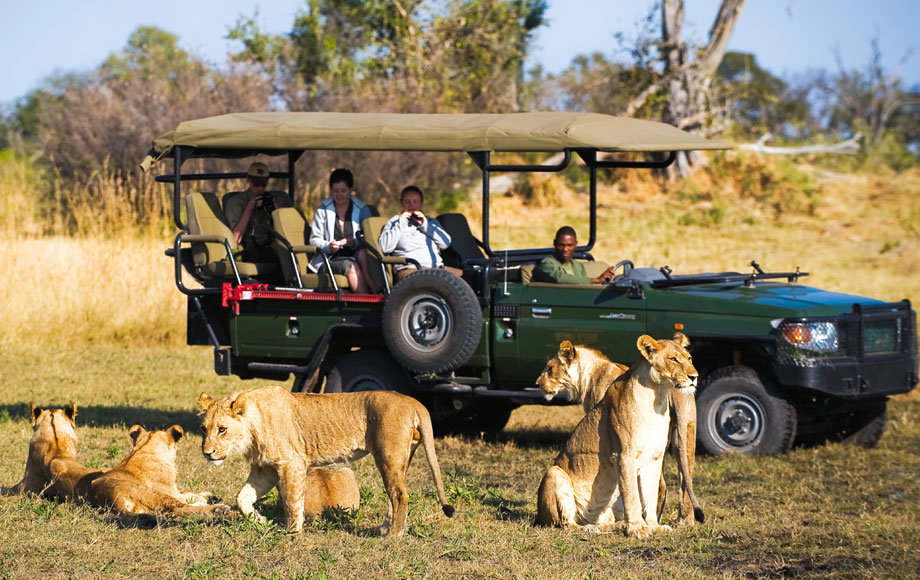 In between the Okavango Delta and Chobe National Park, the exclusive Selinda and Linyanti concessions harbour safari camps and lodges that virtually guarantee intense wildlife encounters.
When is the best time to visit Botswana?
Botswana is very much a year-round destination. The contrasting landscapes during the dry season (May-Oct) and the wet season (December-March) offer a completely different perspective and there are plenty of reasons to travel at both these times. Below is a short summary of what to expect at different times of the year:
Visitor numbers begin to increase during May and June but are not quite at its peak. Temperatures are still chilly in the morning and evening before rising to a pleasant 24-28 degrees in the early afternoon – perfect for a serviced, mobile camping trip. Game-viewing is generally very good with elephant sightings around the Chobe National Park a highlight.
The peak season for Botswana when the landscape is at its driest and game congregates around the remaining water sources. Peak season also coincides with summer holidays in the Northern Hemisphere which means availability is often extremely limited. If you are planning to travel over this time, we recommended booking 12 or even 18 months in advance.
A terrific month to travel (particularly early November) as prices are slightly lower, as are visitor numbers. Game viewing is still excellent and the first rains for the season come as a welcome relief for the wildlife. It is also fascinating to see the immediate change in the landscape when the first rains do arrive, as new grass grows and the wilderness starts to transform. Maximum daily temperatures are still high (around 35 degrees).
The wet season is in full swing by early December and this is the time of year when antelope start to give birth. It is season of plenty, when there is plentiful food, plenty of newborn antelope (that all birth at the same time to minimise the risk of losing young) and that means predators are on the on lookout. One of the key benefits over this period is that there are far fewer travellers, creating a more exclusive experience.
Another highlight that occurs, during February and early March is the zebra migration when thousands of zebras arrive in the Makgadikgadi and Naxi pans. During the wet season the pans are transformed from bone dry salt pans to shallow lakes and beautiful grassland. One of our favourite camps to visit during this time is Jack's Camp a unique camp decorated in 1940's campaign-style furniture.
A bit of a transition month between the seasons, April remains a relatively quiet month with most camps beginning to see a rise in the number of travellers.
Botswana FAQ
Can I see the Big 5 in Botswana?
Yes – however there is only a small population of rhino that were reintroduced into Botswana 20 years ago. The best location to see rhino is in Northern Botswana, in the Moremi Game Reserve.
Where can I see African Wild Dog?
Botswana is one of the best countries in Africa to see the increasingly endangered African Wild Dog. They can be seen in many of the reserves including the More Game Reserve, Khwai Community Area and the Linyanti Concession.
Can I do canoe Safaris in Botswana?
Canoe, or mokoro (traditional dugout canoe) safaris, are one of Botswana's specialties. Travelling down the waterways and lagoons of the Okavango Delta is a highlight for many visitors, giving guests a unique way of photographing wildlife and birdlife.
What is the best thing to do in Botswana?
Abundant wildlife including big cats, small, ultra-luxurious lodges and diverse landscapes make Botswana one of Africa's premier safari destinations. Unique activities including exploring the waterways of the Okavango Delta by mokoro (dugout canoe), walking with bushmen in the Kalahari Desert, and exciting 4WD safaris are all possible.
What is the Climate in Botswana?
During the winter months of May-August days are dry and sunny with average temperatures of 25°C. Mornings and evenings can be very cold. Daily averages begin to rise in September and October towards 33-35°C. Temperatures from November-April can be very hot, reaching above 38°C. December to March is when Botswana receives most of its rain.
How do you get to Botswana?
Unfortunately, there are not many direct flights into Botswana. Most travellers fly into Johannesburg in South Africa, the major hub for Southern African Safaris. From there, there are regular flights between Johannesburg and Maun, the Okavango Deltas major access point.
What can I combine Botswana with?
A landlocked country, Botswana is surrounded by a number of other safari destinations. Botswana can easily be combined with Victoria Falls, the stunning sand dunes of Namibia, cosmopolitan Cape Town or even a beautiful beach resort in Mauritius or Mozambique.
Want to know more about Botswana? Please call us on 1300 363 302 or visit or FAQ page