Uganda, called "The Pearl of Africa" by Sir Winston Churchill, is a country of great natural beauty and spectacular wildlife experiences.
The impressive snow-capped Rwenzoris rise high above Queen Elizabeth National Park, home to its abundant game, while the endangered mountain gorilla can be found in the forests of the Virunga Volcanoes and the Bwindi. The source of the River Nile, Uganda's enormous Lake Victoria is also a sight to behold.
Our range of Uganda safaris offer the chance to view some of the world's last remaining mountain gorillas. These gentle giants live within Uganda's Bwindi Impenetrable National Park and Mgahinga National Park in the Virunga Volcanoes on the border with Rwanda's Parc des Volcans. A trek to see these mountain gorillas is one of earth's greatest wildlife experiences.
For more traditional safaris, you can visit the Queen Elizabeth National Park, renowned for its abundant game and its huge population of hippo in the beautiful Kazinga Channel. There is also a population of chimpanzees that can be closely observed in Chamburu Gorge. Another place to see these primates is in the Kibale Forest National Park, where most of Uganda's chimpanzees reside.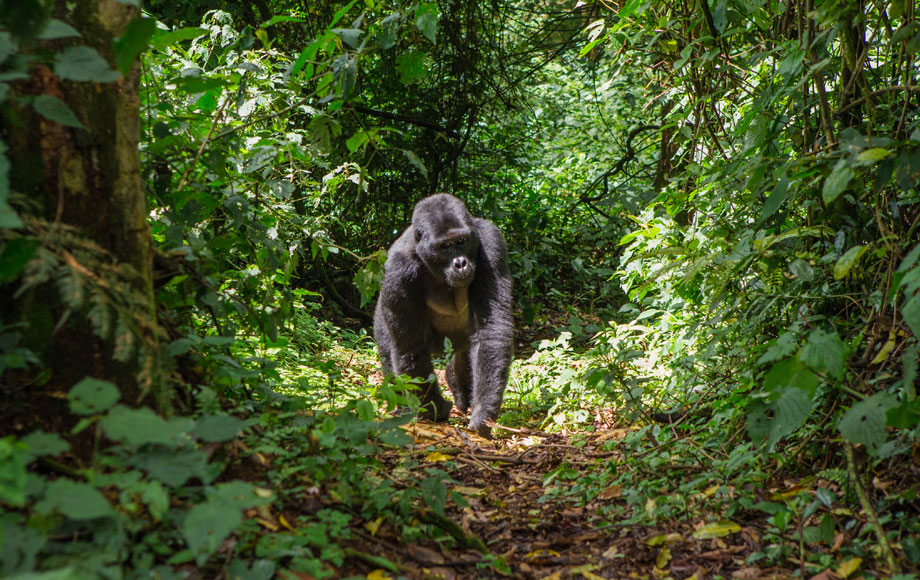 Gorilla Trekking
Africa is home to the world's largest primate, the gorilla. The mountain gorilla lives at higher altitude and has longer and more abundant fur than the lowland species.
It is also the most critically endangered with approximated 720 individuals remaining within national parks in the Virunga Volcanoes and the Bwindi Impenetrable Forest. These gentle giants live on a diet of leaves, stems, bark and fruit. A guided trek through the forest to see an habituated group is an unforgettable experience, and although encounters cannot be guaranteed, it is unusual not to see them. Finding the gorillas can mean trekking up steep, uneven paths or over tussocky grass so a reasonable level of fitness is required. The Bwindi Impenetrable National Park is the best place to undertake gorilla treks. Limited permits are available and need to be purchased well in advance.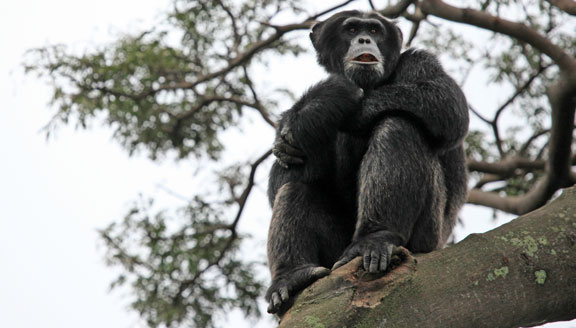 Chimpanzee Viewing
Uganda's forests are home to the endangered chimpanzee, with the largest population in the pristine Kibale Forest in eastern Uganda.
There is also a small population in the Kyambura (Chamburu) Gorge in Queen Elizabeth National Park. Chimpanzee trekking is a more active experience than gorilla trekking. Troops move very quickly and finding them is definitely not guaranteed. However, an encounter with these lively and intelligent primates is a remarkable experience and you may see many other monkeys and wildlife when walking in the forest. It is also possible to visit chimpanzees in a private sanctuary on Ngamba Island in Lake Victoria close to Entebbe.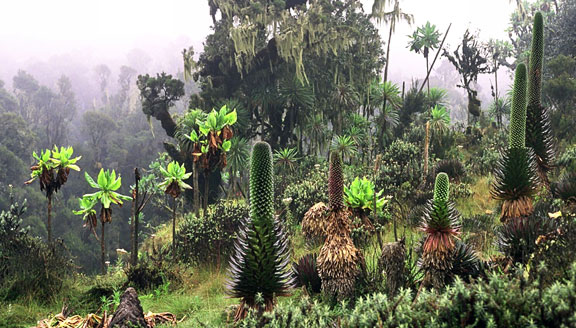 Dramatic mountain scenery
Uganda's western border is famed for its dramatic scenery including the lakes and mountains of the Rift Valley and the snow-capped Rwenzori Mountains.
With glaciers at their summits and draped in cloud, the Rwenzoris have a number of very high peaks. Mount Stanley is the tallest, and at 5,109m, it is the third highest peak in Africa. Trekking here is a highlight. Another chain of mountains on the border of Uganda, Rwanda and Congo, the Virunga Volcanoes are covered in rainforest and home of the endangered mountain gorilla.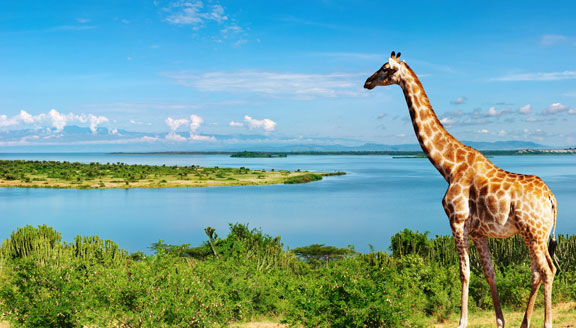 Queen Elizabeth National Park
The diverse landscapes of Uganda's most popular wildlife park are home to a remarkable 600 bird species and 100 mammal, including tree-climbing lions.
Other wildlife such as elephant, leopard, buffalo and crocodile are joined by more unusual animals such as the Uganda kob and the rare aquatic sitatunga antelope. Take a cruise on the famous Kazinga Channel which supports one of the world's largest concentration of hippo, and see amazing birdlife, including the strange Shoebill or Whale-headed Stork, standing over a metre high. Chimpanzees and a variety of monkey species can be seen in the forests of the Kyambura (Chambura) Gorge and in the Maramagambo Forest.
Uganda Safaris
Explore some of the experiences that we can custom-design for you. All of our safaris and tours are tailor-made to suit your interests, budget and timeframe.
Discover the Best of Uganda on this 8 day safari from mountain gorilla trekking to searching for the famous tree-climbing lions of Queen Elizabeth National Park.
Visit Uganda's Bwindi Impenetrable Forest to spend time observing mountain gorillas in the wild, a truly profound wildlife experience.
Accommodation in Uganda
Below are some of our preferred accommodation options in Uganda, carefully selected for their superior safari locations, service and level of comfort. Explore the highlights sections above to view more of our handpicked luxury lodges in Uganda.
Featuring sweeping views of the magnificent Bwindi Impenetrable National Park, Buhoma Lodge is one of only two properties physically inside the reserve.
Why should I travel to Uganda? Uganda offers a wide variety of experiences, from classic big game viewing in the Queen Elizabeth National Park to mountain gorilla and chimpanzee trekking. There are many pristine rainforests with unique fauna and flora including within the Bwindi Impenetrable National Park, Kibale Forest and the Rwenzori National Park. Uganda also has a rich culture with over 30 languages spoken by many different tribes, ranging from the regal Buganda and Bunyoro to forest-dwelling Batwa pygmies.
When is the best time to see Gorillas in Uganda? Gorilla trekking can take place at any time of year with April/May and November being wetter. However, be aware that rain occurs all year round. For general game viewing safaris, the best time to go is during the dry season (between June and September).
What is the climate in Uganda? Although Uganda is on the Equator, much of the country is at relatively high altitude and temperatures are very pleasant (25°-28°C). The mountain areas where gorillas are found can be cool to cold. Rain falls throughout the year but is heaviest between Mar-May and Oct-Nov.
What can I combine Uganda with? Uganda can be combined with neighbouring Kenya or Tanzania and we highly recommend including renowned game parks such as the Masai Mara or the Serengeti into your itinerary.
How to get to Uganda? The Ugandan capital of Entebbe can be reached by air from Nairobi in Kenya, Kilimanjaro and Dar es Salaam in Tanzania, with Emirates from Dubai and with SAA from Johannesburg.
Want to know more about Uganda?
Visit our FAQ page or call us:
Australia: 1300 363 302
United States: +1 (213) 460 3364
United States: +1 (646) 217 0354
United Kingdom: +44 (20) 4518 8166
JOIN OUR
E-Newsletter
Sign up to receive updates about exciting journeys, special offers and more