Russian Far East Cruises will take you through a landscape of remote islands, ice-covered volcanoes, and lush green valleys winding through jagged mountain ranges.
The Russian Far East is unique in its culture, climate, history and wildlife; it is worlds away from the Russia you might have already visited.
Migratory birds fill the skies while ancient pine and spruce trees stand tall beneath snow-covered mountaintops. This is a place that few foreigners have ever seen – a world of ice rich in life both on land and in the frigid waters beyond. Explore earth's northernmost World Heritage Site, Wrangel Island, home to the planet's greatest concentration of polar bear dens. Circle 'The Ring of Fire' volcanoes as they blast steam and ash into the sky. Discover the incomparable Kuril Islands, with its huge diversity of avian and marine life. Being so remote, the Russian Arctic has  few roads and very little infrastructure thus is best discovered on an expedition-style cruise.
To find out more about our range of Arctic cruises and tours in the Russian Far East, please download pages below or click here to download the full Russian Far East Arctic section of our Antarctica and the Arctic brochure.
Highlights
Russian Far East Cruise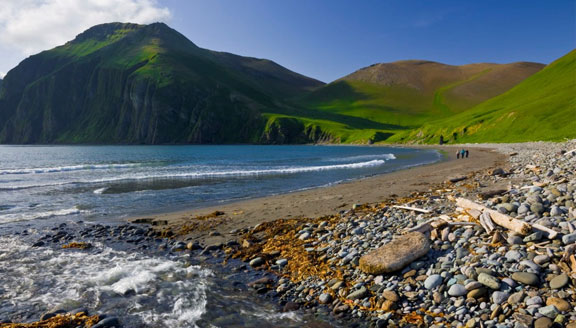 Cruise Spectacular Landscapes
Nature exists here on a grand scale. Glide past the spectacular volcanic landscapes of the "Ring of Fire", the Kamchatka Peninsula and the Kuril Islands.
The landscapes of the Russian Far East are amongst the most awe-inspiring on earth. The Wrangel and Herald islands in the High Arctic offer incredible polar bear and walrus encounters, stunning bird cliffs, endemic vegetation, mammoth tusks and ice-laden seas that are rich in marine wildlife.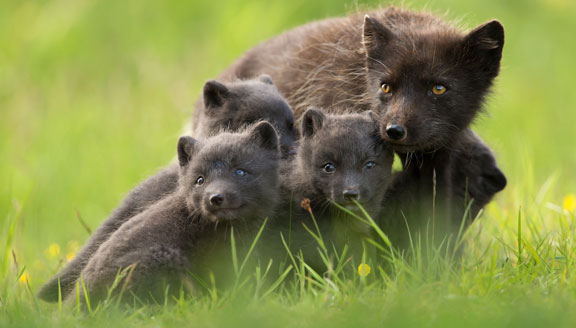 View Amazing Wildlife
The rarely visited wilderness of the Russian Far East is a treasure trove of biodiversity, with Wrangel Island boasting the highest density of polar bear dens in the world.
Wrangel Island also boasts the world's largest population of Pacific walrus. While you're there, look out for brown bear, reindeer, red and Arctic fox, wolf, sea otter, seals and whales. Upwellings along the "Ring of Fire" attract millions of migratory sea birds and you can also hope to encounter blue whale, fin, sperm, humpback and gray whales as well as orca (killer whale), Baird's beaked-whale and Dall's porpoise.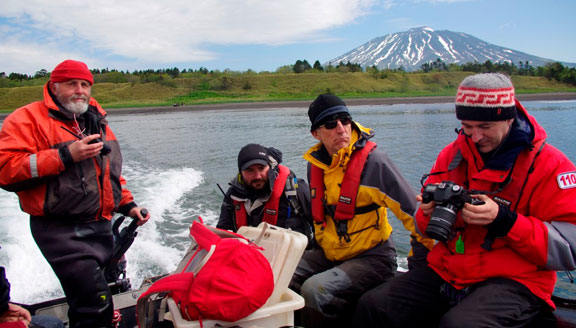 Explore The Kamchatka Peninsula
This is an untamed and breathtakingly beautiful landscape of snow-capped volcanic mountains, tundra and forest.
On cruises here you will explore river mouths, fjords, bays and islands that abound in fascinating flora and fauna. See brown bear, reindeer, walrus, sea lion, gray and beluga whales and birds such as Tufted Puffin, Red-faced Cormorant, Red-legged Kittiwake, Pigeon Guillemot, Horned Puffin, Parakeet, Crested and Whiskered Auklets plus many species of ducks and geese. Visit local settlements and discover the fascinating history of early Ainus.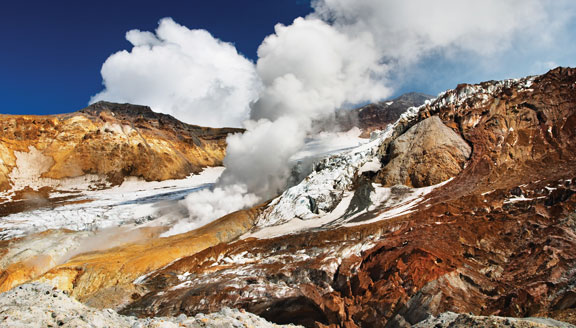 Visit The Stunning Kuril Islands
Comprised of 56 islands with around 40 active volcanoes, the Kuril Islands form part of the Pacific's "Ring of Fire".
The islands' dramatic landscapes feature snow-capped volcanoes, tundra, and forest. Wildlife abounds; look for sea otters, seals, gray whales and extraordinary birdlife, including Tufted Puffins and Crested and Whiskered Auklets. The islands also have a fascinating human history; discover relics left behind by the original Ainu inhabitants, an abandoned Soviet Era submarine base and the remains of Japanese fortifications.
On Top Of The World: Wrangel & Herald Islands
Lying beyond the Arctic Circle, the incredibly bio-diverse Wrangle and Herald islands are reached via the narrow waterway of the Bering Strait between the USA and Russia.
Both islands boast mind-boggling biodiversity and are popular with polar bears during breeding season. Wrangel also has the world's largest population of Pacific walrus and lies near important feeding grounds for gray whales that migrate all the way from Baja, Mexico. Additionally, reindeer, muskox and Snow Geese are commonly seen further inland. If conditions are right, you may be able to visit massive bird cliffs on nearby Herald Island. The islands' stunning 'mammoth steppe' vegetation is an astounding relic from the Pleistocene epoch with over 400 plant species, many of which are endemic. Recent mammoth tusks and skulls have been found here, and visitors can explore the area on foot and by Zodiac.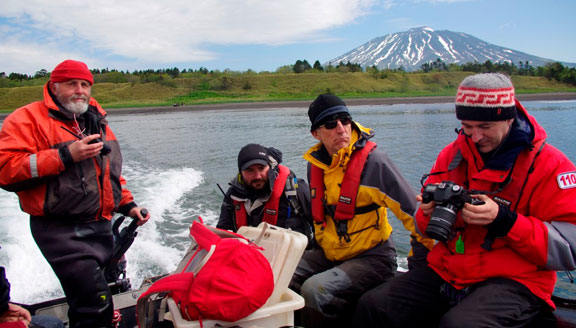 Shore Explorations
Expect regular excursions ashore in search of terrestrial wildlife or in inflatable Zodiac boats, gliding past marine mammals and impressive bird cliffs.
Anyone of average fitness and agility can get into and out of Zodiacs. To avoid getting wet, you should wear wet weather gear and high rubber boots (wellies or gum boots). Some landings are "dry" while others are "wet". Zodiacs were developed by the famous Jacques Cousteau and these nimble, rugged boats are the best way to get to shore quickly and efficiently in the challenging polar conditions, as well as being lots of fun.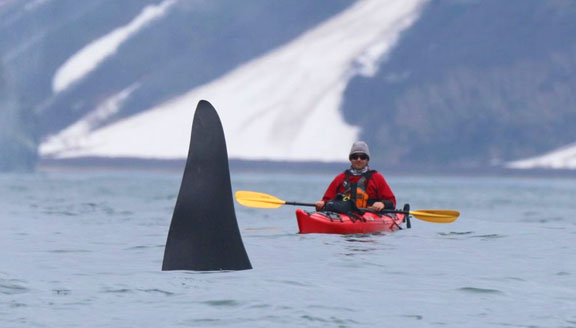 Sea Kayak The Pacific "Ring of Fire"
Paddle the waters of "The Ring of Fire", an area notorious for seismic activity.
Kayak excursions are in small groups with guides and some experience is necessary. Participants generally visit the same sites as the Zodiacs but enjoy a bit more independence and the opportunity to enter areas not possible in Zodiacs. The coastlines of the Russian Far East offer a wide array of habitats from sandy bays to rugged cliffs which are sanctuaries for nesting seabirds, fish and marine mammals. Please note that sea kayaking is only available on certain voyages and is subject to weather conditions. Please request this option (additional cost) at the time of booking.
Our
Brochure Pages
We have a unique selection of Russian Far East cruise options carefully chosen for their itineraries, as well as the vessels used. Our selection of ice-strengthened ships are all small to medium in size, carrying a maximum of 50-199 passengers, ensuring authentic, intimate experiences in the untrammeled wilderness. All of our cruises and tours are completely tailor made to suit our clients interests, budget, and timeframe. To find out more about the type of Russian Far East cruise program we can put together for you, please download the pages below.
Russian Far East Overview
Why Russian Far East: This wild and remote area is perfect for cruising and offers magnificent scenery, abundant wildlife, fascinating archaeological remains, traditional local culture and historic remains from the Soviet era. Wrangel Island offers good opportunities for polar bear sightings.
Climate: Like all northern climes the weather is unpredictable and you need to be prepared for all occasions. Cruising takes place during spring and summer, with longer daylight hours and warmer temperatures. Ice will remain in the High Arctic and on mountain tops but the shores of the Kamchatka Peninsula and the Kuril Islands can be quite temperate.
Combine With: The Russian Far East can be reached by air from Alaska, so you can extend your holiday with a visit to Alaska or Canada. Cruise the Inside Passage, visit Denali National Park or explore the Rocky Mountains. Please see our Canada & Alaska program for more details.
Getting There: It is possible to fly from Anchorage to Petropavlovsk-Kamchatskiy for Ring of Fire cruises, and to Anadyr (Chukotka and Wrangel Island cruises) can be reached from Nome in Alaska by charter flight across the Bering Sea.