Our Chile tours explore a land of spectacular geography and scenery, including harsh deserts, fertile valleys, breathtaking icefields and towering peaks.
A narrow strip of land between the high Andes and the Pacific Ocean, Chile stretches an incredible 4,300 km from north to south. Chilean society is a mix of indigenous peoples and European settlers, mainly of Spanish heritage.
Visit beautiful cities like Valparaiso and Vina del Mar, explore the remarkable high altitude Atacama Desert from the quaint village of San Pedro, or relax in the idyllic scenery of the Lake District. Southern Patagonia offers amazing wilderness, from the dramatic granite peaks of the Torres del Paine to the icefields of the deep south, best visited by cruise ship. And let's not forget Easter Island with its mysterious statues, 3,000 km off the coast but still administratively, a part of Chile.
To find out more about our range of suggested Chile tours, please download specific pages below or click here to download the full Chile section of our South America brochure.
For information on the Chilean region of Patagonia, please click here. For information on our programs on Easter Island, please click here.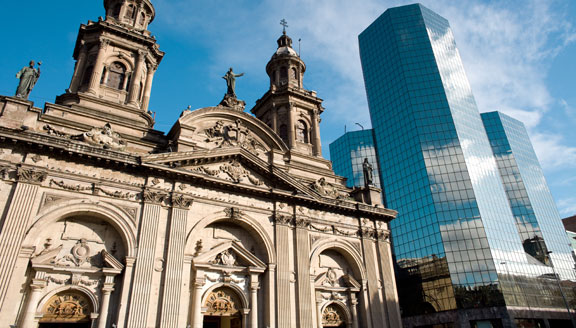 Colonial Architecture and Fine Dining in Santiago
Santiago is one of South America's most important cities, with grand public buildings, churches and museums, excellent shopping and plenty of dining options.
Visit the bohemian Bellavista district, and take the trolley to the top of San Cristobal Hill for panoramic views of the Andes. Locals are called "Santiaguinos" and you can experience the city just like one, on a tour which incorporates travelling on the metro and good local restaurants. Santiago is also a gateway to wineries, picturesque towns like Vina del Mar and Valaparaiso, as well as the rest of Chile.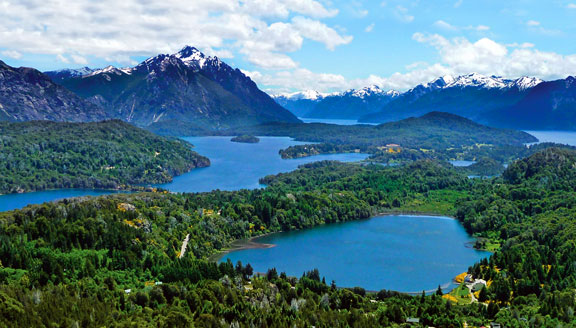 Explore Lovely Lakes District
Travel from Puerto Montt to the lakes, forests and mountains of Chile's famous Lakes District.
Visit the scenic town of Puerto Varas which features views of the Osorno Volcano, Llanquihue Lake, Vicente Perez Rosales National Park and Lake Todos los Santos, the Emerald Lake. Explore by car, boat, kayak or on foot. This is also the start of the famous Lakes Crossing by catamaran and bus to Bariloche in Argentina. For more details, visit the Patagonia section of our website.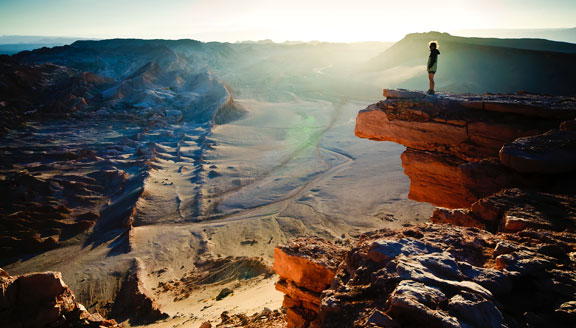 Atacama Desert, The World's Driest Region
With its stunning natural and archeological wonders, Chile's Atacama Desert is one of Earth's most remarkable places.
This arid, high altitude plateau (altiplano) is a scenic wonderland of snow-capped volcanic mountains, wind sculpted canyons, glistening lagoons, shimmering salt flats, and steaming geysers. Experience all this from a boutique lodge or hotel in the quaint village of San Pedro. Take guided drives, hikes, horseback or mountain bike rides to explore the varied landscapes. Visit Moon Valley, the Tatio Geysers, pre-Columbian archaeological sites and see incredible sunsets over the salt flats and glassy lagoons.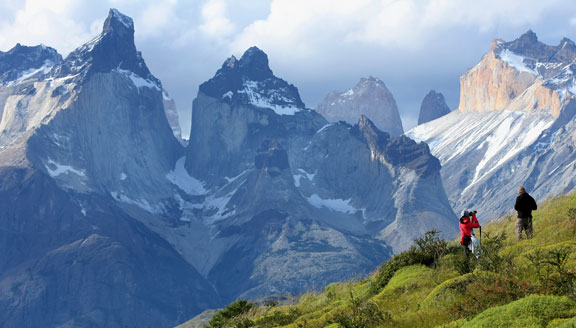 Patagonia and the Torres del Paine
Extraordinarily beautiful, Chilean Patagonia harbours some of our planet's last remaining untouched wilderness areas.
Its towering mountains, giant glaciers, waterfalls, lakes and forests will take your breath away. The Torres del Paine National Park is famous for its soaring granite spires, and seemingly designed for outdoor adventure. Hike in the shadow of ragged peaks with condors circling overhead, and pass herds of wild guanacos en route to lakes, waterfalls and glaciers. The area has a number of excellent boutique hotels and lodges.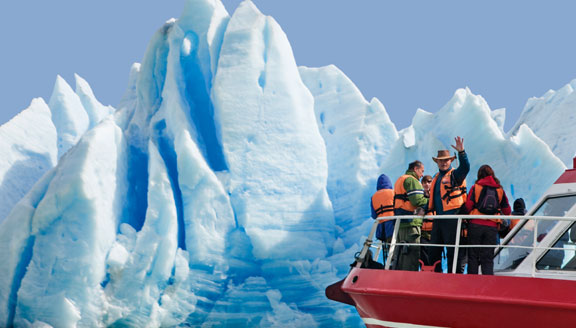 Cruise The Southern Patagonian Icefields
The best way to experience the majestic wilderness of Chile's remote south is by comfortable expedition cruise ship.
The Chonos route takes in the island-studded Gulf of Corcovado and the immense San Rafael Glacier which calves into the sea. The Kaweskar Route navigates a labyrinth of fjords and ice floes to view 15 huge glaciers amid scenery reminiscent of Antarctica. You can also cruise the very tip of South America, traversing the Tierra del Fuego archipelago, Magellan Strait and the Beagle Channel, visiting Pia Glacier and Glacier Alley.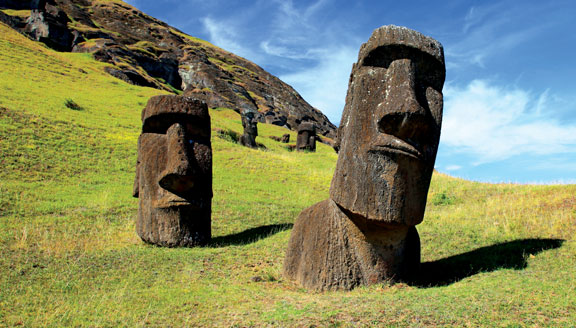 Easter Island
The beautiful and mysterious Easter Island is the most isolated place on earth, lying some 3,000 km off the coast of Chile.
With volcanic craters, lava formations, white sand beaches and of course, the gigantic and enigmatic stone statues known as 'moai', few destinations on earth evoke so many questions. These monuments only found only Easter Island are some of the most incredible ancient relics ever discovered. Explore iconic sites such as Ahu Tongariki with its 15 massive moai, or the Rano Kau volcano and Orongo, centre of a Bird Man cult.
Sample
Itineraries
Our selection of Chile tours include city stays, boutique hotels, wilderness lodges, outdoor adventures and cruises. Choose from one of our featured itineraries or let us custom design a tour to suit your to suit your interests, style and budget. To find out more about the type of Chile experience we can put together for you, please download pages below.
Our Atacama tours explore the many volcanoes, mountains, lagoons and salt flats that make this one of South America's most remarkable landscapes.
Featured
Accommodation
Below are some of our preferred accommodation options for Chile, carefully selected for their superior location, service and level of comfort.
Exclusive Altiplanico Rapa Nui boasts amazing views of exotic Easter Island and arresting architectural design inspired by traditional Polynesian motifs.
The stylish Alto Atacama Desert Lodge and Spa blends seamlessly into its location - a lush valley in the ochre Salt Mountains just ten minutes outside San Pedro de Atacama.
Vira Vira is a secluded Relais & Châteaux lodge that offers its guests the chance to experience the captivating beauty of Patagonia in style.
The exclusive Relais & Chateaux Awasi Atacama is situated on an ancient walled site that once sheltered shepherds and herders in the small town of San Pedro de Atacama.
The Relais & Châteaux Awasi Patagonia is a luxury lodge inspired by the classic low-impact mountain shelters used by hikers in this spectacular part of the world.
explora Atacama is a beautiful, understated luxury lodge that is perfectly placed to explore the volcanoes, thermal springs, salt pans and huge skies of Chile's iconic Atacama Desert.
explora Patagonia is a spectacular luxury lodge with an equally impressive location inside Chile's Torres del Paine National Park.
explora Rapa Nui is set inside a striking building close to Hanga Roa, designed to take advantage of Easter Island's silence and mystery.
Inspired by local traditions and the natural environment, Hangaroa Eco Village & Spa is an ideal base for exploring Easter Island in comfort.
The Hotel Cumbres San Pedro is an oasis of calm, understated luxury amid the world's driest desert, close to famous photogenic lagoons and surreal salt pans.
The superb Hotel Las Torres Patagonia is located on an historic cattle ranch inside Chile's magnificent Torres del Paine National Park.
The romantic Le Reve Boutique Hotel is located in the upscale neighbourhood of Providencia, close to shops, theatres and restaurants.
Our
Brochure Pages
Select the 'Download Brochure Pages' tabs to view and download product pages from our South America brochure.
Chilean Patagonia
Explore the scenic wonders of Argentina's Los Glaciares National Park, home to 47 spectacular glaciers including the renowned Perito Moreno Glacier, one of the largest in South America. Take day hikes through stunning mountain scenery near El Chalten, with dramatic views of the towering granite spires of Monte Fitz Roy and Cerro Torre.
Chile Overview
Why Chile: When it comes to awesome scenery and untouched wilderness, Chile is hard to beat. From dry deserts to lush forests, gentle lakes and glimmering icefields, this country has it all.
Culture: Chile's rich, diverse culture is influenced as much by its indigenous and European peoples, as the varied landscape. Art, literature, folk music, dance and festivals are all central to Chilean society.
When to Go: Chile's climate varies with latitude. The Atacama is dry and sunny, hot in summer and cold at night in winter. Central Chile has a pleasing Mediterranean climate, with warm summers and wet, mild winters. Southern Patagonia receives plenty or rain, with cool, windy summers and cold winters.
Combine With: Neighbouring Argentina, particularly when visiting the Patagonia region. Chile also combines well with Peru, where you can visit Cusco, the Sacred Valley and Machu Picchu or experience the Amazon rainforest at a secluded eco-lodge.
Getting There: Most travellers into South America from Australia will fly via Sydney and/or Auckland into Santiago.