Most famous for the Galapagos Islands, Ecuador tours also showcase the mainland's spectacular scenery, wildlife, history and rich Andean culture.
The country's many highlights include the UNESCO World Heritage city of Quito, famous Indian markets of Otavalo, stunning rainforests, Andean scenery and of course, the exquisite Galapagos Islands.
Straddling the equator which inspired its name, tiny Ecuador is easy to explore, from the Pacific Coast to the towering snow-capped volcanoes of the Andes and then back down again into pristine Amazon rainforest! The towns of Quito and Cuenca are treasure troves of historic architecture, with beautiful churches, convents and museums.
To find out more about our range of Ecuador tours, please download specific pages below or click here to download the full Ecuador section of our South America brochure.
For information on the Galapagos Islands, please click here.
The UNESCO World Heritage City of Quito
Spectacular Quito is situated in a valley 2,800 metres above sea level, surrounded by mountains and snow-capped volcanoes.
Exploring the old city is like stepping back into Spanish colonial days of old. Its narrow streets and elegant squares are lined with gracious homes and grand red-tiled whitewashed churches. With lively markets and noisy street vendors, Quite brims with character. Built by the Spanish over the ruins of an old Inca city, today it is considered the best preserved city in South America and has been a UNESCO World Heritage Site since 1978.
The famous markets of Otavalo
Otavalo is a traditional market town just two hours north of Quito, famous for its selection of unique handicraft items and extraordinary scenery.
Renowned for its handicrafts, the market is open every day (busiest on Saturdays) and attracts both local and international visitors alike. For sale is a dazzling array of handmade items, including tapestries, hammocks, jewellery, paintings and colourful native clothing. Otavalo itself is surrounded by breathtaking scenery of volcanic mountains, rivers and lakes. You can visit on a day tour or stay at one of the lovely local haciendas, centuries-old estates now converted into elegant hotels.
Colonial Cuenca
This gem of a city set amongst the scenic highlands is also a UNESCO World Heritage Site.
Wander the cobblestone streets framed by splendid colonial architecture. Visit the Plaza of San Sebastian, Cuenca Cathedral, the ruins of Todos Santos and the Museum of Modern Art. Browse the handicraft shops and the Panama hat factory. Popular day tours from Cuenca include the Ingapirca ruins, the most important Incan site in Ecuador, as well as Cajas National Park and the towns of Gualaceo and Chordeleg, famous for their handicrafts.
Cotopaxi and the Avenue of Volcanoes
Head south from Quito following the Andes mountains, and discover what 19th explorer Alexander von Humboldt dubbed "Avenue of the Volcanoes".
This is a region of breathtaking landscapes, cultural richness and culinary delights. Volcanic peaks tower above the surrounding countryside, including the perfect cone of Cotopaxi and Chimorazo, the highest in Ecuador, at 6,310 m. As the road descends towards the Amazon Basin and the spa town of Baños, the vegetation changes rapidly to sub-tropical. You can also explore this fantastic region by train from Quito or Guayaquil, taking the restored railway which zig-zags its way down the infamous 'Devil's Nose' track.
Amazon Eco Lodges
Ecuador's spectacular Amazon region has some of the best rainforest lodges in South America.
Truly remote but with fantastic facilities, these sustainable eco lodges are truly comfortable bases to discover the natural wonders of the Amazon jungle. They offer a range of activities including guided walks through the forest to look for tropical birds, monkeys, reptiles, frogs and sloths. Float across quiet lakes by canoe to view giant otters or caiman (alligators), and climb observation towers into the tree canopy for breathtaking bird's eye views.
Amazon Riverboat Cruise
One of the best ways to explore Ecuador's Amazon rainforest is by riverboat.
Choose from a comfortable tourist class boat or voyage aboard the beautiful M/V Anakonda, which has 18 spacious, air-conditioned ensuite cabins, panoramic windows, and fine-dining restaurant. Explore Yasuni National Park with knowledgeable naturalist guides, wander forest trails in search of wildlife, take a canoe trip to look for pink river dolphins, climb a canopy tower, and visit a local tribal community.
Sample
Itineraries
Our selection of suggested tours in Ecuador include city stays, overland tours, rail journeys, rainforest eco-lodges, haciendas and Galapagos small ship cruises. Choose from one of our featured itineraries or let us custom design a tour to suit your to suit your interests, style and budget. To find out more about the type of Ecuador experience we can put together for you, please download pages below.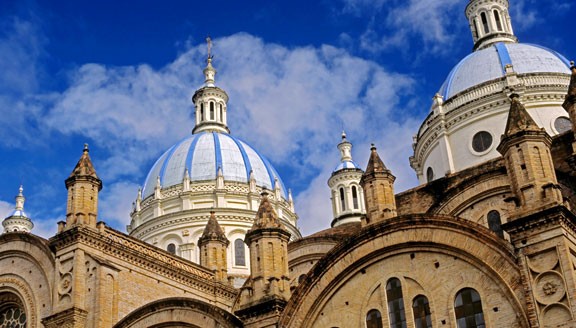 City Stays – Quito
Founded in the 16th century on the ruins of an Inca city, historic Quito (2,850m), with its colonial churches, plazas and boulevards is a UNESCO World Heritage Site. Stroll the cobbled streets to visit the elegant Church of La Compania and the atmospheric Old Town. You can also take day trips to the cloud forest outside of Mindo or into the dramatic landscapes of Cotopaxi National Park.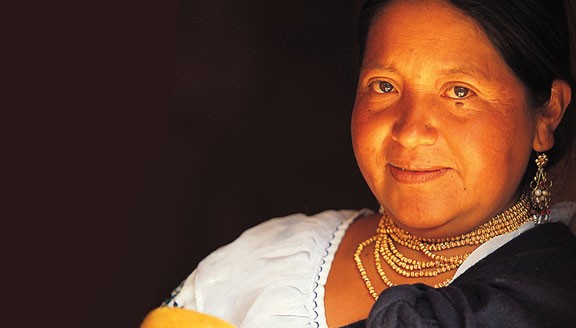 Pathway Through The Andes
This wonderful tour highlights the best of Ecuador – amazing volcanic mountains, local cultures and handicrafts, archaeological sites and historical haciendas while travelling along Ecuador's famed "Avenue of Volcanoes". The journey includes markets, museums and an epic train journey traversing the 'Devil's Nose' aboard a restored locomotive.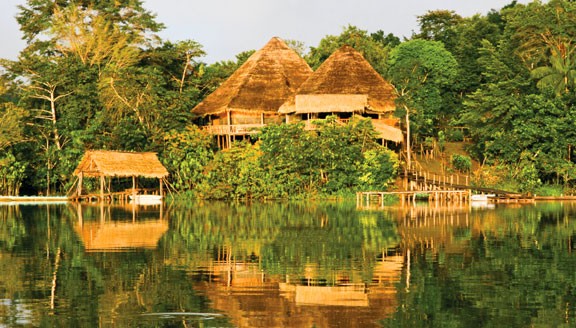 Ecuador Eco-Lodges
Discover the natural wonders of the Amazon jungle while staying in comfortable, low-impact eco-lodges. Often only accessible by motorised canoe, these secluded lodges offer a range of activities including guided day and night-time walks, kayaking or canoe excursions, observation towers and village visits. Some also have access to clay licks frequented by flocks of colourful parrots.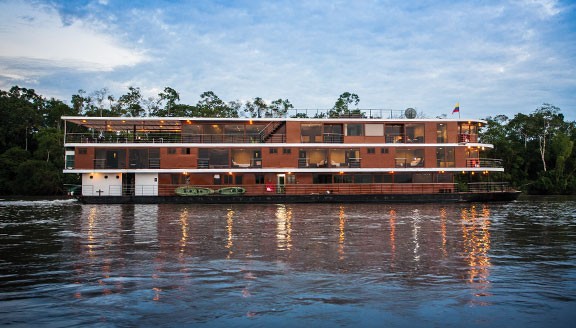 Amazon Cruising
Navigate the remote waterways of the Amazon Basin aboard the beautiful new M/V Anakonda. Each of the 18 spacious, air-conditioned ensuite cabins has a lounge and panoramic windows. The ship has a fine-dining restaurant, observation deck and outdoor Jacuzzi. On naturalist-guided excursions, explore the flooded forests, climb canopy towers and meet the peoples of the Amazon.
Galapagos Islands
Explore the legendary Galapagos Islands by small cruise ship. Walk amongst colonies of seals and crowds of nesting birds like the iconic Blue-footed Booby. Swim with sea turtles and colourful fish, or dive amongst marine iguanas. Our small ship cruises guarantee an intimate experience, and itineraries include activities such as snorkelling, kayaking and panga rides.
Ecuador Overview
Why Ecuador: Ecuador offers an incredible array of experiences within its borders, from heritage-rich colonial cities surrounded by high Andean peaks to Amazon rainforests teeming with wildlife. Most compelling of all is the wild beauty and unique fauna of the Galapagos Islands.
Culture: From Amazonian frontier towns and Pacific fishing villages, to colonial cities and country markets, Ecuador is a blend of a many cultures. The country is famous for its excellent handicrafts, whilst Afro-Ecuadorians are known for marimba, a lively form of traditional music and dance.
When to Go: Generally, Ecuador has two seasons, wet and dry; however local weather patterns vary greatly depending on geography. In the highlands, the dry season is June-September and December, but the wet season isn't particularly rainy. The central valley is spring-like all year, with temperatures no higher than 24°C. The Amazon experiences hot and humid conditions year-round, although July/August are the wettest months. The mainland coastal areas and the Galapagos are humid and wet January-April. High seasons are December/January and June to August.
Combine With: Mainland Ecuador can be easily combined with a cruise to the Galapagos Islands and/or Peru, where you can visit Machu Picchu, the Sacred Valley and Cusco.
Getting There: Fly via Santiago or Lima to Quito. The Galapagos Islands are a 2 hour flight from Quito or 1.5 hours from Guayaquil.