Navigate the remote waterways of Ecuador's Amazon Basin aboard a comfortable river cruise vessel
Both the Manatee and Anakonda offer travellers the chance to explore Ecuador's incredible biodiversity hotspots without compromising on comfort. On naturalist-guided excursions, discover untouched rainforests, climb canopy towers, cruise jungle streams, walk forest trails and meet Amazon indigenous communities.
Tour details
Shared transfers to/from vessel (arriving on recommended flights)
Accommodation
All meals while onboard, water, coffee & tea
All excursions
Kayaking
Community & Conservation fees.
Kayaking down the Amazon River
Guided walks through the forest
Meet Amazon Indigenous communities
Anakonda Amazon Cruise
8 days/7 nights
Day 1
Coca
Departing from Quito, fly to the Amazonian city of Coca (30 minutes). Transfer to the dock and board a motorised canoe, journeying along the river to where the vessel is moored. You will be warmly welcomed aboard by the staff and your naturalist guides, who will provide an informative introduction to the Ecuadorian Amazon. After dinner, enjoy your first excursion on a nightime forest walk.
Day 2
Pañacocha
This morning the vessel travels downstream to Pañayacu River delta. Enjoy a canoe trip to Pañacocha Lake home to both piranhas, caiman and the pirarucu – one of the world's largest freshwater fish. Discover the surrounding rainforest on a guided walk, keeping an eye out for various bird species, and different bird species. In the late afternoon, relax onboard and listen to a lecture on the region.
Day 3
Parrot clay licks and Amazon communities
This morning you are treated to one of the Western Amazon's most incredible sights – the famous parrot clay licks. The clay licks are rich in minerals that attract huge quantities of colour parrots, parakeets and other species. In the afternoon, enjoy a visit to the Kichwa women's community project. Learn about their indigenous lifestyle, fascinating culture and learn about the Charapas Turtle Conservation project.
Day 4
Yasuni National Park
Enjoy a kayak excursion this morning along the Indillama River to Yasuni National Park. The kayaks are comfortable, smooth and silent providing a fantastic opportunity to spot wildlife. Relax onboard this afternoon making the most of the observation deck. This evening, guests can choose to unwind or take a night walk through the jungle in search of some of the rainforests nocturnal species.
Day 5
Yasuni National Park and Secoya Community
Explore the lower Napo River this morning keeping an eye out for different bird species. This afternoon explore the Yasuni National Park, one of the most biodiverse places on the planet. This area is one of the very best places to see the legendary pink dolphin. Get involved with the Martinica community and participate in the pink dolphin conservation program. The Cocaya area provides a safe haven for the dolphins to live without the risk of being hunted. The Secoya people will show guests how to prepare traditional cassava bread during your visit.
Day 6
Kichwa Family
Today begins with a visit to a small Kichwa family on the banks of the Napo River, where guests will be able to learn about local community life. Enjoy a cooking class onboard with the expert chef who will show you how to cook some traditional Ecuadorian fare. The afternoon is for relaxing onbaord, making the most of the facilities. Relish a chance to taste a few cocktails in the bar, read a book in the lounge, take a dip in the open-air hot tub or enjoy the opportunity to get out in a kayak.
Day 7
Canopy Observation Tower
This morning begins with a visit to an observation tower located in a giant kapok tree. The tower offers sensational 360° views of the forest canopy. In the afternoon, take a forest walk and learn about the endemic plant and wildlife species of the region. A possible sighting includes the rare and unique hoatzin, also known as the "stinkbird".
Day 8
Tour Ends
This morning marks the end of a special week-long Amazon cruise adventure. Return to Puerto Providencia and enjoy one last motorised canoe trip back to Coca where your tour ends.
M/V Manatee
The Manatee has 10 beautifully appointed standard suites and 4 deluxe suites that are all air-conditioned and feature private balconies. The onboard restaurant serves an outstanding selection of food whilst the bar and lounge offer fabulous panoramic views. The ample rooftop observation deck and outdoor hot tub allow passengers to unwind beneath the stars.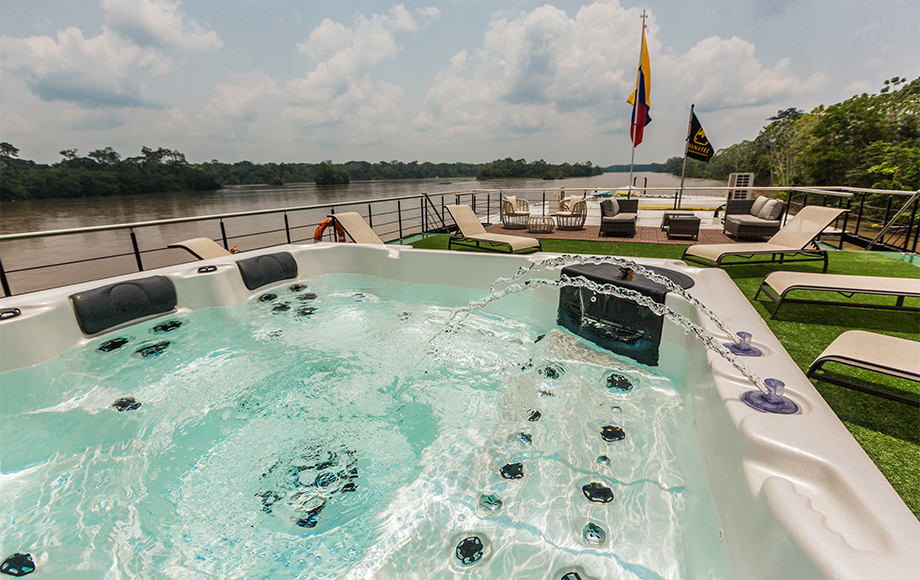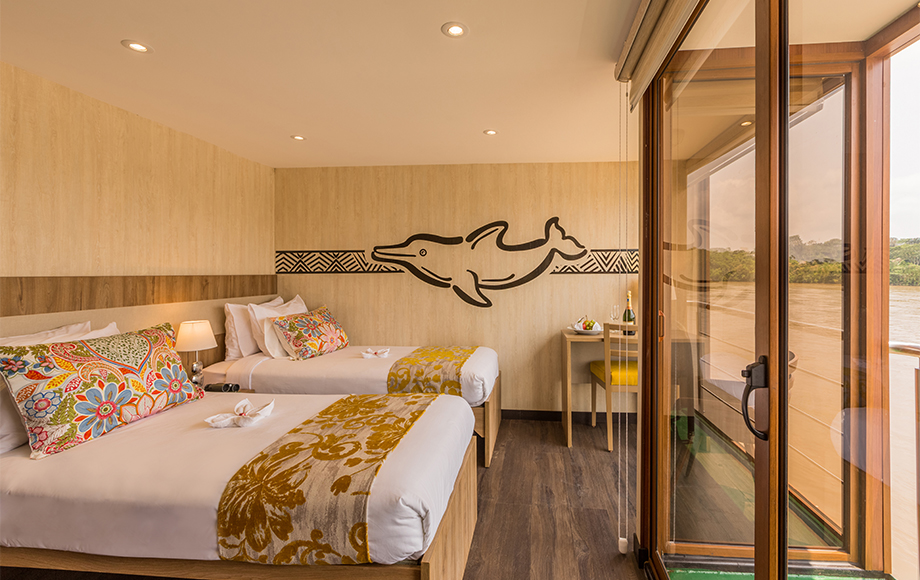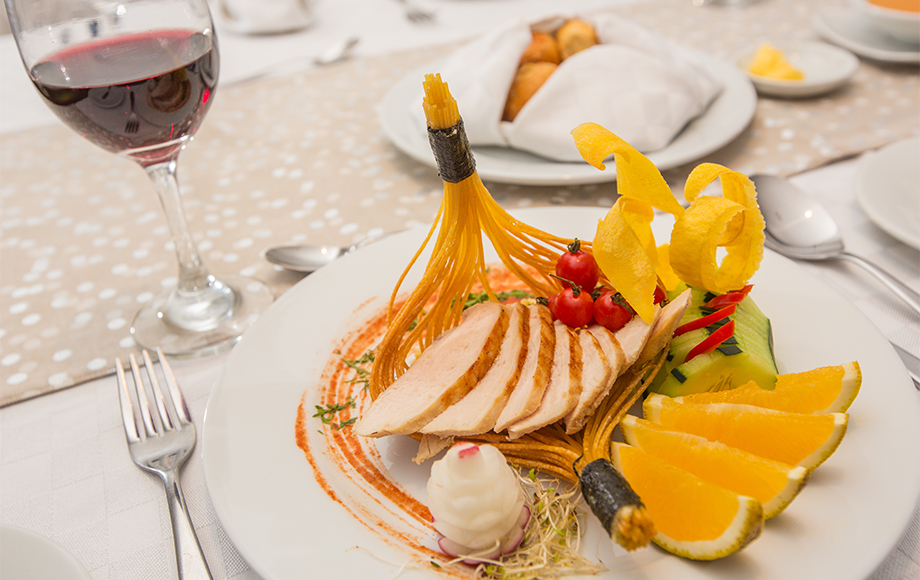 M/V Anakonda
This riverboat pioneered luxury in the Ecuadorian Amazon and continues to set the gold standard. It offers 18 spacious, air-conditioned suites with floor-to-ceiling windows and private bathrooms, a restaurant with panoramic views, spa facilities, a bar, large outdoor sun deck with a Jacuzzi and a shaded al fresco lounge area.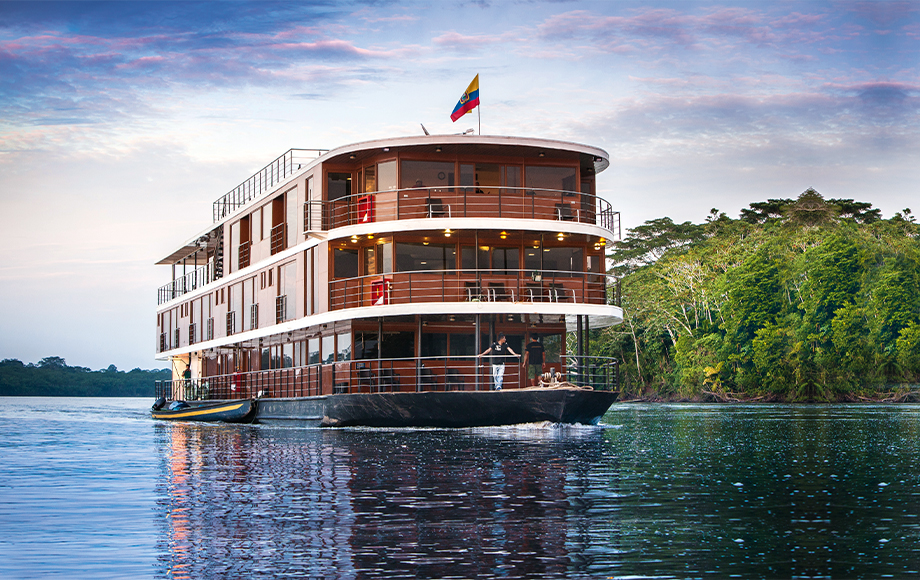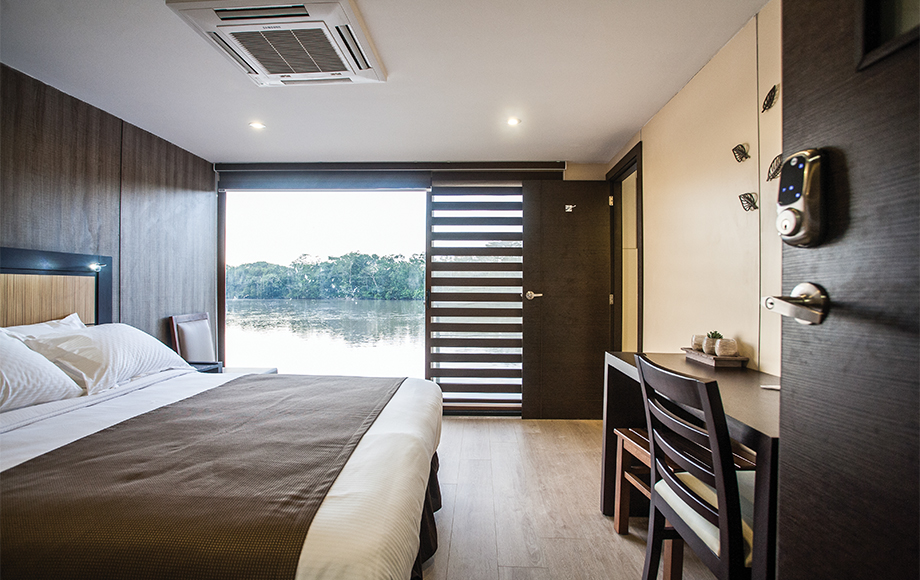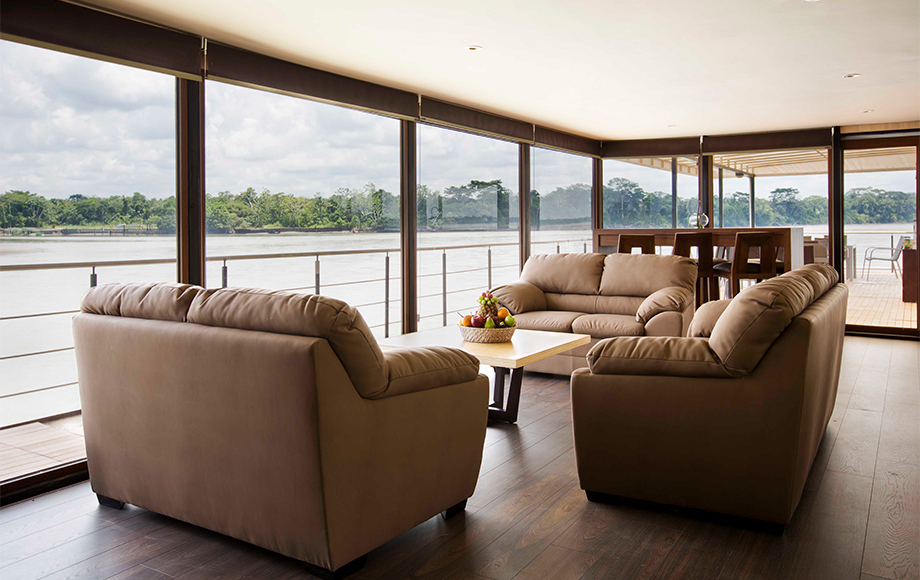 More Ecuador Itineraries
Navigate the remote waterways of Ecuador's Amazon River aboard the comfortable M/V Manatee or the M/V Anakonda cruise vessel
Talk to one of our South America Experts
What is the best thing to do in Ecuador?
Ecuador offers an incredible array of experiences within its borders; from heritage-rich colonial cities and luxurious rainforest lodges to opulent Amazon River cruises and exciting rail journey's – there is something for everyone to enjoy. Most compelling of all is the wild beauty and unique fauna of the Galapagos Islands.
Ecuador Culture
From Amazonian frontier towns and Pacific fishing villages, to colonial cities and country markets, Ecuador is a blend of a many cultures. The country is famous for its excellent handicrafts, whilst Afro-Ecuadorians are known for marimba, a lively form of traditional music and dance.
What can I combine Ecuador with?
Mainland Ecuador can be easily combined with a cruise through the beautiful Galapagos Islands, located just under 1000 kilometres off the coast. Neighbouring Peru is the other county most easily (and best) to combine with Ecuador. Top highlights include Machu Picchu, the Sacred Valley and historic Cusco.
How do you get to Ecuador?
Ecuador's capital Quito, and the country's largest city Guayaquil, are the major hubs for flights into the country. Both cities are serviced by a number of airlines directly such as KLM Royal Dutch Airlines, American Airlines, Air France and United. Latam Airlines (primarily based in Santiago, Chile), is the major airline in South America and offers direct flights to number of US and European cities. The Galapagos Islands are a 2 hour flight from Quito or 1.5 hour flight from Guayaquil.
US – Ecuador is very easy to fly to from the United States. There are plenty of direct flights to either Quito or Guayaquil from a number of US cities. Airlines that fly between the countries include United Airlines, American Airlines and Latam Airlines.
Europe – There are a number of countries that operate direct flights into Ecuador from Europe including France and the Netherlands. Alternatively Latam fly to European countries such as Germany and Spain.