Diving straight into the Mexico's history, culture, culinary traditions and natural attractions, our Mexico tours are full of surprises.
Renowned for its ancient Mayan and Aztec archaeological sites, the country also boasts spectacular scenery, from jungle-clad mountains and cactus-studded deserts to palm-fringed beaches with luxury resorts.
Mexico also has a modern, thriving economy with sophisticated cities and excellent infrastructure. See the famous artworks of Frida Kahlo and Diego Rivera in the museums and grand buildings of Mexico City. Experience traditions which date back thousands of years, taste delicious regional cuisine and explore gorgeous Spanish colonial towns with flamboyant 17th century Baroque architecture and beautiful shaded piazzas.
To find out more about our range of Mexico tours, please download pages below or click here to download the full Mexico tours section of our South America brochure.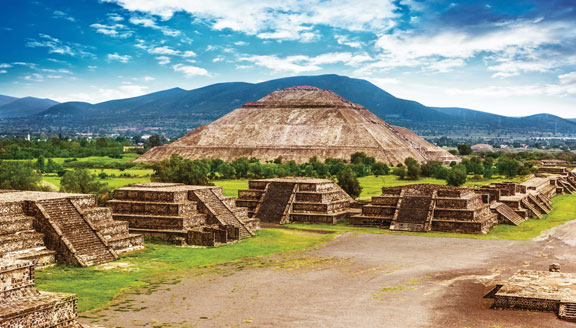 Mexico City and the Teotihuacan pyramids
Vibrant Mexico City serves up a rich platter of contrasts, from ancient pyramids and colonial architecture, to contemporary museums, sophisticated theatres and edgy bars.
There are dozens of museums well worth a visit, from the important Anthropology Museum to the Museum of Modern Art which showcases Frida Kahlo and Diego Rivera. A definite must-see is the outstanding archaeological site of Teotihuacan, with its enormous monuments dating from 100 BC, such as the Pyramid of the Sun, over 200 feet high, the Pyramid of the Moon and the Temple of Quetzalcoatl. This sacred city was built 1,000 years before the Aztecs who gave it its name, Teotihuacan, meaning 'the place where the gods were created'.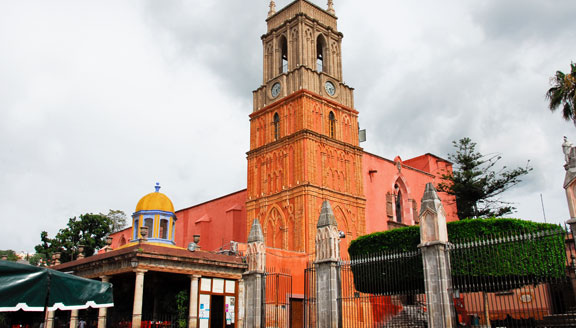 San Miguel de Allende, Guanajuato & Guadalajara
Discover some of the country's finest colonial towns, built on the riches from gold and silver discovered in the 16th century.
Beautiful San Miguel de Allende is an exquisite gem, small enough to explore on foot. Guanajuato, declared a World Heritage Site in 1988, nestles in a narrow canyon between huge mountains. The town is a photographer's delight with quaint plazas, colonial buildings, winding cobblestone streets, hidden alleyways and underground passageways. Guadalajara is a stately city of parks and fountains, monuments and rose-lined boulevards dating back to 1542. Visit the picturesque village of Tlaquepaque, famous for mariachi bands and handicrafts in leather, glass and textiles, as well as nearby Tequila, birthplace of 'real' tequila produced from blue agave.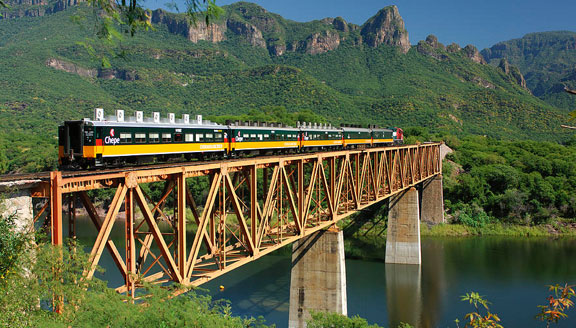 The Copper Canyon
The spectacular Copper Canyon in the Sierra Madre mountains forms one of the longest and deepest canyon systems in the world.
Copper Canyon features three canyons deeper than Arizona's celebrated Grand Canyon. Known in Spanish as Las Barrancas del Cobre, the Copper Canyon is home to Mexico's Tarahumara Indians who have retained many of their traditions. The women, dressed in colourful multi-layered skirts and frilly tops, are often seen on the streets of Chihuahua selling their wares. The best way to see the canyon is on an unforgettable train ride on The Copper Canyon railroad which stretches for 480 kilometers across the mountains, taking passengers over 35 bridges and through 86 tunnels.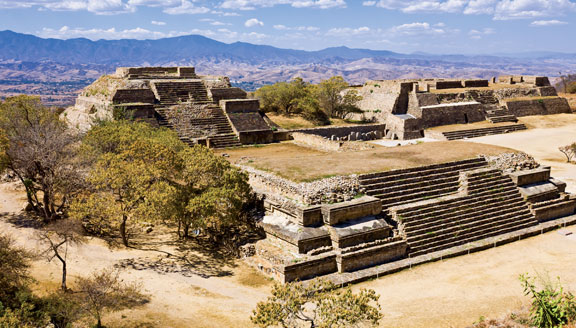 UNESCO World Heritage Sites of Puebla & Oaxaca
Oaxaca and Puebla, founded in the early 16th century, are two of the oldest colonial towns in Mexico.
Both have handsome Spanish churches, monasteries, shaded squares, wonderful culture and delicious food. Both also retain well-kept remains of past civilizations. Near Puebla is the Great Pyramid of Tepanapa at Cholula. Near Oaxaca is the archaeological site of Mitla, famous for its harmonious architecture and walls decorated by an exquisite fretwork of stone mosaics. Also near Oaxaca is one of the most important archaeological areas of Mesoamerica – the ancient Zapotec city at Monte Alban, which flourished between 500 BC and 830 AD. The terraced hilltop compound is surrounded by pyramids, temples, courtyards, palaces, a ball court, dams and canals.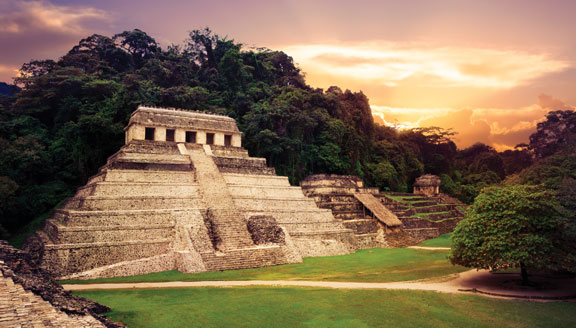 Palenque & Uxmal
Built in the foothills of the Tumbala mountains, the spectacular Mayan site of Palenque has views all the way to the Gulf coast.
The city reached its apex between 500 and 700 A.D.; the elegance and craftsmanship of the buildings and their sculpted reliefs attest to the creative genius of this civilisation. Also in this area, hidden in the jungle, are the Mayan sites of Yaxchilan, with its treasure trove of sculptures, and Bonampak, discovered as recently as 1946. Dating from the classic period (580 to 800) the temples at Bonampak have wonderful murals that depict Mayan life and mythology, providing insight into the daily lives of ancient Mayans.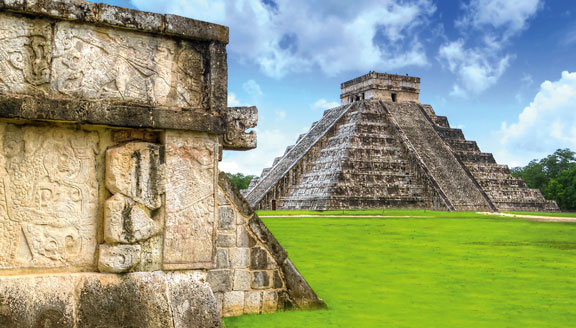 Merida, Uxmal & Chichen Itza
The glorious city of Merida on the Yucatan Peninsula was built in the 1540s on the site of an ancient Mayan city.
Some of the old Spanish buildings remain, such as the palatial home of the leader of the Conquistadors, while the sisal boom in the 19th century led to the construction of many elegant, pastel-coloured mansions. Full of history but with a flourishing contemporary cultural and dining scene, Merida is the perfect base from which to visit the Mayan archaeological sites of Chichen Itza and Uxmal, both UNESCO World Heritage Sites. One of the 'New 7 Wonders of the World', Chichen Itza was a sophisticated city of stepped pyramids, temples and columned arcades that flourished between AD750 and 1200. It bears testament to the astronomical knowledge of the Mayans. Uxmal is one of the best preserved sites on the Yucatan Peninsula, with its impressive Governor's Palace and the Pyramid of the Magician.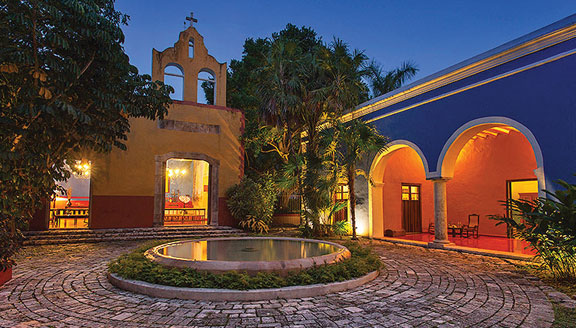 Yucatan Haciendas
A beautifully restored 17th century hacienda set amongst Mayan ruins is the perfect base for exploring the archaeological wonders of the Yucatan Peninsula.
Hacienda San Jose Cholul is an historic plantation house close to Chichen Itza, whilst the grand, coral-rendered Hacienda Temozon is on the Puuc archaeological route to fabulous Uxmal. Hacienda Puerta Campeche is another 17th century mansion close to the site of Edzna, with its remarkable main temple and ball courts.
Sample
Itineraries
Our selection of programs in Mexico include city stays, train journeys through the spectacular Copper Canyon, haciendas on the beautiful Yacutan Peninsula, exploration of the stunning forests and jungles and tours of the many rich Mayan, Aztec and colonial sites Mexico has to offer. Choose from one of our featured itineraries or let us custom design a tour to suit your to suit your interests, style and budget. To find out more about the type of Mexico experience we can put together for you, please download the pages below.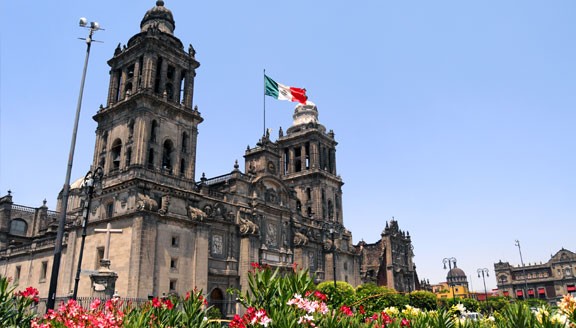 City Stay – Mexico City
One of the world's largest metropolitan areas, Mexico City is built on the ruins of the Aztec capital of Tenochtitlan, and offers a heady mix of age-old tradition and contemporary flair. Discover fine museums, a vibrant food culture and a thriving live music scene from classical to mariachi. With so many things to do from cooking classes to hot air ballooning, Mexico City deserves a few days of exploration on its own.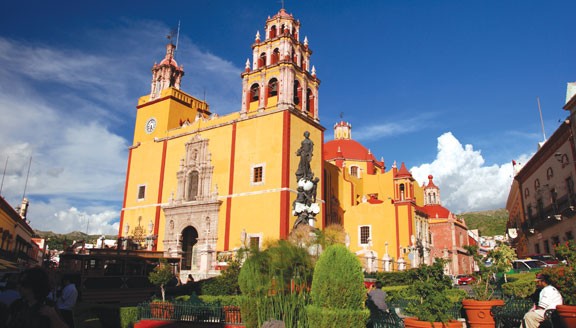 Mexico's Colonial Cities
Mexico's renowned colonial cities are so filled with treasures that many have been declared World Heritage Sites. Built on the back of gold and silver booms in the 16th century, towns like San Miguel de Allende, Guanajuato and Guadalajara were filled with grand churches, fine mansions, and lovely shady squares. Enjoy guided tours on foot or by vehicle, discovering the many beautifully preserved monuments of Mexico's past.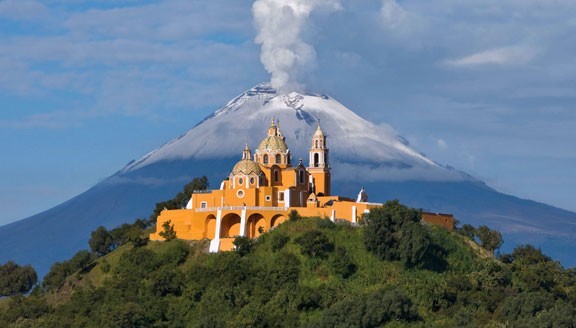 Puebla & Oaxaca
This tour combines two of the most magnificent cities in southern Mexico, Puebla and Oaxaca. Both World Heritage Sites, dramatic Puebla is renowned for architectural beauty as well as cuisine, whilst Oaxaca has a rich history and important nearby archaeological sites dating back to 500 B.C. Visit Oaxaca during the colourful 'Day of the Dead' celebrations to immerse yourself in ancient Zapotec culture.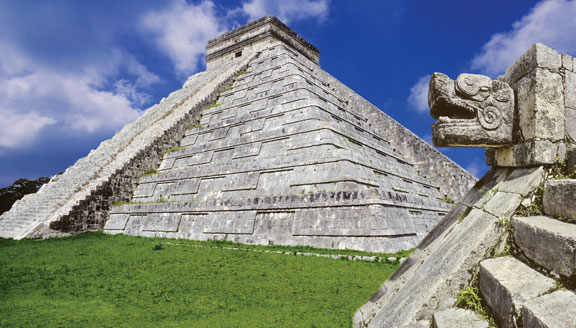 Mexican Contrasts
Experience Mexico's fascinating history in the states of Chiapas and Yucatan. Visit some of the country's finest Mayan archaeological sites, including Chichen Itza, Uxmal and Palenque, as well as traditional Mayan villages and towns which showcase colonial architecture. Included is a boat trip in spectacular Sumidero Canyon and a day tour of Bonampak, hidden within dense jungle.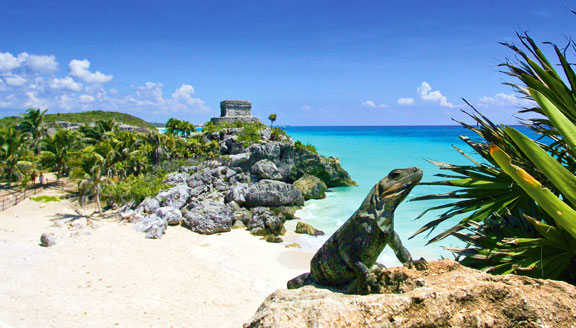 Yucatan Peninsula
The Yucatan Peninsula is a magical combination of luminous Caribbean waters, powder sand beaches, extensive pre-Columbian ruins including the renowned pyramids of Chichen Itza and atmospheric colonial cities. Maya culture flourishes here, evident in the language, traditions and cuisine, with fresh seafood being a staple.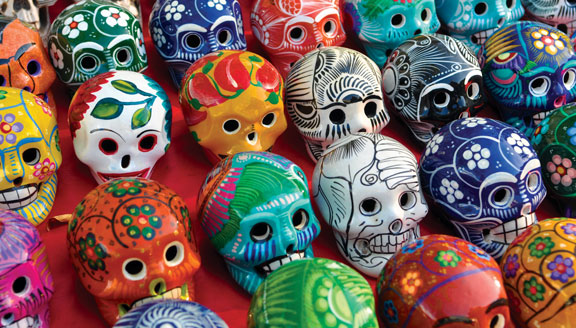 Day of the Dead Experience
Celebrated on 31st October, this 3-day ancient holiday is when the dead are honoured with prayers, feasting and festivities that spill out onto the streets. This entirely unique adventure begins in the culturally rich southern city of Oaxaca, and takes in traditional bread baking, weaving and candle making. March in Etla's famous public parade alongside villagers dressed in Halloween-style costumes and taste delicious regional fare.
Mexico Overview
Why Mexico: A treasure trove of pre-Colombian archaeological sites, from mysterious unknown civilizations to Aztec and Mayan, this unique country also offers sophisticated modern cities, a rich Spanish colonial heritage, a vibrant contemporary music and dining scene.
Culture: From art to music, fashion and food, Mexican culture is a reflection of the country's colourful history, with indigenous influences from Mayan, Aztec and many other Amerindian groups, as well as Spanish customs and traditions.
When to Go: Mexico's climate varies depending on altitude. December to April are the driest months – the best time to visit. May and June are usually the hottest months while the summer months (May-October), are also the wettest with September-October being peak hurricane season.
Combine With: Guatemala, Belize, Nicaragua and Costa Rica. Alternatively go further afield to Colombia or Venezuela.
Getting There: More than 30 Mexican airports receive direct flights from the USA. Mexico City, Cancún, Guadalajara and Monterrey are Mexico's busiest international airports.