Safaris, wildlife and tours – plan your trip with

African Wildlife Safaris
Travel to Africa on Safari with African Wildlife Safaris. An African safari is one of the most exciting and rewarding holidays you could ever experience.
Discover the real spirit of Africa on our personalised, tailor made African safaris and tours, from up-close encounters with Africa's iconic wildlife to authentic cultural experiences.
The sheer abundance of animals will take your breath away, as well as the variety of species and the ease of viewing them. In addition to the famous gameviewing locations such as the Masai Mara in Kenya, the Serengeti in Tanzania, Kruger National Park in South Africa, and the Okavango in Botswana, we also have intimate knowledge of some of the lesser known locations where incredible wildlife viewing can be experienced.
At the same time the continent has even more to offer: dramatic landscapes, colourful tribes, interesting cultures, and a wide range of outdoor adventures. From Morocco to Madagascar, Cairo to Cape Town, we offer a range of fabulous African safaris, tours and beach holidays.
There are also a wide variety of accommodation options to choose from. Whether you are looking for an experience staying in modest bush camps and lodges, or are wishing to travel in total luxury staying at exclusive premier tented camps located in the heart of prime game viewing locations, we have the expert advice to create the safari experience you are looking for.
We understand that every traveller is different, so we tailor our Africa safaris and tours to suit your requirements. You choose where and when you want to go, where you want to stay, and our experienced Africa staff will custom design an itinerary to suit your specific style, interests and budget. We also offer one or two escorted set-departures every year for those travellers who prefer to travel in a group.
Visit the world's fourth largest island, a strange and exotic land ringed by golden beaches and palm trees...
Relax on tropical islands, rimmed by sandy beaches and coral reefs, set in the azure waters of the Indian Ocean…
The sovereign African nation of Seychelles is heaven for snorkellers, scuba divers and bird-watchers as well as a hideaway for honeymooners.
Search for big game in Kruger National Park, take a luxury rail journey or enjoy a gourmet experience in the Cape...
What are the best places to visit in Africa? Exploring the waterways of the Okavango Delta, Bushmen of the Kalahari, climbing Mount Kilimanjaro or Mount Kenya, exploring the Serengeti, the great wildebeest and zebra migration in Tanzania, the world's most magnificent ancient monuments in Egypt, the unique landscape and animals in the deserts of Namibia and the Gorillas in Rwanda and Uganda.
What are the best things to do in Africa? Stunning safari drives, walking safaris, Mokoro excursions and cultural experiences.
When is the best month to travel to Africa? Generally the best time to Travel to Africa is during the dry season (May-Oct), but game can be seen year-round in many parts.
Is it dangerous to travel to Africa? Africa is a huge continent with many countries and some are considered dangerous. Generally the Southern and East African countries are safe and peaceful such as Botswana, Kenya, Tanzania, Uganda, Rwanda, Namibia, Zambia, Zimbabwe and South Africa. These are also the best countries to visit for seeing incredible wildlife and scenery. For more information, please contact one of our specialists.
Are African Safaris Dangerous? African safaris can be exhilarating. Getting up close to animals in the wild is and experience like no other. Most African safaris are conducted in 4WD Land Rovers or Land Cruisers and therefore generally very safe. Some safaris can be done on foot or by Mokoro (traditional canoe) and this can create a higher level of risk however these tours are still considered safe as most animals keep there distant from humans. Guides can also carry rifles to be used as a last resort.
Do I need a Visa for Africa? Please call us on 1300 363 302 or visit or FAQ page
Do I need vaccinations for Africa? Please call us on 1300 363 302 or visit or FAQ page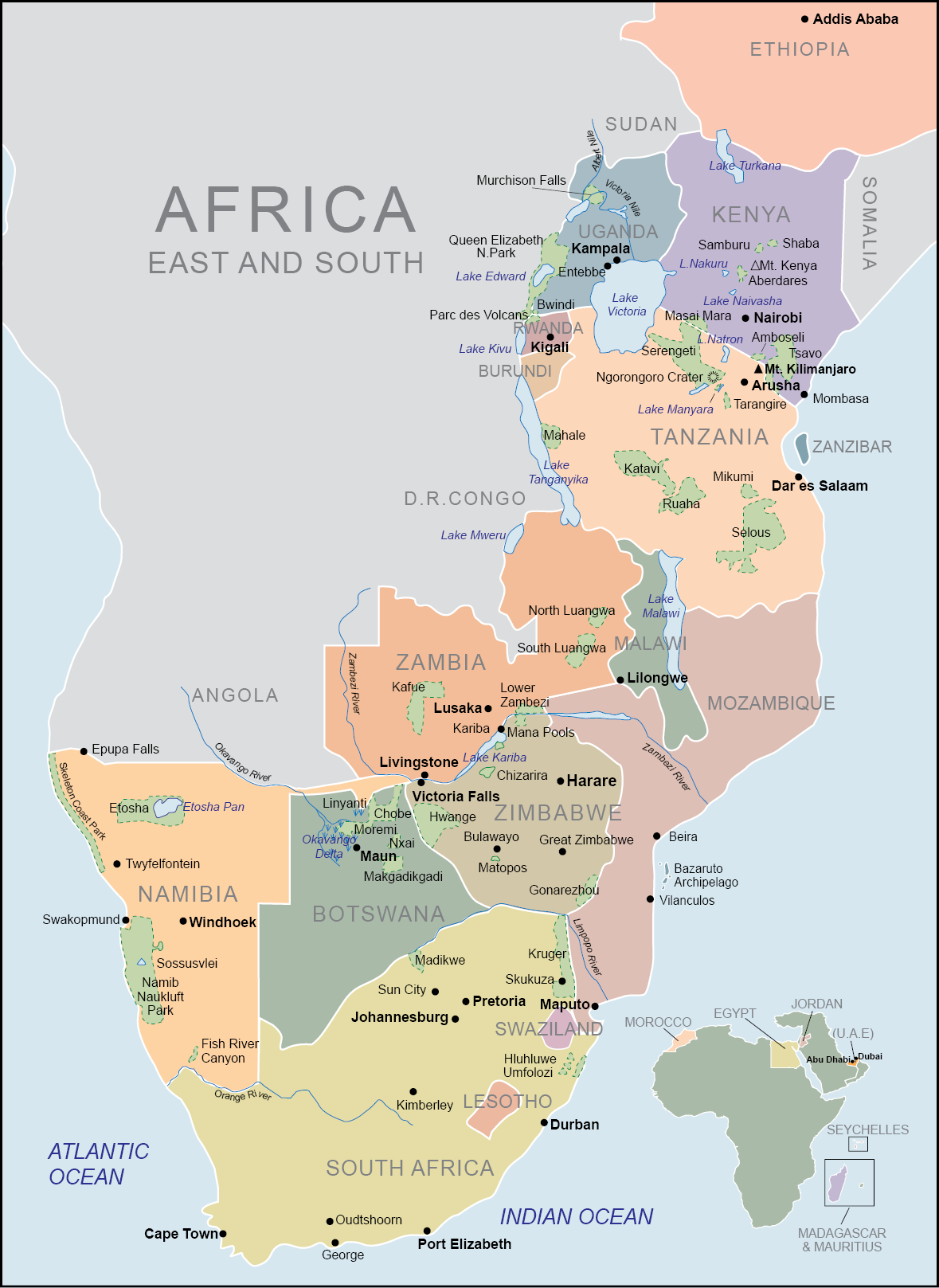 Join our 
E-Newsletter
Sign up to receive updates about exciting journeys, special offers and more