The Serengeti sets the stage for the Great Migration – when close to 2 million wildebeest, zebra and gazelle make their way across the endless grasslands in search of greener pastures.
This theatre for the largest terrestrial mammal migration on Earth stretches from the Ngorongoro Highlands in the south, to Kenya's Masai Mara in the north. Around 30,000km2 in size, the Serengeti National Park is flanked on all sides by special conservation areas, including the Grumeti Game Reserve and Ngorongoro Conservation Area.
The herds are a magnet for large predators from lion and cheetah tp leopard and hyena, so there are many opportunities for intense wildlife sightings. Many safari camps in the north are also situated close to crocodile-filled rivers, which the wildebeest must cross at their own peril.
All of the "Big 5" can also be found on the Serengeti's sun-baked savanna plains, so even when the wildebeest have left the area, there is plenty of permanent game to see. Most lodges and camps offer game drives in 4WD vehicles, with a select few providing the opportunity to explore on foot or by hot air balloon. Various properties also have excellent fun yet educational programs for children, so mum and dad can completely relax and enjoy their holiday.
The semi-nomadic Maasai tribespeople are often seen living in harmony with the Serengeti's wildlife, herding their cattle as they have for hundreds of years. We can arrange community visits for an insight into their traditional way of life. There are also various interesting archaeological sites to discover in northern Tanzania, such as Olduvai Gorge where hominid fossils have been found.
Why should I visit the Serengeti National Park?
Tanzania's most famous reserve
Site of the annual wildebeest migration
Plenty of permanent plains game
Intense predator action
Outstanding range of classic and luxury safari camps
Maasai cultural experiences
Opportunities to hot air balloon over the landscape
When is the best time to visit the Serengeti?
Tanzania is a true year-round safari destination. The wildebeest migration mass on the short grass plains of the southern and eastern Serengeti from November to May, moving towards the western corridor towards June as the rains finish. From July to September, the herds head north into Kenya's Masai Mara. In October, the skies open once more so the animals return to the short grass plains.
If you plan to visit during the Great Migration, be sure to book early as our camps and lodges tend to fill up quickly in this period. For more information on when to visit Tanzania, please click here or feel free to call one of our passionate Destination Specialists who are always up for a chat.
Our Recommended
Serengeti Sample Itineraries
The following itineraries are just some of the many experiences that we can design for you. All of our tours are private, independent and tailor-made to your personal travelling requirements. Please contact us to begin creating your personalised Tanzania experience.
Explore the antiquities of Africa on this 16 day tour to Tanzania and Egypt. Explore the Pyramids of Giza and Marvel at the mighty Shypnx
Recommended
Accommodation in the Serengeti
The following are some of the lodges and tented camps that we recommend in the Serengeti region. For information on additional accommodation not featured, please contact us.
Ubuntu Camp is a mobile tented camp that can be found in three locations throughout the year. It has just 7 simple yet sublimely comfortable suites under canvas with hot water bucket showers that
Singita Sasakwa Lodge is located in the unspoilt Grumeti Reserves in the northern Serengeti. It offers 10 private guest cottages with personal infinity pools, walking safaris and guided game drives.
Singita Sabora Tented Camp is a nostalgic 1920s explorer-style camp in the private Grumeti Reserves adjoining the Serengeti, with 9 romantic suites that lead out onto the plains.
Singita Mara River Tented Camp is an impossibly chic safari camp on the northern banks of the Mara River in Tanzania's famous Serengeti National Park.
Singita Faru Faru Lodge sits on a riverbank in a private reserve adjoining Tanzania's northern Serengeti. This sensational property has 9 premium suites, a fleet of Land Rovers for game drives
Serengeti Safari Camp follows the wildebeest herds as they move across the Serengeti plains throughout the year. To stay lightweight, it only offers 6 walk-in guest tents and a comfortable
Serengeti Bushtops is an alluring safari camp in the Serengeti whose tented suites offer butler service and private hot tubs overlooking the open plains.
Sayari Camp offers 15 stunning tented guest suites, exceptional gameviewing on the plains of the northern Serengeti and easy access to the Mara River and its infamous croc-filled crossing points.
Roving Bushtops is a unique collection of boxes on wheels comprised of 6 guest suites that can be towed anywhere in the Serengeti. This marvel of Swiss engineering presently sits in the game-rich
Olakira Camp has just 9 traditional safari tents with classic bucket showers. This outstanding mobile camp follows the wildebeest herds from north to south, to provide the best opportunities for
Situated in a little-visited, remarkably unspoilt corner of the Serengeti, Namiri Plains is where you'll find some of East Africa's best big cat sightings, from lion and leopard to cheetah.
Lemala Ndutu is a seasonal camp with 12 guest suites that offers terrific gameviewing and the Serengeti's wildebeest migration far from the crowds.
Tanzania FAQ
Can I see the Big 5 in Tanzania?
Tanzania is home to all members of the legendary 'Big 5': lion, leopard, elephant, rhino and buffalo.  All apart from rhino, plus many other species, can be seen in Tanzania's best game areas. The Ngorongoro Crater is the best place for seeing endangered black rhino, as they can't move from the crater floor. Please note that the seasons, rainfall and drought can affect game movements. Our knowledgeable Destination Specialists know the best time of year to visit and where to see particular game species.
When is the best time to see the Great Migration?
The great wildebeest and zebra migration is a natural event and therefore their exact location can never be 100% predicted. The wildebeest mass in certain areas of the Serengeti Ecosystem (made up of the Serengeti National Park, Ngorongoro Conservation area and Kenya's Masai Mara) at different times of the year. The below map shows historically, where the wildebeest and zebra will be, based on the time of year. If you are interested in learning more, or in seeing the Great Migration please contact one of our staff who are always happy to chat.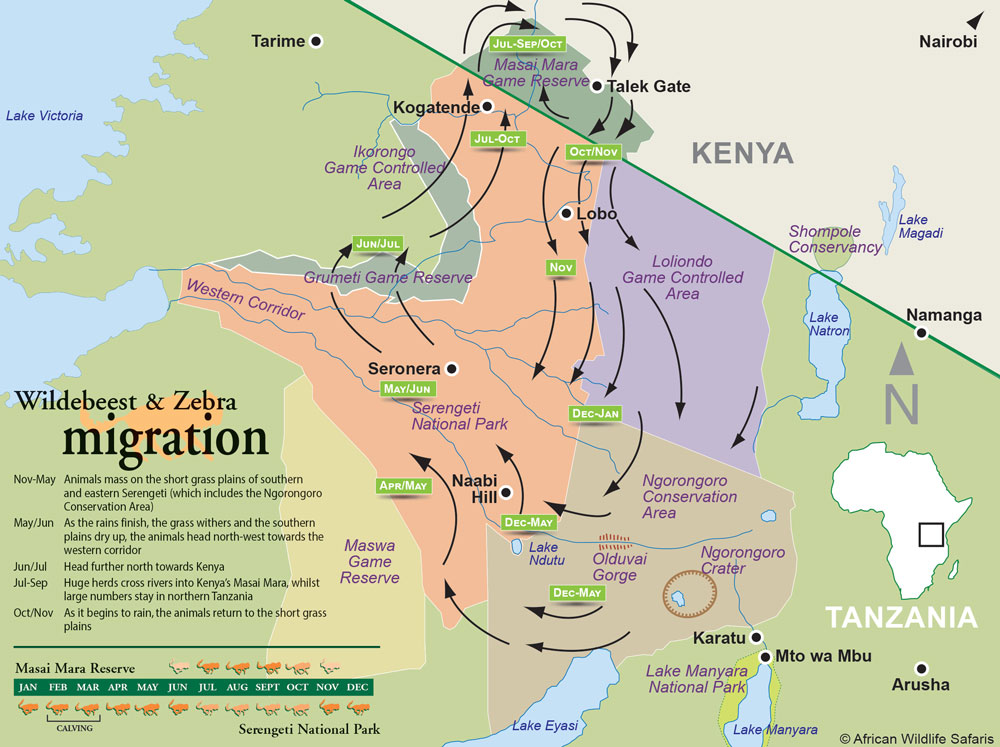 What is the best thing to do in Tanzania?
A wildlife safaris is an absolute must as Tanzania is one of Africa's great wildlife destinations. Witnessing tens of thousands of wildebeest and zebra in the Serengeti is an unquestionable highlight, whilst the Ngorongoro Crater is one of the natural wonders of the world. A trek to the top of Africa's highest peak – Mount Kilimanjaro – is a bucket-list experience for any adventure enthusiast.
What is the climate like in Tanzania?
Much of the Serengeti is over 5,000ft so temperatures vary between 22°- 29°C. It is generally sunny and windy, with rain falling between November and May as isolated showers. The low-lying Rift Valley is much hotter (30°-35°C), while the coast is hot and humid. The Ngorongoro Highlands can be cool to cold at night.
How do I get to Tanzania?
There are only two European airlines – KLM Royal Dutch Airlines and Turkish Airlines – that fly directly into the country. Otherwise, flying via the Kenyan capital of Nairobi (where far more major airlines fly to including British Airways and Air France) is another option. From here travellers can then fly to numerous airports in Tanzania.
For travellers coming from the United States at least one stop is required. The easiest airlines for connections are either with KLM or Qatar Airways via Doha. From Doha there are also direct flights to Kilimanjaro International Airport.
What can I combine Tanzania with?
Tanzania is often combined with other countries including neighbouring Kenya or either Uganda or Rwanda for a trek to see the gorillas. A few days on the beautiful beaches of Zanzibar is a very popular way to end a Tanzanian safari.
Want to know more about Tanzania?
Visit our FAQ page for information on all our destinations.