Sub-Antarctic Islands Cruises
Discover the rich diversity and wild landscapes of the Sub-Antarctic Islands.
The islands are home to a bewildering array of species including albatross, penguins, petrels, prions, shearwaters, sea lions, fur seals and elephant seals.
Secluded and seldom visited, the Sub-Antarctic Islands are recognised by UNESCO as one of the world's most precious biodiversity hotspots. Often called "The Galapagos of the Southern Ocean", these remote islands harbour incredible volcanic and glacial geological formations as well as extraordinary flora and fauna including the endangered Yellow-Eyed Penguin, plus thousands of other endemic birds.
To find out more about our range of Sub-Antarctic cruises and tours, please download pages below or click here to download the full Sub-Antarctic section of our Antarctica brochure.
Highlights
Sub-Antarctic Cruise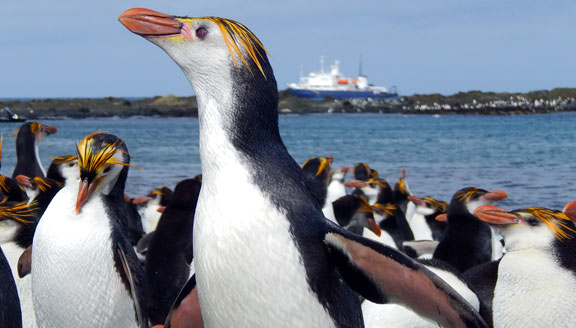 The Snares Islands
The Snares Islands are the only Sub-Antarctic islands to never have had introduced species. The remote islands can only be explored by Zodiac and no landings are permitted.
The islands are home to millions of birds including hundreds of thousands of Sooty Shearwaters, three species of albatross, petrels, cormorants, terns, ducks and many flightless birds. There are seven species of penguin including King, Macaroni, Rockhopper, Little, Fiordland and the endemic Snares Crested Penguin. The surrounding seas are also rich in marine wildlife.
The Auckland Islands and Enderby Island
This fairly large group of islands has a fascinating history of exploration, shipwrecks and human settlement.
However they have been protected since 1934 and are rich in a diverse fauna and flora. Over 70 species of bird have been recorded including a number of endemic species and the rare Yellow-eyed Penguin. Enderby Island is the jewel in the crown, with a thriving population of the near-threatened Flightless Teal, the Sub Antarctic Snipe, Auckland Island Dotterel, the Yellow-eyed Penguin, the red crowned parakeet and possibly the New Zealand falcon. The islands are also the main breeding ground for the New Zealand sea lion.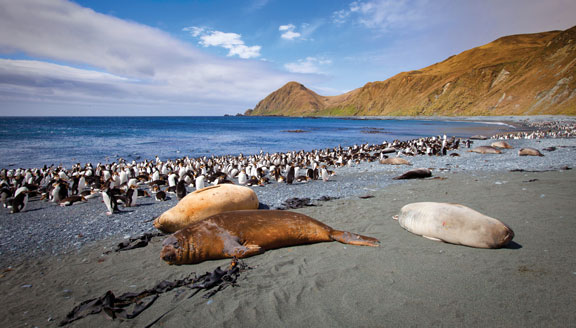 Macquarie Island's Royal Penguins
Known as "Penguin City", Macquarie Island is the only breeding ground of the Royal Penguin and boasts three other penguin species.
About 3.5 million birds come here every year to breed, including 100,000 breeding pairs of King Penguin, Rockhopper Penguin, Gentoo Penguin and around 850,000 Royal Penguin which are endemic to the island. The island also has three species of fur seal and a very large population of elephant seals. Another highlight is meeting with the scientists and park rangers based at the Macquarie Island Station.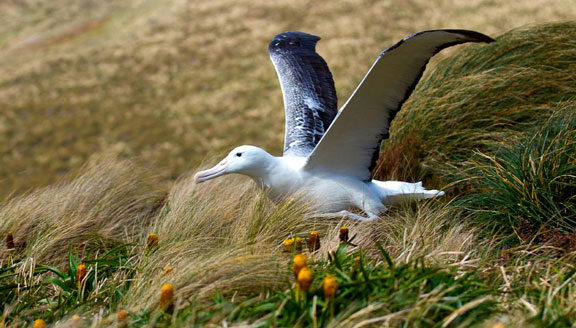 Campbell Islands
Campbell Island is the most southerly of the New Zealand Sub-Antarctic Islands, located 700 km south of New Zealand.
It is located on the Campbell Plateau – a submerged portion of the New Zealand continental landmass. Wild, rugged and surrounded by high cliffs, the island has outstanding flora and is famous for its large perennial wildflowers. The island is also the "Albatross capital of the world" with seven species of albatross, including the Southern Royal Albatross, and is home to the endemic Campbell Island duck.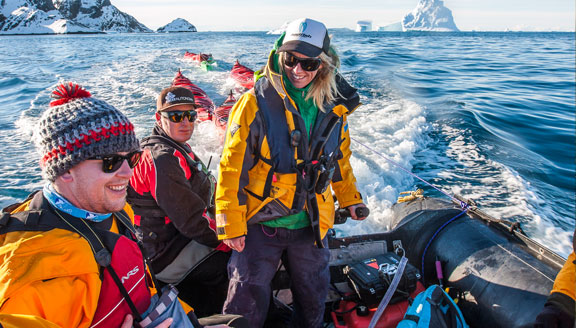 Zodiac Excursions
Most shore excursions and sightseeing trips in and around the Sub-Antarctic islands are by Zodiac inflatable boats.
Anyone of average fitness and agility can get into and out of the Zodiacs. To avoid getting wet you will be wearing wet weather gear and high rubber boots (wellies or gum boots). Some landings will be "dry" and some "wet". Zodiacs were developed by the famous Jacques Cousteau and these nimble, rugged boats are the best way to get to shore quickly and efficiently in the challenging polar conditions, as well as being lots of fun.
Our
Brochure Pages
We have a unique selection of Sub-Antarctic cruise options carefully chosen for their itineraries, as well as the vessels used. Our selection of ice-strengthened ships are all small to medium in size, with a maximum of 50-199 passengers, ensuring an authentic, up-close encounter with the untrammeled wilderness. All of our cruises and tours are completely tailor made to suit our clients interests, budget, and timeframe. To find out more about the type of Sub-Antarctic cruise program we can put together for you, please download pages below.
Sub-Antarctic Islands Overview
Why Sub-Antarctic Islands: The Sub-Antarctic islands south of New Zealand – Snares, Auckland, Macquarie and Campbell are so unique and rich in diverse fauna and flora that they are protected as UNESCO World Heritage Sites. The islands are havens for sea birds and huge colonies of penguins and seals.
Climate: The Sub-Antarctic islands have a cool temperate climate but are subject to frequent storms, high winds and rough seas. On sunny summer days they can be very mild, but the weather tends to be unpredictable and can change at any moment.
Combine With: A voyage to Antarctica.
Getting There: Most voyages depart from Invercargill in New Zealand.