Discover the unparalleled natural beauty and vibrant indigenous cultures of landlocked Bolivia.
This diverse country of welcoming people has so much to offer, from colonial townships and steamy Amazon jungles to stunning Lake Titicaca, jewel-toned lakes and the enormous salt flats of the Altiplano.
Explore La Paz, the highest capital in the world and be sure to explore the surreal landscape of Salar de Uyuni, the world's largest salt lake stretching for hundreds of kilometres.
Due to Bolivia's high altitude we recommend you spend at least a few days in Peru to acclimatise before travelling to La Paz, which has an altitude of 3,650 metres above sea level.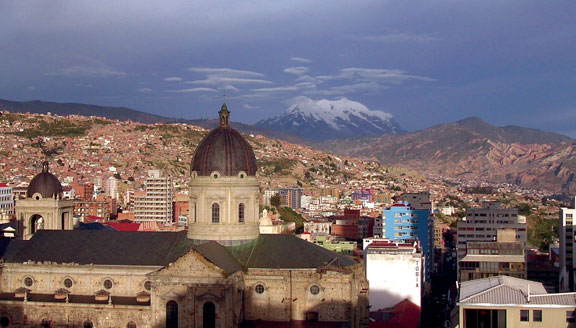 La Paz, The World's Highest Capital City
At an altitude of 3,650m, stunning La Paz is the world's highest capital city and can literally take your breath away.
The city's location is remarkable, in a dramatic canyon shadowed by snow-capped Mt Illimani (6,402m) with buildings clinging precariously to steep valleys. The centre of La Paz is vibrant and cosmopolitan, with many street markets and impressive colonial cathedrals. Due to the altitude, La Paz is cool throughout the year. Winters are dry and sunny whilst summers are wet, with heavy rain often creating mud slides on the steep slopes.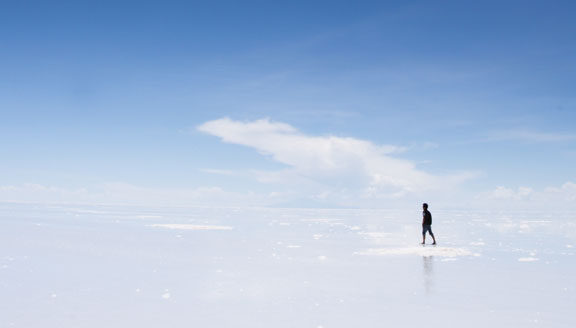 Surreal Salt Flats of Salar de Uyuni
The vast, ethereal salt flats of the Salar de Uyuni are one of South America's most dramatic sights.
This shimmering white expanse stretches for hundreds of kilometres and forms the world's largest salt lake. Take a 4WD into the heart of the region to visit Incahuasi Island with its giant cacti and Fish Island (Isla de Pescados). During the wet season (Nov to Mar) the lake often floods, and its surface comes to resembles a gigantic mirror.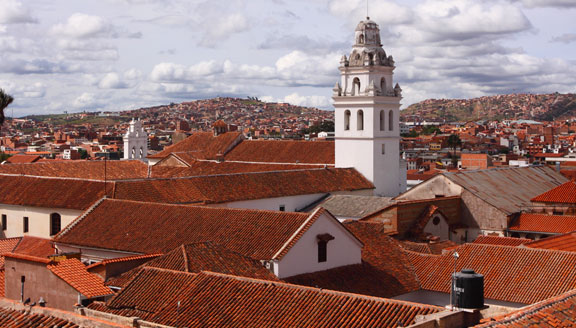 Sucre, a UNESCO World Heritage City
The beautiful city of Sucre was once capital of Bolivia, retaining much of its rich Spanish heritage.
Founded around 1538, Sucre is renowned for its well-preserved colonial churches, convents, monasteries and grand mansions, funded by the wealthy silver mines of Potosi. As a UNESCO World Heritage Site the old city is protected by strict building codes and all buildings must be freshly whitewashed every year. This has earned Sucre the name "La Ciudad Blanca de Las Americas" – "The White City of the Americas". The city is also renowned for its wonderful museums, including the ASUR Textile Museum which features wonderful textiles woven by local indigenous Andean communities.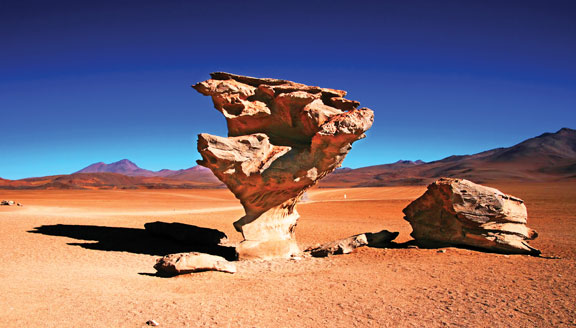 Eduardo Avaroa Andean Reserve
This high altitude reserve is a stunning mosaic of deserts, frozen salt lakes and strange rock formations.
It is inhabited by an array fascinating wildlife including vicuna (related to llamas), viscacha (a type of rabbit), Andean fox, puma and birds like Andean Goose, Andean Condor, rhea, and three species of flamingos. Visit the scenic salt lakes of Laguna Colorada (Red Lake) and the reflective emerald disc that is Laguna Verde.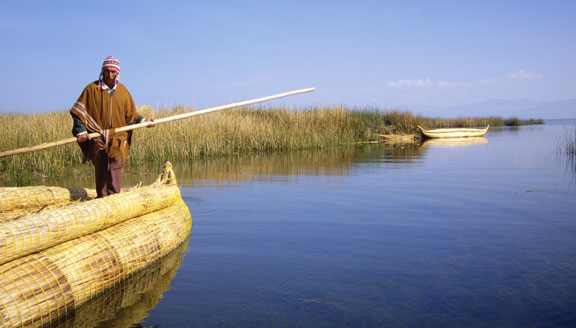 Lake Titicaca
Titicaca is one of the largest lakes in South America and at an altitude of 3,827 m above sea level, it is the highest navigable lake in the world.
This mythical lake lies on the border of Peru and Bolivia. For the Incas, it was a sacred, believed to be the birthplace of the first Inca King, Manco Capac. Travel by bus from Puno to Copacabana in Peru, then take a catamaran across Lake Titicaca to the legendary Sun Island before arriving in Chua, Bolivia. From here, board another bus to La Paz..
Bolivia Overview
Why Bolivia: Bolivia's amazing high altitude desert landscapes and salt lakes, including the Salar de Uyuni, are not only a spectacular sight but a beguiling, almost unearthly experience. Culturally, there is much to experience as Bolivia retains much of its indigenous heritage, while the country's more recent colonial history is evident in its cities and towns.
Culture: Bolivian culture is as diverse and colourful as its population. Bolivia's Incan heritage is infused with Spanish flavour; this is evident in the country's religions, traditions, music, art and clothing. There are many festivals, such as the especially vibrant 'Carnaval de Oruro'.
When to Go: Winter (May to October) is the most popular time to visit Bolivia as days are dry and clear, although nights are cold. Peak tourist season falls in the winter (late Jun – early Sep). Summer (November to April) is the rainy season when overland transportation can be very difficult, and temperatures very humid in the tropical lowlands.
Combine With: The Inca treasures of neighbouring Peru, where you can visit Cusco, the Sacred Valley and Machu Picchu. Alternatively, cross the Andes into Chile's Atacama Desert for more amazing high altitude scenery.
Getting There: In order to acclimatise to Bolivia's elevated altitude, we recommend spending a few days in Peru before flying from Lima to La Paz. Many travellers to Bolivia also enter overland from Peru, taking an overnight catamaran cruise across Lake Titicaca and then continuing by bus to La Paz.