High Arctic Small Ship Cruises
Voyage ever northward across the Arctic Circle and into the polar desert on one of our High Arctic small ship cruises.
Up here in the High Arctic are the unspoilt wilderness of Spitsbergen, Iceland, Greenland, and Canada's Baffin Island and the fabled Northwest Passage.
The scenery is breathtaking, with towering mountains, huge icebergs, dramatic fjords, shimmering glaciers and massive ice caps. Encounter the living icons of the Arctic including the polar bear, walrus, muskox, narwhal and Arctic fox. Visit remote Inuit settlements and uncover a colourful history of whalers and explorers, who for more than 200 years searched unsuccessfully for a shorter route across the north to the riches of the Orient.
A small ship cruise is one of the best ways to experience this untouched region. Another is a land-based small-group expedition.
To find out more about our range of Arctic cruises and tours in the High Arctic, please download pages below or click here to download the full High Arctic section of our Antarctica and the Arctic brochure.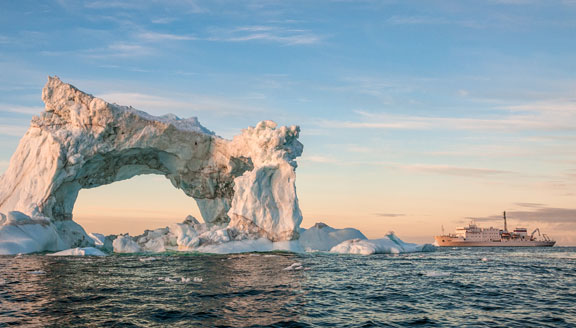 Cruise Amongst Icebergs & Glaciers
The landscapes of the High Arctic are characterised by steep-sided fjords, soaring ice-capped mountains, towering glaciers and icebergs the size of small buildings. If you're lucky, you might come across a calving glacier – be awed by the dramatic sights and sounds as chunks of ice crash into the sea.
Explore the largest fjord system in the world in East Greenland's Scoresbysund and see the World Heritage Site of Ilulissat on the west coast, home to the world's fastest moving glacier and a massive tidal fjord. Visit remote Inuit and Greenlandic communities who still maintain traditional customs and discover ghost towns and abandoned whaling settlements. En route, look out for polar bear, baleen whales and the region's many species of seabird.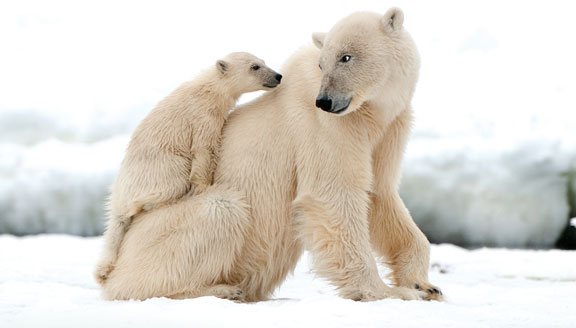 View Diverse Arctic Wildlife
Voyages north of the Arctic Circle offer many opportunities for wildlife encounters. Spot marine mammals such as seals, walruses and whales in bays and inlets, see polar bears hunting at the edge of the ice floe and pass soaring cliffs filled with millions of nesting seabirds such as puffins, guillemots and kittiwakes.
Land mammals like polar bears, caribou, muskoxen, Arctic hare and Arctic fox inhabit the wild tundra. Walrus, with their giant tusks, many species of seals, beluga and bowhead whales, killer whales and narwhals inhabit the seas. Huge colonies of migratory birds like Thick-billed Murres, fulmars, gulls and guillemots crowd the cliffs.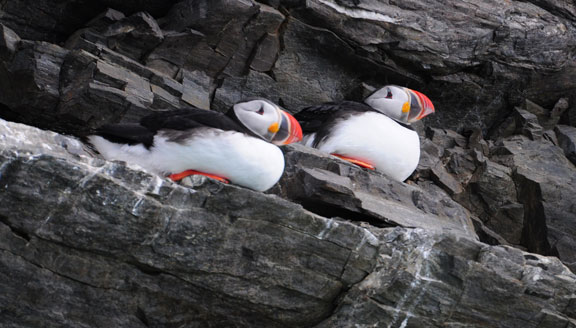 Observe Thousands Of Seabirds
Travel by Zodiac along the base of massive, inaccessible sea cliffs crowded with all manner of nesting seabirds from auks and gulls to guillemots and puffins. The High Arctic is a birder's paradise.
Visit locations harbouring hundreds of Thick-billed Murres and millions of nesting pairs of guillemots, puffins, kittiwakes and fulmars. Beautiful Arctic Terns migrate here from Antarctica, while other species that inhabit these icy regions include auks, Ivory Gulls and skuas. There will be many opportunities to go ashore and explore on foot.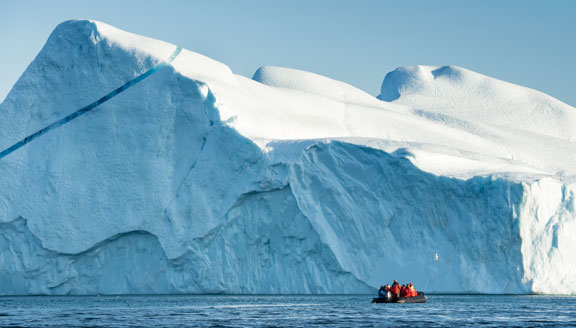 Circumnavigate Spitsbergen
This Norwegian island lies just 600 nautical miles from the North Pole, and offers the classic Arctic landscapes you've always dreamed of.
Dramatic snow-capped peaks, glimmering glaciers, sprawling icefields, monumental icebergs, breathtaking fjords, as well as abundant wildlife, in particular significant numbers of polar bear are all found in Spitsbergen. Look out for polar bears at Phippsoya, walrus at Torellneset and cliffs full of nesting migratory birds at Alkefjellet.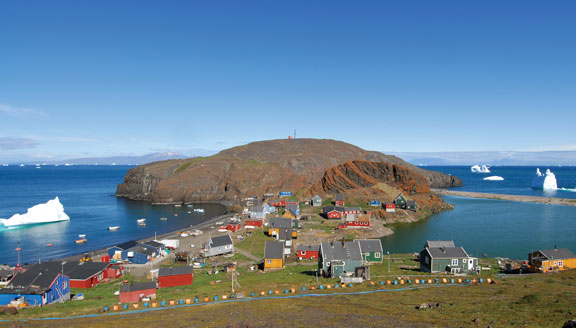 Sail Around Greenland
Greenland is nothing like its name suggests. It is an icy and very often white land of cliffs, fjords, glaciers, icebergs and rolling tundra, carpeted with wildflowers in summer. It also offers some of the best Aurora displays on earth.
Some say that Scorsbysund Sound is the largest, longest and most beautiful fjord system in the world – few who have seen it would disagree. Visit one of the world's last remaining hunter-gatherer societies at Ittoqqortoormiit. Possible wildlife sightings include muskox, polar bear, Arctic fox, white-beaked dolphin, humpback, minke and blue whales as well as thousands of seabirds.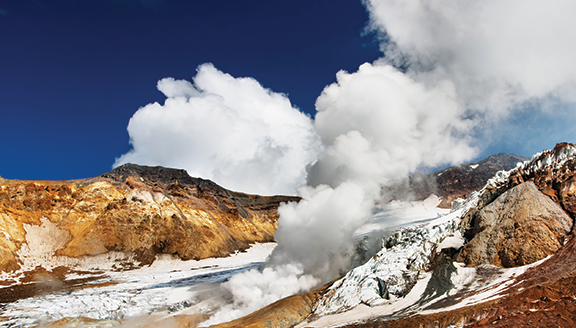 Visit Iceland
The "land of fire and ice" has active volcanoes, lava fields and steaming geysers set amongst snow-capped mountains, ice sheets and icy seas filled with marine life.
Iceland is surrounded by the cool, clear North Atlantic Ocean, but the Gulf Stream sends a steady supply of warm water up past Iceland, making the island warmer than would be expected. Iceland's coastal waters play a key role in keeping the country rich in birds and marine mammals. Many different whale species can be seen here, including minke, blue, fin, humpback and orca as well as white-beaked dolphin and harbour porpoise.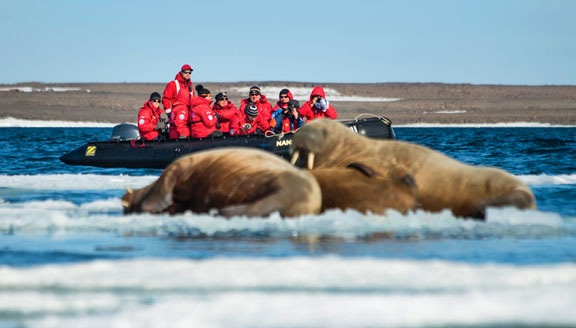 Explore by Zodiac
Expect regular shore landings and sightseeing excursions around icebergs and sea cliffs in Zodiac inflatable boats.
Anyone of average fitness and agility can get into and out of the Zodiacs. To avoid getting wet, you wear wet weather gear and high rubber boots (wellies or gum boots). Some landings will be "dry" and some "wet". Zodiacs were developed by the famous Jacques Cousteau and these nimble, rugged boats are the best way to get to shore quickly and efficiently in the challenging polar conditions, as well as being lots of fun.
High Arctic Overview
Why the High Arctic: Voyages to the High Arctic offer the classic Arctic experience. Explore dramatic landscapes of high mountains, huge fjords, massive glaciers and soaring sea cliffs covered in nesting birds. The wildlife is exceptional with the chance to see large mammals like polar bear, walrus and many species of whale.
Climate: The Arctic is warmer than Antarctica due to most of the surrounding area being ocean rather than land. Temperatures vary depending on altitude and the amount of ice around (by late summer, much of the ice has retreated). Sunny summer days can be surprisingly warm but you should also be prepared for cold windy days and snow squalls. Spitsbergen is warmer on the west coast due to the warm Gulf Stream, whereas a cold current cools the east coast.
Combine With: Journeys to the Canadian High Arctic depart from Canada and can easily be combined with a holiday on the mainland. See grizzly bears or cruise Alaska's famous Inside Passage (see our Canada & Alaska program for details). Voyages to Greenland and Spitsbergen depart from European cities.
Getting There: Many itineraries start and/or end in a major city such as Oslo or Toronto, and involve a group charter flight to an Arctic port for embarkation. Some voyages start at an Arctic port such as Longyearbyen on Spitsbergen.