Our selection of Mumbai tours explore the highlights of India's busy capital city.
Mumbai is India's bustling capital, a mix of grand avenues, colonial buildings, temples and bazaars. Once a collection of sleepy fishing villages, Mumbai grew up in the early days of the British East India Company, becoming a centre for the independence movement, then turning into the economic powerhouse it remains today. The city is lined with grand avenues and dotted with colonial buildings, extravagant temples and exotic bazaars. It is also home to "Bollywood", the world's largest movie industry. From Mumbai, you can travel to the 2,000 year old Buddhist cave paintings at Ajanta and the amazing rock cut temples at Ellora.
Mumbai- the bustling capital
The fascinating metropolis of Mumbai lies on the Arabian Sea on India's west coast. The city flourished during the era of the British East India Company and the days of the Raj, as a centre for finance, industry and the navy.
It boasts some grand architectural jewels from the British era, such as the famous Gateway of India, and the Victoria Terminus Railway Station, as well as flamboyant Hindu temples, mosques, markets and busy bazaars. It is also the home of Bollywood and sumptuous hotels like the Taj Mahal Palace, a fantastical palace built in 1903. You can take a half-day tour to visit the UNESCO World Heritage cave temples on Elephanta Island, or travel farther afield to the 2,000 year old Buddhist cave paintings at Ajanta and the rock cut temples at Ellora.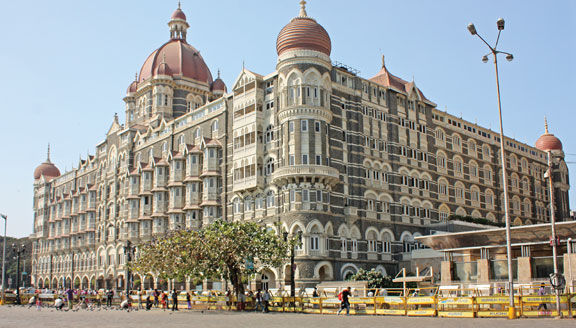 Recommended places to stay in Mumbai
Taj Santacruz is ideal for stopovers and is also a great base for exploring Mumbai, being mere minutes from the airport.
The magnificent Taj Mahal Palace, Mumbai first opened its doors in 1903, and today, continues to impress visitors from all over the world.
The Trident Nariman Point stands 35 storeys high overlooking Mumbai's distinguished Marine Drive, steps from many landmarks in a city that never sleeps.
India Tours & Holidays
This relaxed cruise explores Kerala in south India, a tranquil region characterised by spice plantations, beautiful beaches and languid backwaters.
Why Mumbai: Mumbai is one of India's most important cities and well worth a visit, to learn about the country's history and to get a feel of where this rapidly developing nation is headed.
When to Go: Late September to early March is the most pleasant time to visit with clear days and moderate temperatures. March to June is very hot whilst June to September is monsoon season.
Combine With: Mumbai is a popular gateway to the tiger parks of central India, or for a holiday in any other part of the Indian subcontinent.
Getting There: Many international airlines have regular flights to Mumbai.