Our wide selection of Argentina tours showcase the country's many attractions from natural wonders and ancient Inca sites to sophisticated European-style cities.
Visit the exquisite Iguazu Falls, a horseshoe-shaped natural wonder comprised of many separate waterfalls and cataracts. Stroll through evocative colonial cities like Salta with its fine Spanish architecture or explore the picturesque wine region of Mendoza. Wildlife lovers can stay in a secluded eco-lodge in the rainforests surrounding Iguazu Falls, or at a hosteria in the Ibera Marshes. For marine life, travel to the isolated Valdes Peninsula which teems with seals, whales and penguins.
From steamy jungles to icy peaks, Argentina is a land of dramatic contrasts. Aconcagua, at 6,959m near Mendoza, is the highest peak in the Americas, whilst Patagonia, which covers a third of Argentina, is a unique world of windswept plains, towering mountains, gigantic glaciers and unusual flora. Cruise or walk through this icy wonderland, with its gorgeous lakes, fjords and glaciers, including the famous Perito Moreno.
For information on the Argentinean region of Patagonia, please click here.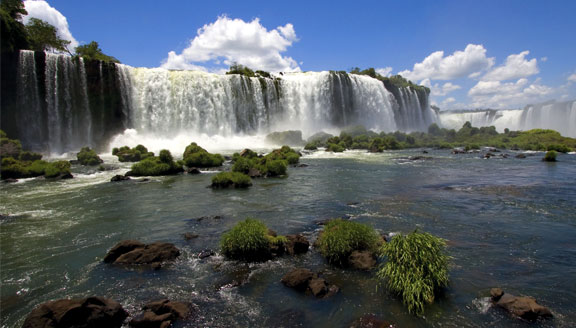 Spectacular Iguazu Falls
The Iguazu Falls are one of the most spectacular waterfalls in the world, sitting on the border between Argentina and Brazil.
The Iguazu Falls lie on a river of the same name, which tumbles over the Parana Plateau in a horseshoe shape. Brazil is home to the dramatic "Devil's Throat" view of the falls, while the Argentine side – which harbours two-thirds of the waterfall – allows visitors to experience the power of the cascades up close. Choose a hotel near the falls or stay in a secluded rainforest eco-lodge within easy driving distance of it.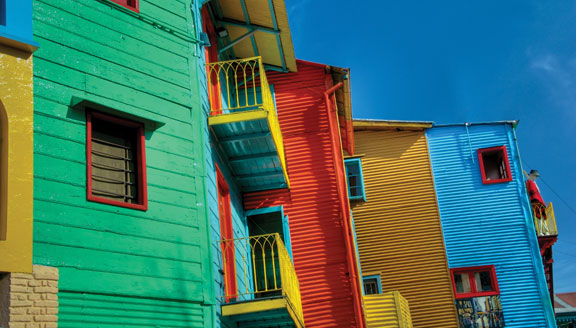 Cosmopolitan Buenos Aires
This vibrant city on the Rio de la Plata is famous for its elegant European-style architecture and wide avenues, infused with distinctly South American flavour.
You cannot visit "BA" without encountering the sultry rhythms of the tango, either in the sidewalk cafes or on a grander scale in the theatres. The shopping is amazing, from the "gallerias" to the edgy boutiques of Palermo Viejo. You can enjoy food from all over the world, but don't miss a meal of traditional barbequed meat at one of the many parillas (steakhouses). The city is made up of 47 barrios, each with its own character. La Boca is one of the most well-known, with its brightly painted houses and tango clubs.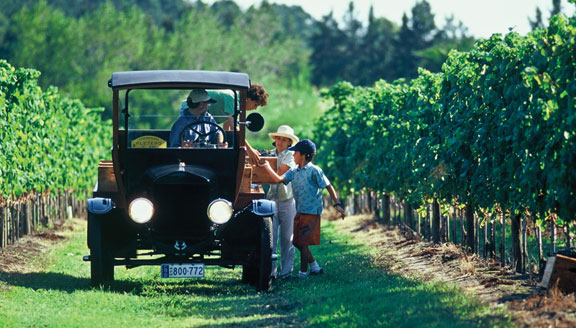 Mendoza and Vineyards
At the heart of Argentina's wine country, Mendoza is a delightfully relaxed city with fountains, historic churches, spacious streets and plazas.
The nearby Andes Mountains and Mt Aconcagua, the highest point in the Americas, form a dramatic backdrop to Mendoza's beautiful vineyards. The area produces 70% of Argentina's wines, including the fine vintages of the stunning Uco Valley. There are some wonderful boutique properties in the region such as the Relais & Chateaux Cavas Wine Lodge and Posada Salentein.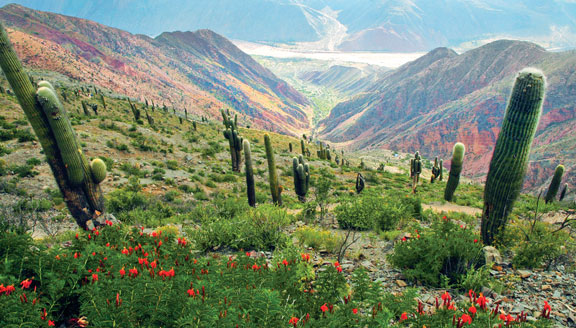 Historic Salta and Northwest Argentina
Discover majestic desert landscapes of wind-sculpted rocks and giant cacti, rich in pre-Incan remains, colonial history and vibrant traditional culture.
The sophisticated city of Salta, founded in 1582, has the best preserved Spanish architecture in the country, as well as a thriving art and folk music scene. Tour the colonial town of Cachi and the intriguing Calchaqui Valleys with their incredible flora, hike rugged mountains and visit local villages. Taste Argentina's delicious cuisine paired with the region's best wines at Cafayate or explore pre-Incan sites in the amazing landscapes of the UNESCO World Heritage-listed Quebrada de Humahuaca. Argentina's northwest has a number of romantic boutique hotels and retreats, such as the House of Jasmines and the Patios de Cafayate wine estate.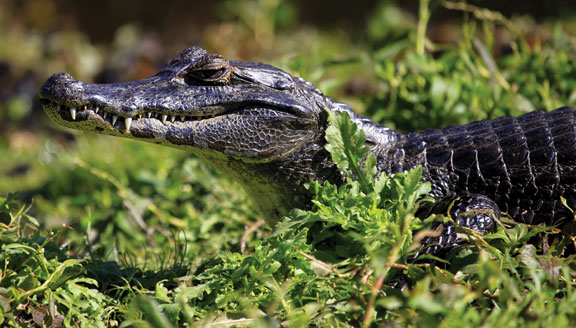 The Ibera Wetlands – Wildlife and Estancias
The Ibera Marshes (Esteros del Ibera) are an enormous wetland wilderness in northeast Argentina, second only to Brazil's Pantanal in size.
Unspoiled and rarely visited, this protected area teems with birds and animals, including caiman, howler monkey, marsh deer, giant river otter, maned wolf, capybara, anaconda and many bird species including rhea (related to ostrich) and the viscacha. Here, you can stay at a boutique estancia (ranch) such as Rincon del Socorro where you have the option of guided boat trips, walks and horseback rides to explore this special wilderness. Getting there is an adventure – expect a long drive over rough, muddy roads. It's also possible to charter a small plane. July to October or April/May is the best time to visit.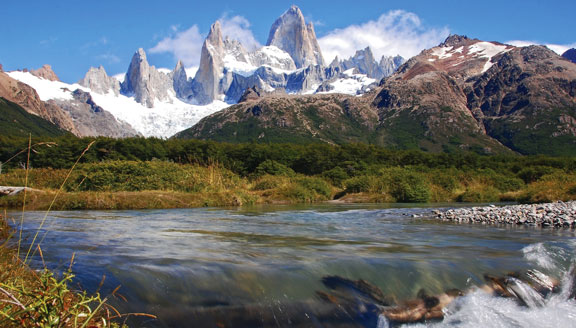 Argentinian Patagonia – Mountains and Glaciers
Explore the natural wonders of Patagonia on foot, by 4wd, cruise ship or even on horseback – this region is paradise for the outdoor enthusiast.
Remote and rugged, Patagonia is a fascinating region of towering mountains, glistening glaciers, cascading waterfalls, secluded lakes and beech forests. Wildlife in the area include guanacos, sea lions, elephant seals, penguins and orcas. Our selection of programs in Patagonia includes lodges, estancias, small ship cruising, camping and overland journeys. To find out more about our range of programs in Patagonia, please see our Patagonia section.
Sample
Itineraries
Our Argentina tours feature a wide range of accommodation options from five star or boutique luxury hotels in the vibrant capital Buenos Aires, to eco-lodges in the rainforest or traditional estancias (ranches) out on the pampas. Choose from one of our featured itineraries or let us custom design a tour to suit your interests, style and budget. To find out more about the type of Argentina experience we can put together for you, please download pages below.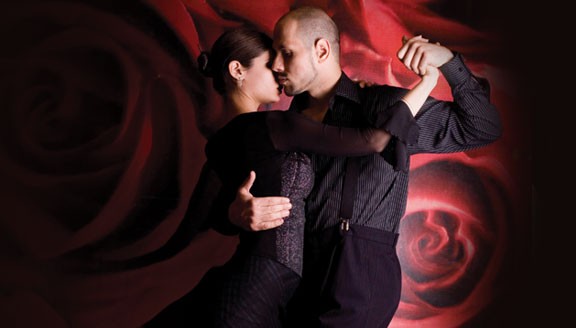 City Stays – Buenos Aires
Renowned as the most cosmopolitan city in South America, Buenos Aires is made up of 47 neighbourhoods (known as 'barrios'), each with their own fascinating personality. "BA" is a vibrant city of tango, culture, sport, shopping and cuisine well worth a couple of days of exploration.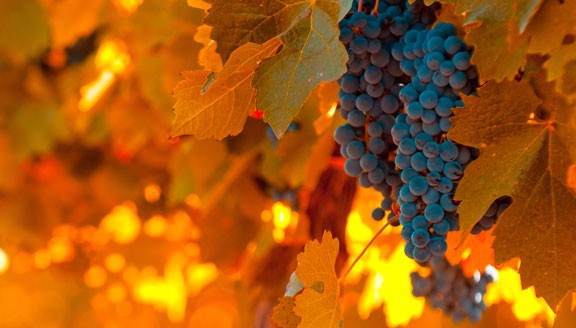 Mendoza, Salta & Northwestern Valleys
Set between mountains and desert, Mendoza produces some 70% of Argentina's wines. Historic Salta to the north is the gateway to Argentina's spectacular Calchaqui Valleys, which are scattered with ancient pre-Colombian ruins and picturesque colonial settlements. Both are amazing destinations that offer a taste of Argentina's rich heritage.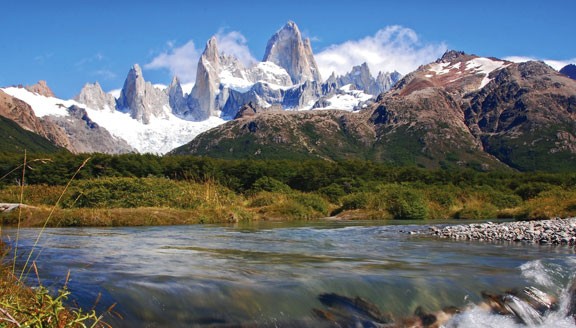 Argentinian Patagonia
Argentinian Patagonia is home to incredible mountain peaks, pristine lakes, immense glaciers and monumental icefields, much of which are found within stunning national parks including Los Glaciares, Nahuel Huapi and Tierra del Fuego. Hiking and cycling are popular activities amid the beautiful alpine landscapes.
Argentina Overview
Why Argentina: Argentina offers something for everyone: dramatic landscapes ranging from the snow-capped Andes to desert and rainforest to sophisticated cities, pre-Incan cultures, Spanish colonial architecture, the sensuous tango, and of course, the awe-inspiring Iguazu Falls.
Culture: Argentina's art, festivals, food, language and music are a reflection of the people who have inhabited the country, from native Argentineans to more recent immigrants from Europe and other parts of South America in the last 500 years. Argentina's best-known art is the tango, which you can witness in a theatre or even on the streets.
When to Go: The cooler months of the southern hemisphere (spring, autumn and winter) are the best time to visit Buenos Aires and northern Argentina. Summer (December to February) can be intolerably hot and humid. The dry season (July-Oct and April) are best for wildlife viewing in the Ibera Marshes. Spring through to autumn is wonderful in the Lakes Region whilst summer is the best time to visit the south and Patagonia as the weather is milder and more services are available.
Combine With: Argentina combines well with neighbouring Chile, particularly in the Lakes Region and Patagonia. You can also easily cross over to Brazil at Iguazu Falls, or into Uruguay which is lies across the river from Buenos Aires.
Getting There: Buenos Aires is the gateway to Argentina, receiving flights from all over South America and the world.