Experience the most unforgettable wildlife encounter of your lifetime – with the magnificent Mountain Gorilla Trekking & Safaris.
Rwanda's famous Parc National des Volcans is one of the best places to see these gentle, highly endangered primates.
As peace and stability have returned to Rwanda, the Parc National des Volcans has once again become the most popular place to undertake one of Africa's greatest wildlife experiences – an encounter with the magnificent mountain gorilla. These endangered primates, made famous by zoologist Dian Fossey, live in the rainforests of the Virunga Volcanoes on the border of Rwanda, Uganda and Congo and in Uganda's Impenetrable Forest. The park is easily reached by road from Kigali, the capital, which is a short flight from Nairobi.
You can also trek in search of chimpanzee and other primates in the beautiful montane rainforest of the Nyungwe Forest National Park south of Lake Kivu.
Mountain Gorilla Trekking
Africa is home to the world's largest primate, the gorilla. The Mountain Gorilla lives at higher altitude and has longer and more abundant fur than the lowland species.
It is also the most critically endangered with approximately 720 individuals remaining within national parks in the Virunga Volcanoes and in Uganda's Impenetrable Forest. These gentle giants live on a diet of leaves, stems, bark and fruit. A guided trek through the forest to see an habituated group is an unforgettable experience, and although encounters cannot be guaranteed, it is unusual not to see them. Finding the gorillas can mean trekking up steep, uneven paths or over tussocky grass so a reasonable level of fitness is required. Rwanda's Parc National des Volcans is the best place to undertake gorilla treks. Limited permits are available and must be purchased well in advance.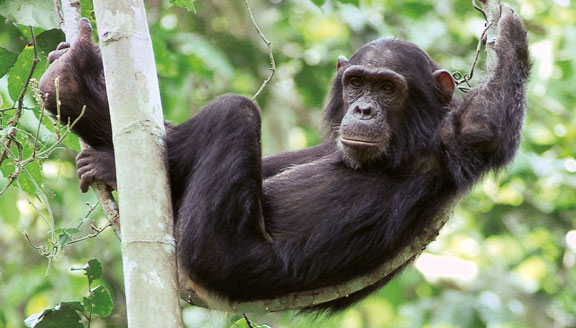 Chimpanzee viewing
A healthy population of chimpanzees can be found in the pristine and beautiful Nyungwe Forest, south of Lake Kivu, and guided treks can be arranged here.
The forest also supports an amazing number of other spectacular primate species, such as black and white colobus monkeys, grey-cheeked mangabey, blue monkeys and golden monkeys. The Nyungwe Forest National Park is mainly montane forest and the paths can be steep and wet, so you will need a reasonable level of fitness. Chimpanzee troops can be harder to find than the Mountain Gorillas and you won't get as close, but encounters are very rewarding. Trekking permits need to be obtained early.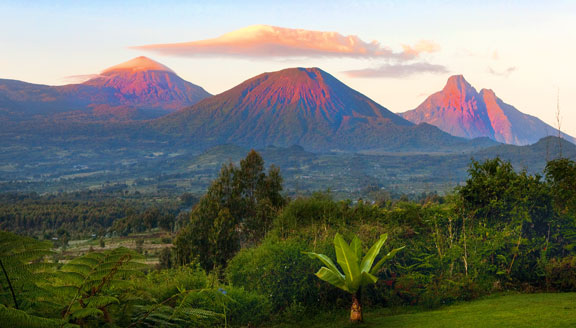 The Virunga Volcanoes
This majestic chain of volcanic mountains in northwest Rwanda is not just the best place to see mountain gorillas, it is an area of great natural beauty.
There are 9 volcanoes of which 5 are in Rwanda: Karisimbi, Bisoke, Mgahinga, Sabyinyo and Muhabura. Like islands in a sea of cultivated terraced hills, the mountains are covered in rainforest and bamboo thickets and often cloaked in mist. Mount Karisimbi is the highest at 4,507m. The volcanoes were made famous by Dian Fossey who dedicated her life to the mountain gorillas she found here and immortalised them in her book "Gorillas in the Mist", later a major feature film. Apart from gorillas, the mountains are home to golden monkeys, small antelope like duiker and bushbuck, buffalo and 178 bird species.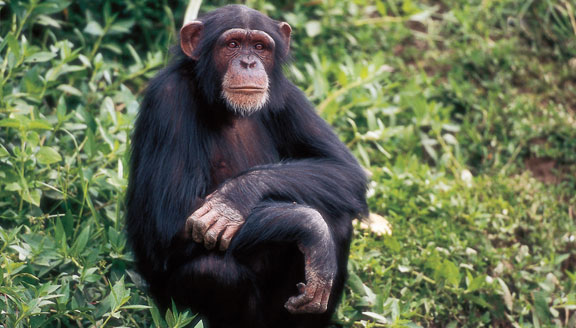 Nyungwe Forest National Park
This magical montane rainforest is one of the best preserved in Africa and home to over 1,000 plant species, and its mammal species include a remarkable 13 species of primate.
Gigantic trees cloaked with rare orchids and epyphytes tower above the forest floor while colourful butterflies flit through sun-dappled clearings. Huge troops of arboreal black and white colobus monkeys can often be seen, and the area is a bird-watchers paradise with 275 recorded bird species. Activities include extensive forest trails, treks to see chimpanzees and other primates, and a new canopy walk 40 metres above ground and 90 metres long for eye level views of the forest canopy.
Featured
 Sample Itineraries
Explore some of the experiences that we can custom-design for you. All of our safaris and tours are tailor-made to suit your interests, budget and timeframe.
Encounter Rwanda's rare Mountain Gorillas and explore Tanzania's finest safari destinations before relaxing on the white sand beaches of exotic Zanzibar.
Travel to Rwanda and experience one of the most unforgettable wildlife encounters of a lifetime with the last remaining mountain gorillas.
This 7-day Rwanda gorillas and chimps journey combines two gorilla treks with a visit to Nyungwe Forest, home to chimpanzees and 12 different monkey species.
Featured
Accommodation
Below are some of our preferred accommodation options in Rwanda, carefully selected for their superior safari locations, service and level of comfort. Explore the highlights sections above to view more of our handpicked luxury lodges in Rwanda.
Bisate Lodge is easily one of the most sumptuous accommodation options for Mountain Gorilla trekking in Rwanda, set at the edge of Volcanoes National Park.
Our
Brochure Pages
Select the 'Download Brochure Pages' tabs to view and download product pages from our Africa brochure.
Rwanda Overview
Why should I travel to Rwanda? Rwanda's Parc National des Volcans (Volcanoes National Park) is one of the best places to see the last remaining mountain gorillas. The majority of habituated family groups in the Virunga Volcanoes can be found in this park. Gorillas treks can also be combined with chimpanzee trekking in the Nyungwe National Park. The country also has a good tourist infrastructure with some excellent lodges.
When is the best time to visit Rwanda? Rwanda can be visited any time of the year; however during the long dry season between Jun-Sep the ground is drier and dirt roads are more accessible, enabling easier passage to visit the gorillas and chimpanzees.
What is the climate in Rwanda? Although Rwanda is on the equator, the altitude keeps temperatures down (25°-28°C), and the mountain areas where gorillas are found can be cool to cold. Rain falls throughout the year but is heaviest from Mar-May and Oct-Nov.
What can I combine with Rwanda? Gorilla trekking in Rwanda should be combined with a traditional big game wildlife safari in the parks and reserves of neighbouring Kenya or Tanzania.
How to get to Rwanda? Rwanda's capital Kigali is easily reached by air from Nairobi in Kenya, Entebbe in Uganda, Serengeti or Arusha in Tanzania. From Kigali, you would take a road transfer to the Parc National des Volcans.
Do I need a Visa for Rwanda? Please call us on 1300 363 302
Do I need vaccinations for Rwanda? Please call us on 1300 363 302