Luxury Rwanda – One & Only Gorilla Nest
Located just outside Rwanda's famous Volcanoes National Park, and one of the country's newest luxury lodges, One&Only Gorilla Nest is perfectly positioned in the foothills of the Virunga Mountains. Immersed in nature, the lodge accommodates guests in 14 beautiful one or two-bedroom rooms and 7 elegant suites reminiscent of a treehouse with awe-inspiring forest vistas.
The rooms seamlessly connect the indoor spaces with the outside environment, with floor-to-ceiling glass windows opening out onto a spacious and secluded outdoor deck that features a sitting area and comfortable swing chair. The rooms boast luxurious king beds and are decorated in beautiful artwork, fabrics and homewares inspired by Rwandan imigongo art. Guests will enjoy the superb ensuite bathrooms that feature an al fresco shower and a standalone bathtub facing the forest. The suites are styled in the same manner as the rooms, but with a spacious lounge area and larger outdoor deck with superb couches and where guests can choose to dine in greater privacy.
Synonymous with all One&Only's luxury resorts and lodges, dining at Nest – One&Only Gorilla Nest's onsite restaurant is no different. Beautifully presented and flavourful cuisine is inspired and crafted from only the freshest local seasonal produce sourced from the onsite garden or local farmers. The daily changing menu shows the best of Rwanda's fertile land and is layered with African influences. Guests can also enjoy a drink at Nest Bar, where resident mixologists offer a wide range of cocktails as well as superb red and white wines from the continent and overseas. For those looking for a more intimate dining affair, there are a host of private dining options from gourmet picnics in front of the outdoor movie screen to barbecues under the stars.
One&Only Silverback Suite
For the ultimate indulgence, the 402sqm Silverback Suite offers everything guests could possibly want amidst the lush jungle landscapes of Rwanda. Surrounded by trees the suite offers complete privacy and seclusion with incredible views from just about every window, as well as the extensive outdoor terrace and exclusive rim-flow swimming pool. Aside from the pool, the outdoor space features multiple dining areas, an open-air lounge, barbeque terrace and a cosy firepit. The elegantly designed and decorated suite also boasts an extensive indoor dining and lounge room, master bedroom and a stylish ensuite bathroom with a delightful free-standing bathtub.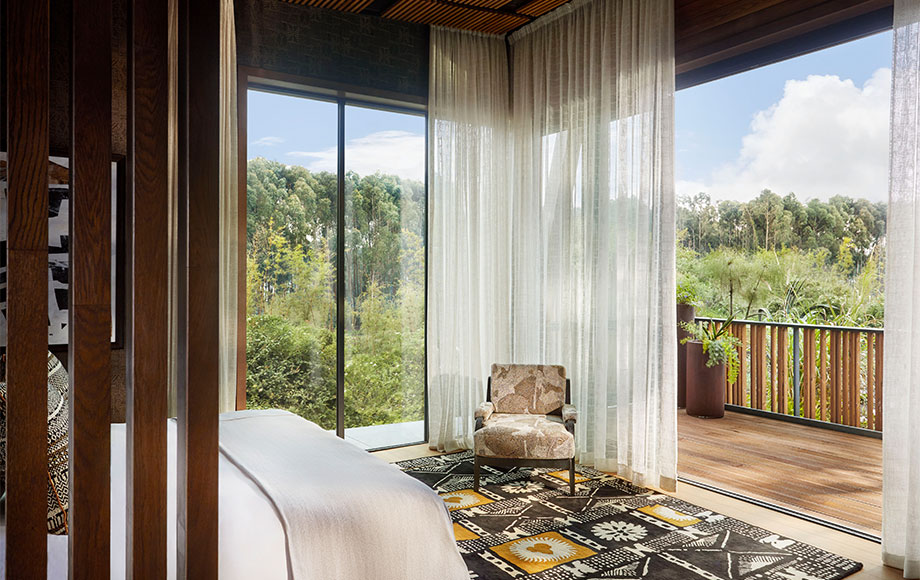 See the legendary mountain gorillas
Activities at the lodge centre on treks to see the habituated mountain gorilla families (permit required) found in the Volcanoes National Park. However, there are a few other activities available to guests; including learning about the history of Rwandan coffee and enjoying a guided tasting and visiting the former residence of famed conservationist Jack Hanna – which features a library, games room and an interactive kitchen where guests can partake in cooking classes. Other facilities include wellness centre, where guests can enjoy several treatments, as well as a small pool, sauna and steam room.
Highlights
A luxurious lodge in the foothills of the Virunga Mountains
Elegant, treehouse-like rooms and suites
Adjacent to the Volcanoes National Park home to habituated mountain gorillas
Idyllic setting surrounded by lush forest
Outstanding cuisine using locally sourced produce at onsite Nest restaurant
Guided Rwandan coffee tasting
Lovely pool and wellness centre including a spa, sauna and steam room
Activities
Trekking to see the mountain gorillas (permit required)
Guided Rwandan coffee tasting
Explore Jack Hanna's former residence and take an interactive cooking class
Enjoy a massage or treatment at the wellness centre
*Some activities may be at extra cost.
Getting There
One&Only Gorilla Nest is located just outside of the renowned Volcanoes National Park near the town of Kinigi. From Rwanda's capital, Kigali, it is approximately 2.5 hour's drive by road to the lodge.
Be Inspired
Luxury accommodation in Rwanda
Below are some of our preferred tented camps and lodges in Rwanda. Please contact us to tailor accommodation options to suit the style of your trip and your budget.
The Bishop's House is a boutique property conveniently located just 30 minutes' drive from Volcanoes National Park, the starting point for gorilla treks.
Our recommended Rwanda safaris
The following tours are private, independent and can be easily customised to suit your personal travelling requirements. Please contact us to begin designing your personalised Rwanda experience.
Encounter Rwanda's rare Mountain Gorillas and explore Tanzania's finest safari destinations before relaxing on the white sand beaches of exotic Zanzibar.
Travel to Rwanda and experience one of the most unforgettable wildlife encounters of a lifetime with the last remaining mountain gorillas.
This 7-day Rwanda gorillas and chimps journey combines two gorilla treks with a visit to Nyungwe Forest, home to chimpanzees and 12 different monkey species.
JOIN OUR
E-Newsletter
Sign up to receive updates about exciting journeys, special offers and more