The Experts in Tailor Made Tours & Safaris
African Wildlife Safaris and our sister company, Natural Focus, have been specialising in travel to exceptional places since January 1985. African Wildlife Safaris and Natural Focus are Trading Names of African Wildlife Safaris Pty Ltd. Started in January 1985 we are still a 100% family owned business based in South Melbourne, Australia. We are a member of IATA, AFTA, CATO and ATAS. To be accredited with both IATA and ATAS we are required to operate a Trust Account for your protection. A requirement of IATA membership is that we are audited annually.
Our knowledgeable staff are experts in the destinations we offer and well-versed in creating private itineraries for both individuals and small groups. Our programs are designed to be flexible so we can put together individual, tailor made tours designed to suit our clients requirements.
African Wildlife Safaris
AWS was founded in 1985 by Steve and Sara Cameron after they had spent a number of years travelling through Africa and had been inspired by the people, landscapes and wildlife of this huge continent. Their knowledge and enthusiasm is reflected in the type of itineraries we create, whilst their extensive experience has helped us to create a range of diverse and well-researched African safari programs.
Our destination travel specialists have all travelled in Africa and are able to advise you on the best time of year to visit each area, which wildlife reserves and safari camps offer the best game-viewing, and the style of safari to suit your individual requirements.
Our philosophy has always been that tailor made safaris are not only the best way to protect Africa's precious wilderness, but that they are the best way to experience Africa. A personally designed itinerary can take into account your travel style, budget and special interests and make the most of your time. In Africa "to see more" means to move less. A longer stay in the major parks will be much more rewarding than moving every day or two. You will notice that the emphasis throughout the brochure is on staying extra nights. Relax, unwind, enjoy.
Natural Focus
Natural Focus was born in the year 2000 as a specialist division of African Wildlife Safaris. With two decades of experience in African safaris as our inspiration, our aim was to provide exceptional wildlife and wilderness holidays in areas of spectacular natural beauty around the world.
With a team of destination travel specialists experienced in these destinations we have created innovative and personalised tours to India, Bhutan, Canada & Alaska, Antarctica, the Arctic and South America. Each destination has its own brochure which features a range of accommodation as well as wildlife and wilderness experiences, cultural tours, cruises, rail tours, and wildlife lodges. We offer some escorted group tours and scheduled tour departures, however the main focus of our program is on creating tailor made, personalised itineraries for individuals and small groups.
Our Valuable Team Members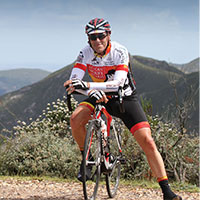 Stephen Cameron
CEO & Company Co-founder
Steve and his wife Sara are the founders of African Wildlife Safaris. Steve first visited Africa in 1982, leading overland expeditions to all corners of the continent. He visits Africa several times each year, to keep up-to-date with developments in tourism and to research new tours and lodges. The park he loves most for its incredible overall game viewing is the Serengeti in Tanzania, whilst his favourite safari experience is canoeing the Zambezi River in Zimbabwe's Mana Pools. Steve is also a keen cyclist and has completed the famous Cape Argus circuit. Under our Natural Focus banner, Steve has led tours to India for tiger viewing, to Canada for bear watching, and has accompanied two groups to Antarctica and South America. His most recent trip was to Zambia, where he saw countless leopard and African Wild Dog exploring the beautiful South Luangwa and Lower Zambezi national parks.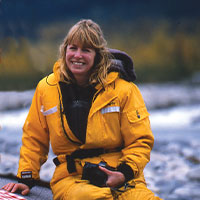 Sara Cameron
Company Co-founder
Sara grew up in Zambia and South Africa, returning to England when she was 21. She then travelled the length of Africa twice before emigrating to Australia with Steve and co-founding African Wildlife Safaris. Sara has visited east and southern Africa many times, including taking her two sons James and Jeremy on safari to Kenya and Botswana during their teenage years. Among her many highlights are coming face-to-face with the mountain gorillas in Rwanda, canoeing the Zambezi, a camel trek in Samburu and the historic sites of Egypt and Jordan. She recently returned with Steve to Zambia, exploring the wonders of the South Luangwa National Park and gazing once more upon the beauty of the Victoria Falls. Sara has also travelled to Antarctica, throughout South America including Chile, Brazil, Peru, Argentina, Ecuador and the Galapagos Islands as well as Canada.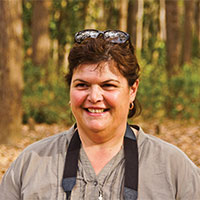 Anne-Marie (Annie) Zambelli
General Manager
Anne-Marie (Annie), our General Manager, has worked for over 30 years in the travel industry. She began her career as an African consultant in Australia and then the UK, and is still enormously passionate about all things Africa, having visited the continent countless times. For 2 years she worked as assistant manager of Mombo Camp in Botswana, a country she still loves dearly and to which she returns regularly to visit new camps and to negotiate with our safari operators. Annie has also participated in our most interactive safari, "Journey with a Vet", in South Africa, a behind-the-scenes adventure involving some of Africa's most iconic species. Through our sister company Natural Focus she is now an expert on India, has led bear tours in Canada, and voyaged to Antarctica and the Galapagos. Her next adventure will take her to Egypt and the Middle East, where she will sail down the Nile by traditional Dahabiya and discover the wonders of Israel.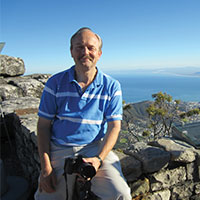 Rolf Huber
Marketing Manager
Rolf is an Africa veteran, having worked for South African Airways for many years. He has travelled many times to South Africa and loves the warm-hearted locals. He also counts Cape Town as one of his favourite cities in the world. Over the many years Rolf has been in the travel industry, he has also visited Egypt, Morocco and the Ivory Coast. His most recent adventure took him to some of Kenya's most spectacular game reserves, including the Masai Mara and the semi-arid Samburu. For Rolf, the dramatic scenery of the Samburu and seeing the unique wildlife including the long-necked gerenuk (also known as a giraffe gazelle) was a highlight. Born and raised in Switzerland, Rolf has also travelled much of North America and Europe, with one of his most memorable experiences being the time he was stranded at Anchorage airport due to grizzly bears playing on the airstrip!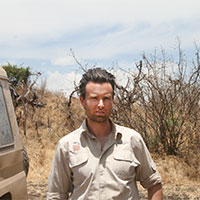 Michael Fitzgerald
Senior Destination Specialist
Michael's fascination with Africa began in 2010 when he first travelled to Kenya and South Africa. Since then he has journeyed through Botswana and Zambia, exploring the Okavango Delta by mokoro (traditional dugout canoe), enjoying incredible game viewing whilst on a walking safari through Zambia's South Luangwa and visiting the mighty Victoria Falls. A highlight for Michael was also visiting Tanzania, where he saw the wildebeest migration, ran with the Maasai and gathered fresh honey with the Hadzabe and Datoga tribes. Michael's travels to Canada and Alaska have seen him cruise the awe-inspiring Inside Passage, get up close to wild grizzly bears, trek across the top of glaciers and visit charming small towns like Ketchikan and Wrangell. His most recent experience was seeing the legendary mountain gorillas in Rwanda and exploring the remote Selous Game Reserve, a rarely visited region of Tanzania.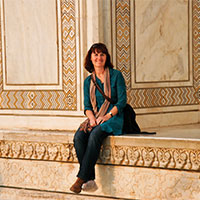 Kate Witton
Reservations Manager
Kate's travels to Africa have taken her to all corners of the continent – from Egypt, Morocco and Ethiopia in the north to Kenya, Tanzania and Zambia further south right down to South Africa, Zimbabwe and Botswana. Kate cites walking with rhinos in Zambia, spending hours observing cheeky lemurs in Madagascar and the fascinating tribes of Ethiopia as her highlights so far. During her time in Tanzania's eastern Serengeti she stayed in a remote camp which offered some of the best sightings of wild cats she had ever experienced.
Over her 30-plus years in the travel industry Kate has also travelled extensively throughout South America, Antarctica, Asia and the Middle East, where she worked as a tour leader in Egypt, India & Nepal. In November 2019 she once again travelled to Botswana's magical Okavango Delta, whilst the next stop on her bucket list will be a safari with Polar Bears in 2020.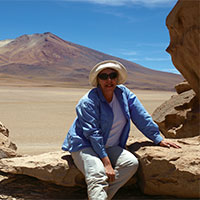 Taleen Gaidzkar
Senior Destination Specialist
With a love of travel and a passion for adventure, Taleen has been in the travel industry over 40 years. Her first taste of Africa was an overland journey many years ago through East Africa and Egypt. Since then she has returned many times, exploring the game parks of East and Southern Africa, meeting Rwanda's mountain gorillas (3 times), and canoeing the Zambezi River (3 times). She has also been to West Africa and Ethiopia. Taleen has also travelled extensively in South and Central America – Chile, Argentina, Brazil, Ecuador, Colombia, Peru, Panama, Costa Rica, Nicaragua, Mexico and Cuba; including hiking the Inca Trail in Peru, W Trek in Torres Del Paine, visited the jungles of Ecuador, cruised the Galapagos Islands and embarked on an expedition from Bolivia's high altitude salt flats to the Atacama desert in Chile. She is also an expert on Antarctica, having visited the continent twice and remote sub-Antarctic islands including Macquarie Island (New Zealand coastline) the Falkland Islands and South Georgia.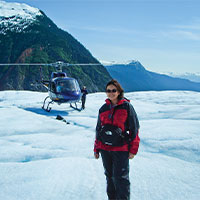 Natasha Redondo
Destination Specialist
Natasha has enjoyed an Arctic cruise navigating the magnificent Svalbard Peninsula, and has covered a vast amount of terrain in Canada and Alaska. She's spent time discovering Vancouver, visited many exceptional sites in Alaska and lived for a few months in Toronto. She's even been to the remote Maritime Provinces of Anne of Green Gables fame! Tash has also travelled a great deal in South America and spent 6 months in Brazil, living in Rio. She has explored the surreal Atacama Desert, hiked in Patagonia and visited Santiago in Chile, the historic cities of Colonia and Montevideo in Uruguay, as well as sensual Buenos Aires in Argentina. Tash recently ticked off one of her major bucket-list items: a cruise exploring the wonders of the Galapagos Islands, a once-in-a-lifetime experience. She loved searching the pristine waters for seals and turtles and will always remember her visit to Fernandina Island, where she was greeted by hundreds of marine iguanas!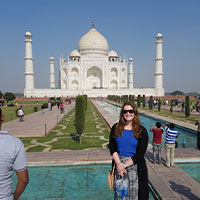 Jess Hamilton
Destination Specialist
In May 2019 Jess experienced the wonders of Kenya for the first time. She loved watching enthusiastic elephant calves playing in the stunning Samburu Game Reserve and was blown away by an early morning balloon safari across the plains of the Masai Mara Game Reserve. Jess is also an expert on India and Sri Lanka and has seen the magnificent Taj Mahal, toured the sensual sculptures of Khajuraho and marvelled at the impressive hilltop Amber Fort in Jaipur. On a w­ildlife safari in Bandhavgarh, she was lucky to see three fully grown Bengal tigers and also a den with cubs on three out of four game drives. She would also love to visit the snow-capped Himalayas and Rajasthan's vibrant Pushkar Camel Fair. Jess explored idyllic Sri Lanka, visiting many of the country's best sites, including the fascinating Dambulla Caves and climbing the famous Sigiriya Rock, a definite highlight. Still on her list: the polar bears of Manitoba, the pyramids of ancient Egypt and Petra in Jordan.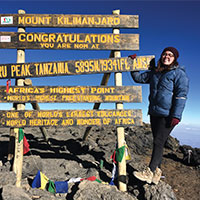 Georgia Cowling
Destination Specialist
Georgia's great passion for active travel led her into the industry and in recent years, she's managed to scale Mount Kilimanjaro in Tanzania and climb two volcanoes in Central America: Santa Ana in El Salvador and Acatenango in Guatemala. Of the many destinations she's visited, these are some which impressed her the most: the time-warp island nation of Cuba, the powerful Iguazu Falls, art-filled streets of Valparaiso, the salt flats between Bolivia and Chile as well as the celebration of Semana Santa in Colombia's Cartagena. Over the last few years, Georgia has returned a number of times to Africa. She has experiencing the majestic Victoria Falls, observed rhino in the Ngorongoro Crater, explored beautiful Botswana on a mobile safari and searched for leopard in South Africa's incredible MalaMala Game Reserve. On her latest trip Georgia uncovered the wonders of Zimbabwe's Hwange and Mana Pools national parks.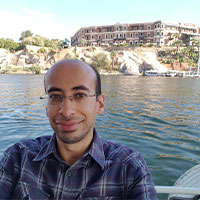 Hany Elkatouri
Egyptologist and Product Team Member
Our resident specialist, Hany studied Egyptology at the University of Cairo before going on to lead tours across the length and breadth of Egypt. Growing up in Giza, Hany spent his childhood years marvelling at the pyramids. His favourite place to visit is the Valley of the Kings, and he loves the colours, decorations and stories that are inscribed within the tombs. Hany's fascination with history extends beyond Egypt and he has explored much of the world. He has fallen in love with the cultural hub of Istanbul and the immense history and architecture of Rome. Further afield he has explored much of South America including Peru, Brazil and Argentina, with his highlight being the impressive Iguazu Falls. Hany has also visited Africa a number of times; exploring the Ngorongoro Crater in Tanzania, beautiful Botswana and on his last trip spent a few weeks exploring South Africa's famous Garden Route driving from Cape Town to Port Elizabeth.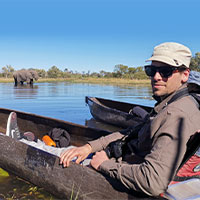 James Cameron
Copywriter & Marketing Coordinator
Growing up with tour operators as parents, James spent many family holidays visiting unique destinations worldwide, instilling a passion for travel, culture and wildlife. His first safari was in 2002 to Kenya and Tanzania, and a long-lasting highlight of that trip was camping in the endless plains of the Serengeti, listening to the roar of lions at night. Since then James has returned many times to the continent, and has spent time volunteering in South Africa's Eastern Cape, exploring Botswana's Okavango Delta by mokoro, witnessing the wildebeest and zebra migration in Kenya, visited the fascinating cities of Morocco, and discovering the wonders of ancient Egypt. James has also travelled through much of South America, and has experienced the mysteries of the Amazon rainforest, sand-boarded down the dunes of the Atacama Desert, cycled Bolivia's 'Death Road', cruised the magnificent Galapagos Islands and crossed the Drake Passage to Antarctica. Most recently James traversed the pristine waterways of Botswana's Okavango Delta on a mobile safari.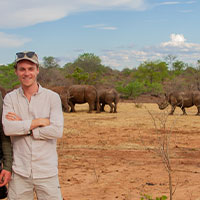 Jeremy Cameron
Graphics and Web Designer
Having received a thorough apprenticeship in travel during his childhood, Jeremy has continued to explore the world at his own pace. Having experienced the wonders of Africa at an early age, he has travelled Botswana, witnessed the mesmerising Victoria Falls, camel trekked in Kenya and walked through the ancient siq to the hidden city of Petra. A fan of the outdoors and sustainable living he has also spent many months cycling through Europe. Jeremy has also spent time in India, learning about the magic and traditions of the sub-continent and witnessing its greatest treasure – the Bengal Tiger. His travels have also taken him to South America, where he spent time in beautiful Cusco before exploring the ancient Incan ruins of Machu Picchu, swam with seals in the Galapagos Islands and relaxed in cosmopolitan Buenos Aires. Jeremy last visited Africa in 2006, but will be returning to the continent once again in November 2019 to Zimbabwe and South Africa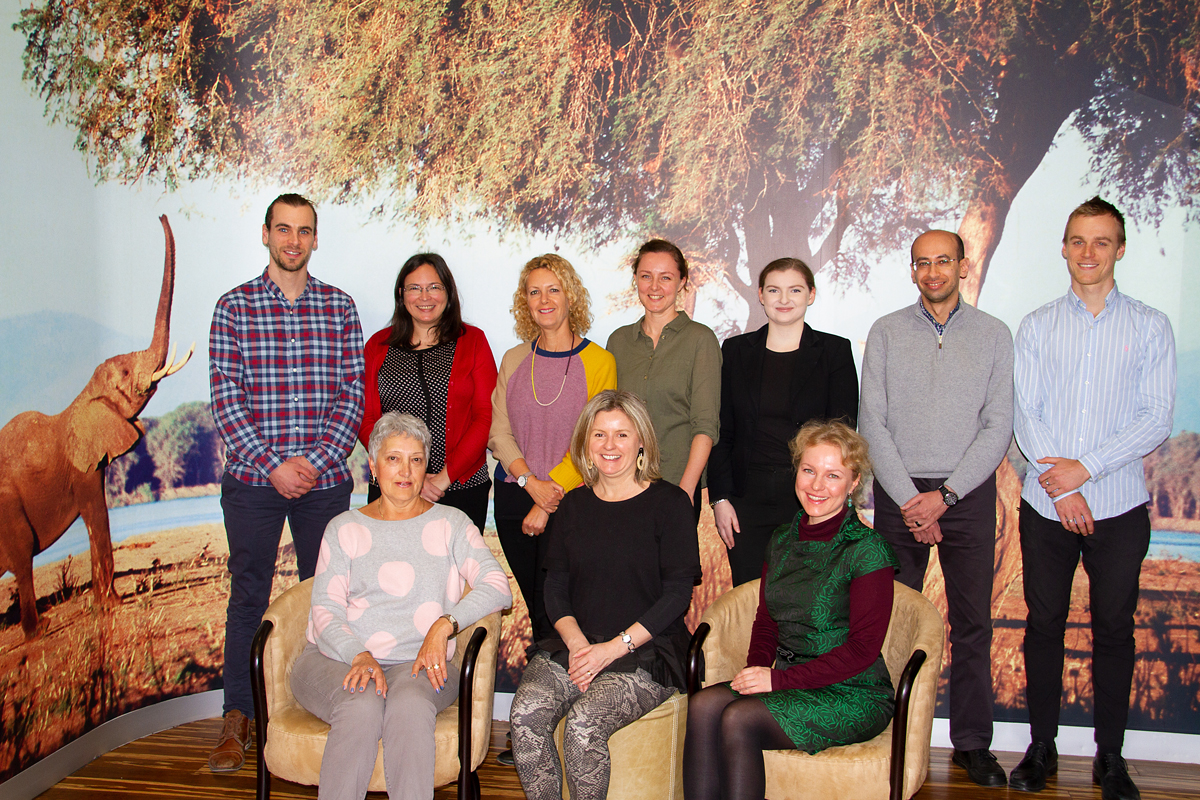 The Rest of the Team
Behind the scenes, we have a range of personnel working in a number of departments including accounts, product development and supervision, sales support, and graphic design. These staff members are responsible for a range of roles including maintaining our accounts; researching new products and destinations; designing our brochures, newsletters, flyers and website; preparing brochure costings and liaising with ground operators.
What Clients Say
"The team of Anne-Marie and her local drivers Nixon and John were always ready with explanations and knowledge about all things Tanzanian which I'm sure didn't all come from books – it came from their passion for the country and its life. Together they made our holiday truly remarkable and my wife Chrissie and I thank them all…"
"A trip of a lifetime has become a reality for us. This journey was all that we imagined, and more – a wonderful exhilarating experience. Our every need was catered for – during the booking process, at arrival and departure points and during the cruise. The staff of the boat helped to make this trip an experience of a lifetime, one, to never forget. Thank you!"
"Landing on Mombo airstrip at 4pm was the start of a trip of a lifetime, no time to waste checking in, it was straight to the pride of lions eating their kill from the night before. African Wildlife Safaris' Michael Fitzgerald, who has the ability to know what you require with the attention to the smallest detail, has to be the most…"
"My partner and I chose the Inner Passage Cruise with Natural Focus because we preferred the adventure aspect of wilderness areas, either by ourselves or with small groups…saw harbour seals pop their heads up and an otter catching a fish and eating it on a log in front of us was amazing…we have booked our next adventure…"
"Andrea and I had a perfect visit to South America. The organisation was all "to plan", enjoyable and memorable. We were amazed at what we saw. We were safe at all times. The travel arrangements were very good and the accommodation excellent. We want to go back sometime. Thank you very much…