Originally from the UK Sara left for Africa with
her family when she was 4 years old.
Originally from the UK Sara left for Africa with her family when she was 4 years old. Sailing by mail ship from Southampton to Cape Town they then travelled north by steam train to Zambia (then known as Northern Rhodesia). Southern Africa was home for 16 years but after graduating from university in Johannesburg Sara returned to the UK. The call of Africa was too strong however, and six years later she joined an overland expedition from London to Johannesburg during which, as fate would have it, she met future husband Stephen Cameron. Together they would later start African Wildlife Safaris.
After a second overland expedition north through Sudan and Egypt, and further safaris in East Africa with Steve, Sara emigrated to Australia. The love of Africa was so strong for both of them that they decided to start a travel company and African Wildlife Safaris was founded in 1985. The company started with camping safaris in Kenya and Tanzania but soon added lodge safaris and expanded into other countries including Rwanda for gorilla trekking, Zimbabwe, Botswana and South Africa. Their focus gradually changed from longer, more adventurous trips to tailor-made safaris which concentrated on wildlife viewing and authentic experiences in the best wilderness areas. Just some of Sara's countless highlights include the Okavango Delta, trekking to visit the Mountain Gorillas in Rwanda, canoeing the Zambezi River in Zimbabwe and exploring the ancient temples and burial chambers of Egypt's pharaohs.
After 2000 and the launch of the Natural Focus brand, there were opportunities for wildlife encounters in other parts of the globe like bear viewing from wilderness lodges in Canada, discovering a remote corner of the Peruvian Amazon, and exploring the wilds of Patagonia and the Atacama in Chile. Once children came along Sara and Steve also started taking their two boys and other families with young children on safaris to Africa, South America and Antarctica. These were wonderful journeys which brought a whole new range of experiences. Her most recent trips have been to Kenya and Zambia.
Sara's recommendations
Africa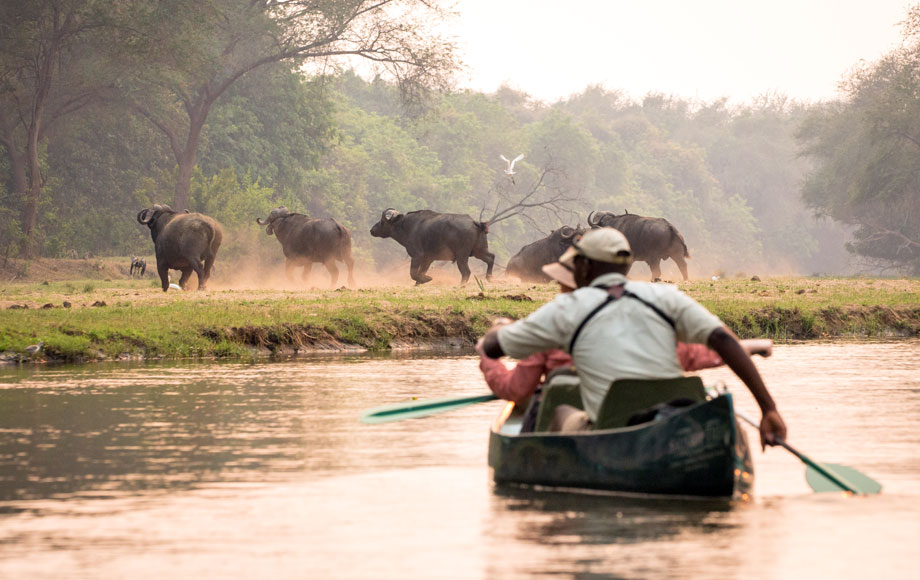 Zambia is not as well known for safaris as Botswana or South Africa but it is just as spectacular. The most famous park is the South Luangwa National Park, which borders the meandering Luangwa River with its lagoons and sandbanks home to thousands of hippos and crocodiles. Here the lodges and camps are small and personal, and the area is renowned for its walking safaris, which are accompanied by experienced guides and armed scouts. This can be combined with the Lower Zambezi National Park which has a number of outstanding luxury lodges and camps on the edge of the Zambezi River and offers amazing birding, wildlife encounters, canoeing and fishing.
A stay at Zungulila Bushcamp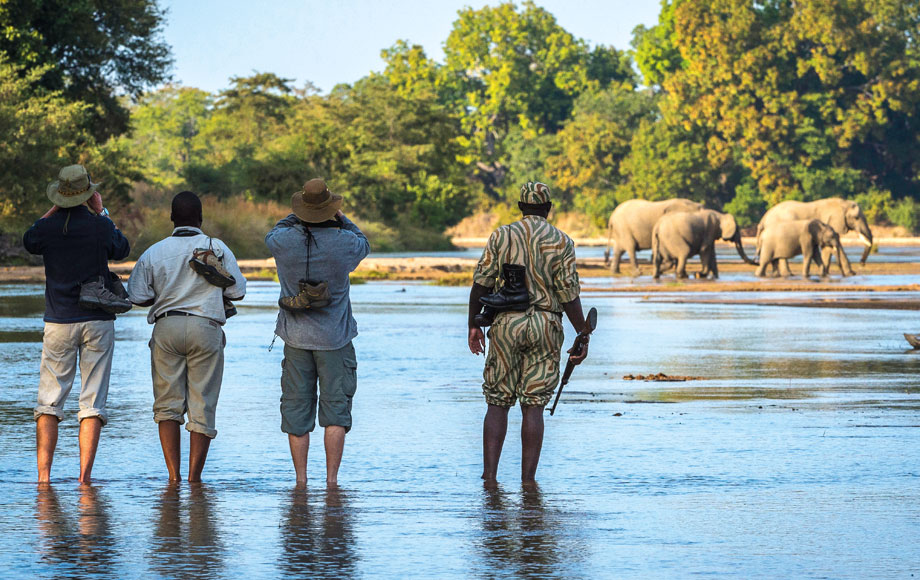 One of my favourite camps is tiny Zungulila Bushcamp on the Kapamba River in the remote southern part of the South Luangwa National Park. When I visited in October 2019 our group seemed to be the only visitors in the area. By this time it was late in the dry season and the rivers were more like grassy floodplains with lagoons and oxbow lakes. The camp has a sunken boma which is perfect for watching any wildlife that comes wandering by and for romantic candlelit dinners.  The 4 spacious double or twin guest tents are under a cool thatched roof, decorated in traditional African style. They have an ensuite toilet but the bathroom is outside, with a large free standing bath, shower and handbasin.  Apart from game drives and game walks, the camp arranges bush breakfasts and sundowner drinks in the shallow river seated on deck chairs and surrounded by lanterns.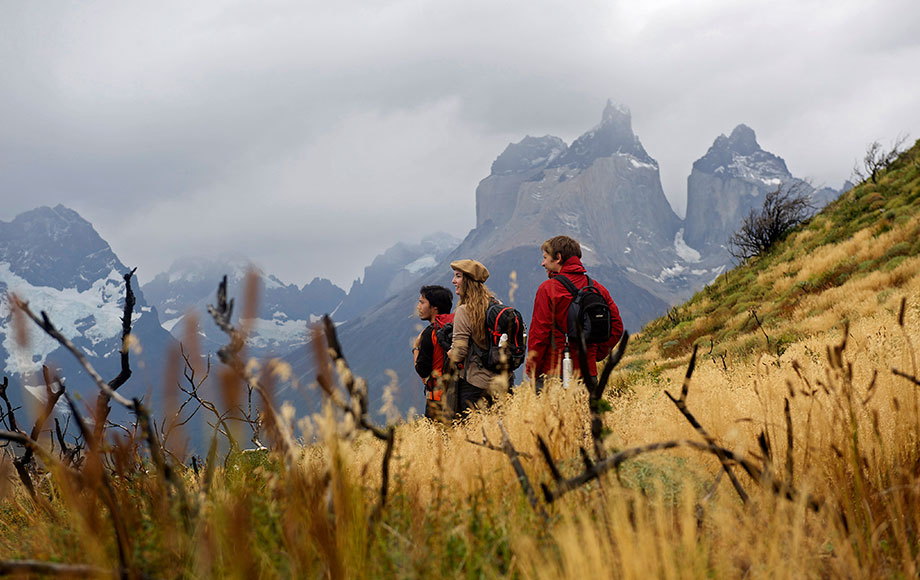 One of my favourite places in the world is the Torres del Paine National Park in Chile's southern Patagonia. Patagonia is a magnificent area of fjords, glaciers, forests and steppes, and within all this grandeur are the Torres del Paine mountains; snow-covered and glacier-carved granite peaks of breathtaking beauty. I visited in June, which is the middle of winter, with no crowds and only a few lodges open. Luckily beautiful explora Torres del Paine hotel, with its panoramic views of the famous snow-capped granite towers is open, and despite the season we were able to take guided excursions every day. We walked and drove through ethereal landscapes of mountains, lakes and snow-covered hills home to large herds of guanacos. We saw delicate grey foxes, the flightless rhea (like miniature emus) and condors circling overhead. In recent times there have been frequent sightings of the elusive puma, so I'm keen to return to see these endangered big cats.
A stay at Hotel Salto Chico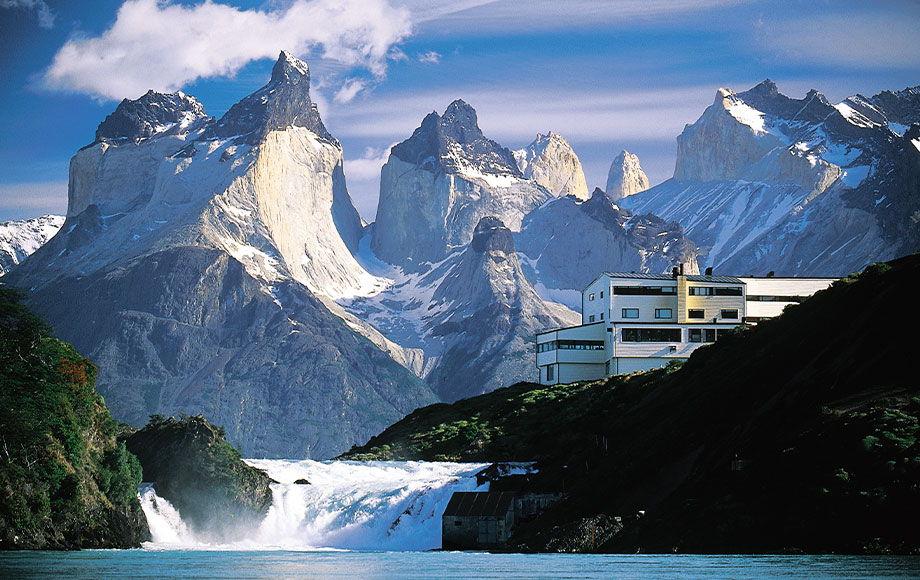 This unique hotel is in the heart of the magnificent Torres del Paine National Park in Chilean Patagonia. Built on the shores of beautiful Lake Pehoé where the Paine River descends down the Salto Chico waterfall, it faces the soaring, glacier-sculpted towers of the mountain range. Architect designed with warm, light filled interiors, pale wood panelling and picture windows, the hotel has the feel of a mountain lodge. It is also the perfect base for outdoor adventures, with up to 40 different explorations on foot, by van or on horse back. All activities are included and led by explora's highly experienced guides. The hotel has a restaurant, bar, lounge, a Spa with outdoor Jacuzzis, saunas, massage rooms, an indoor pool, stables with the explora's own horses, and a ranch (45 minutes away).
What is your best piece of travel advice?
Slow your travel down. Spend 3 to 4 days or even a week in some places to make the most of the experiences on offer, giving you enough time to truly appreciate them.
What's your most memorable travel experience?
It's difficult to choose but I would say it has to be my encounter with the Mountain Gorillas in Rwanda.
What is one thing you always pack for safari?
A pair of binoculars… And a hat!
What's the best local dish you've tried?
Not really a dish but something I loved and haven't had since I visited 37 years ago was coffee in the Sudan. It was dark, sweet and spicy and served from a jabena – a jug with a long spout. Sudan isn't really a tourist destination but I have always loved Middle Eastern food and culture, and have visited Morocco, Egypt and Jordan.
Where would you like to travel next?
Considering the times (Mar 2021 during COVID as I write) I would be happy to travel anywhere!! Most likely it will be close to home and one of my favourite places in Australia – Victoria's Gariwerd – the Grampians. These rugged sandstone mountains offer dramatic rock formations, Aboriginal rock art, plentiful wildlife and magnificent walks from easy to strenuous. The yet to be completed 160 km Grampians Peaks Trail will open up new experiences for both long distance walkers and casual hikers.
Photos of Sara