Travel to Kenya for a Luxury Safari with African Wildlife Safaris
Kenya is one of Africa's prime game viewing areas, renowned for its dramatic scenery, magnificent game parks and abundant wildlife. Cut through by the Rift Valley with its steep escarpments, volcanoes and soda lakes, the country offers incredible variety of landscapes and ecosystems. The hot coastal plains on the Indian Ocean rise to the temperate subtropical highlands around Nairobi which is 1795m above sea level. Snow-capped Mount Kenya is the second highest in Africa, whilst the highest, Mt Kilimanjaro in Tanzania, straddles the southern border.
The Samburu Game Reserve to the north of Mt Kenya is a semi-arid region of great beauty with lots of exciting big game species such as lion and elephant. The region is also home to some rare desert-adapted species including the blue-legged Somali ostrich and strange gerenuk antelope – also known as the Giraffe Gazelle for its long neck. The gerenuk has the ability to stand on its hind legs when feeding from bushes and small trees. By contrast, the famous Masai Mara in the south is a wide open landscape of undulating grassland and plays host to the annual wildebeest and zebra migration from July to October each year. These herds attract predators from lion and leopard to cheetah and wild dog, and their intense interactions are a thrill to watch. Amboseli National Park at the foot of Mount Kilimanjaro is another iconic safari area which is famous for its large elephant herds.
Other highlights include the country's flamingo-rich soda lakes and model wildlife conservancies like wildlife-rich Lewa and the Laikipia concessions, famous for rhino. The country is also home to semi-nomadic tribes such as the Maasai and Samburu which still retain much of their traditional way of life. A cultural village visit is a worthwhile addition to any safari itinerary.
Recommended
Best Kenya Safaris
Get inspiration from these featured wildlife safaris. We custom design all our clients' itineraries to suit individual interests, budget and time frame. Our knowledge of Africa is unmatched and our Destination Specialists are experts in creating bespoke dream holidays.
This safari combines the best wildlife experiences of Kenya and Tanzania, including the Samburu, Lake Nakuru, the Masai Mara and Serengeti.
Our Recommended
Best places to stay in Kenya
Like many popular safari countries in Africa, Kenya offers a high standard of guest accommodation, from comfortable to very luxurious. The country boasts a wealth of open-air, sophisticated canvas-style tented camps reminiscent of classic 1920's style luxury or Moroccan elegance. These include spacious guest tents with fans or air conditioning, ensuite bathrooms, outdoor decks or even private plunge pools. However most importantly of all is location – for the best game viewing experience. We offer a portfolio of hand-picked safari camps and lodges which offer exclusivity, good guiding and good game. We also have a select range of boutique country and city hotels. Quite unique is the renowned Giraffe Manor, a grand manor house built in 1932 in the Nairobi suburb of Karen.
In the heart of big game country, ultra-luxurious Mara Plains Camp sits on a bend of the Ntiakitiak River on the northern border of Kenya's Masai Mara.
Shaded by doum palms on the banks of the Uaso Nyiro River, upscale Elephant Bedroom Camp occupies a prime position in the stunning Samburu National Reserve.
Kicheche Laikipia is a small eco-camp set in shady indigenous forest in the Ol Pejeta Conservancy, with iconic Mount Kenya as a backdrop.
Governors' Camp was once exclusively reserved for Kenya's colonial rulers. Today, it remains one of the Masai Mara's best safari camps.
At the edge of Kenya's Masai Mara National Reserve, Little Governors' Camp offers a peaceful setting to view the wildebeest migration.
Located in the Mara North Conservancy, seasonal Kicheche Mara Camp offers a classic Kenya safari experience and views of the annual wildebeest migration.
A classic tented camp in a private conservancy bordering Kenya's Masai Mara, Kicheche Bush Camp offers an African safari experience without the crowds.
This boutique hotel is a Nairobi icon and offers one of the city's most unique experiences: the opportunity to feed and walk with rare Rothschild's giraffe.
Suspended between the famous grasslands of the Masai Mara and the Kenyan skies, this lodge is built on the Rift Valley Escarpment with breathtaking views.
Our Recommended
Best places to go in Kenya
Where are the best places to go in Kenya? To make it easier, here are our picks of some of the best places to visit and things to do during your Kenya safari, and favourite places to stay.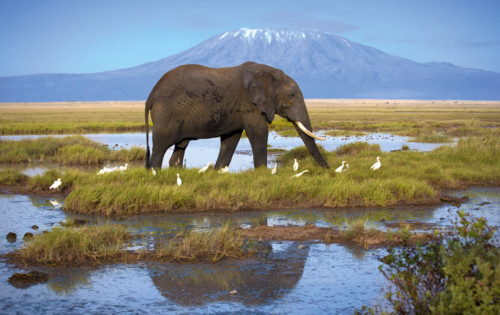 Amboseli, Chyulu Hills and Tsavo offer three very different, yet equally amazing experiences of southwestern Kenya. Accommodation in these parks is in classic safari camps and luxury lodges.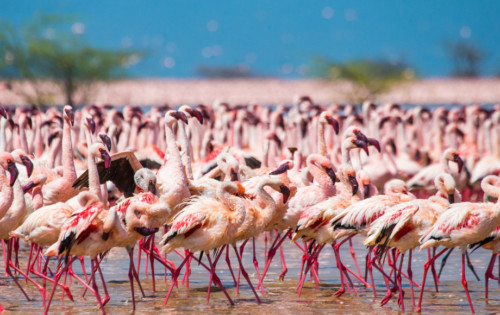 Some of Kenya's most enduring images have been captured in and around the country's beautiful Rift Valley lakes. Discover their magic from these premium safari camps and lodges.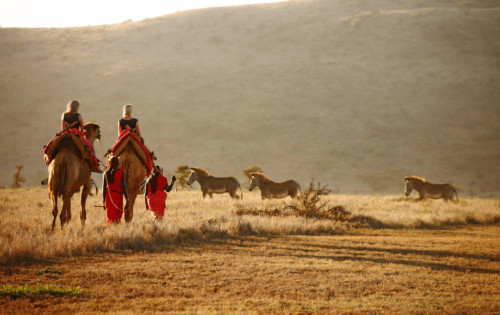 Some of Africa's rarest animals such as rhino are found in the well-managed Lewa and Laikipia wildlife conservancies, where you'll also find sublime accommodation set under canvas or thatch.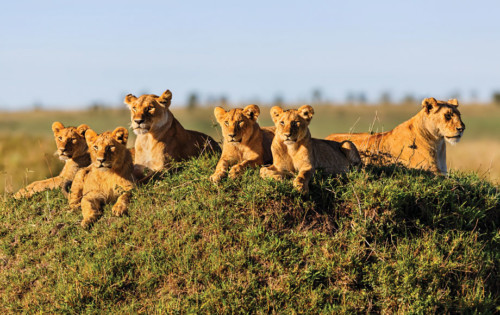 The Masai Mara offers superb year-round gameviewing and annually plays host to the Great Migration. Witness one of the planet's greatest wildlife spectacles from these perfectly located luxury safari camps.
Talk to one of our Africa Experts
When is the best time to visit Kenya?
Kenya is definitely a year round destination for wildlife, however there are distinct seasons. The dry season (June-October) is one of the best times to go when there is little rain and the skies are (generally) clear. It is during this time the annual wildebeest and zebra migration usually makes its way to Kenya. As a natural event, the exact arrival of the annual wildebeest migration can never be guaranteed. For a more visual representation of the migration route, please click here. Kenya also has two rainy seasons – the 'short rains' (November-December) and the 'long rains' (March to May). Most rain falls as afternoon thunderstorms but roads can be muddy and difficult to navigate. It is at this time visitor numbers and prices are at their lowest, but there is still terrific game viewing to be had.
Considered Kenya's peak months. July marks the traditional beginning of the migration when the first wildebeest start to arrive in the Masai Mara National Reserve. August, September and October are the peak months to visit when the weather is dry and the temperature ranges between 25-30°C. Game viewing all over the country is excellent during this time of year.
November marks the beginning of the 'short rains' which last for around 5 weeks until mid-December. The rain heralds the beautiful "green season" when migrant birds return and the antelopes begin calving in their thousands. With the exception of the Christmas/New Year period, this is usually a quieter time of year to visit with fewer travellers.
January and February are the height of summer in between the 'short' and 'long' rains. It's a good time to see wildlife whilst visitor numbers are still relatively low.
Mid-March is often the beginning of the 'long rains'. Game viewing is still good in March however April and May can be very wet, some camps are closed and the dirt roads can get quite muddy and slippery.
Kenya FAQ
Can I see the Big 5 in Kenya?
Yes – Kenya is home to all members of the legendary Big 5. Lion, leopard, elephant and buffalo can all be seen in many of Kenya's best game viewing areas. The Masai Mara National Reserve is the countries undisputed number one safari destination. Black rhino can be found in a number of places across the country, however the two best places to see them are in the Ol Pejeta and Lewa Wildlife conservancies.   
When is the best time to see the Great Migration?
Firstly, the great wildebeest and zebra migration is a natural event. Therefore, the exact arrival of the annual wildebeest migration can never be guaranteed. Generally, they tend to arrive between July and September and linger on the plains of the Masai Mara until November, before once again heading back towards Tanzania's Serengeti National Park. For more information about the Great Migration, we highly recommend talking to one of our experts.
Where is Giraffe Manor?
Giraffe Manor is one of the most sought-after hotel stays in Africa. It is an exclusive boutique hotel located in the suburbs of the Kenyan capital of Nairobi. The manor was built in 1932 as a colonial hunting lodge, but today Giraffe Manor is a Nairobi icon and offers one of the city's most special experiences. What sets Giraffe Manor truly apart is its herd of endangered Rothschild's giraffe, who are known to join guests for breakfast or for a cheeky snack through open windows or doors. Giraffe Manor is a fantastic addition at the beginning or end of any Kenyan safari.
Where can I go hot air ballooning in Africa?
A morning hot air balloon ride has become an increasingly popular activity in Africa – and for good reason. It offers a unique way of viewing the undulating African landscapes and variety of wildlife below. Kenya's Maasai Mara National Reserve is one of the very best places to do this. The vast open plains are perfect for seeing huge herds of wildebeest, giraffe and various antelope species. Sitting out on the savannah enjoy a champagne breakfast after your flight just tops off the experience.
Where can I see the river crossings?
 It is a daunting time for the wildebeest when they must cross one of the many crocodile-infested rivers that criss-cross the Masai Mara. Witnessing hundreds (sometimes thousands) of wildebeest crossing a river at one time is regarded by many as their ultimate Kenyan safari highlight.
What are the best things to do in Kenya?
Kenya has so many exciting and wonderful experiences to enjoy that the options are endless. Top experiences include:
Witnessing the great wildebeest migration (September to October) in the Masai Mara.
Exploring Samburu Game Reserve with its big game as well as rare endemic species.
Breakfast with the Rothschild's giraffes at Giraffe Manor.
Thousands of flamingos and pelicans on the Rift Valley lakes .
Getting close to rhino in Laikipia.
Meeting the Samburu or Maasai and learning about their culture.
What is the climate like in Kenya?
The highland areas have a temperate climate (22°- 25°C) due to the high altitude, however  it is hotter in low-lying areas like the Rift Valley (30°- 35°C). The coast is hot and humid most of the year. Kenya has two rainy seasons, the 'short rains' that take place over 5-6 weeks in November and December and the 'long rains' that occur during March to May.
How do I get to Kenya?
Kenya's major capital Nairobi is the main entry point into the country. Major airlines that fly into Nairobi include British Airways, Etihad Airways, Emirates, Lufthansa and Air France. From Nairobi, Kenya Airways offers flights to other popular African destinations including South Africa, Uganda, Rwanda and Zimbabwe.
What can I combine Kenya with?
Kenya is often combined with neighbouring Tanzania, and with Uganda or Rwanda for a trek to see the gorillas. A few days on the beautiful beaches of the Tanzanian island of Zanzibar is a very popular way to end a Kenyan safari.
Want to know more about Kenya?
See below or visit our FAQ page for information on all our destinations.