South India and Kerala Tours
Discover tranquil South India and Kerala, characterised by coconut palm-fringed backwaters, tea plantations and sleepy fishing villages.
A tour of South India is a true feast for the senses! Travellers to this lush, green region will discover charming colonial towns, flamboyant temples, beautiful beaches, meandering rivers and exotic spices, grown on rural estates and infused in the local cuisine.
With its palm-fringed beaches, gentle green hills, emerald rice paddies and warm, spice laden air, our South India and Kerala tours offer a fascinating contrast to India's north. Cruise by houseboat on the tranquil lagoons of Kerala, or relax at a world-class Ayurveda retreat. Discover the massive, flamboyant Hindu temples of Tamil Nadu, including the colourful Meenakshi Temple at Madurai, or the intricate temples at Kanchipuram. Nature lovers can enjoy wildlife safari in the region's wonderful national parks. For a completely unique experience, consider taking the luxury 'Golden Chariot' train to South India's many sights. Alternatively, choose a "Secret Hideaway" like the lavish Taj Falakhuma Palace at Hyderabad or the tranquil Purity at Lake Vembanad in Kerala.
To find out more about our range of South India programs, please see more details below or download the South India section of our India brochure.
Highlights
South India and Kerala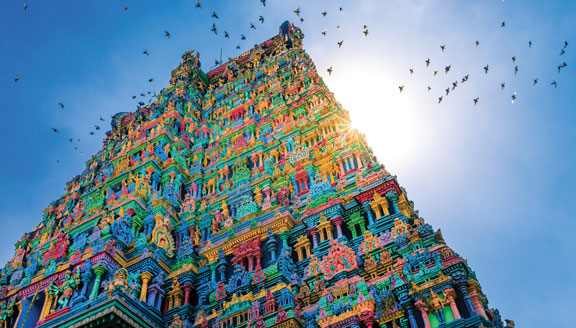 Ancient Temples & Cities
South India is rich in history, with many ancient temples and palaces. Discover the flamboyant architecture of the Meenakshi Temple, the tallest gopuram in the world.
Visit Thanjavur, the capital of the medieval Chola kingdom and the great Brihadeeswara Temple, built in the 11th century and one of the most magnificent examples of South Indian religious architecture. Explore the heritage city of Kanchipuram, and the sprawling Shore Temple complex at Mahabalipuram.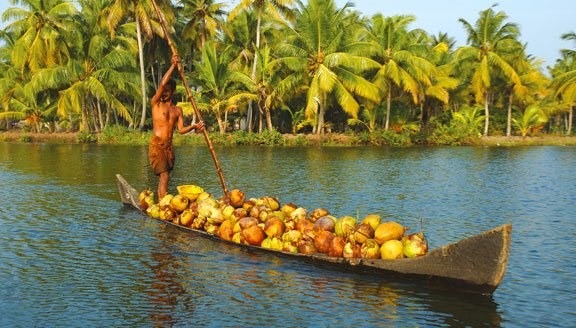 Beautiful Kerala
Rural Kerala is one of the most picturesque regions of India, with palm-fringed beaches, rice paddies, coconut groves, lush tea plantations, coffee farms and orange groves.
It is famous for its tranquil waterways called "backwaters", and a night spent on a houseboat cruising these canals is a very special experience. Explore the charming port city of Kochi with its forts and colonial buildings, or visit a national park teeming with wildlife.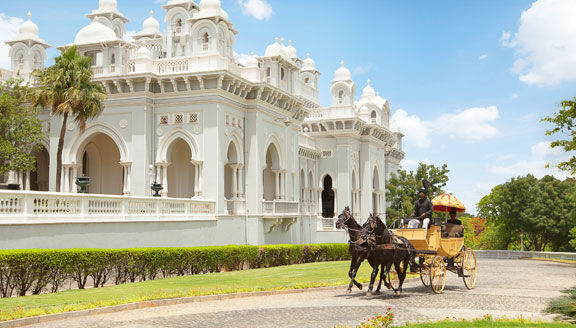 Unique Escapes
Unlock the secrets of South India when you stay at one of these gorgeous boutique properties, including a former palace and an ayurvedic resort.
To be treated like a king, choose the imperial magnificence of Taj Falaknuma Palace in Hyderabad, built in the late 19th century by Nawab Viqar-ul-Umra, former Prime Minister of Hyderabad. For more down-to-earth indulgence, the southwestern state of Kerala is famed for Ayurvedic resorts which focus on achieving harmony between mind, body and spirit using techniques refined over 5,000 years. Pamper yourself by staying in at least one idyllic Keralan retreats during your holiday.
Backwater Cruises
Cruise on a traditional houseboat along the tranquil backwaters of Kerala for a glimpse into South Indian rural life.
Relax on deck as you pass traditional fishing villages full of homes with thatched roofs, lush rice fields and swaying coconut palms. Accommodation on your private houseboat is comfortable but not luxurious, with air conditioning indoors, a shaded sun deck and meals prepared by a personal butler.
Sample
Itineraries
The following tours are private, independent and can be easily customised to suit your personal travelling requirements. Please contact us to begin designing your personalised India experience.
This relaxed cruise explores Kerala in south India, a tranquil region characterised by spice plantations, beautiful beaches and languid backwaters.
Discover beautiful northern Kerala with its spice estates, coffee plantations and wildlife-rich forests while staying at intimate boutique hideaways.
Journey through southern India, a land of stunning beaches, fragrant spices, flamboyant temples and a rich cultural heritage.
Our
Brochure Pages
Select the 'Download Brochure Pages' tabs to view and download product pages from our India brochure.
South India and Kerala Overview
Why South India & Kerala: This beautiful part of India is a wonderful complement to any north India holiday, offering a more tropical climate, gentle landscapes, colonial cities and very flamboyant temple architecture.
When to Go: It is never cold in most of southern India; however in the hill stations it can drop to 5°C in the "winter" months. For the best weather, visit during the relatively cooler and less humid season, between Oct- Feb. This is also a good time to see some of the more interesting festivals. Mar, Apr, and May are hot and humid whilst the mid-year monsoon period sees heavy rains.
Combine With: North India's Golden Triangle and Rajasthan, or the little island of Sri Lanka, just off the coast of south India.
Getting There: Fly into Bangalore, Chennai or Kochi.