We believe in low-impact tourism and are committed to assisting conservation efforts that help preserve and protect the natural environment in the countries we visit.
As a specialist tour company focusing on wildlife and wilderness we support a number of wildlife charities and research organizations around the world and choose local operators who have a strong ethical approach to conservation and give back to the community. We believe in low-volume, high-quality tourism, small group sizes, small lodges and camps and small ships, to minimize the impact on the environment. Tourism is essential for the preservation of the wilderness areas in developing countries in Africa, South America and other parts of the world. If the wildlife reserves do not pay their way they will cease to exist. Also the presence of travellers in an area can sometimes help to deter poaching from taking place. However, the negative effects of tourism should be minimized as much as possible by a sensitive and responsible approach to travel.
Over the years African Wildlife Safaris and Natural Focus have made significant contributions to conservation societies and research projects in the destinations we visit, through our policy of giving clients the opportunity to contribute $10 (or more) per person, which we then match dollar for dollar. No administration fee is charged by AWS/NFS so 100% of client contributions go to the nominated conservation society or research project. We favour private or small group touring, and small hotels and ships, which have less impact on the environment. Many of our programs include a number of eco lodges which are involved in conservation, research, and community projects, so your money goes directly towards these worthwhile causes.
One Horizon – Changing Children's lives
Four years ago, One Horizon took over management of a crèche outside one of Kenya's largest slums. Now it is a successful soup kitchen that feeds over 100 children aged between 3 and 7. Whilst the children are at the crèche, they are also provided with some clothing and taught English and other useful skills in a school environment. This work is imperative and aims to provide a brighter future for some of Kenya's poorest people. Please click here for more details.
South Luangwa Conservation Society
Established by Zambian-born Rachel McRobb, the South Luangwa Conservation Society (SLCS) is a non profit community based organisation in Zambia. Rachel and her team of wildlife experts and scouts are dedicated to easing human-animal conflict in the South Luangwa National Park. SLCS activities include snare-removal, animal rehabilitation and initiatives such as the "Chilli Fence Project". Donations fund treatment of injured animals, the training and employment of new scouts and the provision of necessities such as transport and medical equipment. Visit https://cslzambia.org/ for more information.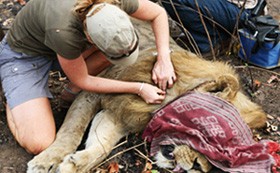 Botswana Rhino Reintroduction Project
A conservation success story involving Wilderness Safaris, Botswana's Department of Wildlife and the government, the Botswana Rhino Re-Introduction Project began in 2001 with the translocation of South African rhinos into the Moremi Game Reserve, where they had been hunted to extinction. Today, the rhinos are thriving and joint monitoring patrols with the Botswana Wildlife Department (DWNP) Anti Poaching Unit are achieving good results, and are also successful in tracking rhino as they move further away into new areas to find the very best grazing. Donations to the project help fund security, transport and monitoring – vital for the species' survival. Please click here for more information.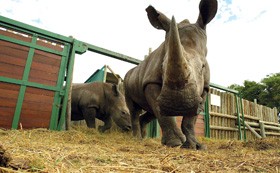 Children In The Wilderness
A special project of our longtime partner Wilderness Safaris, "Children In The Wilderness" instills hope in African children affected by HIV, illness or poverty through education. Programs in place include provision of infrastructure and construction of schools, which in the long term, aim to make these kids aware of employment opportunities open to them besides poaching. See www.childreninthewilderness.com for further details.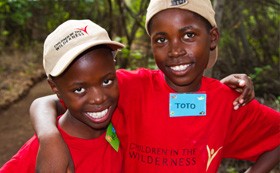 Dian Fossey Gorilla Fund International
Founded by the late Dr Dian Fossey in 1978, the DFGFI continues her legacy of saving Africa's gorillas through research and monitoring, as well as by educating the human communities that share their habitat. Following great success in Rwanda, the DFGFI is now expanding into the Democratic Republic of Congo, home of the endangered lowland gorilla.
See www.gorillafund.org for more information.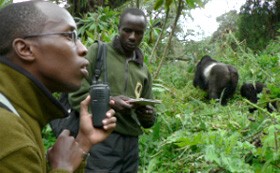 Travel Operators for Tigers (TOFT) and the Biodiversity Conservation Trust of India (BCTI)
The national parks of the Indian subcontinent are unique and fragile environments that shelter an incredible number of animal, bird and plants species, many of which are endangered. Along with our ground operator in India, Eastbound, we've become the first Australian travel company to join Travel Operators for Tigers (TOFT), an organisation dedicated to protecting the highly endangered Bengal Tiger. See www.toftiger.org. We have also pledged ourselves to the protection of India's other great cat – the Asiatic Lion – with regular donations to the Biodiversity Conservation Trust of India (BCTI).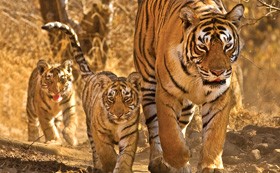 Golden Tamarin Conservation Program
Just a few decades ago this golden, squirrel sized monkey was critically endangered due to its popularity as a pet or zoo exhibit. Reduced to a mere 200 animals in the wild, a conservation effort was begun to save the tamarin by breeding them at the Smithsonian's National Zoo and re-introducing them into the wild. At the same time initiatives were taken to help preserve their habitat in the Atlantic coastal rainforests of southeastern Brazil – the Poço das Antas Biological Reserve north of Rio. Their number has now rebounded to about a thousand, and the golden lion tamarind is an international symbol of success in conservation. The Program's unique multidisciplinary approach, combining research with conservation, is now internationally recognised as a model of conservation science. A percentage of the tour cost to visit these incredible monkeys is donated to the Golden Tamarin Conservation Program.