Cruise north to the Arctic
with Natural Focus
Journey with us northwards on one of our Arctic cruises where you will discover dreamlike landscapes of snow and ice, rugged mountains, dazzling glaciers and the tranquil shores of sheltered fjords and inlets.
This is a region of spectacular wildlife, from huge polar bears measuring up to 11 feet in length, shaggy muskox and impressively tusked walrus, to giant colonies of birds and seals. White beluga whales glide silently through the cold waters, which are also home to humpback and bowhead whales, bearded seals, and the mysterious narwhal.
Our ships are the same sturdy, ice-strengthened polar expedition ships used in Antarctica, and we also offer some exciting land-based expeditions. All our journeys are designed to get you close to the action with daily excursions by Zodiac, kayak or on foot along the shore. Itineraries are flexible and depend on ice and weather conditions and the movements of wildlife. Many of our journeys also include visits to remote Inuit communities and historic and archaeological sites dating back thousands of years.
Our program of Arctic cruises and tours have been carefully chosen to provide spectacular scenery and wildlife opportunities for our clients. Let our experienced Arctic staff tailor make a trip to suit your specific interests and budget.
Arctic Land Expedition tours will allow you to discover the true nature of the Arctic.
From pods of whales to polar bears, unusual flora to stunning vistas of icebergs and a vast blue skyline. Immerse yourself in the rich culture of the Inuit, with visits to traditional Inuit communities and excursions led by local Inuit guides.
Our Arctic land-based expedition tours operate in the Canadian High Arctic. Flexible daily itineraries make the most of local weather conditions and wildlife viewing opportunities while activities include hiking, kayaking, dry suit diving and all-terrain vehicle explorations.
Accommodation may be in comfortable wilderness lodges, or within stylish and comfortable eco-friendly camps located near the ice floe edge. Trips are led by professional leaders and experienced guides, with transportation by ATV and traditional sled (qamotiq) pulled by snowmobiles or dog teams. These trips are an adventurous and exciting way to get up-close to the Arctic.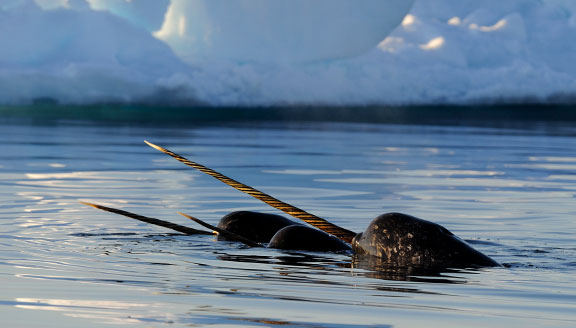 Polar bears and narwhals
The wild Arctic landscapes and seascapes offer encounters with polar bears, Arctic fox, collared lemmings, weasels and birds like Snowy Owls. Other birdlife includes Gyrfalcons, Ivory Gulls, Eider Ducks, Greater Snow Geese and Thick-billed Murres. The seas of north Baffin Island, Bylot Island, Lancaster Sound and Foxe Basin abound with marine mammals like rare bowhead whales and during the annual spring migration, beluga whales and mysterious tusked narwhal. See ringed seals and huge walrus with their handsome mustaches and impressive tusks.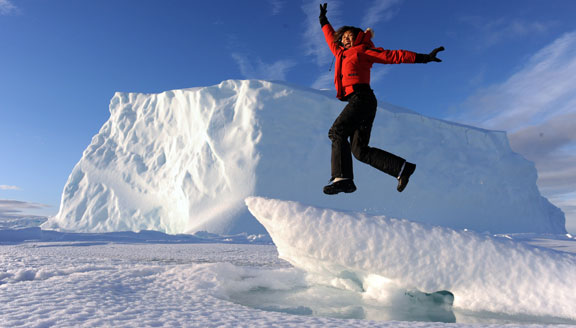 Glaciers and icebergs
Baffin Island, Bylot Island and Lancaster Sound are an Arctic wonderland of snow covered mountains, soaring bird-covered cliffs, fjords, pack ice and icebergs. The spectacular wide open landscapes of the Arctic will truly leave you spellbound. As spring turns to summer see rivers of glacial meltwater criss-crossing tundra carpeted in Arctic wildflowers. At the ice floe edge, look out for frolicking pods of whales or the long tusk of the mystical narwhal.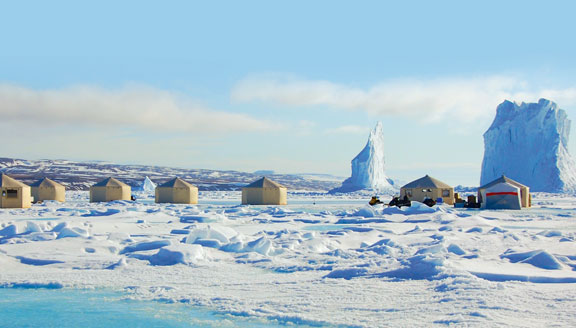 Camp on the ice floe edge
Experience life on the ice floe edge in a comfortable, eco-friendly safari-inspired tented camp. The tents are specially designed, high-grade expedition tents with an outer and inner insulation wall over 8′ tall. There is a central dining/lounge tent, plus shared washrooms with warm showers. Each sleeping tent has a full bed with mattresses, pillows, and duvets. Camps are set up on land or on the sea ice to time with a specific wildlife encounter, and are fully established before guests arrive. They stay there from 1 to 4 weeks, and at the end of the short season, they are dismantled and sent back to the local community storage facility, leaving only footprints behind..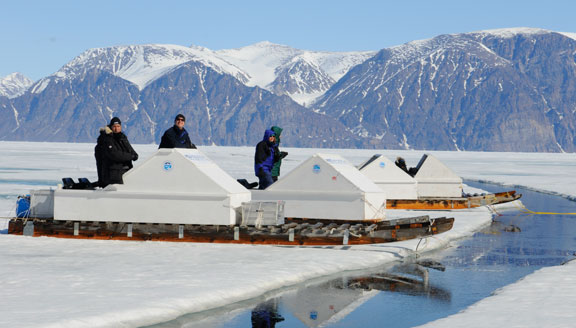 Snowmobiles and sleds
Transfer to your campsite in a traditional qamotiq (a wooden sled with suspension seats pulled by snowmobile). Each of the two to four persons in a qamutik is provided with a suspension seat to sit on. You'll experience the exhilaration of gliding across the ice, stopping to see wildlife, historic grave sites, hanging glaciers, bird cliffs, abandoned whaling stations and hunting cabins. Once at camp other explorations may be by qamutik, on foot or by kayak.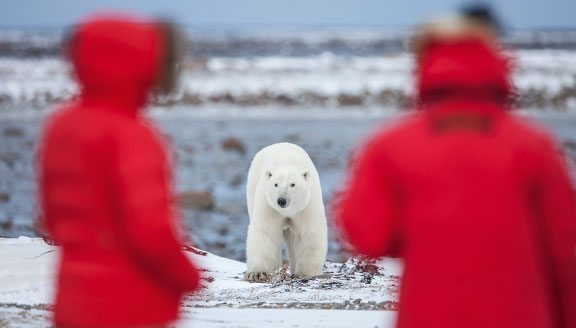 Hike, Kayak & Dry Suit Dive
There are so many ways to explore the ice floe edge and the iceberg-studded waters beyond. Those who would like closer encounters with the Arctic's majestic sea creatures can opt to go kayaking and/or snorkelling with them. Wearing a dry suit you can enter the spectacular underwater world of the Arctic seas and swim with the whales and seals. Or paddle by sea kayak along the floe edge and around turquoise blue icebergs.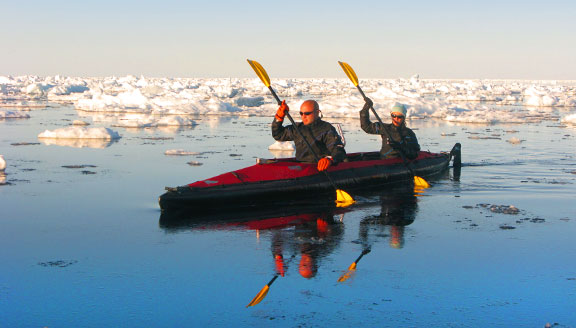 Shore and Sea Explorations
On all polar cruise voyages, you will regularly go ashore or tour sheltered bays in an inflatable Zodiac. Search for wildlife, walk to glaciers or points of interest, visit Inuit settlements or historic sites. Excursions will vary from short strolls to longer hikes. If you prefer, you can choose to remain on the shore and just enjoy the view.
Featured
Itineraries
We have a unique selection of Arctic land expeditions carefully chosen for their itineraries and extraordinary experiences. All of our cruises and tours are completely tailor made to suit our clients interests, budget, and timeframe. To find out more about the type of Arctic land expedition we can put together for you, please download specific pages below.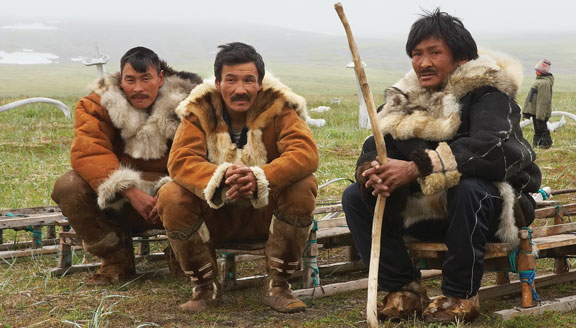 Great Migrations of the Northwest Passage
Travel by Inuit sled and snowmobile into the High Arctic for a chance to see the annual spring migration of thousands of belugas and the mysterious narwhal. Explore the ice floe edge by snowmobile, kayak and on foot.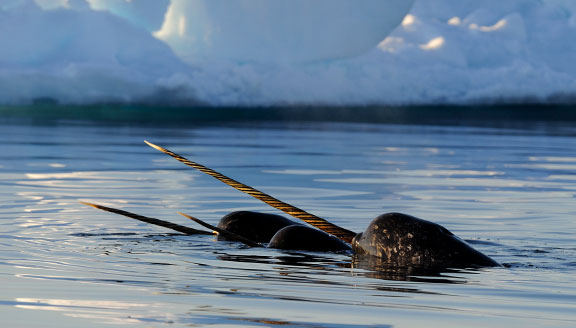 Narwhal & Polar Bear Safari
This comprehensive Arctic experience takes in Inuit culture, glaciers, icebergs and abundant wildlife along the ice floe edge as spring comes to an end. Your base is a comfortable campsite by the whale-rich Lancaster Sound.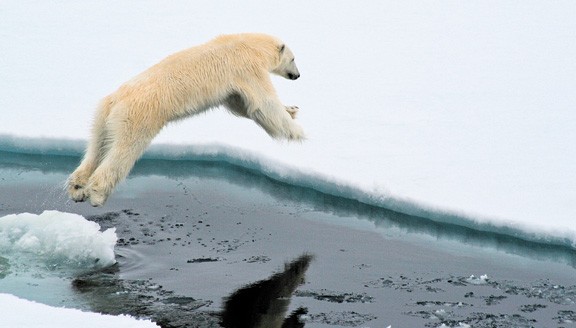 Kings of the Arctic
Journey to the edge of wildlife-rich Foxe Basin and beyond, to view rare bowhead whales, inquisitive walrus and amazing panoramas of icebergs, glaciers and mountains. Experience all aspects of the High Arctic on this eye-opening adventure.
"A trip of a lifetime has become a reality for us. This journey was all that we imagined, and more – a wonderful exhilarating experience. Our every need was catered for – during the booking process, at arrival and departure points and during the cruise. The staff of the boat helped to make this trip an experience of a lifetime, one, to never forget. Thank you!"
"The Antarctic trip was absolutely fabulous….All land and sea expeditions were excellent with attention to both safety (native fauna, flora and human) and to finding spectacular scenery in the water and in the icy surrounds! It could hardly have been better photographically. Terrific library and information sessions…"
"Natural Focus took care of all our bookings and transfers and everything went so smoothly. My second trip to Antarctica with Natural Focus – a once in a lifetime trip….again! An expedition, not a cruise. Killer whales and humpbacks swimming around our zodiacs. Huge colonies of nesting adelie, gentoo and chinstrap penguins with their chicks."