Walk with wildlife in Zambia's Luangwa Valley National Park, marvel at Victoria Falls, explore the Lower Zambezi.
The jewel in Zambia's crown is without doubt the scenic wonder of the Victoria Falls. But the country also offers fabulous game viewing without the crowds, in truly wild, game-rich national parks where the walking safari was born.
The beautiful South Luangwa National Park and the more remote North Luangwa National Park have a number of comfortable lodges and rustic safari camps clustered along the languid, hippo-filled Luangwa River. Walking safaris with an armed ranger are a specialty of the area. The Lower Zambezi National Park bordering the vast and powerful Zambezi River, is another mecca for wildlife. Intimate and stylish camps here offer guests a range of guided activities including game drives, walking safaris, river cruises, fishing and canoeing.
Our Recommended
Zambia Itineraries
Explore some of the experiences that we can custom-design for you. All of our safaris and tours are tailor-made to suit your interests, budget and timeframe.
Discover classic Zambia, combining walking safaris in the wildlife-rich South Luangwa National Park, with the spectacular Victoria Falls.
This trip combines Zambia's wild South Luangwa National Park and iconic Victoria Falls with Botswana's magnificent Okavango Delta and elephant-rich Chobe National Park.
Discover the very best of wild Zambia on this sensational safari which combines the unspoilt South Luangwa with the lush, lovely Lower Zambezi.
Recommended
Best places to go in Zambia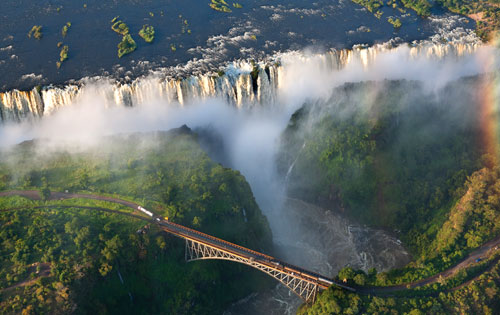 Called locally 'Mosi-oa-Tunya' (The Smoke that Thunders), Victoria Falls is one of the seven natural wonders of the world, and is a sight to behold.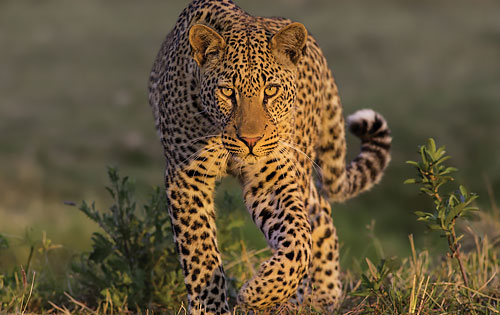 South Luangwa National Park is Zambia's finest wildlife reserve and widely regarded as the birthplace of the walking safari.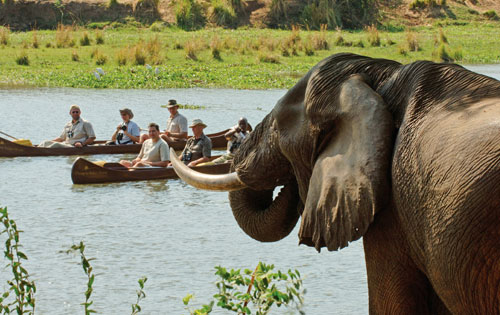 Zambia's Lower Zambezi National Park is very rich in big game. With no access roads, safaris in this wonderful wildlife reserve are exclusive and personal.
Featured
Luxury accommodation in Zambia
Below are some of our preferred accommodation options in Zambia, carefully selected for their superior safari locations, service and level of comfort. Explore the highlights sections above to view more of our handpicked luxury tented camps and lodges in Zambia.
At the edge of a permanent hippo-filled oxbow lagoon, Chindeni Bushcamp is named for the magnificent hills which provide the campsite with a breathtaking backdrop.
Zambia Overview
Why should I travel to Zambia? Apart from being the site of the magnificent Victoria Falls, Zambia also offers game-rich wildlife parks that are relatively unspoiled by mass tourism. For the more adventurous, there are walking safaris and canoeing trips along the Zambezi River.
When is the best time to see animals in Zambia? Gameviewing is best during the dry season from Jun-Oct when the animals congregate at remaining waterholes.
What is the climate like in Zambia? There are 3 distinct seasons – cool and dry from May-July (23°-25°C), hot and dry from August-October (30°-40°C), and warm and wet from November-April (28°-35°C).
What can I combine Zambia with? Zambia's neighbours – Botswana, Malawi or Zimbabwe – which all offer amazing scenery and wildlife. Or combine with South Africa and explore picturesque Cape Town, Table Mountain and the Cape Winelands.
How to get to Zambia? There are regular flights daily from Johannesburg in South Africa to Lusaka, where you can board connecting flights to a range of safari camps. There are also regular flights from Jo'burg into Livingstone, a large town close to the Victoria Falls. It is also possible to fly to Victoria Falls in Zimbabwe and then transfer by road to Zambia.
Do I need a Visa for Zambia? Please call us on 1300 363 302 or visit or FAQ page
Do I need vaccinations for Zambia? Please call us on 1300 363 302 or visit or FAQ page