An archipelago of 115 granite islands, this tiny sovereign African nation is heaven for snorkellers, scuba divers and bird-watchers as well as a hideaway for honeymooners.
The Seychelles lie some 1,500 kilometres off the east coast of mainland Africa. The clear waters surrounding the Seychelles are full of fish and endangered sea turtles, whilst on land there are a wealth of endemic plants and free-ranging populations of curious creatures such as the Aldabra giant tortoise, protected by strict environmental laws. The country's residents are known as 'Seychellois', many who are of African, Asian and European descent.
Most of the population reside on the main island of Mahé, which is also home to a number of resorts and the main international airport. For holidaymakers seeking additional privacy and seclusion, there are many other luxurious resorts situated on outlying islands such as the exclusive North Island and Fregate.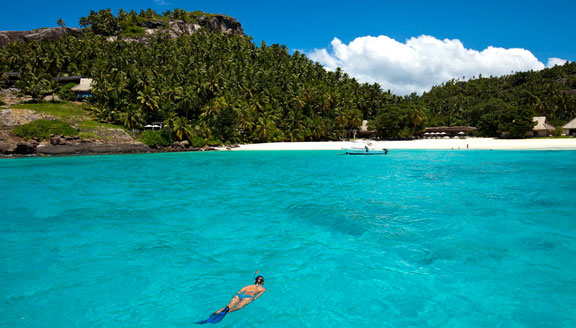 Snorkelling
Shallow, warm waters and beautiful coral reefs teeming with marine life make the Seychelles a snorkeller's paradise. The islands are also amongst the few places left on earth where sea turtles still swim ashore to lay their eggs in daylight, unafraid of people or predators.
Visitors would find it hard to believe that waters of the Seychelles were once emptied by fishermen, pirates and buccaneers because the same oceans now seethe with life. A real success story in conservation and eco-tourism, the country has successfully removed many introduced predators, reintroduced native species and protected so much of its undersea environment that snorkellers will find manta rays, sharks and all manner of seabird cruising close to man, at peace in their natural habitat.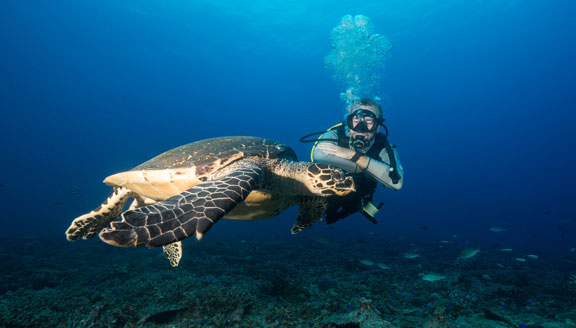 Scuba diving
The inner islands of the Seychelles are protected by coral reef and rocks, offering outstanding visibility especially in Apr/May and Oct/Nov, when the seas are at their calmest. Divers will find a wealth of marine life, from tiny nudibranch to whale sharks.
Many of the Seychelles' dive sites are pristine, boasting spectacular topography, including stone pinnacles, shipwrecks and undersea canyons filled with colourful tropical fish. The more accessible inner reefs shelter many vibrant smaller species from shrimp to lionfish, whilst further out, impressive megafauna such as manta rays and reef sharks abound. Water temperatures are comfortable throughout the year – varying between 26 and 30°C – making the country one of the planet's top locations for scuba diving.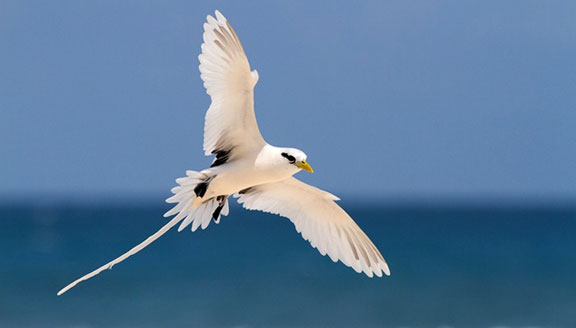 Bird-watching
The Seychelles boasts a number of accessible seabird colonies including Bird Island, which hosts over a million pairs of Sooty Terns at the peak of nesting season. Other impressive sites avid twitchers should consider include Cousin, Aride and Fregate, which harbour both seabirds and rare land-based species in addition to tortoises and reptiles.
Most of these bird-rich islands are privately run, with eco-resorts offering guests close encounters with nature and environmentally-friendly, relaxed luxury. The small size of the islands and their remote locations also ensure intimacy of experience and the opportunity to "get away from it all".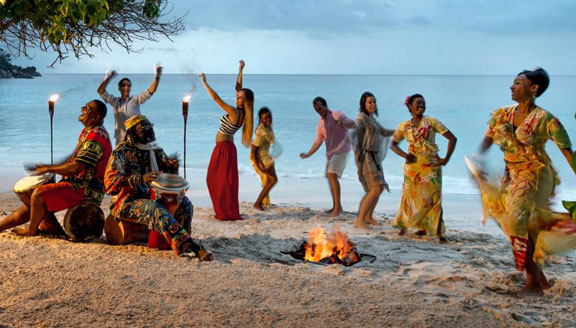 History and Culture
First settled by the French in the 16th century, then ceded to the British in the 19th, the Seychelles has many grand old houses dating back to old colonial days. African and Asian cultural traditions are also evident throughout the archipelago, with sites such as elegant Kenwyn House and the colourful Hindu Temple popular with visitors.
Much of the Seychelles' best preserved sites are located on the main island of Mahé, and are interesting as they provide an insight into the archipelago's unique, multi-cultural history. The numerous markets, museums and art galleries scattered throughout the island are also well worth browsing, as they are very authentic.
Featured
Accommodation
Below are some of our preferred accommodation options in the Seychelles, carefully selected for their superior location, service and level of comfort. Please contact us for information on a full range of Seychelles resorts or a hotel of your choice.
Set on 120 hectares of private land, Constance Ephelia Resort offers guests the luxury of space and privileged access to some of the island's most captivating natural attractions.
This exceptional Four Seasons Resort offers secluded guest villas and an experience that extends far beyond your room.
Set on a private islet north of Mahe, North Island is a resort which epitomises the concept of "barefoot luxury".
Why travel to the Seychelles? A tiny archipelago of granite islands lying some 1,500 kilometres east of the African continent, the Seychelles offer amazing marine life, abundant birdlife, idyllic beaches and the ultimate in seclusion.
What is the climate in the Seychelles? The climate is tropical so warm all year round, with two opposing trade winds. The gentle north-westerly trades blow from Oct-Mar, while the brisker south-easterly winds occur from May-Sept. Apr-May and Oct-Nov see the calmest conditions.
What can I combine with the Seychelles? A "Big 5" safari in Kenya, Tanzania or both these magnificent East African countries. Historical Ethiopia also pairs well with this destination.
How to get to the Seychelles? There are flights from Nairobi and Addis Ababa to Seychelles International Airport near Victoria, the capital of the Seychelles. Various carriers also fly to the country out of cities in the Middle East.
Want to know more about the Seychelles?
Visit our FAQ page or call us:
Australia: 1300 363 302
United States: +1 (213) 460 3364
United States: +1 (646) 217 0354
United Kingdom: +44 (20) 4518 8166