Explore Morocco, land of mystery and romance, offers a profusion of historical, cultural and scenic splendours.
Marvel at lavish palaces, ancient mosques and colourful souks piled high with exotic spices, dried fruit and fragrant teas. Wander down narrow laneways in the medieval medinas (old cities) of imperial Fes or Marrakech, both UNESCO World Heritage Sites. Visit a hammam, see the photogenic old tanneries and dye pits or tour the ancient Roman city of Volubilis. Morocco also has amazing desert and mountain landscapes. In the Atlas Mountains, the ruins of hilltop kasbahs (fortresses) rise high above rocky gorges, whilst the endless sand dunes of the Sahara Desert are home to hardy Berber nomads.
For an authentic experience, we recommend that you stay in one of our preferred boutique hotels, often situated within historic kasbahs or traditional "riads" – courtyard houses – that have been beautifully restored.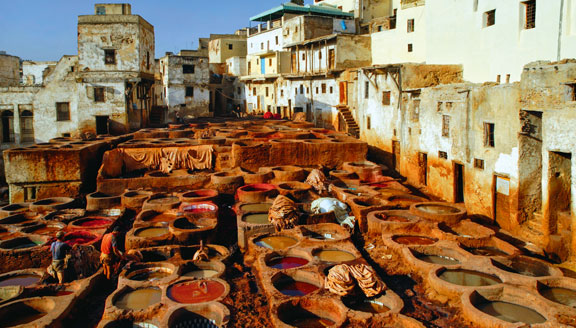 Historic Fes
Fes offers a fascinating maze of car-free narrow streets, elegant squares, grand mosques, palaces, souks and the world-famous tanneries and dye pits. The city is a centre of Islamic learning and home to the world's oldest university. Hear the plaintive call to prayer of the muezzin from the city's many mosques, visit souks filled with exotic foods, colourful spices, jewellery, leather goods and traditional rugs. Other highlights include the magnificent Nejjarine Square, the Kairaouine Mosque, founded in 857 (one of the oldest in the world), the city ramparts, the Merenid Tombs, the souks and tanneries.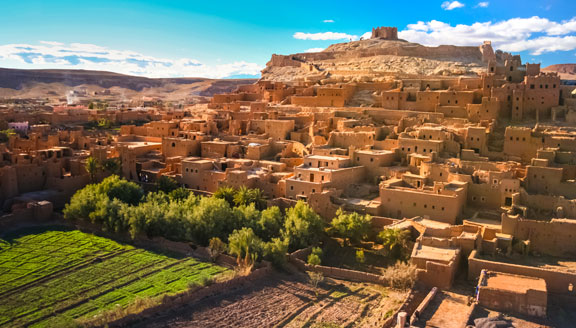 Dades Gorge and Ourzazate
Discover some of Morocco's most stunning landscapes as you follow the Road of a Thousand Kasbahs through the Todra and Dades gorges to Ourzazate. Otherworldly rock formations and snowy Atlas Mountain peaks overlook breathtakingly steep and narrow canyons of pink rock. In contrast, delicate roses bloom in spring and valleys of palm groves, orchards and Berber villages flourish along the Dades River. Hilltops are crowned with hundreds of ruined kasbahs, built by the Berbers to repel enemies. Visit the dramatic hilltop village of Ait Benhaddou used in the filming of "Lawrence of Arabia", and the pretty palm groves of Skoura. And don't miss Ourzazate, home of Atlas Film Studios and many grand kasbahs.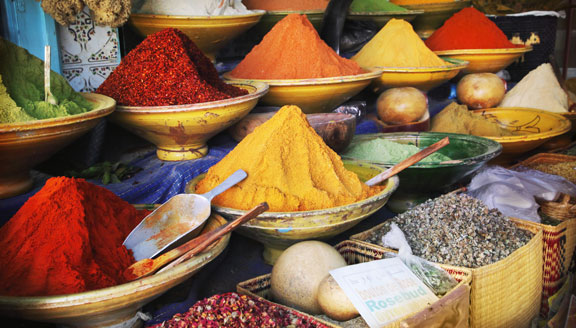 Marrakech
Like Fes, Marrakech has a historic walled medina, or old city, which is a maze of narrow streets, mosques, palaces, stalls and bustling souks selling anything from dates and olives to jewels and Berber carpets. Donkey carts and veiled women go about their daily routine amid heritage buildings, hip hotels, beautifully restored riads and upmarket art galleries. The famous Jemaa el Fnaa square comes alive every evening with countless market stalls selling every conceivable delicacy, drummers, musicians and acrobats. Overlooking the square is the 12th century Koutoubia Mosque with its graceful minaret. Other highlights are the El Badi Palace, the Saadian tombs and the gorgeous Majorelle Gardens.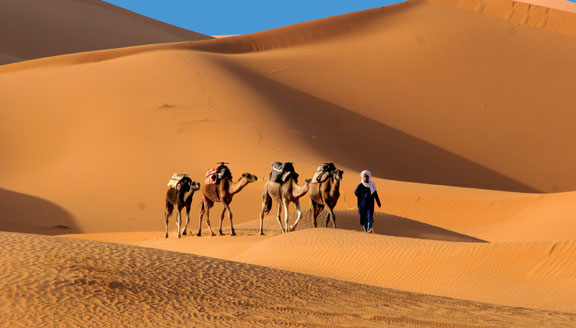 Erg Chebbi Camel Ride
For a romantic Sahara experience there is nowhere better than the southeastern corner of Morocco and the oasis town of Mersouga. From here, you can easily reach the famous sand dunes of Erg Chebbi, the highest in Morocco. Take a desert safari and stay at a luxury Berber camp with comfortable tents. Sleep under the stars. Ride camels into the dunes for spectacular sunrises or sunsets. Climb giant sand dunes, enjoy quad biking, sand boarding, desert picnics, and traditional Berber and Arab cuisine.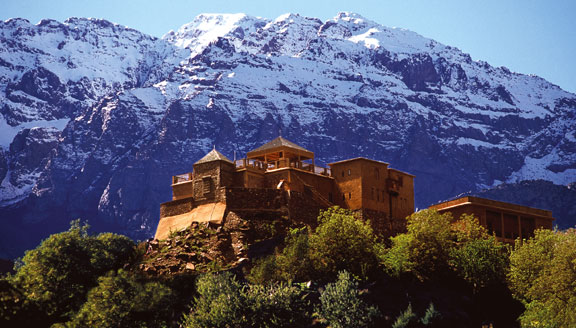 Atlas Mountains
Rugged and romantic, these mountains are dotted with Berber villages, orange and lemon groves, as well as ancient kasbahs (fortresses) perched on hilltops or above steep gorges. Some of the kasbahs have been renovated and turned into exotic boutique hotels, such as Kasbah Du Toubkal (pictured). From these luxurious eyries in the sky you can follow ancient mule tracks, visit Berber villages, enjoy gourmet organic meals or relax by the swimming pool or in the hammam.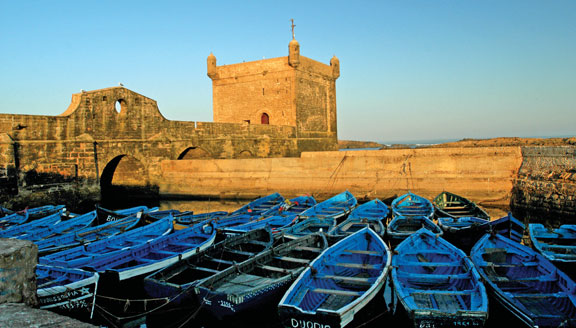 Essaouira
The town is famous for its walled medina and clifftop ramparts. Charming, beautiful and exotic, Essaouira is popular with both artists and tourists and has many skilled local artisans, art galleries and chic boutique hotels. Situated on Morocco's west coast, watch the fishing boats come in during the morning, explore the laneways and souks of the medina, visit the Jewish quarter, listen to the hypnotic sounds of Gnaoua – music from the descendants of African slaves, stroll the long beach, or just relax and soak up the town's wonderful atmosphere.
Recommended Morocco Tours
This tour takes in the highlights of Morocco, from historical Meknes and Fes, to the sand dunes of Erg Chebbi and the ancient medina of Marrakech.
In northern Morocco, Chefchaouen is one of the country's prettiest towns, renowned for its blue-white washed stone walls and cobblestone streets.
JOIN OUR
E-Newsletter
Sign up to receive updates about exciting journeys, special offers and more