Namibia Tours and Safaris
Vast and stunningly beautiful, Namibia is a timeless land of stark deserts and endless blue skies inhabited by strange wildlife who have adapted to the harsh environment.
It has the highest sand dunes in the world, huge shimmering plains, rugged mountains, as well as the mysterious and aptly named Skeleton Coast. The country's famous Etosha National Park is a wildlife reserve on a vast salt pan whose perennial springs attract elephant, black rhino, lion, cheetah, zebra, wildebeest, springbok and gemsbok. Due to scarcity of water in the driest months, it is not uncommon to find a "Noah's ark" scenario here – where species of all shapes and sizes are found gathered around the few remaining waterholes!
Although the human population is small, there is a rich tapestry of cultures to be found throughout Namibia, from the original Bushmen hunter-gatherers to the Herero pastoralists in their Victorian dress, and the nomadic Himba of the far north.
If you are short on time, the best way to cover the enormous distances between deserts, dunes and oases is by scheduled light aircraft. Aside from saving you hours on the road, flights provide breathtaking views of this extraordinary land from the air.
To find out more about our range of Namibia tours, please download specific pages below or click here to download the full Namibia tours section of our Africa brochure.
Highlights
Namibia Safari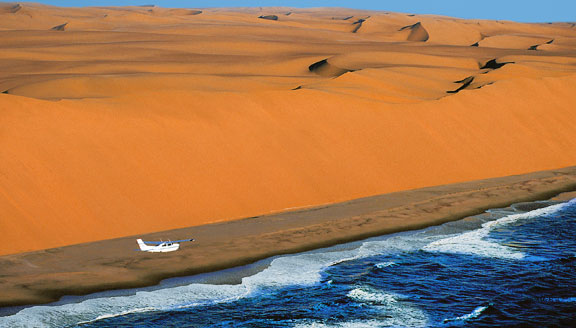 The Skeleton Coast
The wild and dramatic Skeleton Coast is named after the thousands of shipwrecks and the bleached bones of southern right whales that litter the beaches.
Along this hauntingly beautiful coastline, heavy sea mists roll in, blanketing the shore and allowing unique life to flourish in the desert. The cold, plankton-rich waters provide food for fish and marine mammals like whales and seals. This spectacular and desolate landscape is best seen from the air on a scenic flight.
Spectacular Sossusvlei
The often photographed sand dunes of Sossusvlei are the highest in the world. These giant red sand dunes rise to over 300 metres above an ancient salt pan.
Meaning "dead-end marsh", Sossusvlei forms the terminus for the usually dry Tsauchab River, whose waters are prevented from flowing further by the dunes. Climb the sand dunes for amazing sunsets and sunrises. Visit Sesriem Canyon and other vleis (marshes), and keep an eye out for unique fauna and flora.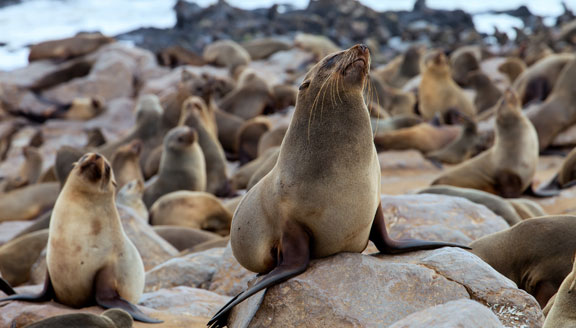 Seal colony at Cape Cross
At the southern tip of the Skeleton Coast is Cape Cross, renowned for its huge colony of Cape fur seals – the largest in the world.
During breeding season (Nov/Dec) there can be over 200,000 fur seals in the colony. Cape Cross acquired its name from an ancient stone cross or padrâo placed here by Portuguese explorer Diego Câo,in 1486. Unfortunately the cross was taken to Berlin by a German sea captain in the 19th century and has been replaced by a replica.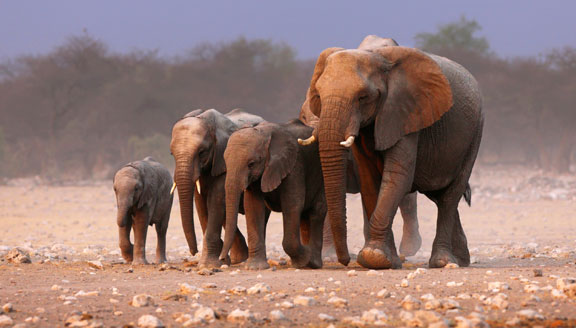 Etosha National Park
The largest salt pan in Africa, Etosha National Park is a fantastic place to see many of Africa's iconic animals, as well as unique desert adapted species.
Although its usually dry, the pan is surrounded by perennial springs, woodland and grassland which support huge herds of springbok, wildebeest, giraffe, zebra and gemsbok. There are plenty of lions as well as other predators – cheetah, jackals and hyena. Stay in the adjacent Ongava Game Reserve which has excellent accommodation and offers guided walks as well as game drives inside Etosha NP.
Serra Cafema and Kunene River
Offering rustic luxury, Serra Cafema is a stunning camp overlooking the Kunene River in the northwest of Namibia.
This secluded camp provides access to a remote area of amazing natural beauty. The river attracts wildlife such as crocodile, Cape fox and gemsbok, whilst the Hartmann Valley is a vast landscape of mountains, sand dunes and endless rocky plains dotted with mysterious 'fairy circles'. This area is also home to the hardy Himba people who live a traditional semi-nomadic lifestyle along the Kunene River.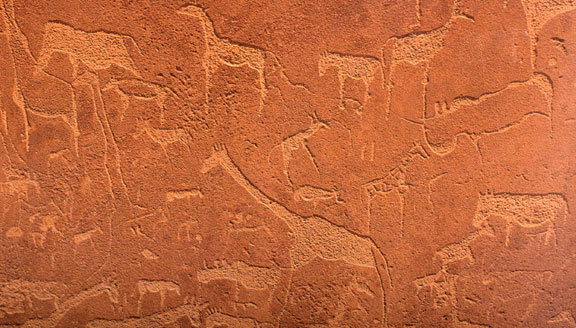 Damaraland, Torra Conservancy and Twyfelfontein
Explore the World Heritage Site of Twyfelfontein, with its multitude of rock engravings and paintings of animals thought to be thousands of years old.
The Torra Conservancy in Damaraland is a pristine arid area along the Huab River. Take game drives in search of unique wildlife like desert-adapted elephant and black rhino, as well as oryx, kudu, springbok, Hartmann's mountain zebra, southern giraffe, lion, cheetah, spotted and brown hyena.
Featured
Itineraries
Explore some of the experiences that we can custom-design for you. All of our safaris and tours are tailor-made to suit your interests, budget and timeframe.
Discover the silent beauty of Sossusvlei, track Africa's last free-roaming rhino in Palmwag and go on safari in Etosha, Namibia's finest wildlife reserve.
Take in some of Namibia's greatest highlights including Sossusvlei, Walvis Bay, Twyfelfontein and Etosha escorted by an experienced naturalist guide.
Featured
Namibia Accommodation
Below are some of our preferred accommodation options in Namibia, carefully selected for their superior locations, service and level of comfort.
Owned and largely run by the local community, Damaraland Camp offers unique desert experiences in Namibia's well-managed Torra Conservancy.
Our
Brochure Pages
Select the 'Download Brochure Pages' tabs to view and download product pages from our Africa brochure.
Namibia Overview
Why should I travel to Namibia?
This land of deserts has some of the most photogenic landscapes in all of Africa. Although Namibia is not as famous for wildlife as some other southern African countries, it has many uniquely adapted and fascinating species that are well worth looking for. The country also has some fine wilderness lodges providing comfortable accommodation and excellent service in some of Namibia's most remote areas.
When is the best time to go to Namibia?
Best during the dry season (May-Oct). Etosha is Namibia's premier wildlife park. In the desert areas, you will not see large numbers of animals, but there are rare and interesting species to be found.
What is the culture of Namibia?
Herero, Baster, Himba, Bushmen and many other tribal groups with distinct individual cultures.
What is the climate in Namibia?
The cold Benguela current keeps the coast cool and rain-less. Rain falls inland during the summer (Oct-Apr) in thunderstorms. Summer days are hot and the nights cool, whilst winters are sunny and cold.
What can I combine Namibia with?
A big game wildlife safari in South Africa, Botswana or Zimbabwe, and the Victoria Falls.
How to get to Namibia?
The main gateway to Namibia is through Hosea Kutako International Airport in Windhoek. Flights to Windhoek depart daily from Johannesburg, the city where most visitors begin their Namibia itineraries.
Do I need a Visa for Namibia? Please call us on 1300 363 302
Do I need vaccinations for Namiba? Please call us on 1300 363 302