Stay at Namibia's desolate Skeleton Coast
Located on Namibia's desolate Skeleton Coast, this unique lodge has been designed around the countless shipwrecks that line this remarkable coastline. The Skeleton Coast National Park is one of Namibia's most remote regions, home to the icy waters of the Atlantic Ocean, towering sand dunes and endless windswept desert – making for an incredible arial view from above.
Raw and rugged, the Skeleton Coast was notorious amongst sailors over past centuries, with the rusted remains of many vessels dotting its unblemished, sandy beaches. The lodge and its 10 guestrooms (including two slightly larger family rooms) were created to reflect the vast and incredible landscape, constructed to resemble the many wrecks nearby. The rooms all have ensuite bathrooms and are solar-powered – except from the wood burning stoves that help keep the cabins warm and cosy during the chilly evenings and early morning. Each room also has a comfortable sofa bed positioned in front of the window and a small study nook where guests will find tea & coffee making facilities and a charging point.
The main lodge also boasts a shipwreck-inspired lounge and dining area as well as a spacious outdoor deck with outstanding views of the landscape and Atlantic Ocean. The lounge has ample seating, including a long, cosy bench covered in comfortable pillows and blankets, large armchairs and – just like the rooms – a wood-burning stove to keep the room warm at night. There are also a few books and board games dotted around the room.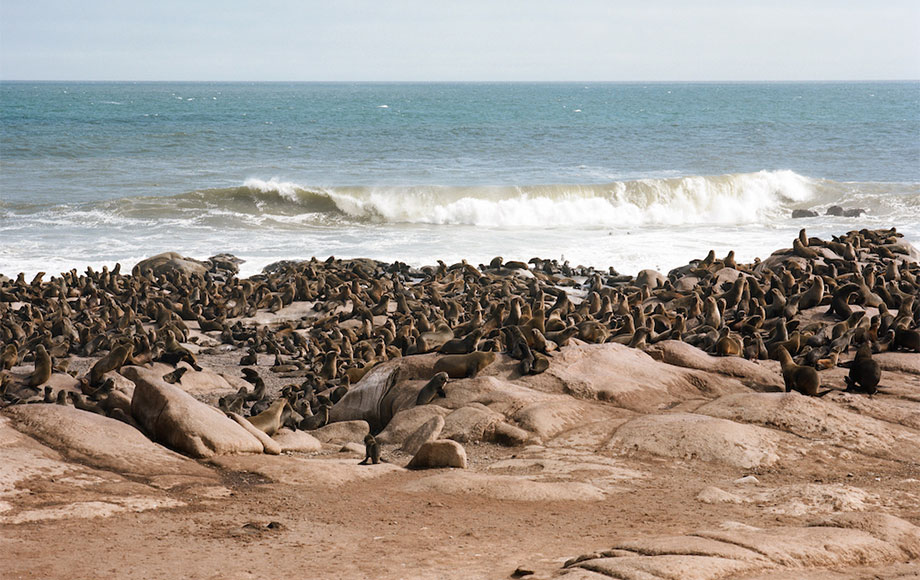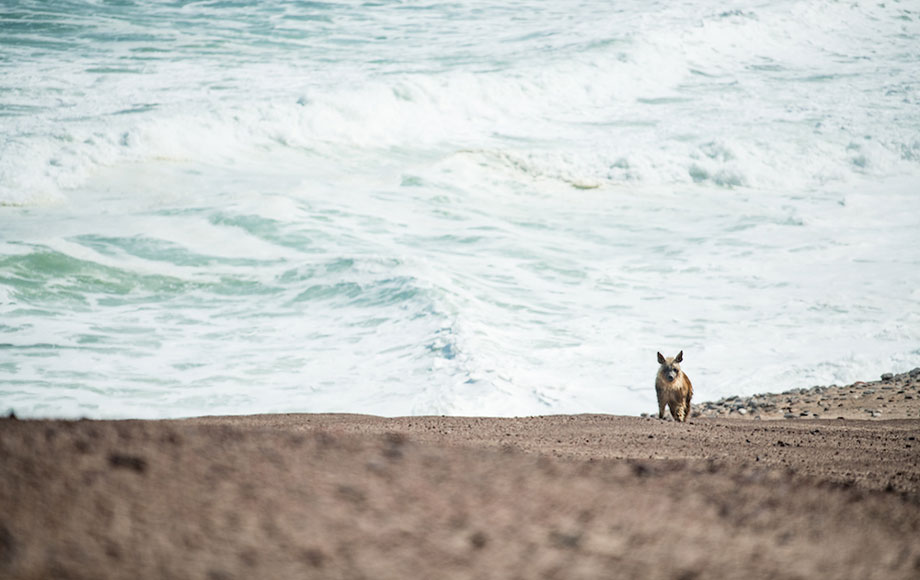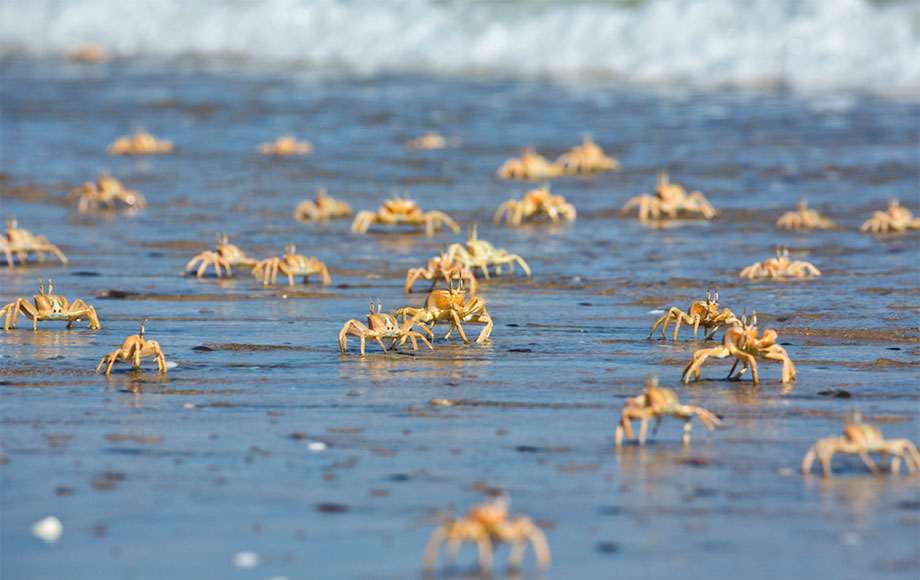 Skeleton Coast – Unique Wildlife
Best known for its unbelievable scenery and shipwrecks, wildlife sightings in the Skeleton Coast National Park are uncommon; but, there are plenty of species that live within this remote region. Desert-adapted elephant, lion, giraffe, baboon and brown hyena can all be sighted – though sightings are rare. Marine life is more common thanks to the nutrient-rich waters of the Atlantic Ocean. The most iconic species associated with the Skeleton Coast is the Cape fur seal. The seals line the rocky coastline and can be seen in huge colonies. They can be seen at most times of the year, but their numbers are greatest during October and November/December when the pups are born. Bird species such as Rüppell's korhaans and Benguela long-billed larks and skuas found around the seal colonies can also be seen.
Activities
Aside from the dramatic landscape, there are plenty of unique activities to enjoy at Shipwreck Lodge. Guests can revel in morning quad bike excursions across the dunes or even try their hand at sand boarding. Game drives in search of unique desert-adapted wildlife, beachcombing for whale bones or debris from long-lost shipwrecks and marvelling at geologically spectacular Clay Castles are other options. Guests can also enjoy sundowners on the dunes or a beach lunch (weather permitting). A highlight is a day excursion to Mowe Bay to see the Cape fur seal colony; possible stops along the way include the fascinating Suiderkus and Karimona shipwrecks, Westies Diamond Mine and the remains of the Ventura Bomber.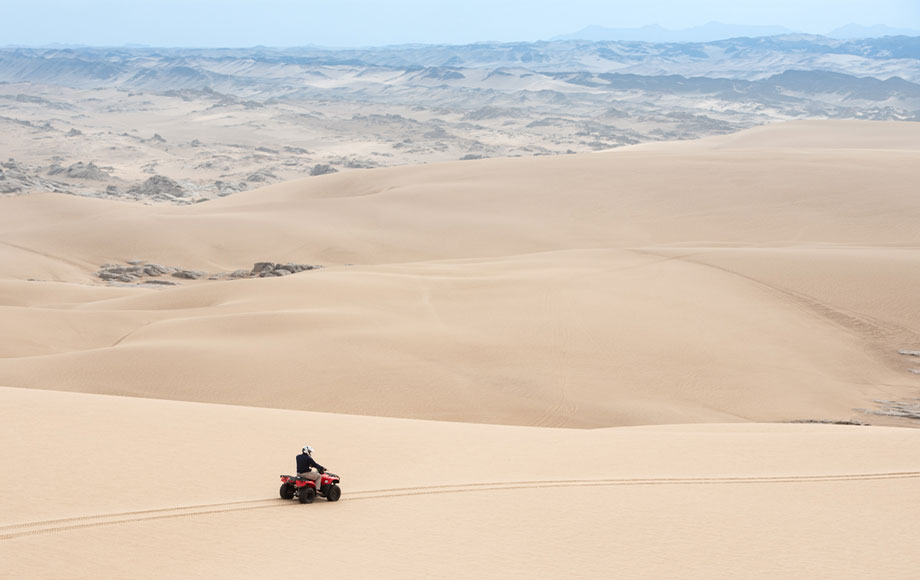 Highlights
The Skeleton Coast – one of the planets most remarkable landscapes
Explore the remarkable shipwrecks that line the remote coastline
Shipwreck Lodge – one of Africa's most unique lodges
Just 10 warm and cosy cabins constructed to resembling a shipwreck
Exciting activities including quad biking and sand boarding
Marvel at geologically spectacular Clay Castles
Search for rare desert-adapted wildlife such as elephant, lion and brown hyena
Visit Mowe Bay and perhaps see a Cape fur seal colony
Activities
4WD game drives in search of rare desert-adapted wildlife and seeing the Clay Castles
Quad biking (morning only – booking required) or sand boarding across the dunes
Sundowners on the roaring dunes
Beachcombing and explore aome of the iconic shipwrecks
Visit Mowe Bay and perhaps see a Cape fur seal colony
Beach lunches (weather permitting)
* Some activities at extra cost
How to get to Serra Cafema
Light aircraft transfers to Mowe Bay are highly recommended for the incredible views of the Skeleton Coast. From there you will transferred by road to the lodge.
Be inspired
Namibia Tours and Safaris
Explore some of the best holidays & experiences that we can custom-design for you. All of our safaris and tours are tailor-made to suit your interests, budget and timeframe.
Discover the silent beauty of Sossusvlei, track Africa's last free-roaming rhino in Palmwag and go on safari in Etosha, Namibia's finest wildlife reserve.
Take in some of Namibia's greatest highlights including Sossusvlei, Walvis Bay, Twyfelfontein and Etosha escorted by an experienced naturalist guide.
Discover the breathtaking beauty of the Namib Desert from the air with this flying safari. Designed to offer you some of the best camps and wilderness areas in the country, this safari will take you on an
Accommodation in Namibia
Below are some of our preferred tented camps and lodges in Namibia. Please contact us to tailor accommodation options to suit the style of your trip and your budget.
Beautiful Hoanib Skeleton Coast Camp is set in one of the most remote areas of Namibia's Kaokoveld, straddling the Palmwag wilderness and iconic Skeleton Coast National Park.
JOIN OUR
E-Newsletter
Sign up to receive updates about exciting journeys, special offers and more