A luxurious retreat in the dunes of Sossusvlei
Little Kulala is a luxurious retreat situated in the exclusive 67,000 Kulala Wilderness Reserve. Guests at this secluded lodge enjoy unparalleled proximity and private access to the famously large red dunes of Sossusvlei. Be at iconic Deadvlei at first light, before any other visitors arrive, and climb the towering dune known as Big Daddy before the sun burns away the morning mist.
Accommodation at Little Kulala is in just 11 climate-controlled "kulalas", thatched chalets whose exteriors blend perfectly into the surrounding desert landscape. Inside each suite you'll find indoor and outdoor showers, a private plunge pool as well as a romantic rooftop starbed for contemplation of night desert skies.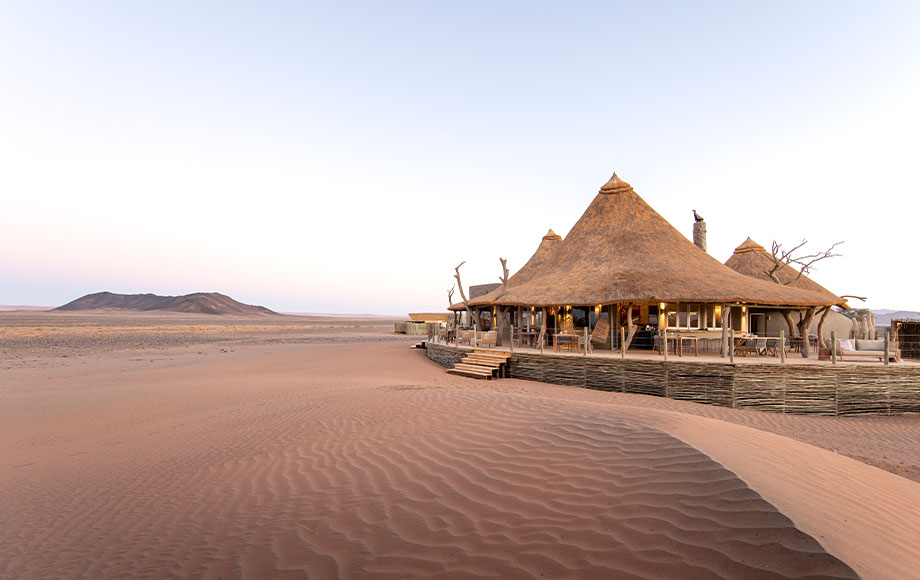 What to expect
The main lodge at Little Kulala comprises of an elegant dining area, spacious lounge, library, craft boutique and wine cellar. Just like in the guest suites, colours and textures take inspiration from the landscape surrounding the camp, with plenty of neutral hues, gorgeous textiles and natural light. Activities which can be easily arranged for you include hot air balloon safaris, guided nature walks in search of gemsbok and bat-eared fox, quad bike tours and night excursions, looking for scorpions which glow under UV light.
Highlights
An intimate, luxurious desert retreat, ideal for solo travellers or couples
With private access to the iconic red dunes of Sossusvlei
Rooftop star beds and private plunge pools in every guest suite
Opportunities for hot air balloon safaris, quad biking and nature walks
Incredible landscapes and unique desert experiences
Activities
Excursions to Deadvlei, Sossusvlei dunes and Sesreim Canyon
Dining and sleepouts under the stars
Guided nature walks and drives on the Kulala Wilderness Reserve
Quad biking
Hot air ballooning
* Some activities at extra cost
Getting there
Little Kulala can be reached by scheduled light aircraft flight from Windhoek or Swakopmund.
Be inspired
Namibia Tours and Safaris
Explore some of the best holidays & experiences that we can custom-design for you. All of our safaris and tours are tailor-made to suit your interests, budget and timeframe.
Discover the silent beauty of Sossusvlei, track Africa's last free-roaming rhino in Palmwag and go on safari in Etosha, Namibia's finest wildlife reserve.
Take in some of Namibia's greatest highlights including Sossusvlei, Walvis Bay, Twyfelfontein and Etosha escorted by an experienced naturalist guide.
Discover the breathtaking beauty of the Namib Desert from the air with this flying safari. Designed to offer you some of the best camps and wilderness areas in the country, this safari will take you on an
Accommodation in Namibia
Below are some of our preferred tented camps and lodges in Namibia. Please contact us to tailor accommodation options to suit the style of your trip and your budget.
Beautiful Hoanib Skeleton Coast Camp is set in one of the most remote areas of Namibia's Kaokoveld, straddling the Palmwag wilderness and iconic Skeleton Coast National Park.
JOIN OUR
E-Newsletter
Sign up to receive updates about exciting journeys, special offers and more