The Cape buffalo is a member of Africa's "Big 5" and therefore a must-see for any safari-goer.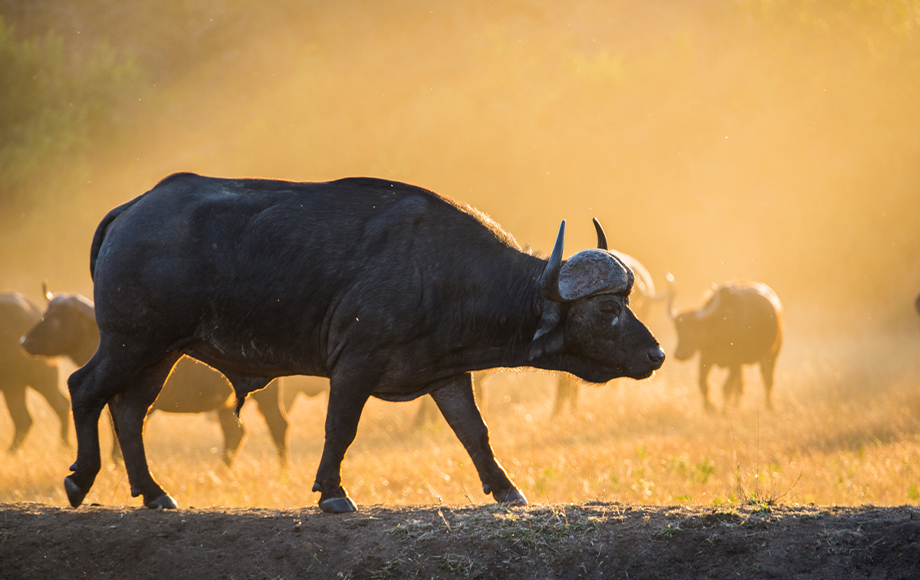 Common Name – Cape Buffalo
Scientific Name – Syncerus caffer
Current IUCN Red List Status – NT – Near Threatened
Estimated no. of mature individuals – 398,000-401,000
The Cape buffalo is a member of Africa's "Big 5" and therefore a must-see for any safari-goer. However they are often out shone by the other members of the "Big 5" as well as other predators such as cheetah and wild dog. Across the continent there are four distinct subspecies of buffalo – the forest buffalo, the West African savannah buffalo, the Central African savannah buffalo and lastly the Cape buffalo. Of the four subspecies the Cape buffalo is the largest and most common, found across most of the major game viewing areas of East and Southern Africa.
About the Cape buffalo
The Cape buffalo can weigh as much as 900 kilograms and though they are heavy cow-like animals that feed on fresh green grass, they are not related to domestic cattle. Their habitat is incredibly varied and they can be found anywhere from open grasslands, and forests to swamplands and floodplains. Buffalo are also found in large herds, usually of a few hundred individuals, but can sometimes number in the thousands.
This is largely for protection against predators and also to work together to protect their young. Though herbivores, buffalo are not to be underestimated and are one of the most dangerous animals in Africa. Their fused horned skulls act as a powerful defensive weapon against predators. Lions are their number one threat and there have been a number of incredible documentaries made showcasing this deep rivalry between relentless enemies.

Cape buffalo viewing on safari
The Cape buffalo is wide-spread across much of Southern and East Africa and can be seen in many of the major national parks and game reserves. As their habitat is so diverse, the buffalo is one of the more common sightings across the continent. Some of the largest herds of buffalo in Africa can be found in Tanzania's Katavi National Park in the country's west.
As they can be one of the more dangerous animals, most buffalo viewing is done by 4WD game vehicle. If in a large herd, they feel quite safe and will often come within 10 metres of the vehicle making for terrific game viewing and ample photo opportunities.
Alternatively there are also some places where you can view buffalo by boat or canoe. Botswana is one of the best places for this, notably along the Chobe River in the north of the country. You will often see Cape buffalo along the riverbanks, usually in small herds of lone bull males. The males eat the soft grasses along the river banks due to their worn teeth.
When viewing buffalo, you are almost guarantee to see oxpeckers – red-billed or yellow-billed. Oxpeckers have symbiotic relationship with buffalo and many other hooved mammals. They feed off the ticks and other parasitic animals found on the buffalo, whilst the buffalo is benefited from the removal of the ticks.
Best safaris to see buffalo
Discover some of South Africa's best known attractions on this journey that begins with a big game safari in the world-renowned Sabi Sand and concludes in beautiful Cape Town.
Best places to see Buffalo
Chada Katavi is an enchantingly remote camp in truly wild Katavi National Park, tucked away in Tanzania's unspoilt west. This seasonal safari camp has just 6 classic tents and offers incredible
Set alongside the ephemeral Savute Channel, Savuti Camp is located in a privileged wildlife area, best known for its plentiful predators including lion and African wild dog.
Secluded Duba Explorers Camp is set amid a classic Okavango Delta landscape in a vast private concession, assuring guests of very exclusive wildlife encounters.
Duba Plains Camp is an extravagant luxury safari camp set in a private concession in the Okavango Delta dubbed "Botswana's Masai Mara" for sheer density of wildlife.
Luxurious Londolozi Pioneer Camp consists of 3 secluded suites in the heart of the famous Sabi Sand Game Reserve near Kruger National Park.
Where is the best place to see buffalo and lion encounters?
There are few better places for buffalo and lion encounters than Duba Plains in the Okavango Delta. The area has become renowned for their relentless encounters and have inspired numerous documentaries about this epic rivalry. Alternatively South Africa's Kruger National Park and surrounding private game reserves also offer terrific game viewing. The area has had a number of legendary encounters over the years, including one particular sighting that has come to be known as "The Battle of Kruger".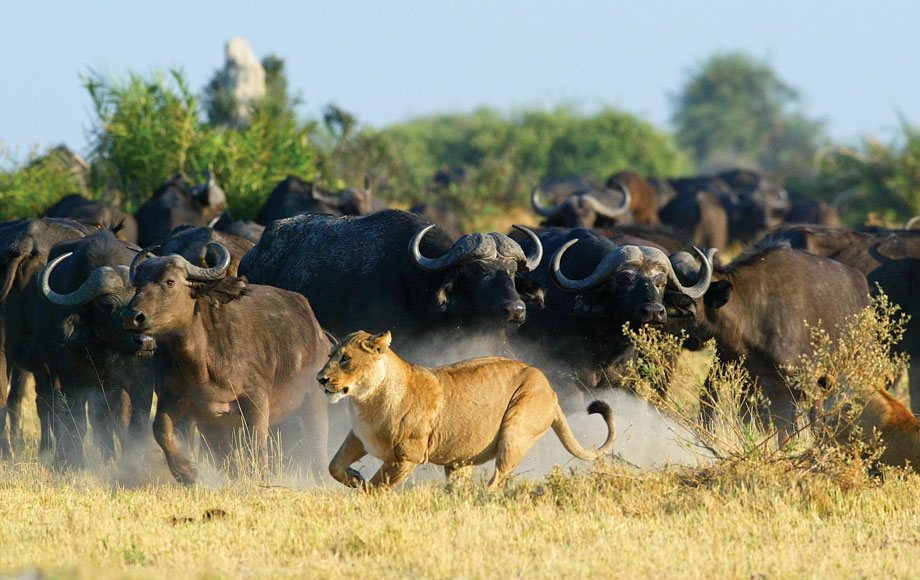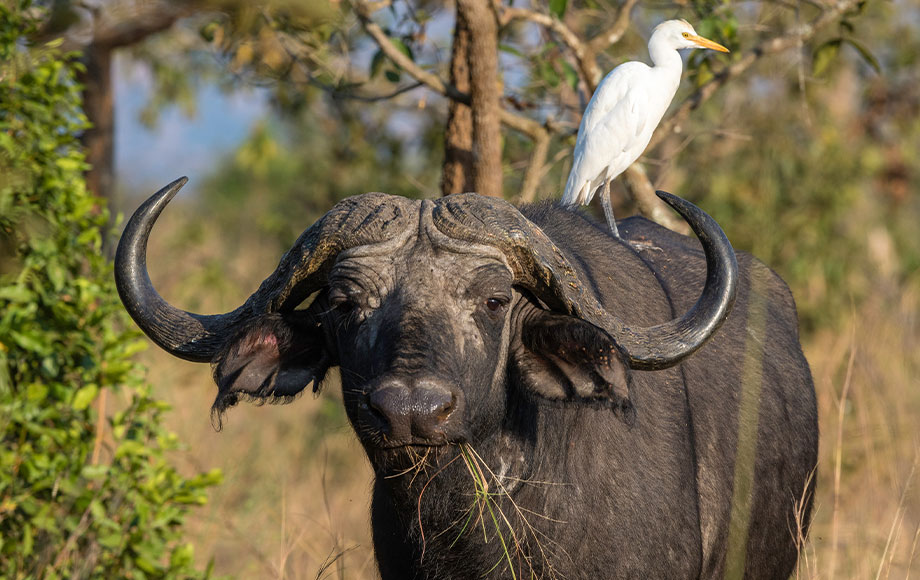 Why are old buffalo bulls often seen by themselves?
The main reason for this is age. These old bulls need the constant supply of soft, lush grasses, found most easily next to a perennial water source – such as the Chobe River. As their teeth start wearing down they need softer grasses that are easier to chew. Aside from food and water, the other reason is to wallow in mud. This is to keep them cool and to protect their skin from the heat of the sun.
Buffalo Facts:
Social
Cape Buffalos are incredibly social, living in herds. Herd sizes can reach a few thousand in size.
Protective parents
Buffalo are ultra-protective of their young from predators such as lion. The herd travels in a specific structure, with the young calves on the inside of the herd and the strongest bulls on the outside. They will also work together as a unit to counter a lion's attack. Buffalo also pose a serious threat to young lion cubs if they come across them.
Surprising swimmers
Surprisingly, buffalo are quite good swimmers. They will often cross deep water to find a better grazing area or even to escape predators.
JOIN OUR
E-Newsletter
Sign up to receive updates about exciting journeys, special offers and more