With human civilisation dating back thousands of years, Ethiopia is a land rich in history, culture and legend.
It is also a country with breathtaking scenery, with towering misty mountains inhabited by rare and unusual creatures, and an enormous lake that is the source of the Blue Nile.
Visit the medieval archaeological wonders of Axum, believed to be the ancient capital of Sheba, and the amazing rock-hewn churches of Lalibela. The Omo Valley in southern Ethiopia is home to many fascinating tribes, each with their own culture and customs. The Mursi are best known for their women, who display distinctive clay plates in their lower lips while the Bena and Ari adorn themselves with fabulous jewellery including intricate necklaces and metal armlets. The Hamer colour their hair, and their women wear beautiful beaded collars. If you are lucky, you may even witness their thrilling bull jumping ceremonies. This remote region has only recently become more accessible to outsiders, and sadly the traditional lifestyles of its peoples are already fast disappearing.
To find out more about our range of programs in Ethiopia, please download pages below or click here to download the Ethiopia section of our Africa brochure.
Historical Treasures of the North
Discover a fascinating Judaeo-Christian heritage which dates back thousands of years when you explore the ancient cities of northern Ethiopia.
At Axum, visit the Queen of Sheba's ruined palace, see giant Stelae and inspect 6th century tombs of former kings. Lalibela was built in the 12th century as the "New Jerusalem" and has 11 churches carved from the rock "with the help of angels". Gondar is a city of medieval castles and churches, including the 16th century church of Debre Birhann Silassie.
Lake Tana – Source of the Blue Nile
From the town of Bahar Dar you can tour enormous Lake Tana, source of the Blue Nile which eventually joins the White Nile and flows down to the Mediterranean.
Visit the dramatic Blue Nile Falls, also called Tis Isat or "Smoking Water". The lake is home to local fishermen who still use traditional papyrus fishing boats. Islands on the lake shelter mysterious monasteries such as Ura Kidane Mihret with its beautiful frescoes.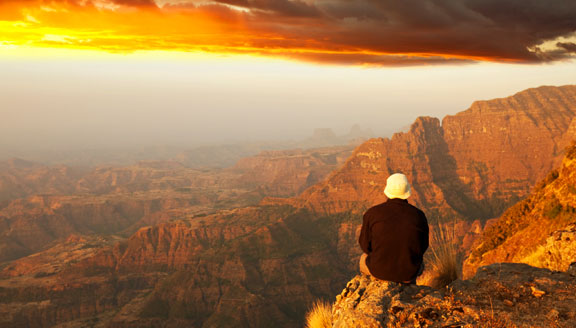 Simien Mountains
Ethiopia has some of the most spectacular scenery in Africa, and the remarkable Simien Mountains might well deserve first prize.
A massive plateau that has been dramatically eroded, this range is a collection of soaring jagged peaks, steep ravines and endless vistas. Sometimes called "The Roof of Africa" this World Heritage area has several peaks rising up over 4,400 metres, amongst the highest on the continent. Unusual wildlife here include the Ethiopian wolf, the Gelada baboon, the endemic Walia ibex, as well as klipspringer and bushbuck.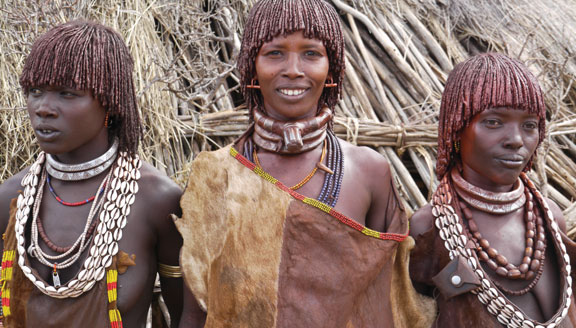 Tribes of the South
Southern Ethiopia is renowned for its intriguing tribal peoples who continue to follow traditional lifestyles.
The Mursi are amongst the most photographed, for their flamboyant body art, especially the unusual custom by the women of extending their lower lip with clay disks, and the dramatic stick fights by the men. The Hamer tribe are known for their colourful body art and beaded jewellery, as well as for their dramatic bull jumping ceremonies. The Konso people have many interesting cults, totems and symbols as well as a specialised agricultural system of stone terraces.
Featured
Ethiopia Sample Itineraries
Our selection of Ethiopia tours include both historical and tribal cultural tours, with accommodation in comfortable hotels. To find out more about the type of Ethiopia tour program we can put together for you, please download pages below.
Ethiopia Overview
Why should I travel to Ethiopia: Soaring mountains, a vast lake and breathtaking landscapes combine with a rich history and diverse cultures to make Ethiopia one of Africa's most fascinating countries.
What is the culture of Ethiopia: Northern Ethiopia has an ancient Judaeo-Christian heritage and many historic cities containing stone churches, forts and castles. The country's many tribal peoples still retain traditional lifestyles, each with their own language, customs, religious beliefs and body decoration.
When is the best time to go to Ethiopia: The climate varies according to the topography with the highlands having a temperate climate whilst the lowlands are very hot. The dry season runs from October to May and is the best time to visit. June to September is the rainy season and travel can be difficult.
What can I combine Ethiopia with: A wildlife safari in the national parks of neighbouring Kenya or in Tanzania farther south, to see big game.
How do I get to Ethiopia: There are regular flights to Addis from Nairobi, Dubai (with Emirates), and from Johannesburg in South Africa.
Do I need a Visa for Ethiopia? Please call us on 1300 363 302
Do I need vaccinations for Ethiopia? Please call us on 1300 363 302