Go in search of the magnificent Royal Bengal tiger, elephant, rhino, monkey and diverse birdlife on our unique India wildlife safaris and tours.
India's varied landscapes and climates support a huge range of wildlife and a multitude of bird species. The country has many wonderful national parks and sanctuaries, each offering a distinct wilderness experience.
The country has a huge range of endemic species and is also on the route of many wildlife migrations. It is home to three iconic big cat species and India remains the only country in the world where both tiger and lion can be found in the wild.
Take jungle safaris by 4WD in search of Royal Bengal tiger, Asian elephant, rare one-horned rhino, jackal, rhesus macaque, langur monkey, and many species of deer and antelope, as well as a wealth of birdlife. Watching elephants or the sleek Bengal tiger in the wild will be your most cherished memory of India. The country's wide range of wildlife reserves include Bandhavgarh National Park, Ranthambore Tiger Reserve, Corbett National Park, Gir Sanctuary, Kazaringa and Kanha National Park.
India Wildlife Safaris Highlights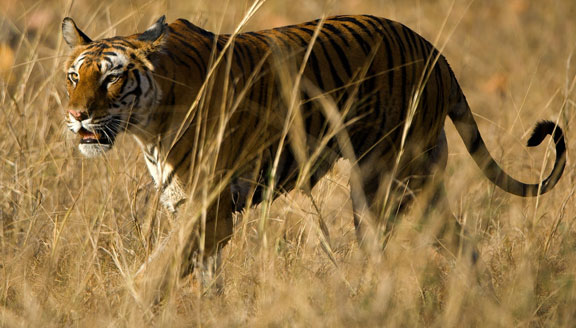 Tiger viewing in Bandhavgarh
Bandhavgarh was declared a national park in 1968 and is one of India's best places to see the Royal Bengal tiger. Once the hunting preserve of the Maharajas of Rewa, its landscape comprises of Sal forest and bamboo, dominated by a large hill on which sits an ancient fortress. The park has 22 species of mammal including of course, the famous tigers, a large population of leopard, chital and sambar deer, sloth bear, langur and red-faced monkeys, porcupine and gaur bison. The birdlife is amazing with 250 species of birds including colourful Indian rollers, parakeets, vultures and the Indian peacock. Tiger safaris are by 4WD.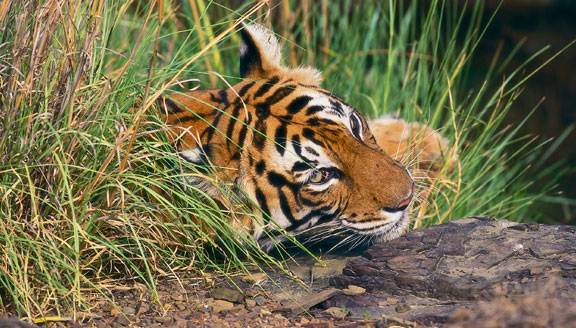 Tiger viewing in Kanha
The inspiration for Rudyard Kipling's wonderful "Jungle Book", scenic Kanha is a magnificent park rich in wildlife. Kanha National Park covers over 1,940 sq km of sal forest, bamboo thickets and open grasslands. The park shelters Royal Bengal tiger, leopard, hyena, jungle cat and abundant prey species such as swamp deer, sambar, chital, the 12 horned barasingha, chousingha, nilgai and black buck. On guided safaris by open 4WD, you might also see sloth bear, gaur bison, mongoose and many species of monkey.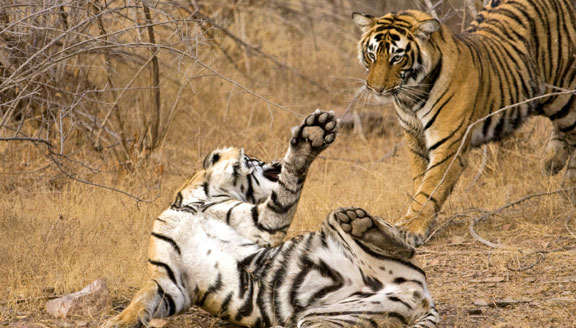 Ranthambore, one of India's finest tiger reserves
Once the private estate of the Maharaja of Jaipur, Ranthambore is one of India's finest and most famous tiger reserves. Rich in wildlife, it is also rich in history, with many ancient sites including the historic walled Ranthambore Fort. This beautiful park is famous for its stunning views as you search for its exotic residents, including tiger, leopard, striped hyena, jackal, caracal, civet, jungle cat, black buck, wild boar and sloth bear. Take an exciting jungle safari by cantor (open truck) accompanied by a local guide.
Wildlife-rich Corbett National Park
Featuring stunning landscapes in the hilly state of Uttarakhand in northern India, Corbett National Park is India's oldest. Established in 1936, the park was named after the famous conservationist and writer, Jim Corbett. The larger Corbett Tiger Reserve incorporates both the national park and neighbouring reserves, encompassing an area of 1,288 sq km. With its varied habitats of forest, grassland, mountains and plains, it has abundant birdlife and many large mammals like the Royal Bengal tiger, elephant, Himalayan black bear, sloth bear, crocodile, gharial and many species of deer and monkey. Game drives are by cantor (open truck) with a local guide.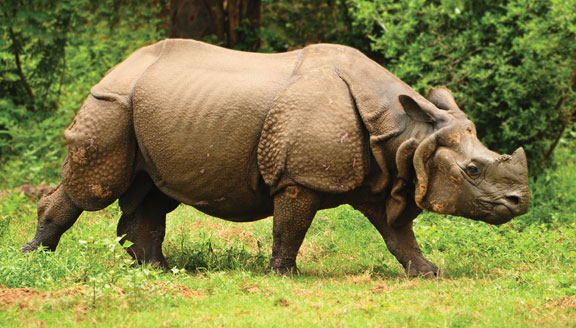 Rhino viewing at Kazaringa
Take a safari in Kazaringa National Park and seek out an incredible encounter with the rare one-horned Indian rhinoceros. Indian rhino weigh about 2,000 kg, have only one horn and a tough hide with folds, making them look as if they are wearing a coat of armour. Kazaringa covers an area of about 430 sq km and lies along the Brahmaputra River in Assam in India's far north east. It is a haven for the largest rhino population on the subcontinent as well as tiger, leopard, elephant, water buffalo, wild boar and swamp deer. The park has many open grasslands making wildlife viewing easier than in the more heavily wooded parks. The best time to visit is mid November to early April. Game viewing is by jeep.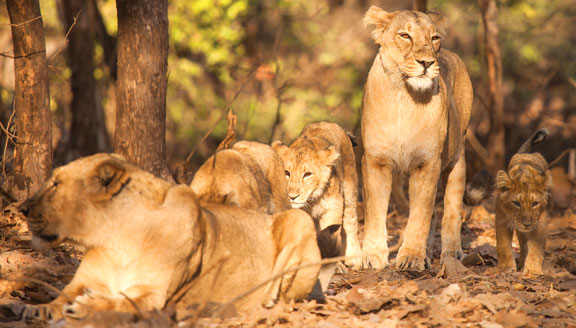 Gir Forest National Park
Gir Forest National Park is the only place in the world where the rare Asiatic lion roams free. Gir is also inhabited by over 200 species of bird. The forest is mainly comprised of dry, deciduous woodland. In addition to the Asiatic lion and abundant birdlife, the national park is also home to the world's only four-horned antelope – the chowsingha, whist other creatures often sighted include pythons and mugger crocodiles. Discover this exciting destination from The Gateway Hotel Gir Forest, which offers smart, contemporary accommodation on the fringe of this unique national park.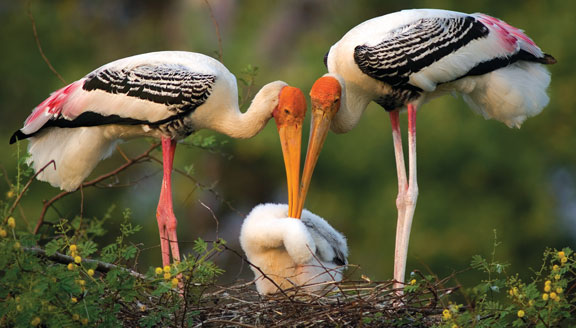 Keoladeo National Park
Formerly known as Bharatpur Bird Sanctuary, Keoladeo National Park is famous for harbouring in excess of over 370 avian species. Interesting large mammal species include wild boar, nilgai, sambar and hyena. Visitors to this World Heritage Site can walk, cycle or travel by rickshaw. Peaceful and close to the park entrance, The Birder's Inn is a popular base for excursions into this amazing national park. Bird numbers peak during the winter months of November-March.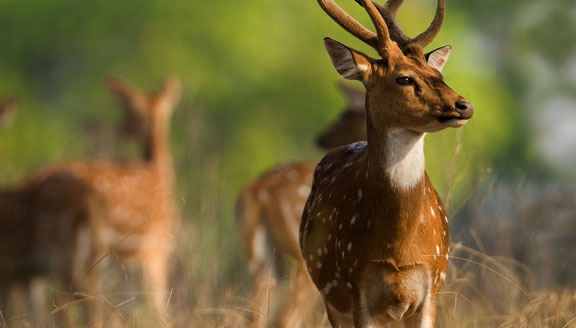 Kerala – Periyar & Nagarhole
The wonderful wildlife parks of south India are often overlooked, but they are well worth a visit, offering stunning scenery and wildlife viewing. Scenic Periyar National Park lies in the hills of the Western Ghats. It is known for its herds of elephants which can be seen bathing and drinking in Periyar Lake, as well as its tiger, buffalo, monitor lizard, wild boar, swamp deer and monkey species, including the rare lion-tailed macaque and Gee's golden langur. Nagarhole National Park and the Kabini River in beautiful Kerala also have abundant wildlife such as tiger, leopard, elephant, sloth bear and crocodile. Stay at Orange County Kabini retreat and go game viewing by boat, on foot or in 4WDs.
Wildlife Lodges in India
Bandhav Vilas offers charming, villa-style accommodation close to Bandhavgarh National Park, one of the best places in India to view the Bengal tiger.
More India Tours
This relaxed cruise explores Kerala in south India, a tranquil region characterised by spice plantations, beautiful beaches and languid backwaters.
This classical India itinerary combines Mughal treasures such as the Taj Mahal with the royal architecture of Rajasthan's most famous cities.
This classic Golden Triangle India Tour takes in the architectural treasures of Delhi, Jaipur and of course, Agra's magnificent Taj Mahal.
This tour combines the holy Sikh city of Amritsar with beautiful hilltop towns including McLeod Ganj, present home of the Dalai Lama.
Uncover the crown jewel of India's natural heritage - the royal Bengal tiger - along with the most famous sights of the Golden Triangle.
Visit the glorious Taj Mahal before touring Rajasthan with its royal palaces, walled cities, medieval fortresses and fascinating temples.
India Wildlife Safaris and Tours Overview
Why India Wildlife Reserves Safaris & Tours: India's wildlife reserves are a haven for many remarkable and endangered creatures like tiger, rhino, leopard and sloth bear. A wildlife safari combines beautifully with India's cultural highlights.
When to Go:
Bandhavgarh National Park: Feb – May is the best time for gameviewing; the park is closed from early Jul to end Oct.
Corbett National Park: The best time for tiger viewing is the dry months of Apr – mid Jun, when wildlife come out in search of water. The best birdwatching is between Dec – Feb.
Ranthambhore National Park: The best time to go is in winter (Dec – Feb) and Mar/Apr. The park is closed during the monsoon; it reopens on 1 Oct.
Kanha National Park: Best time to visit is Mar – Jun. Park closed during monsoon from beginning Jul – Oct. Also closed midday to give respite to wildlife.
Kazaringa National Park: Best visited from mid-November to early April. The low-lying grasslands are flooded during the monsoon. During the floods, the animals migrate to higher, drier ground.
Periyar and Nagarhole National Parks: The best time to go is in the cool dry months (Oct- Feb) and during the hotter months of Mar/Apr for elephant viewing. The park is open during the monsoon period (June – Sep); but it is not the best season for spotting game.
Combine With: Safaris to India's wildlife reserves are usually part of a general sightseeing itinerary which include India's many cultural and historic attractions. They can also be combined with the wildlife parks of neighouring Nepal, Bhutan or Sri Lanka.
Getting There: The national parks of northern India can be accessed from major cities such as Delhi, Jaipur and Guwahati (Kazaringa). In South India, Periyar and Nagarhole/Kabini can be reached from Kochi, usually as part of an overland itinerary.