There's little doubt that Zimbabwe's breathtaking national parks offer some of the most spectacular game-viewing in Africa.
Despite the difficulties the country has experienced in recent years, you would be hard-pressed to find a more welcoming people. With some of the most highly-trained safari guides in Africa, guests can rest assured that Zimbabwe will provide you with one of the most raw and exciting safari experiences in Africa.
Zimbabwe's national parks provide some of the best overall game viewing in Africa. At the top of the list are Hwange and Mana Pools national parks. Reached by road from Victoria Falls, Hwange is home to an abundance of wildlife as well as over 400 bird species. The park is renowned for its vast herds of elephant whilst predators including lion, rare African wild dog and cheetah can also be seen here. Mana Pools in the countries north is a mosaic of pools, islands and forests on the Zambezi River set opposite a magnificent escarpment. 
Zimbabwe is also renowned for walking and canoeing safaris and Mana Pools National Park on the Zambezi River offers some of the most exciting wildlife adventures in all of Africa. These types of safaris take guests out into the wilderness and offer an intimate, unrivalled safari experience. Guests are accompanied by expert guides who have undergone some of the most rigorous training on the continent. A canoe safari along the Zambezi River remains one of African Wildlife Safaris CEO Steve Cameron's favourite safari experiences – and one he has enjoyed on 7 occasions!
Of course, no visit to Zimbabwe is complete without exploring the majestic Victoria Falls and there is far more to do here than just viewing the falls. Sunset cruises, white-water rafting, helicopter flights and sitting on top of the falls in Devil's Pool are just a few of the many options to consider.
Our Recommended
Zimbabwe Itineraries
Explore some of the experiences that we can custom-design for you. All of our safaris and tours are tailor-made to suit your interests, budget and timeframe.
This safari explores three of Zimbabwe's greatest highlights: Hwange National Park, breathtaking Mana Pools National Park and Victoria Falls.
Our Recommended
Accommodation in Zimbabwe
The lodges we use in Zimbabwe operate successfully in remote, wildlife-rich areas and the standard is as good as anywhere in Africa. Our portfolio includes some of the most coveted accommodation from opulent camps with private plunge pools to intimate, rustic safari chic. All are located in major game areas like Hwange or Mana Pools, or in private concessions close to the action. Victoria Falls, often the start or end point of many southern African safaris, is no exception – the Victoria Falls Hotel built in 1904 exudes colonial Edwardian charm.
Bumi Hills Safari Lodge boasts one of Africa's finest wilderness locations set on a series of hilltops overlooking Zimbabwe's vast Lake Kariba.
Secluded Kanga Camp sits next to a pan that is the only source of water available all year round in a very untouched inland section of Mana Pools National Park.
Linkwasha Camp nestles in an exclusive private concession in Hwange National Park's remote southwest, next to a pan that attracts prolific game all year round.
Intimate Little Makalolo Camp lies in one of the most prolific gameviewing areas in Zimbabwe's magnificent Hwange National Park, with wildlife in abundance all year round.
Set on the banks of the mighty Zambezi River, Ruckomechi Camp has been a favourite with visitors to the breathtaking Mana Pools National Park for many years.
Tucked away on a secluded island surrounded by seasonally inundated floodplains, Somalisa Camp offers guests a stylish base from which to discover the richness of Zimbabwe's Hwange National Park.
The Elephant Camp offers sublime vistas over the lush rainforest surrounding the majestic Victoria Falls as well as a view of the waterfall's soaring clouds of spray.
The gracious old-world Victoria Falls Hotel is steeped in history and sits beneath shade trees and manicured gardens now over a century old.
The award-winning Victoria Falls Safari Lodge nestles in bushland atop a plateau, just 4 kilometres from the majestic Victoria Falls.
Recommended
Best places to go in Zimbabwe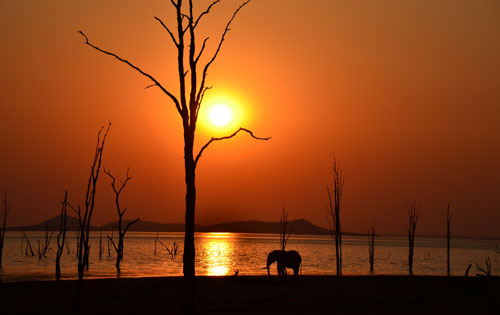 Matusadona National Park on the shores of Lake Kariba in Zimbabwe's north is far from tourist hubs, and offers beautiful scenery, a peaceful atmosphere and fantastic wildlife viewing.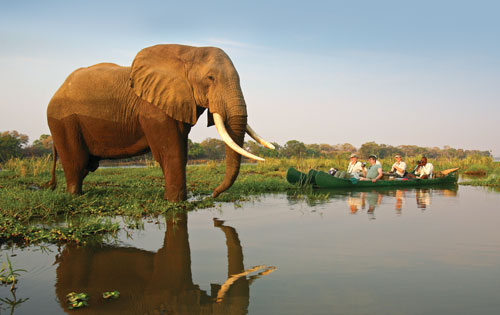 Zimbabwe's Mana Pools National Park offers amazing scenery, abundant wildlife as well as unrivalled opportunities for walking and canoeing safaris.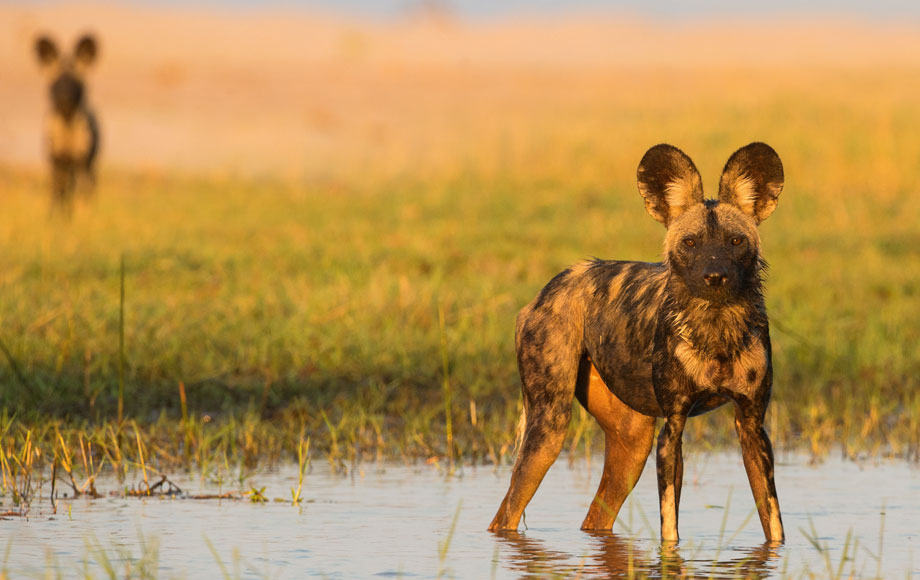 The Upper Zambezi lies far from tourist hubs, offering beautiful scenery, peaceful atmospheres and fantastic wildlife viewing.
Victoria Falls is Africa's most iconic waterfall and a very popular destination in Zimbabwe, with a wide range of activities and hotels for travellers to choose from.
Zimbabwe FAQ
Can I see the Big 5 in Zimbabwe?
Yes – Zimbabwe is famous for its wildlife, in particular its huge herds of elephant in Hwange National Park. Buffalo, lion and leopard are also found across the country. Black and white rhino, once plentiful, are now restricted to select areas of Zimbabwe. 
Where can I see African Wild Dog?
African Wild Dogs can be seen in both Hwange and Mana Pools national parks. In 2019 a pack was translocated from Hwange to Mana Pools National Park and, after being held in a boma (enclosure), have since been released. 
Best canoeing safaris in Africa?
For those looking for a little more adventure, there might not be a better safari in Africa! A thrilling experience that provides close encounters to some of Africa's most iconic wildlife, canoe safaris are led by an armed, professional guide. The best place for canoeing safaris is on the Zambezi River in renowned Mana Pools National Park.
Best walking safaris in Africa?
Zimbabwe also offers some of Africa's best walking safaris and Mana Pools National Park is one of the best regions to do this. Each morning leave at sunrise and walk leisurely through the African wilderness to your next fully-serviced mobile camp. Stop en-route to look at animal tracks, interesting plants and of course, keep an eye out for the animals themselves. 
When is the best time to visit Zimbabwe?
The dry season (June-October) is the best time for game viewing as the bush dries out and game congregates at the precious remaining waterholes. The best time to see the Victoria Falls is early in the dry season (June to August) when there is still an impressive amount of water flowing. Late in the dry season (September-October) there will be much less water going over the Victoria Falls. Hwange National Park is open year round while Mana Pools National Park is open seasonally during the drier months between mid-April to mid-November.   
The seasonal rains are beginning to slow from April as the landscape starts to dry out. From mid-April Mana Pools National Park re-opens.
June is traditionally when visitor numbers start to increase, but not yet at their peak. Temperatures can get very chilly during the night and on the early morning game drive. From August the camps are completely full, but prime game viewing areas on private concessions offer exclusivity. Wildlife sightings are at their best during this time and October offers peak game-viewing when the parks are at their driest.
Can be a fabulous month to visit Zimbabwe. Early November may be as good as October if the rains hold off, whilst it is a much quieter time to travel and can also offer plenty of savings. There is the potential for thunderstorms in the afternoons but they can clear as quickly as they arrive. 
Zimbabwe's quietest time of year due to the rains. The landscape is utterly transformed into lush grasslands and it is still a fantastic time for keen birdwatchers to visit. March is also a good time to visit Victoria Falls as high water-level create plumes of spray and multiple rainbows.
What is the best thing to do in Zimbabwe?
Zimbabwe offers plenty of fabulous safari experiences and the two major national parks – Hwange and Mana Pools – are top of the list when visiting the country. For the more adventurous, Zimbabwe is one of the best countries across Africa for walking and canoeing safaris, whilst the magnificent Victoria Falls is a must-visit.
What is the climate like in Zimbabwe?
Overall the country has a pleasant climate but temperatures vary with elevation. The highveld has a moderate climate (up to 29°C in summer) though hotter in the Zambezi Valley and around the Victoria Falls where temperatures can reach 40°C. The dry season is from May-October when almost no rain falls and the days are warm and sunny. Nights can be very cold with sub-zero temperatures from June-August. October is the hottest month with days in the mid to high 30°s. Rain falls regularly in the summer (November-March/April) turning the bush lush and green.
How do I get to Zimbabwe?
The easiest way into the country is from the South African hub of Johannesburg. Multiple major airlines fly into the city including British Airways, Etihad Airways, Qatar Airways, Delta Airlines, Qantas, and of course South African Airways. From Johannesburg there are regular flights to Victoria Falls, the start and end point for many safaris. Alternatively, for an Edwardian-style, luxury rail experience, journey by Rovos Rail from Pretoria in South Africa to Victoria Falls.
What can I combine Zimbabwe with?
Zimbabwe is easily combinable with neighbouring countries including Botswana, Zambia and South Africa – all of which provide a different safari experience. Another popular combination with a Zimbabwean safari is a visit to Uganda or Rwanda to see the mountain gorillas.
Want to know more about Zimbabwe?
See below or visit our FAQ page for information on all our destinations.