Travel to Egypt with African Wildlife Safaris the experts in tailor made tours and discover the pyramids, crypts and treasures of the Nile.
Discover the ancient Pyramids, Crypts & Tombs of Egypt.
Step back in time and explore the cultural treasures, rich history and spectacular desert landscapes of Egypt. A fascinating mix of old and new, Egypt offers ancient historic sites, exotic culture, colourful souks, tantalising cuisine, a sunny climate and gorgeous beaches.
Be awed by the immense Great Pyramids of Giza and the enigmatic Sphinx, and explore Cairo's churches, mosques and bustling bazaars. Sail down the River Nile passing ancient temples and picturesque villages. Wander beneath the giant columns of Luxor and Karnak temples, marvel at long-hidden pharaohs' tombs and spend hours learning about Egypt's glorious past inspecting the treasures on display in its museums.
Like the explorers of centuries past, the best way to discover Egypt is aboard a riverboat cruising slowly down the Nile. Choose from our handpicked selection of vessels, from small ships to intimate dahabiyas (traditional sailing boats). Each day guests enjoy guided excursions to some of the country's major highlights before returning to the comforts on board.
Best places to go in Egypt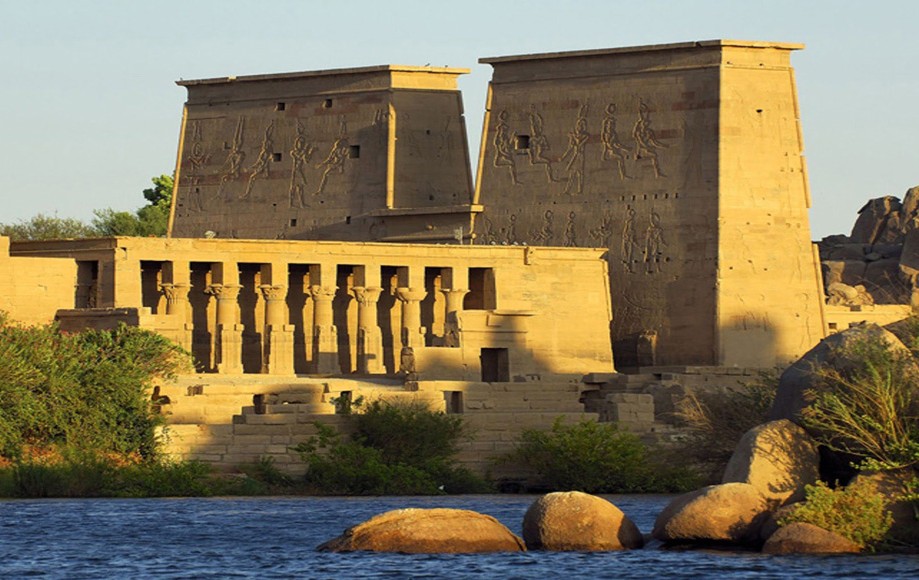 Aswan marks the beginning or end of many Nile cruises and is an ideal spot to relax for a few days pre or post cruise.
Best Egypt Safaris & Tours
Explore some of the experiences that we can custom-design for you. All of our safaris and tours are tailor-made to suit your interests, budget and timeframe.
Discover the wonders of the ancient Egyptians on this unique 15 day cruise aboard the Mövenpick Darakum.
Cruise in style aboard Sanctuary Retreats fleet of beautiful cruise boats, which bring legendary service and a boutique experience to the Nile River.
Founded by Alexander the Great in 332 BC, Alexandria was the capital of Greco-Roman Egypt for almost 1000 years.
Situated 280 kilometres south of Aswan, the majestic Temple of Ramses II at Abu Simbel is the most impressive monument in Egypt.
Unlock the mysteries of ancient Egypt on this fascinating tour that combines the cultural treasures of Cairo, Luxor and Aswan with a romantic cruise down the Nile.
Explore the Nile in luxury on an unhurried cruise aboard the exclusive Oberoi Zahra. This is the ultimate Egyptian tour, allowing you to discover 5,000 years of Egyptian culture at a leisurely pace
Explore the antiquities of Africa on this 16 day tour to Tanzania and Egypt. Explore the Pyramids of Giza and Marvel at the mighty Shypnx
Discover the mysteries of myth and religion on this fascinating tour that combines the ancient lands of Egypt and Jordan.
Return to the gracious era of turn of the century travel and cruise the Nile in style on board a traditional sailing boat called a dahabiya.
Accommodation in Egypt
Explorers and intrepid travellers alike have been touring Egypt for centuries – the centrepiece of which was a classical cruise down the Nile aboard a steam ship or exclusive sailboat. Major cities such as Luxor and Aswan are home to beautiful Victorian-style palaces built in the 19th century that bring a level of opulence and grandeur reminiscent of the golden-age of expedition travel.
There are also a number of traditional 19th century riverboats (known as dahabiyas) that take just 14-20 guests and offer a personal and intimate experience. Most Nile cruises are aboard larger vessels with air-conditioned rooms, restaurants, sun decks and rooftop pools. Whilst on board guests enjoy daily guided excursions to visit the sites along the Nile, mainly between Luxor and Aswan. 
Talk to our Egypt Expert
Our resident Egyptologist, Hany grew up in Giza and spent his childhood years marvelling at the pyramids. This inspired him to study Egyptology at the University of Cairo before going on to lead tours across the length and breadth of Egypt. His favourite place to visit is the Valley of the Kings, and he loves the colours, decorations and stories that are inscribed within the tombs.
Why should I visit Egypt? 
Egypt is a destination in itself; offering travellers a mouth-watering combination of ancient history, diverse cultures, awe-inspiring architectural wonders and relaxing river cruising. This exotic destination is also perfect for sun-seekers with warm, dry days for most of the year. The scenery is unique, with the mighty Nile River creating swathes of lush greenery amid vast expanses of stark desert. 
What is the climate in Egypt? 
Cairo has a milder climate than the southern part of Egypt; however temperatures between May-Oct may reach 30°-36°C. The rest of the year is warm to mild, and it can get quite cold on winter nights. Although fairly hot all year round, Luxor and Aswan experience their most extreme temperatures from June-August (30°-45°C). Nights are cool in winter and hot in summer (24°-26°C). 
What can I combine Egypt with? 
Egypt is best combined with neighbouring Jordan and Israel. Both countries compliment a visit to Egypt with further historic Middle-Eastern sights such as Petra, Bethlehem and Jerash. A little further afield, the United Arab Emirates and Oman are other popular destinations to visit. Alternatively Egypt can be combined with a safari in Tanzania – perfect during the months of December to March.   
How to get to Egypt? 
There are regular flights between Egypt's capital Cairo and the Middle East as well as many major European cities. The country's chief carrier – Egypt Air – also fly to North American cities including New York and Toronto. Egypt Air also offer internal connecting flights to major hubs including Luxor, Aswan and Abu Simbel.      
US – There are plenty of options to choose from when travelling between North America and Egypt. Egypt Air offer direct flights to Cairo from both Washington DC and New York. Alternatively European airlines to consider with just one stopover include British Airways, Lufthansa and Turkish Airlines.  
Europe – Egypt is easily reached with direct flights between Cairo and almost every European airlines major carrier. Alternatively Egypt Air fly to over 20 cities across Europe.