Encounter the hidden gems
of Canada & Alaska
Encounter grizzly bears and whales, cruise hidden inlets of mountains and glaciers, explore the Rockies by rail, view polar bears, and discover pristine wilderness on our Canada & Alaska tours and cruises.
Straddling the north of the Americas, from cosmopolitan Vancouver to the remoteness of the Arctic tundra, Canada & Alaska offers something for everyone. Find out more about these incredible regions with our partner brand, Natural Focus.
Our Alaska & Canada Tours offer a range of magnificent experiences, from small-ship cruising the Inside Passage to the Rocky Mountain rail journeys, back country wildlife lodges, polar bear viewing and the Aurora Borealis. You can cruise beneath glaciers one day and then explore romantic cities like Vancouver, Montreal and Quebec the next.
We offer personalised holidays, where you choose the experiences, tours and accommodation that you want. Rather than big ships with thousands of passengers we offer a choice of small cruise ships and luxury yachts which get you close to the action. Join one of our guaranteed departures, select from one of our many specially designed itineraries, or let our experienced Canada & Alaska travel specialists tailor-make a trip to suit your specific interests and budget.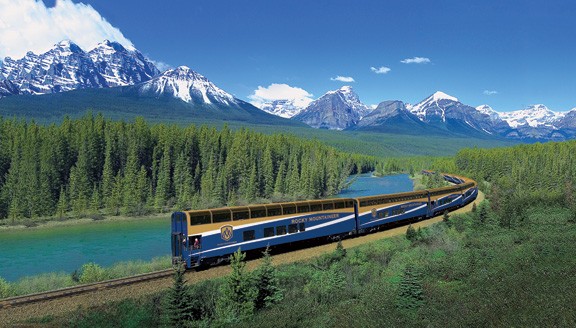 Canada
Canada tours offer spectacular scenery, abundant wildlife, beautiful cities and a world of adventure. Discover glaciers, forests and emerald lakes, go whalewatching by boat, kayak or canoe, see bears from a lodge, explore Vancouver and embark on a scenic rail journey through the Rocky Mountains…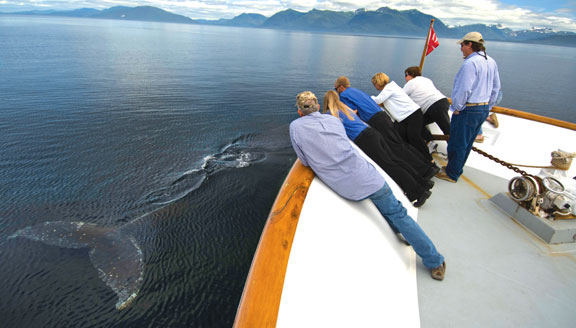 Alaska
Alaska is wild nature on a grand scale. It is a destination of stunning scenery, and incredible wildlife-viewing opportunities. Our Alaska tours and cruises explore the fjords and inlets of the famous Inside Passage, look out for bears and moose, kayak around icebergs and explore Denali National Park…
Highlights of Canada & Alaska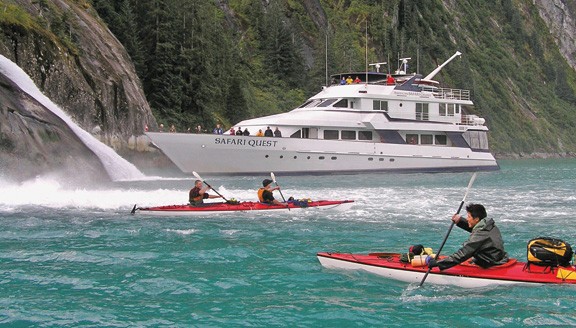 Un-Cruise Adventures
With the emphasis on both adventure and comfort, our Un-Cruise Adventures explore Alaska's stunning wilderness by small expedition ship or luxury yacht. Journey far from the crowds and get close to whales, bears and sea lions, kayak around icebergs, see glacier calving, go stand up paddleboarding and hike through verdant forests.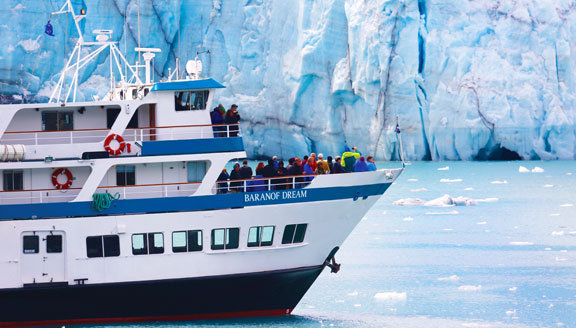 Alaskan Dream Cruises
Alaskan Dream Cruises have 50 years' experience in Alaska's pristine southeastern waters. Their itineraries offer unforgettable opportunities to go ashore into ancient forests, remote towns and indigenous communities. Activities on all their small ships ensure an authentic, up close and sustainable experience of this wild state.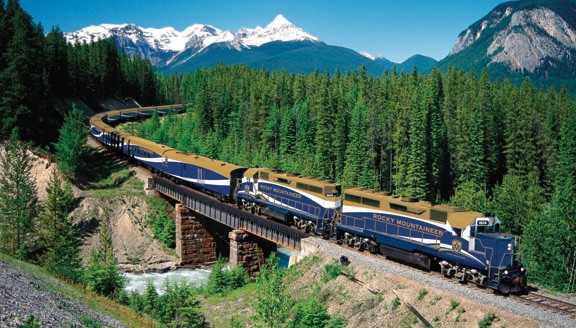 Rocky Mountaineer Train
Explore the magnificent scenery of British Columbia and Alberta on the famous Rocky Mountaineer. Be dazzled by snowy mountain peaks, glacial lakes, waterfalls, and ancient forests. All tours take place in the comfort of Rocky Mountaineer's rail coaches during daylight, so you won't miss a minute of the diverse beauty and awe-inspiring scenery of Canada's West.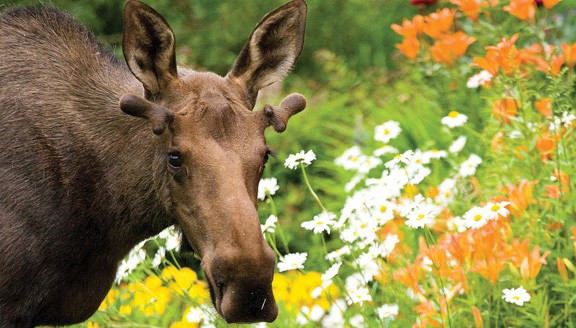 Denali National Park
This huge national park (6 million acres) is a scenic wilderness with a vast array of wildlife, such as grizzly bears, caribou, moose, wolves and many species of raptors. It is also home to Mt Denali (formerly known as Mt McKinley), the highest peak in North America. Within Denali are a few select backcountry lodges that offer comfortable, cosy accommodation in a picture postcard setting.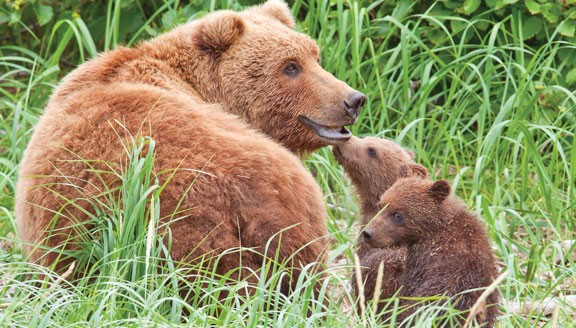 Katmai Wilderness Lodge
Alaska's Katmai Wilderness Lodge claims to offer "the world's most spectacular bear viewing", and few would argue. This is the only private lodge on the coast of Katmai National Park's 3.6 million acre wilderness renowned for its healthy population of grizzly (brown) bears. The preserve is also famous for its volcanoes, rugged landscapes and plethora of other wildlife.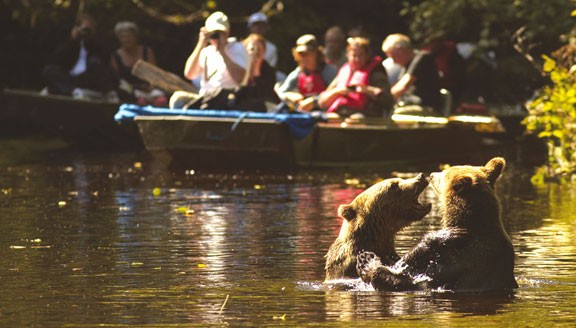 Knight Inlet Lodge
Knight Inlet Lodge has a reputation for being one of the best places to view grizzly (brown) bears in the wild. This comfortable, rustic floating lodge is nestled in the only protected cove on the 100 mile long inlet, where its only neighbours are bears, mountain goats, otters and eagles! Each day is filled with activities accompanied by trained naturalists.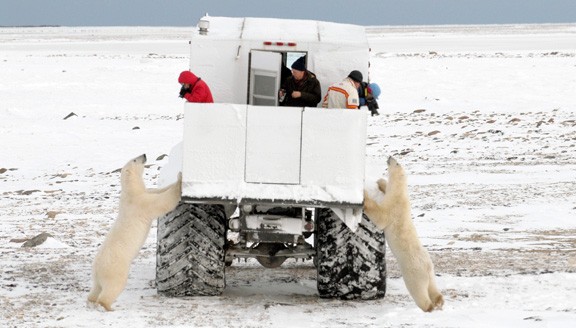 Polar Bear Viewing
Experience one of the world's great wildlife adventures on the shores of Hudson Bay in Manitoba. Each year in the autumn, scores of polar bears gather, waiting for the bay to freeze over so that they can venture out onto the ice to hunt for seals, their favourite prey. The world's largest carnivore, magnificent polar bears can weigh up to 500 kg and stand up to 3 metres tall.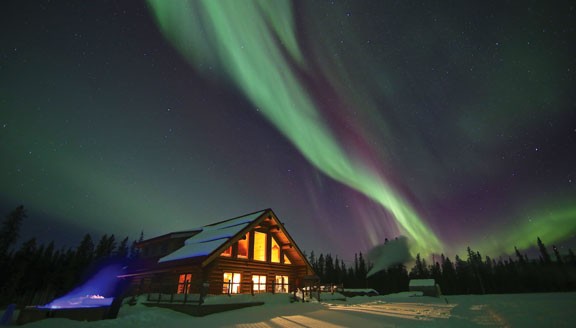 Aurora Borealis
Be thrilled by the sight of the spectacular Aurora Borealis at the Northern Lights Resort & SPA, just 20 minutes south of Whitehorse. This charming resort is set in a clearing which provides uninterrupted views of these ethereal dancing lights. As the Northern Lights Resort & SPA is a prime location in the Yukon area to see the elusive Northern Lights, we urge you to book early.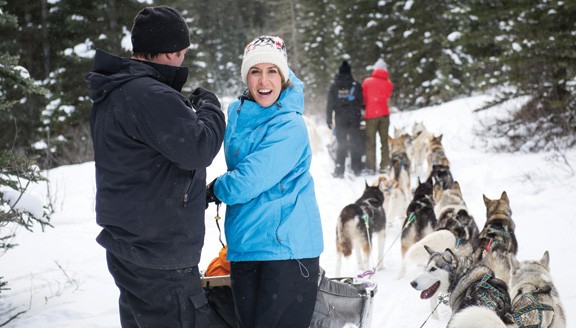 Dogsledding
On this exhilarating wilderness experience, you will drive your own dog team and be taught all aspects of mushing. You will spend a number of days mushing on trails through some of the most spectacular landscapes in the Yukon – challenging but so much fun! To participate, you must be physically fit, enjoy working with dogs and have good team spirit.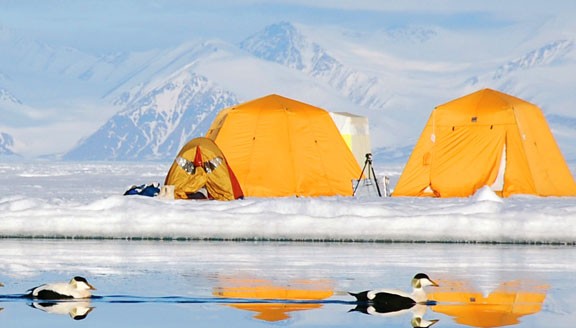 Arctic Kingdom Land Expeditions
Embark on an exciting small-group land and ice-based expedition to discover the true nature of the Arctic – from pods of whales to polar bears, tundra flora to stunning vistas of icebergs beneath vivid blue skies. Gain insight into the rich ancient culture of the Inuit on visits to remote local communities and excursions led by knowledgeable Inuit guides.
"I would certainly like to return to SE Alaska and would have no hesitation in recommending this trip. The crew were very professional and their enthusiasm about the beautiful pristine environment was infectious. Glacier Bay was certainly one of the highlights of the week and being able to get so close to the glaciers, either in…"
"My partner and I chose the Inner Passage Cruise with Natural Focus because we preferred the adventure aspect of wilderness areas, either by ourselves or with small groups…saw harbour seals pop their heads up and an otter catching a fish and eating it on a log in front of us was amazing…we have booked our next adventure…"
"Natural Focus took care of all our bookings and transfers and everything went so smoothly. My second trip to Antarctica with Natural Focus – a once in a lifetime trip….again! An expedition, not a cruise. Killer whales and humpbacks swimming around our zodiacs.Huge colonies of nesting adelie, gentoo and chinstrap…"
"A trip of a lifetime has become a reality for us. This journey was all that we imagined, and more – a wonderful exhilarating experience. Our every need was catered for – during the booking process, at arrival and departure points and during the cruise. The staff of the boat helped to make this trip an experience of a lifetime, one, to never forget. Thank you!"