Canada City Stays & Day Tours
Explore Canada's city stays &
day tours with Natural Focus
Canada is home to a wealth of vibrant, historic cities, from cosmopolitan Vancouver on the Pacific Coast to sprawling Toronto at the edge of Lake Ontario, and all the way up the great St Lawrence River to the two French-speaking metropolises of Montreal and Quebec City.
Many explorations of British Columbia and Alberta begin in Vancouver, a beautiful city that deserves a few full days of dedicated discovery. Highlights here include Stanley Park with its scenic seawall, charming old Gastown and the Capilano Suspension Bridge Park, whose treetop walkway has thrilled visitors since 1889.
From Vancouver, you can take a luxury train or follow the spectacular Sea-to-Sky Highway up into the Coast Mountains, where the famous resort town of Whistler awaits. In the warmer months, Whistler offers fantastic golf courses, as well as hiking and biking opportunities, while in winter, it is mecca for snowsports.
Further up in the Canadian Rockies, accessible by both road and rail, are the pretty alpine towns of Banff, Jasper and Lake Louise. Each has its own distinct personality, while offering fabulous accommodation options and access to a wide range of outdoor activities from hiking, canoeing and biking amongst stunning mountain scenery.
South of Vancouver lies Victoria, the handsome capital of BC. Renowned for its well-preserved colonial-era public buildings, this city is where you'll find the perfectly manicured Butchart Gardens. There are also a wide range of seasonal boat tours that visitors can take from Victoria to see the orcas, dolphins and whales that inhabit the surrounding waters.
At the start or end of a number of rail routes, Calgary in Alberta is most famous for the Calgary Stampede. Relive the cowboy days of the old frontier during the "Greatest Show on Earth", which takes place every July. This ten-day event features one of the world's largest rodeos, with chuckwagon races, concerts and agricultural competitions.
In Ontario, you'll find Canada's largest city – Toronto, which is home to one of the tallest freestanding structures in the world, the CN Tower, at an impressive 553.33 metres. From here, the magnificent Niagara Falls is merely a day trip away.
East of Ontario is Quebec, Canada's only predominantly French-speaking province. Its two largest cities lie on the Saint Lawrence River, a major waterway whose southern reaches form the border between the United States and Canada. Quebec City harbours 400 years of history and its Old Town is the only fortified city north of Mexico. Chic Montreal is full of Parisian-style streets lined with trendy patisseries, pavement cafes and traditional bistros. Both cities are well worth a visit for their tantalising fusion of European charm and contemporary Canadian culture.
Our
Brochure Pages
Select the 'Download Brochure Pages' tabs to download and view pages from our Canada & Alaska brochure.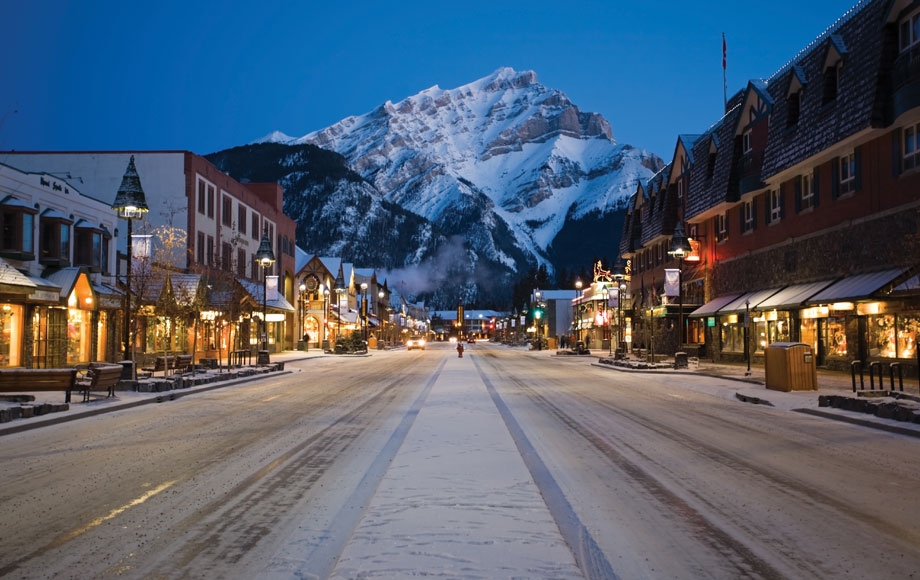 Banff
In the heart of the majestic Canadian Rockies, Banff is surrounded by snow-capped mountain peaks, wild rivers and hot springs. Visitors can ride the Banff Gondola to the top of Sulphur Mountain for panoramic views or choose from many outdoor activity options from horseback riding to flightseeing and rafting.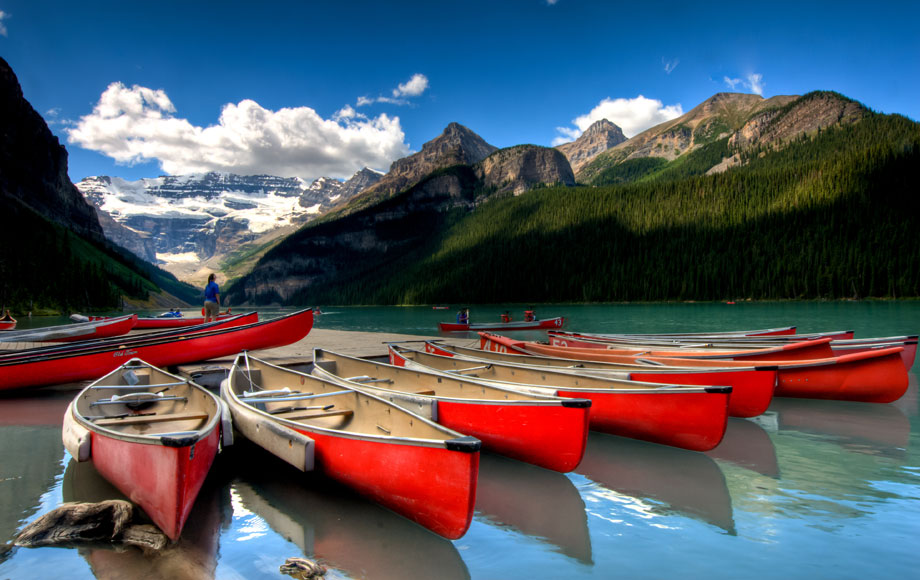 Jasper
Scenic Jasper is set amid thickly forested mountain slopes and many jewel-toned lakes, making it the perfect base for outdoor adventures from hiking and canoeing to golf. The town lies at one end of the famously scenic Icefields Parkway, which runs through the stunning Jasper and Banff national parks to Lake Louise in the south.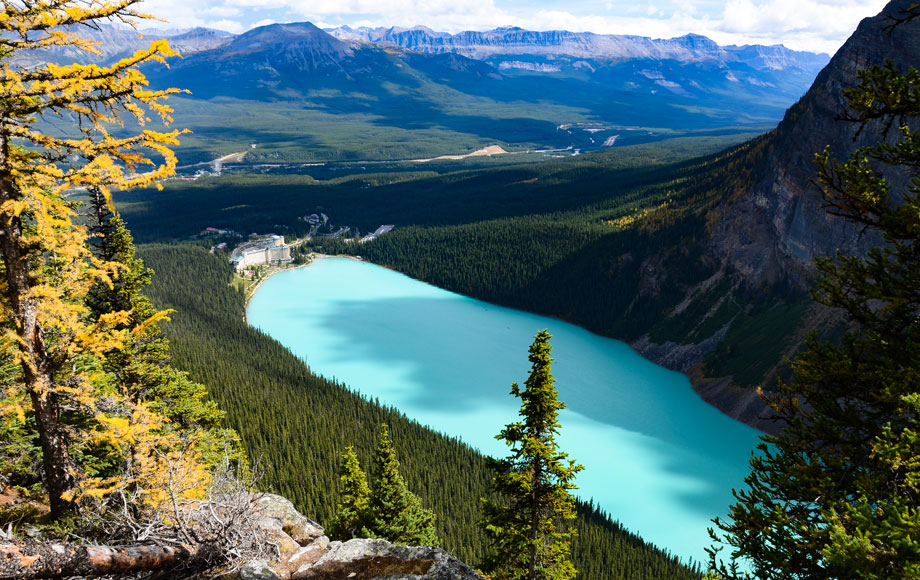 Lake Louise
This attractive hamlet shares its name with one of Canada's best known lakes, which lies a mere 5 kilometres west of town. The iconic Chateau Lake Louise on the lakeshore was built by the Canadian Pacific Railway at the turn of the century to attract rich tourists, and remains today, one of the most popular accommodation options in the area.
Toronto
The most populous city in Canada, Toronto has all the attractions of a modern metropolis from a thriving dining scene and great shopping to plenty of major league sporting events. The city is also the Canadian gateway to the impressive Niagara Falls, where visitors can board a boat which sails to the base of the dramatic Horseshoe Falls.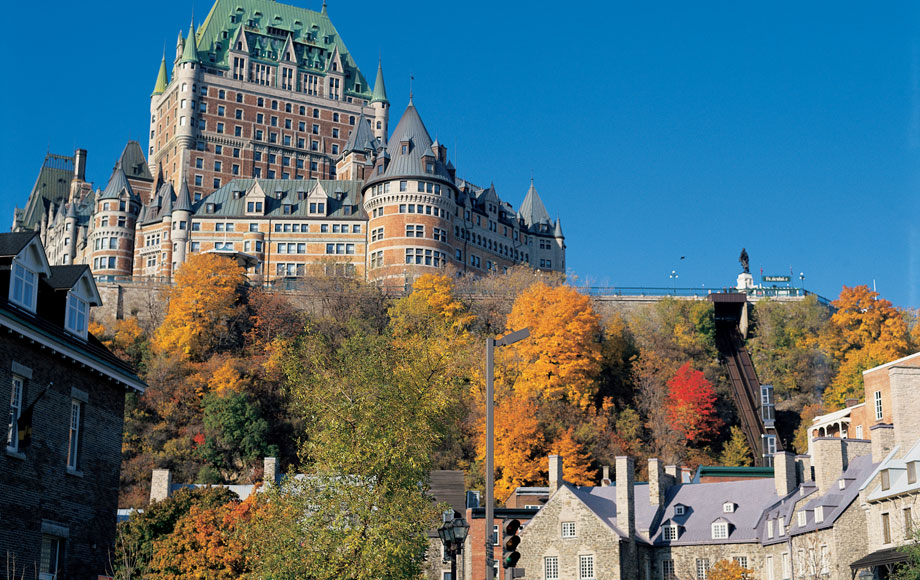 Quebec City
Capital of Quebec province, this atmospheric city has many beautiful landmarks, with World Heritage-listed Old Quebec at its heart. The most recognisable ones include the imposing Chateau Frontenac and La Citadelle, the oldest military building in Canada. The fortified walls surrounding Old Quebec are famously also the only ones left north of Mexico.
Canada Overview
Why Canada?: Spanning the top of north America from the Pacific to the Atlantic, this huge country offers majestic scenery, unspoiled wilderness and incredible wildlife and adventure opportunities. At the same time Canada is a modern country with sophisticated cities, world class accommodation and excellent rail, road and air network.
When to Go: From May to September is the best time for cruising and touring in Canada when the weather is at its finest. Temperatures and daylight hours vary depending on latitude, and the coast is more moderate than inland regions which have long hot summers and very cold winters.
Grizzly bear viewing is generally good from June until October and Polar Bear viewing around Churchill is possible from July to November. November to April is the time for winter wonderland experiences, skiing, dog sledding and the Northern Lights.
Combine With: Alaskan holidays like Inside Passage cruising and wildlife viewing. Canada can also be combined with Arctic cruising and ice based adventures.
Getting There: Fly to Vancouver in British Columbia for west coast touring and cruising, or to Toronto, Ottawa, Montreal or Quebec City for eastern Canada.