Embark on an unforgettable journey as you explore the legendary Galapagos Islands on a Galapagos Islands cruise.
Formed by volcanic activity, the Galapagos are one of the most fascinating zoological, geological and botanical areas on Earth.
The Galapagos Islands lie along the Equator 1,000km west of Ecuador, the country to which they belong. The archipelago is made up of 13 main islands and hundreds of small rocks and islets, covering just 518 sq km. Due to its biodiversity however, the entire region is protected as a World Heritage Site. Charles Darwin visited here in 1835 and his observations helped him to formulate his groundbreaking theories on the origins of Earth's species.
From your cruise ship, you will take excursions on shore with experienced guides. Walk amongst sea lions, frigate birds and iguanas. Kayak and snorkel with turtles and hundreds of tropical fish.
To find out more about our range of Galapagos Islands cruises, please download pages below or click here to download the full Galapagos Islands cruise section of our South America brochure.
For information on Ecuador, please click here.
Sample
Itineraries
Our suggested Galapagos Islands cruises all feature small ships or yachts allowing for a more intimate, personalised service and sightseeing experience. Choose from one of our featured itineraries or let us custom design a tour to suit your to suit your interests, style and budget. To find out more about the type of Galapagos Islands cruise we can put together for you, please download pages below.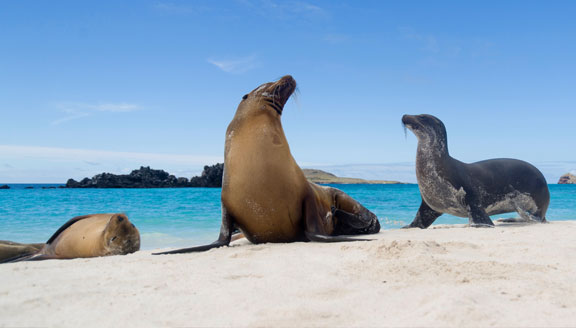 Legendary Galapagos
Discover the miraculous world of the Galapagos as you cruise amongst the islands, anchor in quiet inlets and explore beaches crowded with birds, sea lions or iguanas. Accommodation is on board the newly built M/V Origin, or on one of two identical recently refurbished yachts: the M/V Eric and Letty. These smaller vessels provide intimacy of experience and a more personalised voyage.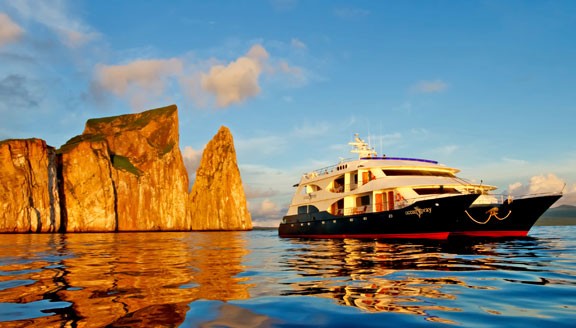 Ultimate Galapagos Cruise
Experience the unique diversity and extraordinary wildlife of the Galapagos Islands on an intimate, luxurious 8-day cruise on board the five-star state-of-the-art catamaran Ocean Spray or aboard the modern, very comfortable M/C Cormorant. There's also the M/C Petrel, the latest addition to the fleet – as swift and silent as its name suggests.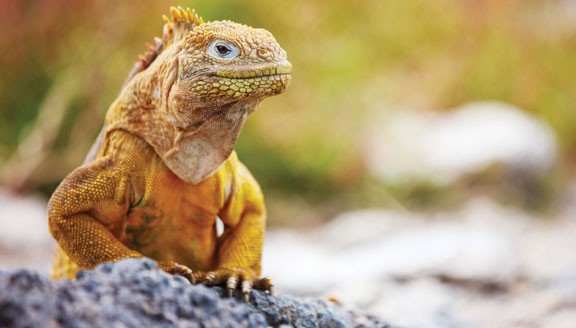 Galapagos Splendour Cruise
The islands of the Galapagos brim with unique species of wildlife and superb scenery. Discover this ecological paradise on an 8-day cruise on board the stylish M/Y San Jose or a 6-day cruise on board the luxurious M/Y Galapagos Odyssey. Both accommodate just 16 passengers in comfortable cabins with large windows.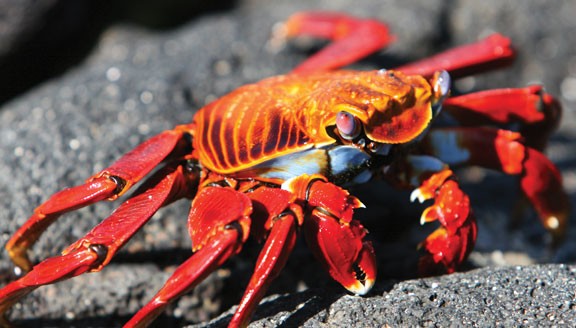 Regal Galapagos Cruise
The diverse Galapagos Islands can be explored without relinquishing luxury and comfort when you travel on board either the sleek Galapagos Sea Star Journey or the very upscale Seaman Journey. Both offer personalised Galapagos explorations, with access to state-of-the-art facilities such as sun decks, Jacuzzis and spas which offer massage and beauty therapies.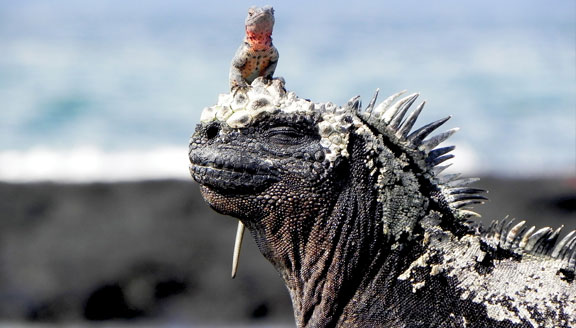 Darwin's Galapagos Cruise
Explore the miraculous world of the Galapagos aboard one of three first-class ships: the Coral I, Coral II or the Galapagos Legend. Cruise the islands, dropping anchor in quiet inlets to visit beaches crowded with birds. Experienced and knowledgeable guides accompany you on informative walks, visits to tortoise breeding centres and while swimming amongst the archipelago's rich marine life.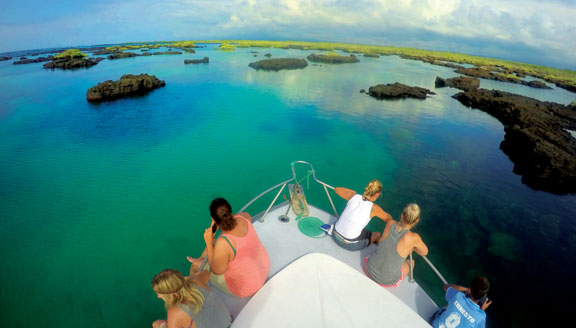 Galapagos Island Hopping
For a different experience of the Galapagos Islands, consider island-hopping, which is the only other way to see this captivating archipelago if you aren't on a cruise. Island hopping may also be better suited to travellers who want more flexibility over their daily itinerary and for people who are prone to seasickness. All programs utilise private speedboat transfers.
Galapagos Islands Overview
Why Galapagos Islands: With its stunning wildlife, incredible marine life and beautiful landscapes, the Galapagos Islands are a UNESCO World Heritage Site and one of the most fascinating places on Earth to visit.
When to Go: The Galapagos Islands can be visited all year round. The hottest time of year is December to June when daytime temperatures can reach mid to high 30s (°C) and hiking is hard work. However, the seas are perfect for swimming and snorkelling, with water temperatures between 24 and 27°C. July to November (18-24°C ) is cooler, when the Humboldt Current brings water temperatures down to around 18-21°C. If you're prone to seasickness, avoid travelling between Jul – Oct when seas are relatively rough.
Combine With: Culture and an Amazon rainforest experience on mainland Ecuador. Alternatively, visit incredible Machu Picchu in Peru or Lake Titicaca in Bolivia.
Getting There: There are daily flights from Quito or Guayaquil in Ecuador to Baltra Island, just off Santa Cruz Island, and to Puerto Baquerizo Moreno on San Cristóbal Island.