I was attracted to the travel industry due to my love of travelling and also because I wanted to share my passion with others.
I spent my 20's living and backpacking through Europe, Canada and the USA. After a few years I realised that what I loved most were the more remote areas, countries with amazing wildlife and stunning scenery. 
I have now been working in the industry for 8 years and in this time I have visited countless destinations I only dreamed of during my 20's including; Sailing the arctic island of Spitsbergen, viewed grizzly bears in Canada and experiencing amazing safaris in Kenya's Maasai Mara and Tanzania's Ngorongoro Crater. 
My travels have also taken me to South and Central America, snorkelling the idyllic Granita del Oro Island in Panama, almost stood on iguanas and seal pups in the Galapagos Island's, taken in the peaks of Chile's Torres del Paine National Park and explored the remote valleys of the Atacama Desert. An undoubted highlight was when my childhood dream came true, wandering the historic sights of Egypt and Jordan.
Natasha's recommendations
North America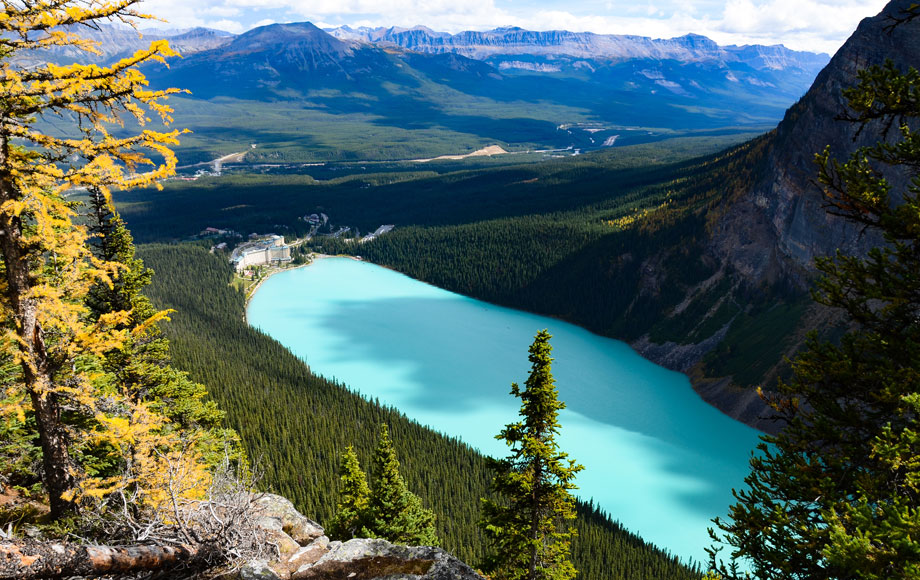 Canada is a destination that offers an incredible variety of experiences, from lovely cities to awe-inspiring landscapes and native wildlife. Surrounded by natural beauty, cosmopolitan Vancouver is fascinating to explore while central Quebec City and Montreal have the European charm of a bygone era. High on everyone's bucket list is a visit to the Rockies and the charming towns of Jasper and Banff. If you wish to stay off the main tourist track Canada has plenty of options; a visit to the Canadian Arctic for a remote wildlife experience or exploring the Maritimes and Newfoundland offers just that. Hiking, wildlife viewing, skiing, Aurora Borealis viewing, fishing, you name it, you can do it somewhere in Canada. The province of British Columbia also provides a wealth of exciting experiences, at the top of which is grizzly bear viewing. There are a host of exclusive lodges – many only accessible by light aircraft – renowned for their excellent bear viewing opportunities.
A stay at Great Bear Lodge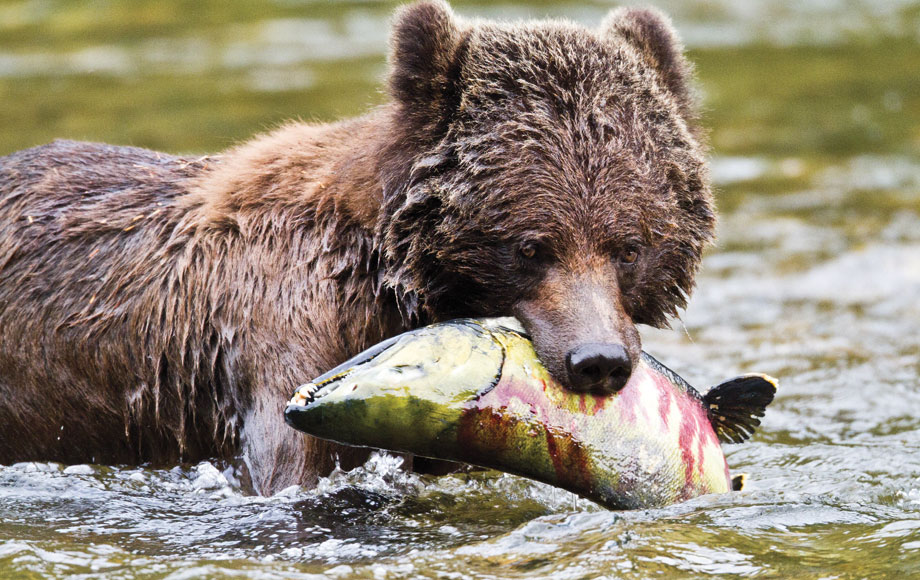 From my extensive travels through Canada, the highlight has been a visit to the stunning Great Bear Lodge in western Canada. The experience for me began before even reaching the lodge, with a surreal sea plane flight over the renowned Inside Passage. This floating lodge is set deep within grizzly bear country with the pristine Great Bear Rainforest as a backdrop. The guides treat you like old friends, and their knowledge ensures that you learn plenty about these majestic animals. The bear sightings during my stay were simply incredible – nothing can prepare you for the sight of your first grizzly – often feeding on sedge grass or salmon depending on the season. The lodge is like your home away from home, with delicious food, plentiful drinks and a warm, friendly atmosphere. The area also opportunities to spot other wildlife including black bears, river otters harbour seals and bald eagles.
A trip to the Galapagos Islands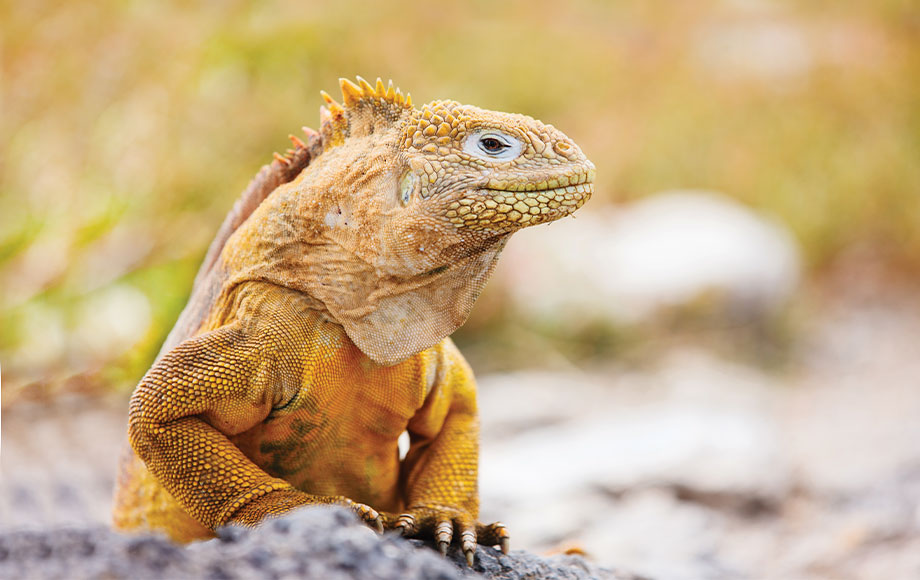 Made famous by Charles Darwin after publishing his ground-breaking novel "On the Origin of Species" the Galapagos Islands are high on any wildlife lover's bucket list. In 2018 I was lucky enough to explore this unique archipelago and discover first-hand the incredible diversity of wildlife for myself. I found that the wildlife was sometimes so plentiful that you didn't know where to look, or where to stand – navigating sunbaking iguanas is quite a challenging task! That was certainly the case at Punta Espinoza on Fernandina Island when one guest had to back up due to a playful sea lion pup only to perform a stunning balancing act to avoid the marine behind her. The island's surrounding waters also offer a wealth of treasures to discover. An afternoon snorkelling at Punta Vicente Roca on Isabela Island was some of the best I've experienced. I never expected to get so close to the animals. A giant sea turtle swam up right underneath me and then appearing right in front of my face!
A Multi-day Galapagos Cruise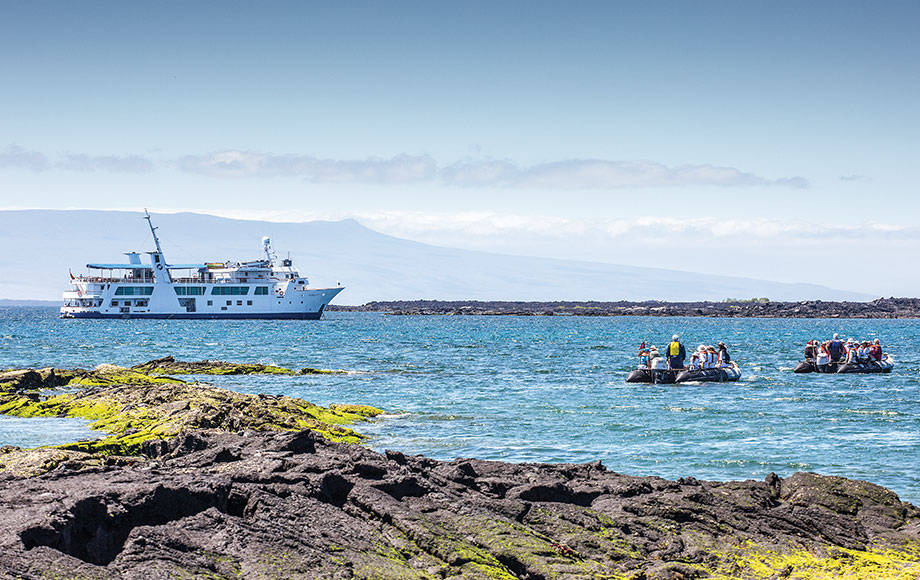 One of the best ways to explore the diversity and unique landscapes of the Galapagos Islands is on a multi-day cruise. There are a number of superb cruise operators that offer itineraries running from between 3 and 7 nights. Each vessel has its own knowledgeable and passionate guides as well as dedicated crew who will look after your every need. Most of the vessels only take between 18 and 50 guests, so you can be assured of an exclusive and intimate journey. Each day you will go on excursions to different islands or snorkelling hotspots in small group sizes, allowing you to easily get around the island and ask any questions that you may have. When you return to your vessel you can expect excellent cuisine, wines and plenty of comfortable places to relax and enjoy beautiful sunset views. Many of the vessels may also have luxurious amenities including Jacuzzis, hammocks, day beds or even a small gym.
What is your most memorable travel experience?
I did an arctic cruise that partially circumnavigated Svalbard in Norway's arctic. The ship I was on garaged or "parked" itself in the ice and then the captain turned the engine off. All we could hear was the sound of the ice settling around us and nothing else. At that stage no one on earth was further north than us. We kept our eyes peeled for signs of polar bears. It was a magical experience with ice as far as the eye could see.
What is one thing you always pack for safari?
A scarf, one similar to a pashmina. It can be used in many different ways, to keep the sun off or to keep you warm. The list for its uses is almost endless.
Where would you like to travel next?
I would like to return to Brazil, where the other half of my heart resides. The people there are so incredibly friendly and have a love for life that is unmatched anywhere else. Throw in amazing wildlife, beaches and food and you have a perfect destination.
Photos of Natasha