This magnificent reserve plays host to one of the planet's most amazing wildlife spectacles each year – the Great Migration, as well as superb gameviewing year-round.
Meaning "spotted" in the Maa language of the Maasai, it's easy to see why the Masai Mara is so called. The rolling grasslands of this 1,500km² reserve are dotted with flat-topped thorn trees, dappled with cloud shadow and during the Great Migration, flecked with an unbelievable number of wildebeest, zebra and Thomson's gazelle.
Between July to October, over two million wildebeest and thousands of zebra migrate north from Tanzania's Serengeti in search of fresh water and new grass. They are what most visitors come to Kenya to see; however, the Mara has reliably good gameviewing throughout the year.
The herds attract plenty of large predators such as lion, leopard and hyena, and the interactions between the animals are extraordinary. River crossings are particularly exciting, as the wildebeest are preyed upon by hundreds of hungry crocodiles waiting in the seething waters.
The plains of the Masai Mara are the permanent home of all of the "Big 5" as well as a plethora of antelope ranging from the tiny dik-dik through to the imposing eland. So even when the wildebeest and zebra herds have departed for the Serengeti, you'll find this one of the best places in all of Africa to observe big game species such as black rhino and cheetah.
As the reserve can get busy, staying in private concessions adjoining the Masai Mara provides a measure of exclusivity. It also allows visitors to enjoy activities not permitted in the main reserve such as walking safaris. Whilst game drives are the most common means of exploring the Mara, why not consider floating over the landscape in a hot air balloon? This magical experience provides a bird's eye view of the reserve, and concludes with an indulgent champagne breakfast in the bush.
Masai Mara Highlights
Kenya's most famous reserve
Site of the annual wildebeest migration
Plentiful predators as lion, leopard and cheetah
Exceptional animal interactions
Iconic landscapes of open savanna
Classic and luxury safari camps
Maasai cultural encounters
When To Go
July to September is when the annual wildebeest migration takes place. However, the Masai Mara offers excellent gameviewing all year round.
If you plan to go during the Great Migration, be sure to book early as our camps and lodges tend to fill up quickly during this period.
Our Recommended
Kenya Sample Itineraries
The following itineraries are just some of the many experiences that we can design for you. All of our tours are private, independent and tailor-made to your personal travelling requirements. Please contact us to begin creating your personalised Kenya experience.
This safari combines the best wildlife experiences of Kenya and Tanzania, including the Samburu, Lake Nakuru, the Masai Mara and Serengeti.
Our Recommended
Places to stay in the Masai Mara
The following are some of the lodges and tented camps that we recommend in the Masai Mara. For information on additional accommodation not featured, please contact us.
andBeyond Bateleur Camp has a distinctive old-world safari ambience and is situated in a forest at the edge of Kenya's Masai Mara.
andBeyond Kichwa Tembo is a timeless safari camp on a private concession adjoining Kenya's Masai Mara Game Reserve, where forests and plains converge.
Sand River Masai Mara by Elewana is a vintage-style safari camp near Tanzania's border with exceptional gameviewing. The wildebeest migration is an added bonus.
Governors' Camp was once exclusively reserved for Kenya's colonial rulers. Today, it remains one of the Masai Mara's best safari camps.
Governors' Il Moran Camp is The Governors' Camp Collection's most premium safari lodge inside Kenya's world-famous Masai Mara Game Reserve.
On a riverbank in Kenya's Masai Mara Game Reserve, Governors' Private Camp is yours to enjoy in its entirety as it is only available for exclusive use.
A classic tented camp in a private conservancy bordering Kenya's Masai Mara, Kicheche Bush Camp offers an African safari experience without the crowds.
Located in the Mara North Conservancy, seasonal Kicheche Mara Camp offers a classic Kenya safari experience and views of the annual wildebeest migration.
Kicheche Valley Camp offers an exclusive safari experience in the Mara Naibosho Conservancy, a stunningly wild section of Kenya's Masai Mara ecosystem.
At the edge of Kenya's Masai Mara National Reserve, Little Governors' Camp offers a peaceful setting to view the wildebeest migration.
Mara Bushtops is one of the most exclusive safari camps in Kenya's Masai Mara, offering great gameviewing and views of the annual wildebeest migration.
Set amid a grove of acacia trees in the Masai Mara Game Reserve this rustic camp draws inspiration from intrepid explorers of a by-gone area.
Mara Explorer Camp is located where four of the Masai Mara's prime safari areas converge. The camp offers some of Kenya's best wildebeest migration viewing.
Family-friendly Mara Intrepids Camp sits close to Kenya's notorious Mara River, where crocodiles and wildebeest battle during the annual migration.
Luxurious Mara Ngenche Safari Camp offers plenty of permanent game as well as excellent wildebeest migration viewing in the heart of Kenya's Masai Mara.
Meaning "Large Plains" or "Great Plains" Mara Nyika Camp is located in the 50,000 acre Naboisho Conservancy bordering the legendary Maasai Mara National Reserve.
In the heart of big game country, ultra-luxurious Mara Plains Camp sits on a bend of the Ntiakitiak River on the northern border of Kenya's Masai Mara.
Family-friendly Naibosho Camp in Kenya's private Mara Naibosho Conservancy offers intimate safari experiences not found in the busy Masai Mara or Serengeti.
Deep in Kenya's Masai Mara Reserve, Rekero Camp offers unrivalled views of annual wildebeest migration river crossings and superb year-round gameviewing.
Sublime Sala's Camp is one of the first camps in the Masai Mara to witness the celebrated annual wildebeest migration.
Tipilikwani Camp is close to where over a million wildebeest and thousands of zebra cross from Tanzania into Kenya's Masai Mara during the annual migration.
Kenya FAQ
Can I see the Big 5 in Kenya?
Yes – Kenya is home to all members of the legendary Big 5. Lion, leopard, elephant and buffalo can all be seen in many of Kenya's best game viewing areas. The Masai Mara National Reserve is the countries undisputed number one safari destination. Black rhino can be found in a number of places across the country, however the two best places to see them are in the Ol Pejeta and Lewa Wildlife conservancies.   
When is the best time to see the Great Migration?
Firstly, the great wildebeest and zebra migration is a natural event. Therefore, the exact arrival of the annual wildebeest migration can never be guaranteed. Generally, they tend to arrive between July and September and linger on the plains of the Masai Mara until November, before once again heading back towards Tanzania's Serengeti National Park. For more information about the Great Migration, we highly recommend talking to one of our experts.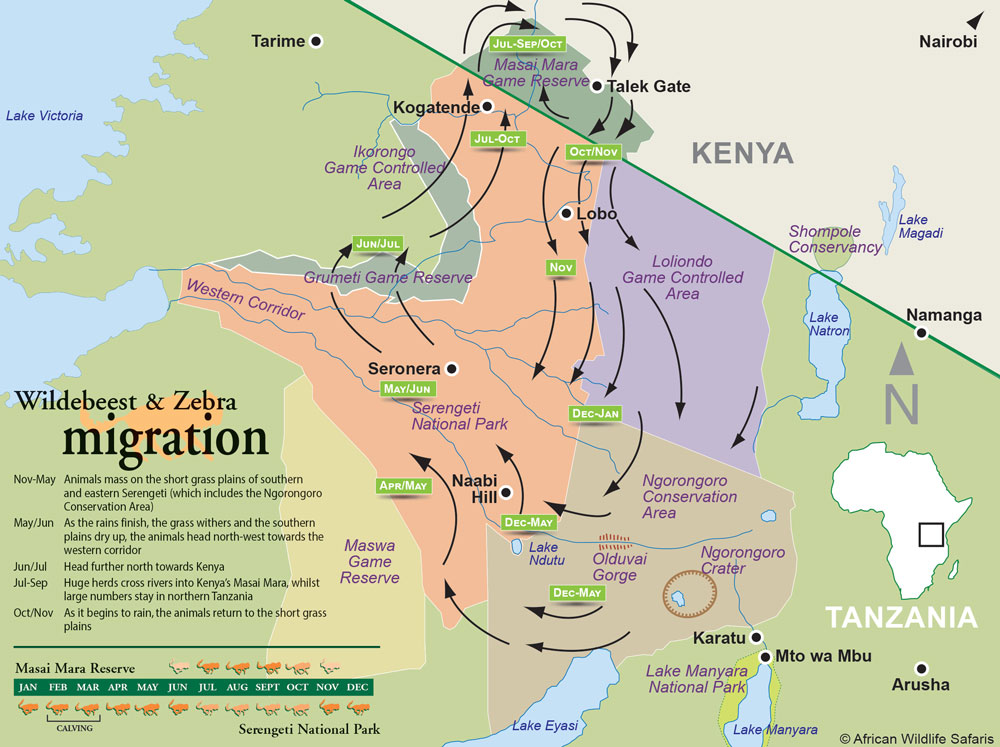 JOIN OUR
E-Newsletter
Sign up to receive updates about exciting journeys, special offers and more