Remote and starkly beautiful, this precious archipelago of volcanic islands lies along the Equator 1,000 kilometres west of Ecuador.
Filled with many strange and unique species, the Galapagos are one of the most fascinating places on earth and a protected UNESCO World Heritage Site. Charles Darwin visited here in 1835 and his observations on the evolutionary changes that have taken place amongst the wildlife, in particular the 14 species of finch's, helped him to formulate his ground-breaking theory on the origin of earth's species. The Galapagos Archipelago is made up of 13 main islands and hundreds of small rocks and islets.
There is no better way to discover these magical islands than on an intimate, luxury cruise ship or yacht. All shore visits and marine excursions are accompanied by experienced guides. When walking on the island's you will always have to watch your step in case you stand on a sunbaking land or marine iguana. Keep an eye out for bird species such as blue footed, red footed and Nazca boobies, frigate birds, flamingos, finches and Galapagos penguins. Spend your days on guided walking excursions, swimming or snorkelling the crystal-clear waters or exploring the coastline by kayak or motorised-dinghy.
Please note: To reduce the impact of tourism, the national park authorities control the itineraries for all Galapagos cruise operators.
Tour details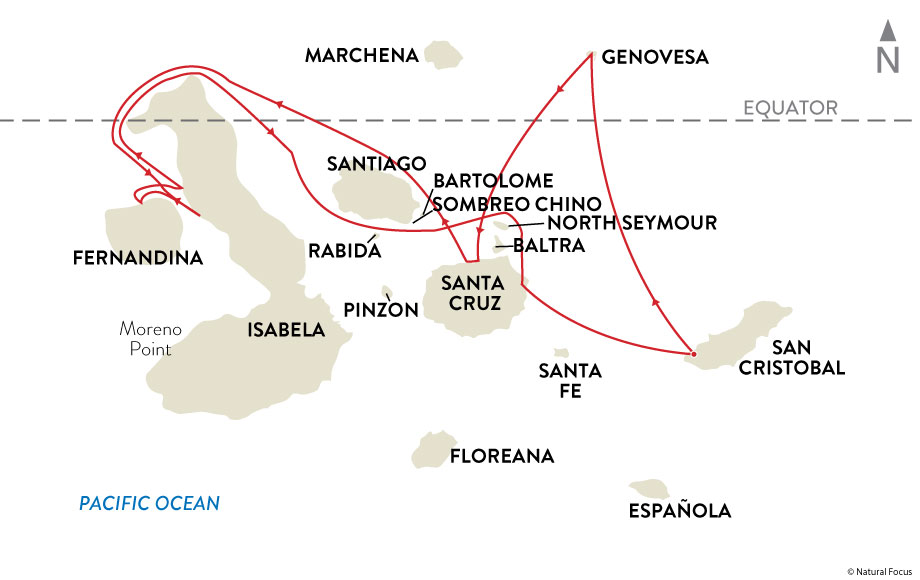 Set foot on the island's made famous by Charles Darwin
Visit the Charles Darwin Research Station
Discover diverse birdlife including blue-footed booby's, frigate birds and shearwaters
Swim and snorkel with sea lions and other marine species
Be careful not to step on sunbaking iguanas or sea lions
Stop at Prince Philip's Steps on Genovesa Island – home to a wealth of birdlife
Explore Punta Espinoza on Fernandina Island and get close to marine iguanas
Travel onboard the M/V Origin or M/V Theory – members of esteemed Relais & Châteaux collection.
There are daily flights (2 hours) from Ecuador's capital Quito and the country's largest city Guayaquil to Puerto Baquerizo Moreno on San Cristóbal Island. Both Quito and Guayaquil are serviced by a number of airlines directly including KLM Royal Dutch Airlines, American Airlines, Air France and United. Latam Airlines, the major airline in South America offers direct flights to a handful of major US and European cities.
Volcanic Wonders
8 Days / 7 nights
Please note: This itinerary is an example of what you may do and see. Changes to the itinerary may occur without prior notice due to readjustment of National Park policies, weather conditions, seasonal changes or safety reasons. These decisions are oriented in terms of passenger safety and in the interest of the islands' conservation and protection.
More Galapagos Itineraries
This 15 day/14 night itinerary combines the very best of the southern, north and central islands exploring Floreana, Espanola, San Cristobal, Santa Cruz, South Plaza and North Seymour islands.
This 7-night itinerary combines the very best of the southern and central islands exploring Floreana, Espanola, San Cristobal, Santa Cruz, South Plaza and North Seymour islands.
This 7-night itinerary combines the best of the northern and central islands including Genovesa, Santa Cruz, Isabela, Rabida and Fernandina islands.
Talk to one of our South America Experts
Galapagos Islands Overview
Why travel to the Galapagos Islands?
With its iconic wildlife, unique marine life and beautiful landscapes, the Galapagos Islands are a UNESCO World Heritage Site and one of the most fascinating places on Earth to visit.
What can I combine the Galapagos with?
The Galapagos Islands are easily combinable with mainland Ecuador. The country is home to fascinating cultures, beautiful colonial cities, Amazon rainforest experiences and the marvellous Andes Mountains. Alternatively, neighbouring Peru is another popular options. Peru has a handful of superb Amazonian eco-lodges and luxury riverboats, the Sacred Valley of the Incas and of course Machu Picchu – the mesmerising 15th century "Lost City of the Incas".
How do you get to the Galapagos Islands?
There are daily flights from Ecuador's two biggest cities – Quito and Guayaquil – to Baltra Island, just off Santa Cruz Island, and to Puerto Baquerizo Moreno on San Cristóbal Island.
US – Ecuador is very easy to fly to from the United States. There are plenty of direct flights to either Quito or Guayaquil from a number of US cities. Airlines that fly between the countries include United Airlines, American Airlines and Latam Airlines.
UK/Europe – There are a number of countries that operate direct flights into Ecuador from Europe including France and the Netherlands. Alternatively Latam fly to European countries such as Germany and Spain.