Land-based Arctic expeditions
Experience the magic of the Arctic on a land-based expedition, travelling through stunning, wide open landscapes of ice and snow.
You'll also discover an incredible array of life, from whales and walrus to polar bears and seals. Your journey is led by local Inuit guides, so you'll have the opportunity to visit traditional communities as well as immerse yourself in a rich, ancient culture that has thrived in this amazing environment for centuries. Transport is by snowmobile and dogsled, with the option to kayak, hike and even dry suit dive during your trip.
Arctic Kingdom specialise in highly personalised explorations, thus group sizes are strictly limited to between 8 and 14 participants. Itineraries are flexible to make the most of climatic conditions and wildlife-viewing opportunities; as such, no two trips are ever the same. You might even find the odd world-renowned explorer or National Geographic photographer joining your departure.
Accommodation at the edge of the ice floe is in comfortable, eco-friendly camps furnished with cosy beds. Hearty meals are prepared by skilled chefs, with an emphasis on Arctic ingredients such as summer berries and caribou. You might even get the chance to drop a line through a hole in the ice and fish for your own dinner!
Safari on Ice
Inspired by African safaris, Arctic Kingdom offers unparalleled wildlife encounters in enchanting locations throughout the High Arctic. Most visitors to the polar regions of the world explore by ship. Arctic Kingdom offers the unique opportunity to traverse the surreal white landscapes on foot, by sled and snowmobile. This pioneering company also carefully designs itineraries and accommodations to ensure they put as little as possible between travellers and the surrounding wilderness.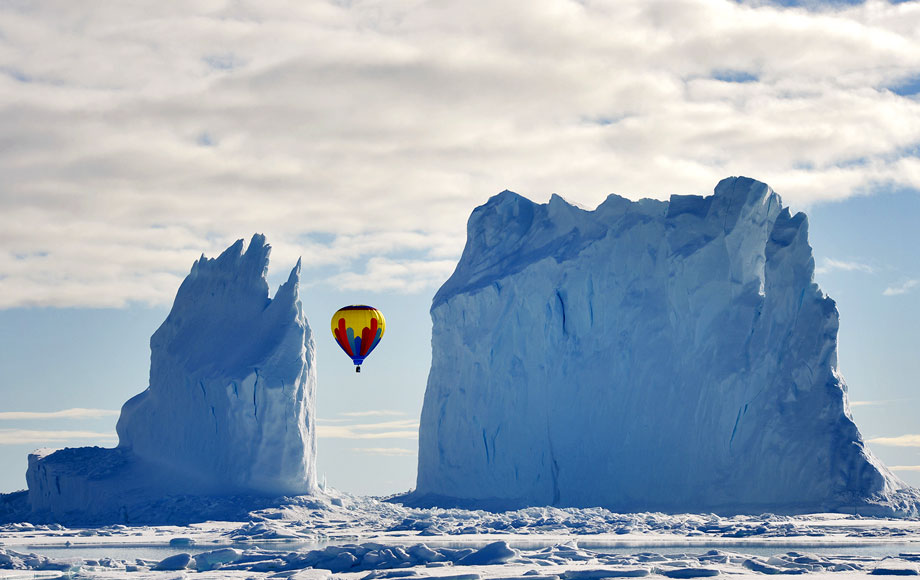 Summer Departures
Arctic Kingdom expeditions only depart during the Arctic summer, when daylight hours are longest and temperatures at their most tolerable. Some journeys coincide with the narwhal and beluga migration through Lancaster Sound, whilst others seek out polar bears on the hunt and walruses the size of cars. No matter which departure you choose, expect incredible wildlife, an array of immersive activities to choose from and outstanding photography opportunities under the midnight sun. Be welcomed into communities who continue to live as their ancestors have done for hundreds of years past, admire Inuit carvings and visit sites that played a key role in the golden age of polar exploration.
Safari-Style Camps
Much like tented safari camps in Africa, the camps utilised by Arctic Kingdom are all tall enough for guests to stand up in, with plenty of space for luggage and camera equipment. Enjoy proper beds, access to a shared washroom with plenty of hot water and an inviting central lounge and dining area, where meals are served. There are two categories of camp, which are covered below. Camps are set for fixed departure trips and can only be upgraded/changed on custom, private trips.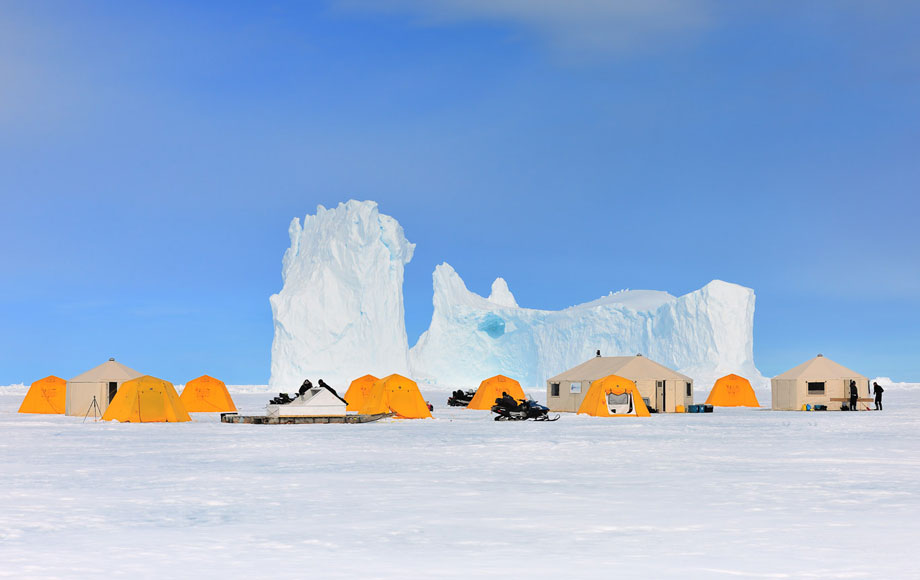 Tented Safari Camp
The Tented Safari Camp might seem basic on the outside, but guests continue to be delighted by how roomy, warm and spacious the interiors of the tents are. Designed to withstand harsh Arctic conditions, the camp features:
Tents with internal ceiling heights of 2m and floor space amounting to 14m²
Sleeping tents have two beds comprised of cots raised above the floor
A comfortable central dining and lounge area
Shared washrooms with plenty of hot water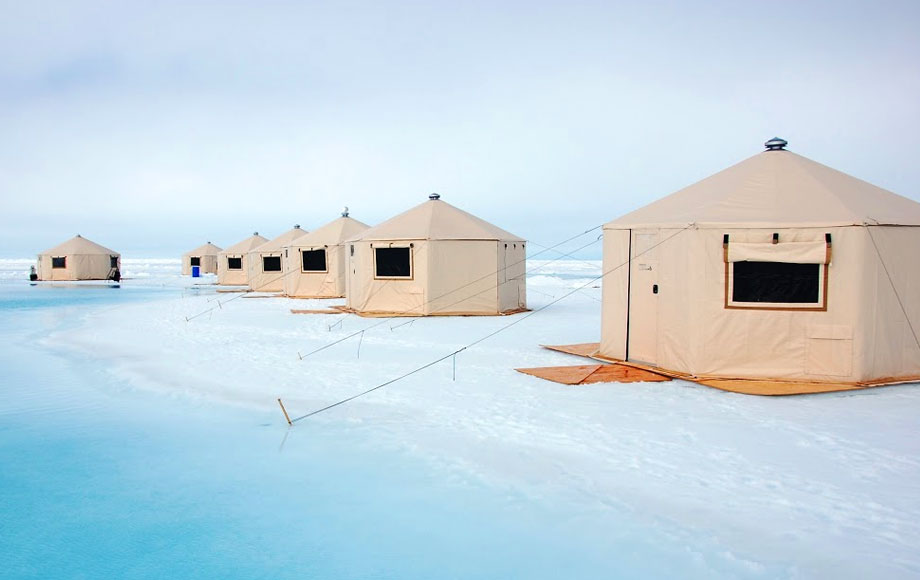 Premium Safari Camp
Set on approximately 2.5 metres of solid ice, the Premium Safari Camp brings a touch of style and elegance to the Arctic. Sleek and modern, this collection of specially designed yurt-style tents feature:
3m cathedral ceilings and a diameter of 4.8m
Insulated walls, large windows and a lockable door
A large, spacious dining and lounge area
A 24-hour snack and drink buffet
Shared eco-style washroom with sinks, showers and hot water
Canada Tours & Cruises
Our Canada tours include a range of hotels, wilderness lodges, rail tours, cruises and adventures which can be combined in an itinerary tailor made to suit your interests, style and budget. Choose from one of our featured itineraries or let us tailor make an itinerary to suit your interests, style and budget.
The tiny town of Churchill on the shores of Hudson Bay is the gateway to polar bear viewing in the region. Nicknamed the "Polar Bear Capital of the World" this itinerary see's guests staying at the
The tiny town of Churchill on the shores of Hudson Bay is the gateway to polar bear viewing in the region.
A secluded lodge with a well-established reputation for excellent grizzly bear viewing from special tree stands or by boat depending on the season.
Churchill in Manitoba, Canada offers some of the world's best polar bear viewing experiences in both summer and winter, with travellers given the chance to travel aboard the amazing Tundra Buggy.
There's no better way to experience the majestic Canadian Rockies than aboard the world-renowned Rocky Mountaineer luxury train.
Experience the magic of Canada's Rocky Mountains in winter, travelling by rail and exploring the picturesque alpine towns of Banff, Jasper and Lake Louise on this enchanting Winter Wonderland tour.